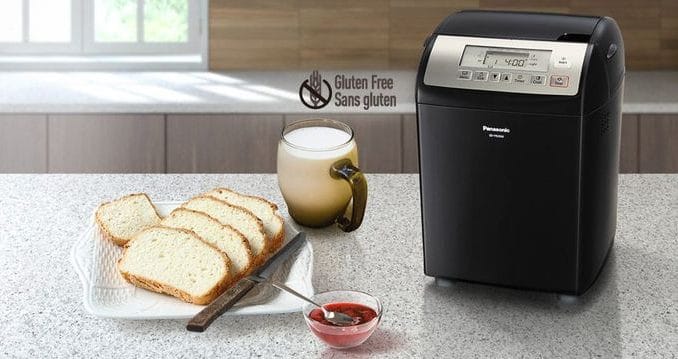 The aroma and taste of freshly baked bread and the possibility of experimenting with recipe of its baking are the main advantages of the breadmakers. Therefore, their popularity is constantly growing in recent decades.
Of course, companies are trying to satisfy the high consumer demand, offering a wide range of different models. High competition in this segment stimulates the constant expansion of the functionality of models with the use of new technologies and innovations.
Therefore, the choice of the optimal breadmaker is sometimes difficult due to the abundance of offers.
The modern breadmaker provides a baking the bread, loaves or cakes with the original taste and flavor. The baking process is maximum automated and is very simple. The user should select only an available recipe and put the necessary ingredients into container. Device automatically kneads the dough and bakes fragrant bread.
The list of basic technical characteristics and functions includes the following.
1. Capacity
This is one of the main parameters of bread maker. Its choice depends on the individual culinary preferences.
A device with a maximum weight of loaf 2 lb or more is well suited for large families.
Models with a maximum weight up to 2 lb are optimal for the average family.
Compact models with a weight up to 1.5 lb are optimal for baking fresh bread for the morning sandwiches. Such model takes up very little space in the kitchen. For example, dimensions of Lakeland Compact 1lb are only 12.25 x 8.5 x 10 inches.
Almost all models provide a choice of the size and weight of finished bread within their capabilities.
Many models also have limitations in the minimum size and weight of baking. For example, the working chamber for loaf weighing 2 lb will overheat when baking a loaf of bread weighing 1.5 lb. Such operation mode negatively affects the device.
2. Power
External dimensions and energy consumption of models directly depend on the maximum weight of the baked bread. Compact and average models consume about 400-800 W; the power consumption of large models reaches 800 W and more.
Of course, these values are relatively small. For example, a conventional an electric kettle consumes about 2000 W.
3. Functionality
Modern models usually have about ten fully automatic programs for baking bread. They have different timeframes of modes (kneading, dough rise and baking) and set of used ingredients and additives.
A list of the most popular modes includes the following programs.
The basic mode (wheat bread)
This mode is intended for baking bread from flour with gluten. Gluten provides fluffiness of bread and gives it characteristic stiffness. Such flour is made of wheat grains and does not contain bran that are removed after grinding.
Various recipes provide a wide range of traditional white bread.
For example, the Internet offers the cooking recipes of egg, milky, lemon or onion bread. Many recipes envisage the adding into bread of raisin, nuts, fresh fruit, chocolate, etc. This bread is usually baked for longer. Some recipes envisage the duration of complete cycle to 4 hours from backfilling flour to the finished product.
Gluten Free Bread
Today, there are many recipes for baking dietary bread. Low Glycemic Index is characteristic feature of such bread.
This indicator determines the useful properties of dietary grades.
Recipes based on whole grains and bran are the most popular. But baking of dietary bread requires special conditions due to coarse structure of flour.
This mode also supports the use of various recipes with with different additives.
Approximate baking time is 5 hours.
The rye bread
This bread is made from rye flour with a high content of magnesium, potassium and iron. But it contains less gluten. Therefore, the bread is more dense and low. Approximate baking time is 3 hours.
The french bread
This bread has crispy crust and airy texture. Approximate baking time up to 6 hours.
The gluten free bread.
This recipe is based on a special gluten free bakery mix. Approximate baking time is from 2 to 3 hours.
4. Design
The white color is most common among these devices.
Models of silvery color also are often found on sale.
Color of stainless steel is traditionally popular.
This video demonstrates the bread cooking process in a fully automatic model.