Review of BEST Range Hoods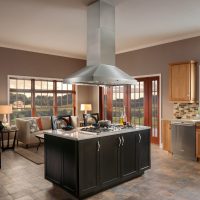 The Italian BEST concern was founded in 1976 in the city of Fabriano. The company quickly became one of the leaders in the Italian market of range hoods.
The distribution center in New Jersey, USA and BEST Deutchland in Regensburg, Germany were opened in 1985. The acquisition of Elektromec in 1986 strengthened the Group's position. This company produced high-quality electric motors. Later, BEST founded the Interglass company for glass production based on the Elektromec factory. Thus, BEST Group began to produce all components for range hoods. On October 31, 1995, BEST was purchased by the US-based transnational NORTEC that is one of the worlds leaders in the segment of electrical appliances.
Today BEST models are considered to be the most high-quality in the segment of powerful hoods. BEST also sells its engines to many other manufacturers. These models are equipped with a patented ENC (Energy Noise Control) system that reduces their noise to a minimum without reducing power.
This system is based on an innovative engine control algorithm that reduces its vibration and energy consumption.
Best range hoods without duct.
Such models provide recirculation of purified air. They are very convenient for small kitchens, but they have some features.
Pros:
– simple and inexpensive mounting in almost any convenient place;
– simple control;
– absence of air duct;
– wide range of models.
Cons:
– relatively high price;
– need for regular replacement of coal filter;
– high noise level during operation.
Performance, control, noise level and dimensions are the main criterias for selection of optimal model.
The working area of the range hood should be larger than the hob surface.
The model performance depends on the area of kitchen. Experts recommend a complete air renewal in the kitchen with a periodicity of 5-6 minutes. The calculations are made as follows. The area of the kitchen is multiplied by the height and the coefficient of air renewal. Typically, a performance of 500-600 CFM provides effective air cleaning on the area up to 15 square meters.
Control of modern models uses electronic or touch buttons. Many models are equipped with a remote control.
Minimum noise level in modern models varies from 35 to 45 dB. Unfortunately, this value can reach 75 dB for models that use recirculation. This value is commensurable with the cry at a distance of one meter.
The company offers several models of this type.
1. Best WTT32I30SB 30″ range hood.
Design of this model is made in chimney style.
WTT32I30SB contains all modern functions. This list includes Heat Sentry, Delay Off, Filter Clean Reminder, Mesh Grease Filter and Halogen Lighting.
Heat Sentry automatically increases the speed with increasing temperature. Delay Off function provides automatic shutdown of the device after 5 minutes after end of cooking. Filter Clean Reminder is designed to control the degree of filter clogging. Halogen Lighting is very convenient for lighting the work area in the kitchen.
The model is made of brushed stainless steel. Powerful internal blower provides a performance of 600 CFM. Device has four speed modes. WTT32I30SB uses Stainless Steel Mesh Filters that can be cleaned in a dishwasher. The company also offers the ANKWTT320 kit for mode of recirculation.
2. Best Moon IX 50.
The power of this model is 550 CFM that is quite enough for cleaning air in the kitchen up to 12 square meters. The control is carried out by means of touch buttons or the remote control.
Pros:
– stylish design;
– compactness;
– convenient control.
Cons:
– high noise level (69 dB);
– need for periodic replacement of the coal filter.
3. Best Vertigo 50 IX.
The technical values of this model are completely identical to the Best Moon IX 50. Design is the only difference.
Best Vertigo 50 IX is also additionally equipped with a timer for setting the off time.