Review of Delonghi Scultura toasters.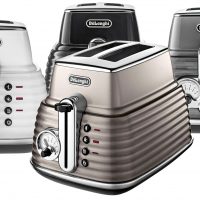 Kitchen appliances from Italian DeLonghi for many years confidently occupy a leading position in this segment. The company produces toasters, electric kettles, coffee machines and other devices for the kitchen.
Scultura line appeared in 2014. The design of these models is developed in the Italian traditions that is typical for DeLonghi. The company offers a full range of kitchen appliances in the same style.
1. Delonghi CTZ 4003.bg Scultura Toaster.
Stainless steel body of this model is covered by a sculpted resin.
Its dimensions are 13 x 12.8 x 8.3 inches. A wide base ensures good steadiness of the device on any surface. Its weight reaches 7.83 pounds, that, of course, is a lot for the toaster.
CTZ 4003.bg has 4 slots for simultaneous cooking the 4 slices. Its power is 1800 W. Extra-lift function is very convenient for easy removal of small slices.
Electronic temperature control provides 6 browning levels. 2 removable trays effectively collect crumbs, simplifying cleaning after cooking.
Control regulators browning levels are made in retro style and are similar to measuring instruments in cars.
Relatively high cost is a traditional drawback of DeLonghi models.
2. DeLonghi Scultura CTO 2103.
The letters at the end of the name correspond to the model color. The toaster is available in black, beige, gray and white colors. The case is made of metal and plastic. Therefore, its weight reaches almost 4.5 pounds. The power of this 2-slots model is 900 W.
A 6-position temperature controller provides a browning from lightly soft to crispy toast. Control is carried out with the help of mechanical buttons and the adjusting dial to select of roasting degree. Pressing the buttons is followed by a click.
Defrost / heating function is designed to heat the cooled toast or cooking the frozen bread from the freezer. A special grating for this purpose is easily fixed on the top surface.
The one-sided toasting function is very convenient for lovers of such sandwiches.
Removable tray at the bottom effectively collects the crumbs during cooking. Rubber pads on the bottom reliably prevent sliding on the surface of the table. A special compartment for the cord is located on the bottom of the device.
Elongated slot extends the range of available toaster sizes. Its length reaches 5.5 inches. For comparison, this value for most other models does not exceed 5.3 inches.
The first start-up is traditionally accompanied by an odor that disappears after warming up.
Duration of toasting bread in standard modes:
– mode 2 – 1 minute 45 seconds;
– mode 4 – 2 minutes 25 seconds;
– mode 6 – 3 minutes 05 seconds.
The toasting degree varies from pale to light brown in color.
The mode of cooking frozen bread is activated using the button with the snowflake icon. This function increases the cooking time for preliminary defrosting that lasts about 40 seconds.
Pros:
– stylish design;
– high quality of assembly and materials;
– modes of warming up and toasting frozen bread;
– mode of toasting on one side;
– elongated slot.
Cons:
– high price;
– heavy;
– uneven heat distribution in height.