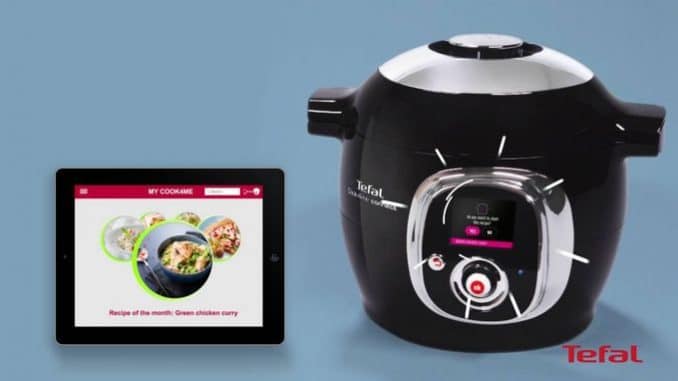 Devices from Tefal are present in almost all segments of kitchen appliances. Multi-Cookers are no exception.
The company offers an improved version of its popular CY7011JP model. Novelty is equipped with a wireless control function.
This model will decorate the interior of any kitchen. Cook4me has a stylish design in a futuristic style and is available in three colors.
This multi-cooker even received a prestigious award in the field of industrial design. New functionality is fundamentally different from traditional models. It's based on Turn & click control system with interactive LCD screen and wireless connection support.
All user information is displayed on the LCD screen.
The technical values of the Moulinex Cook4Me also correspond to a very high level. This model has two cooking modes. The first mode provides a pressure of 40 kPa and a cooking temperature of 109 degrees, and the second mode uses 70 kPa and 115 degrees, respectively. It's designed for rapid cooking under high pressure.
Multi chef mode is also available. Model remembers new cooking recipes that are stored in libraries. This is very convenient for automating cooking process.
The model power is 1200 W. The capacity of the inner pot reaches 6 liters. Auto warming-up lasts up to 1.5 hours. The timer provides a delayed start up to 24 hours.
Control is provided with only two buttons. The rotary-push button is used to select an item in the menu. The return button is very useful for correcting erroneous commands. Control with a single button is very convenient, but requires the skill of using this service. However, some users criticize the step-by-step navigation on the actions due to the lack of preliminary information about the recipe, except for its ingredients.
The intuitive menu contains four options.
Of course, the cooking process using preset programs is the simplest and requires only the corresponding ingredients.
Cooking the chocolate cake has demonstrated several features. First, the model prepares this dish with an open lid that causes psychological tension for some users. Secondly, the preset time was not enough. But increasing the cooking time by 7 minutes has solved this problem. On the other hand, the optimal duration of cooking is individual and depends on personal taste.
The recipe for making frozen mushrooms with fresh cheese requires 10 minutes for warming up and 4 minutes for cooking. Unfortunately, the finished dish turned out to be too insipid. But this problem is typical for most automatic cooking programs, because their developers are guided by the average taste and leave the possibility for individual experimentation.
Testing the cooking mode under high pressure has demonstrated an excellent result. Beef bourguignon was cooked after its pre-roasting with onions for 10 minutes. Cooked dish was soft and juicy, and sauce had balanced taste.
Ingredients option is designed for heat treatment of individual products and is carried out on the basis of commands from Moulinex. Unfortunately, most recipes are focused on diet food and offer mainly steaming. Steamed meat is prepared only 17 minutes. But, in the opinion of the tasters, this was not enough. The additional 10 minutes has solved this problem.
Care of the model is traditional and does not require much effort. The metal lid is washed in the dishwasher. Cleaning from foreign odors is effectively carried out with the help of water and lemon. Of course, a container for collecting condensate requires control the filling level.
Pros:
– high quality of assembly and materials;
– very high level of automation of the cooking process;
– wireless connection;
– high quality of cooking under high pressure;
– container for collecting condensate.
Cons:
– high price;
– high weight;
– not very comfortable handles;
– insufficient duration of cooking certain dishes;
– pre-installed programs are focused on diet food and steaming.
The video demonstrates the possibilities of this novelty.