Of course, the wine cellar is one of the most ancient inventions of civilization. For example, recently American and Israeli archaeologists have discovered a cellar for wine storage in the ancient city of Tel Kabri that was built more than 3600 years ago, ie, still in the Bronze Age. Of course, modern devices use new technologies, but their main purpose has not changed. They provide long-term preservation of wine without impairing its taste and flavor. Modern compact and relatively inexpensive models are the most popular among consumers. Today, the market offers a wide range of these devices. Unfortunately, the abundance of offers can sometimes complicate the choice. Therefore, their classification can simplify the selection of the optimal wine cellar. Of course, selection depends primarily on the features of the modern wine cellars and the requirements for storage conditions.
Types
Today, the market offers compact models, built into the niche or under the countertop, wine cellars for restaurants and models for long-term storage.
Compact models usually have a low price and a simple design in the form of an ordinary parallelepiped.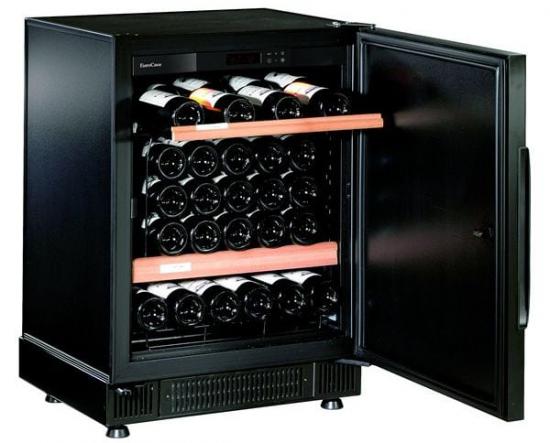 Niche wine cellars practically do not take up space.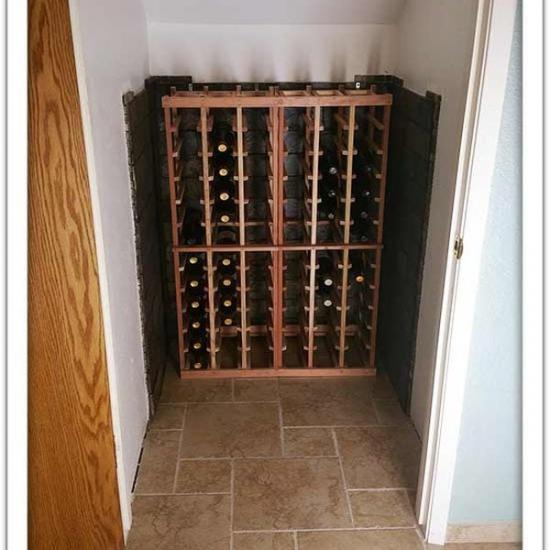 Embedded under the countertop models are compact and practical do not require free space.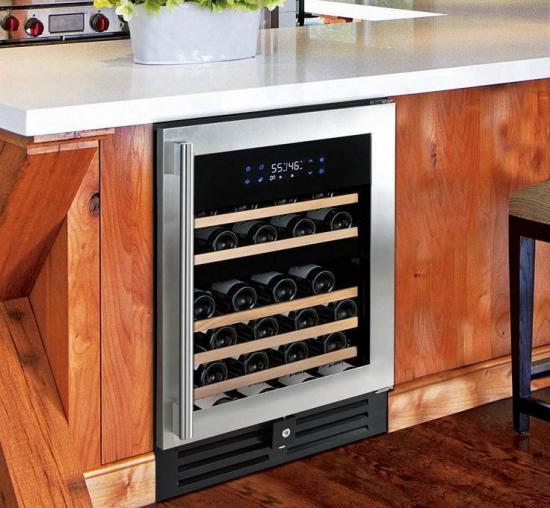 They often have a compressor and electronic control panel. Typically, the height of such wine cellars does not exceed 35 in. Narrow models provide storage of only one row bottles. But they practically do not require free space. Usually, the shelf width of such wine cabinet does not exceed 6 in. These models can easily fit even in a small kitchen.
Powerful models for restaurants always have a lock on the door. Most expensive wine cellars for long-term storage have several cooling zones and can hold up to 200 bottles.
Temperature
Temperature for the long-term storage of wine differs from optimal drinking temperature. Therefore manufacturers offer mono- and multi-temperature models.
Mono-temperature wine cellar provides a storage temperature no worse than traditional cellar. They have uniform distribution of the temperature and ventilation flows within the chamber. These models provide the wine preservation over decades at temperatures from 4 to 16 degrees C without loss of palatability at an external temperature from 0 to 35 degrees.
Two-temperature model has two compartments. One compartment provides a temperature from 10 to 14 degrees. The second compartment is designed for cooling the white wines and champagne before serving. Its temperature is from 6 to 10 degrees.
Three-temperature models have central wine storage compartment (10-14 degrees), the lower compartment for cooling the wine before serving (6-10 degrees) and an upper chamber for heating the wine to room temperature (16-20 degrees).
Multi-temperature models have up to 10 temperature zones. The temperature inside the chamber varies in range from 7 to 21 degrees, ensuring the selection of the optimum temperature for each drink.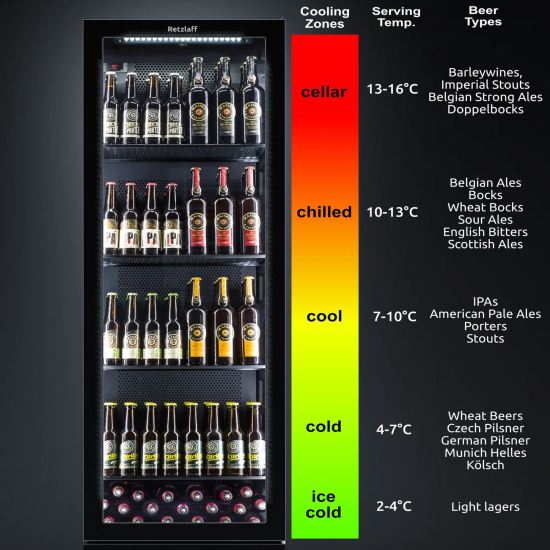 Cooling technology
Modern wine cellars are divided according to the cooling type into models with compressor, and thermoelectric or absorption models.
Thermoelectric models use a cooling Peltier element that is heated on one side and is cooled on the other side at applying a voltage.
Pros:
– low cost; p>
– absence of vibrations;
– practicality.
Cons: p>
– these models are not intended for embedding into the furniture;
– the maximum possible temperature difference the inside and outside of the chamber is only 15 degrees.
Wine cellar with compressor works on the principle of the traditional refrigerant compression. Its further expansion is accompanied by cooling.
Pros: p>
– high reliability;
– efficient cooling;
– possibility of embedding into furniture.
Cons: p>
– compressor operation is accompanied by a slight vibration, which adversely affects the storage of wine;
– relatively high cost;
– special transport mode (slope should not exceed 45 degrees).
The absorption models use the technology of heat absorption during chemical reactions. These systems not contain of mechanical parts.
Pros: p>
– total absence of noise.
Cons: p>
– high price; p>
– high energy consumption;
– the use of hazardous substances in the cooling system (e.g., ammonia).
Such models are often used in the luxury hotels.
Materials and design
Companies commonly use a wood, metal, glass or combinations thereof.
Wooden models provide a good vibration resistance. Of course, metal models are more expensive and difficult. The combination of wood and metal or metal with glass today is the most popular.
Usually, modern models have glass doors. Some models use the separate niches with individual eject mechanism for each bottle of wine.
Wine cellar showcases usually have tinted windows with thermal insulating properties. Tinting additionally protects the chamber against penetration of UV rays.
The standard model has only the basic features and classic design. Electronic control, decoration, lighting and locks are ordered separately.
The models of the upper price segment come with lots of additional features. They have an improved design and increased functionality.
Exclusive models are made to order, adding a coziness and sophistication in the premises. For example, the wine cellar looks very aesthetically pleasing in classic-style teak.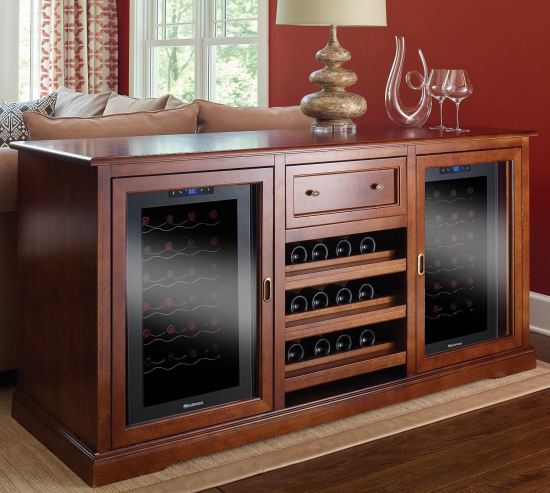 This video demonstrates the modern wine cellar with electronic controls.