Traditionally for global giants, Google introduced several new products this year. In particular, the Pixel lineup has expanded due to:
– Pixel Fold ~ $ 1,800 (5.8″ OLED outer screen unfolds to 7.6″ display with a 120Hz refresh rate);
– 10,9-inches Pixel Tablet with magnetic charging dock ~ $ 500;
– Pixel 7a ~ $ 400 (G0DZQ version with mmWave ~ $ 425 / € 480 / £ 430).
All devices use Google's Tensor G2 chip.
The hybrid tablet/phone Pixel Fold is a Google's first foldable model.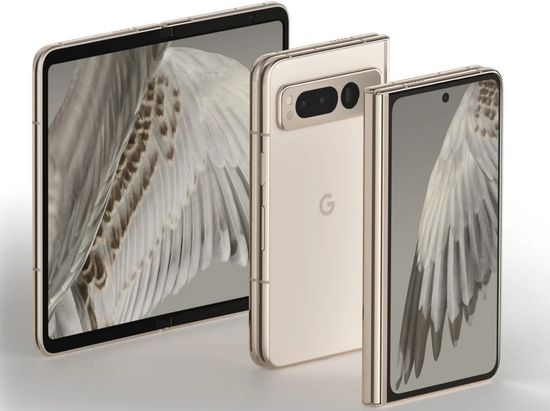 Unfortunately, it's expensive, but this is typical for modern folding models. However, the models of luxury segment do not claim to have good quality-price ratio, demonstrating technological trends.
The Pixel Tablet may have more ambitious prospects. In fact, Google presents the first tablet/smart-display hybrid. Its functionality is similar to media consumption-focused iPad Air and smart home station like Google's Nest Hub or Amazon's Echo. If accepted by the consumer market, it could pioneer a new segment of smart devices.
Google Pixel Tablet Specs
– Android 13;
– 10.95-inch LCD display, (2,560 x 1,600) resolution, 276 ppi.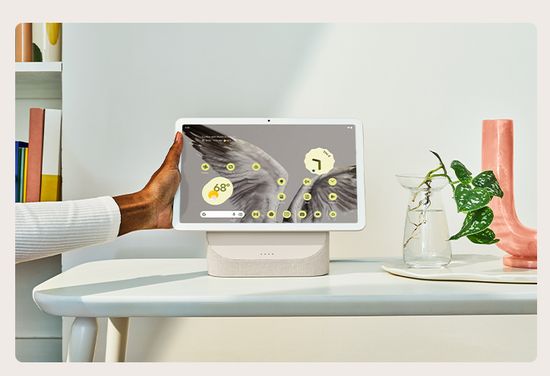 – 16:10 aspect ratio, 24-bit color, anti-smudge coating;
– Google Tensor G2 octa-core processor;
– 8GBRAM (LPDDR5);
– magnetic speaker dock has 15W speaker with a 43.5mm driver;
– Titan M2 security chip;
– 128GB/256GB UFS 3.1 non-expandable internal storage;
– 8MP front camera + 8MP rear cameras;
– side-mounted fingerprint scanner;
– WiFi 6 (dual-band);
– Bluetooth 5.2;
– UWB (Ultra-Wideband);
– Google Cast.
Pixel 7a became a cheaper version of Pixel 7 and Pixel 7 Pro.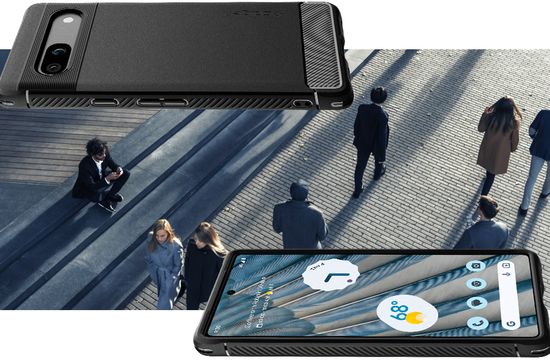 It has superb price-quality ratio due to the low price and good specs, and claims to be among the bestsellers of this year.
Google Pixel Fold
Model uses Android 13 version, which supports split-screen multitasking in foldable phones. For many tasks its performance is even excessive. Pixel Fold has superb software and very good design. Priced at just over $50, the Pixel fold case increases its mechanical protection and adds style.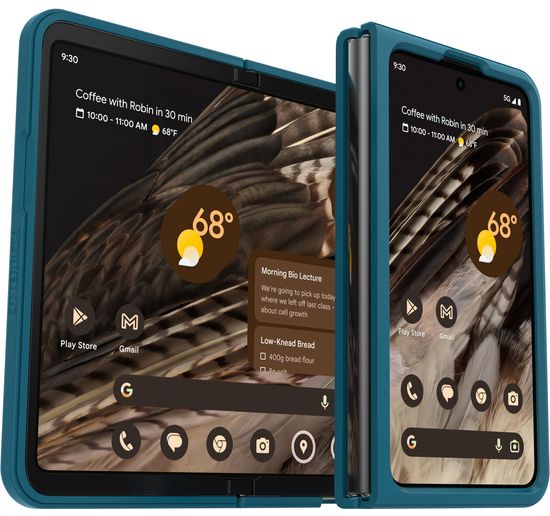 Like the Galaxy Z Fold 4, it has a visible crease dead center. To be fair, the eye stops perceiving it as a hindrance after a few minutes. The 7.6-inch display in open position is quite consistent with a small tablet. The contrast is also impeccable. Both displays are more bright enough for use in direct sunlight. The device displays smoothly even fast moving objects.
Despite its rigidity, the polished stainless steel hinge opens/closes easily. Unlike Galaxy Z Fold 4, the Pixel Fold closes without a visible gap.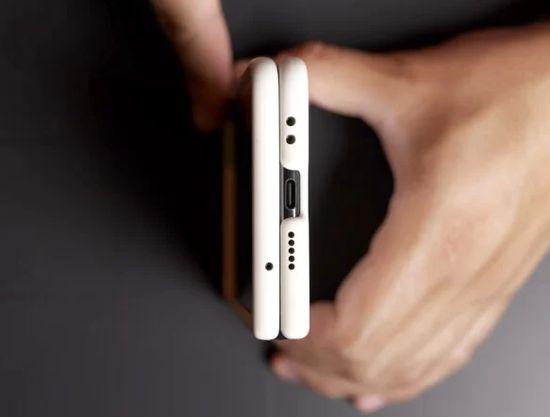 Of course, the convenience of the form factor depends on personal preference. But the shorter and wider Google screen (3,1″ x 5,5″) is often more convenient compared to the narrow (2,6″ x 6,1″) screen in the Galaxy Z Fold 4. In many cases, its 5.8-inch screen is sufficient without the need for a larger display.
The battery life varies from 24 to 33 hours on a charge, which is better compared to competitors. But, of course, a big screen significantly reduces it.
Key Features
Google's Gmail, YouTube, Calendar, Maps and Home, or Asphalt 9, Netflix, WhatsApp, Hulu, Spotify, TikTok work flawlessly. But the interface of non-optimized for the bigger screen apps, including Facebook, Instagram, Twitter, Uber, Lyft, is displayed with black bars around the perimeter. Basically, double-tapping the black bar moves apps around, ensuring two unoptimized apps are displayed on the larger internal screen.
Traditionally for Pixel, the new model provides great photos. But unlike Pixel 7 Pro with 50MP main, 12MP ultrawide and 48MP telephoto sensors, Pixel Fold use 48MP main, 10.8MP ultrawide and 10.8MP 5x telephoto cameras. This decision was probably due to the thinner body. However, the sensors only complement Google's effective software, which ensures the excellent quality of Pixel's photos. Therefore, the image quality of the Pixel Fold and Pixel 7 Pro is very close.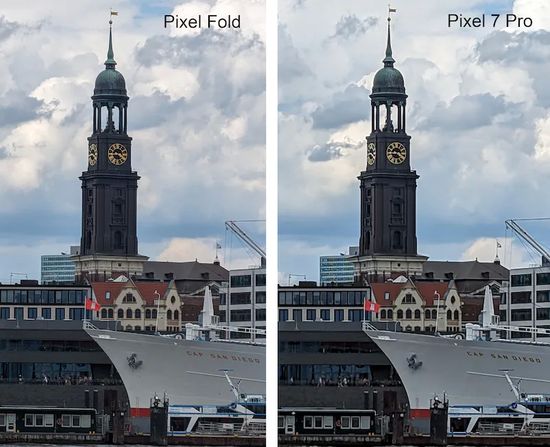 All cameras provide accurate colors, good contrast, and sharp images at any environments. In fact, only the telephoto of 7 Pro is slightly sharper and clearer.
The Pixel Fold also has a 9.5MP selfie camera on the exterior and an 8MP inner display camera. However, the selfie icon in the Camera app allows you to use main camera lenses, which will provide higher quality. Hitting the rear selfie button will activate a tooltip with step-by-step instructions for using this option.
Of course, the high price significantly limits the popularity of folding models. But with a good budget, they really offer advanced functionality. As a rule, the exterior screen удобен for messages and emails, while its unfolded interior display is ideal for streaming and games.
Pixel Tablet
Pixel Tablet comes with magnetic speaker dock with Pogo pin charging. Considering its price ~ $ 120, the actual price of the model is less than $ 400. Model supports multiple user profiles. In addition, Pixel Tablet comes with Android 13, which has five years of guaranteed updates.
Due to the use of nano-ceramic coating instead of glass, the tablet weighs just 1.09 lbs (493 g). Of course, it's heavier than the iPad Air (462 g / 1.02 lb), but lighter compared to, for example, the Galaxy Tab S8 or OnePlus Pad, which weigh 503 g and 552 g, respectively. The company offers rose, black or white color option.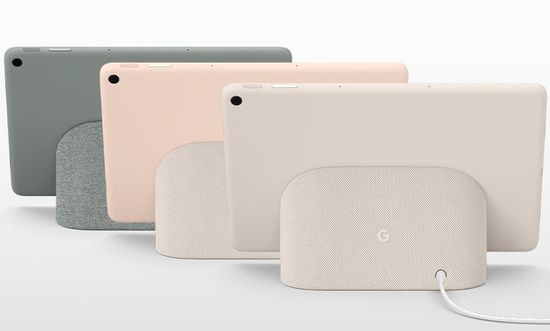 The Pixel Tablet on dock is very similar to the Google Nest Hub Max.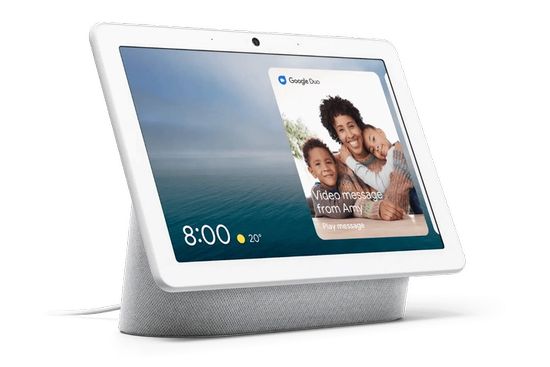 To be fair, Amazon and Lenovo tablets in a Show mode are also actually smart displays with Alexa-enabled screens. But the Pixel Tablet becomes the first smart display in the Google lineup.
A tablet stand can hardly be positioned as a groundbreaking concept. Lenovo tablets with built-in stands and Surface devices have offered this option for a long time. But the Pixel Tablet is the first to combine it with smart display functionality.
Of course, the dock reduces the importance of battery life by maintaining the charge at 90%. However, numerous tests consistently demonstrate more than 20 hours of operation at 50% brightness. According to the company, the tablet lasts for 12 hours of video streaming at 100% brightness, but without a 15W speaker. When using a cable, charging takes about 3 hours.
As known, Google does not recommend placing Assistant-enabled devices nearby. However, the proximity to the Nest Mini speaker did not provoke a conflict.
Tablet and smart display
To be fair, the brightness of its 10.95-inch LCD panel with (2,560 x 1,600) resolution and pixel density of 276 ppi is inferior, for example, to OLED panels on Samsung's Galaxy Tabs (500 nits vs 650 nits or more). But it's unlikely that many people prefer watching movies on a sunny day in the park. Without direct sunlight, 500 nits provides a high-contrast image with vibrant colors.
Pixel Tablet has a new taskbar with simplified launch of apps on a split screen.
Overall, the Pixel Tablet is significantly more functional than the Nest Mini with much higher sound quality, including bass, trebles and voices.
For smart home fans, the Pixel Tablet offers Hub Mode. It's activated with the house icon at the bottom left, providing showing all devices and control. Of course, the tablet is perfectly compatible with other Google Pixel devices.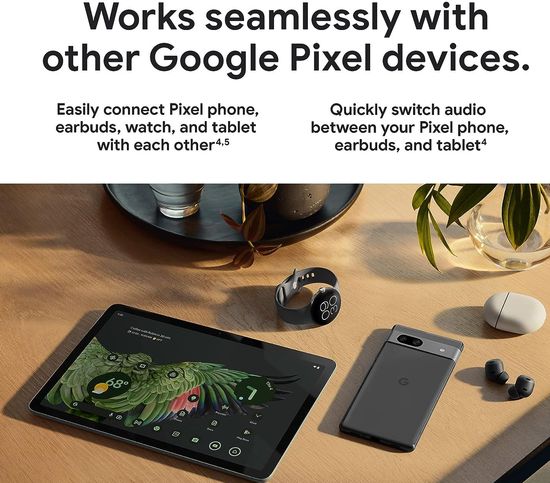 Tablet uses large fonts for timer and other information, and offers photo frame feature. At night, the display reduces brightness and goes into a dim mode.
The Pixel Tablet became the first tablet with a Chromecast receiver. Of course, it's much more convenient than any phone for watching video content. Chromecast supports remote control via your phone while streaming from apps like YouTube, Disney+, Hulu, etc. But this mode is only available when connected to a dock station.
Its full Android supports almost all apps, including, for example, Solitaire or Slack. Meet, Zoom, Teams provide video calls with the 8MP webcam. Unfortunately, the shooting angle is not optimal. However, for Meet the developer offers an auto-framing feature that solves this problem.
In addition to the dock, the tablet has a ring-shaped kickstand, which ensures it can be placed anywhere, including on the nail in workshop.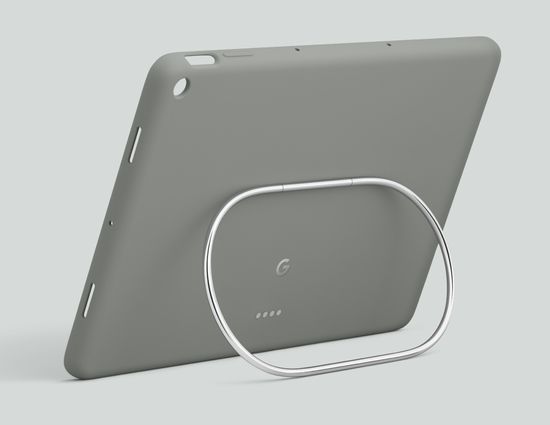 Google Pixel 7a
The model is available in three colors.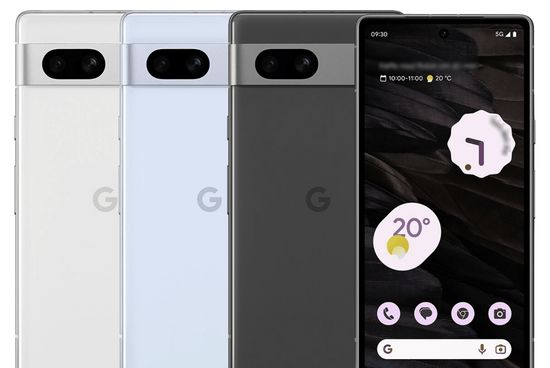 Like previous models, Pixel 7a uses Google Tensor G2 (5 nm) chipset (2x 2.85GHz Cortex-A78 + 2x 2.35GHz Cortex-A76 + 4x 1.80GHz Cortex-A55) and Titan M2 security chip. The Internet offers many detailed comparisons of their specs. A short list of their differences includes (7 Pro vs 7a):
– price in USA – Google Pixel 7 Pro 12GB RAM, 128GB / 256GB / 512GB inner memory ~ $ 900 / $ 1,000 / 1,100 vs $ 444 for Pixel 7a with 8GB RAM and 128GB;
– LTPO Amoled, 120Hz vs OLED, 90Hz;
– 6.7″, 110.6 cm² (~88.7% screen-to-body ratio) vs 6.1 inches, 90.7 cm² (~81.8% screen-to-body ratio);
– 512ppi vs 431ppi (18.79%);
– 12GB vs 8GB RAM;
– WQHD+ (1,440 x 3,120) vs FHD+ (1,080 x 2,400) resolution (1.73x);
– main cameras – 50MP (wide), 48 MP (telephoto) and 12 MP (ultrawide) vs 64MP (wide) and 13MP (ultrawide);
– 5x optical zoom vs no;
– 5,000mAh vs 4,385mAh (14.03%);
– 512GB vs 128GB (max internal memory);
– IP68 vs IP67, dust/water resistant (1.5m vs 1m for 30 min);
– Gorilla Glass Victus vs Gorilla Glass 3.
Compared to the 6a (~$ 300 with 6GB RAM, 128GB), the new 7a offers a 90Hz display, 64MP main camera and supports 7.5W wireless charging.
The model provides more than 1,000 nits with adaptive brightness and almost 500 nits in manual mode. For comparison, the Galaxy S23 offers almost 1,200 and 475 nits, the Pixel 7 Pro shows almost 600 and 1,100 nits. The default adaptive mode is the one for vibrant colors and wide color gamut.
Battery test:
– 21:27h – talk time;
– 14:56h – web browsing;
– 18:12h – video playback.
Conclusion
Once again, the global giant confirmed its leadership ambitions by presenting several contenders to the bestseller list. But, the Pixel Fold is unlikely to be included on this list due to its high price. However, luxury premium models are usually created to demonstrate concepts, and their first versions are rarely a marketing success. But the Pixel Fold demonstrated traditionally flawless software performance, great performance, very high-quality shooting, and reliable operation of the polished stainless steel hinge. Of course, today Pixel Fold is too expensive, but a traditional correction of the launch price can change the situation.
The Pixel Tablet claims to be the first tablet/smart-display hybrid. If consumers receive Pixel Tablet well, it could be the impetus for a promising new direction.
Superb price-quality ratio of the new Pixel 7a with a 90Hz screen promises it excellent marketing prospects and a place among bestsellers.
In general, Google has once again made a significant contribution to expanding the range of smart products.
This video offers Pixel Fold demo at Google I/O 2023.