Optoma is a multinational corporation headquartered in Hemel Hempstead, UK. Since 2002, it has been developing and producing DLP projectors, being one of the leaders in this segment. Modern Optoma models use DuraCore light engines, which are among the most effective in the industry. They have advanced laser diode cooling and an innovative dust resistant design.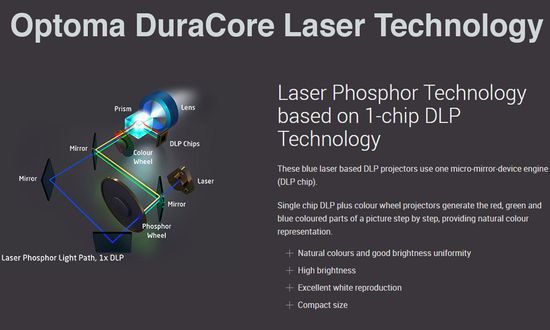 This year the company has already introduced several new Full HD projectors, including
Optoma ML1080/1080ST, HZ40HDR, and GT2000/2100HDR. With the exception of the ML1080/1080ST, all projectors use the ALPD 3.0-based (Advanced Laser Phosphor Display) laser phosphor light engine.
The ultra-compact ML1080/1080ST weigh only 2.3lbs (1.0kg) and measure 7 x 16 x 13cm. They use an ALPD 4.0-based RGB triple laser light source. Price and brightness:
– Optoma ML1080 / 1080ST (short throw version) ~$ 1,000 / $ 1,150, 1,200ANSI Lumens;
– -"- HZ40HDR ~$ 1,300, 4,000 ANSI Lumens;
– -"- GT2000HDR ~ $ 1,100, 3,500 ANSI Lumens;
– -"- GT2100HDR ~ $ 1,550, 4,200 ANSI Lumens.
Optoma ZW350e
In addition, the company introduced the Optoma ZW350e in series of conference room projectors with WXGA resolution.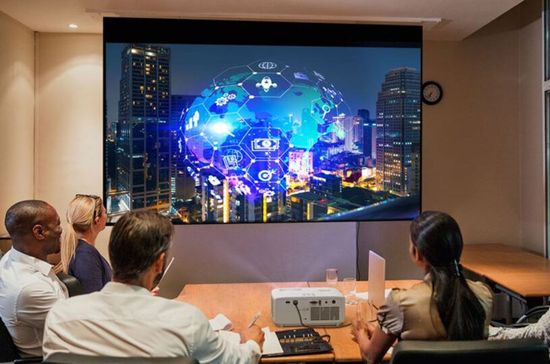 In fact, it replaces the Optoma ZW370. Thus, the list of current ZW WXGA projectors includes the ZW403 (2021, $1,085, 3,700 ANSI lumens) and ZW350e (2023, $800, 4,000 ANSI lumens).
As known, WXGA (Wide eXtended Graphics Array) provides (1,366 x 768) resolution with a widescreen 16:9 aspect ratio. Compared to Full HD (1,920 x 1,080), it's ~10% brighter due to the smaller screen area. In fact, WXGA is an expanded version of XGA to widescreen.
The company positions it as the most compact and lightest model with high brightness. But to be fair, its 6.6lbs (3.0kg) weight and 7 x 16 x 13cm dimensions are identical to the Optoma HZ40HDR/GT2000HDR/GT2100HDR and significantly larger than the ultra-compact ML1080/1080ST.
Nevertheless, the company's successes are impressive. Powerful, bright models traditionally have impressive dimensions due to the need for heat dissipation. In addition, the noise of their powerful fans significantly exceeds 30 dB. With DuraCore laser technology, Optoma presents very bright models, the weight and dimensions of which correspond to the mini-classification.
Specs
– $ 800 price;
– 4,000 ANSI lumens with DuraCore laser;
– WXGA (1,280 x 800) resolution;
– 2,000,000:1 dynamic contrast ratio;
– 1.1x optical zoom;
– Full HD 3D;
– auto keystone;
– 360° operation and portrait mode;
– integrated speaker – 15W mono;
– blackboard mode;
– auto power off.
Optics with Throw Ratio of (1.54:1 – 1.72:1) can form an image up to 300″/762 cm diagonally from a distance of (2.3ft – 33ft) / (0.7m – 10.0m); 100″/254cm@(3.3m-3.7m).
Optoma UST projectors
Today, the Ultra Short Throw (UST) projectors segment is the fastest growing. Their enormous popularity is due to an objective factor. Traditional mid-focal models generate a fairly large projection from a distance of several meters. Accordingly, placing the projector in the room center creates the problem of wires on the floor. It further increases in a family with children or pets. In fact, a complex ceiling mount is the only way to solve it. UST models do not create this problem by being placed near a wall with a screen.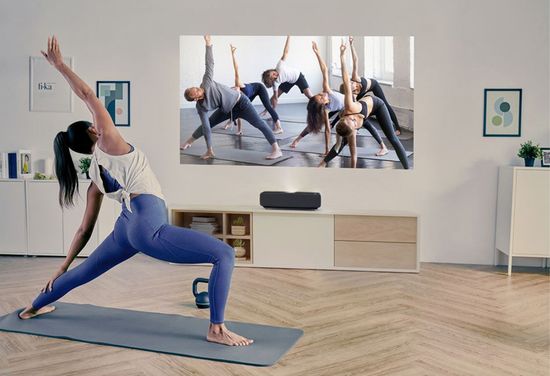 Combined with improved image quality, falling prices for bright projectors, and solving content problems through streaming and screen mirroring, UST projectors are increasingly replacing traditional TVs in living rooms as an alternative.
Of course, Optoma has not ignored consumer demand by developing the series of UST 4K DLP Home Theater projectors.
In September 2019 Optoma introduced the P1 model, its Pro version in March 2020, and Optoma CinemaX P2 in September 2020. But they were discontinued after the introduction of the new CinemaX D2 projector.
This model provided brightness up to 3,000 ANSI Lumens with laser phosphor light engine, had 4K (3,840 x 2,160) resolution, 1,800,000:1 dynamic contrast ratio, only 16ms input lag, geometric correction, Android TV, supported Google Assistant and Full HD 3D. Today its price varies from $ 1,500 to $ 2,000, but it's also discontinued. This year was no exception and the company presented the new Optoma L1 UST projector at the Integrated Systems Europe (ISE) 2023 exhibition in Barcelona.
The relatively low native contrast was a major problem of previous Optoma UST models. The new projector can only claim marketing success if this problem is solved.
Optoma L1
Modern premium UST projectors provide high brightness and contrast, 4K resolution, wide color gamut, smart platforms with Google Assistant, auto settings, low input lag, etc. In turn, brightness and color gamut depend on the light engine. Therefore, most models use ALPD 3.0-based laser phosphor or ALPD 4.0-based triple-laser RGB light engine.
But some companies, including BenQ, ViewSonic and Optoma, have made impressive progress with cheaper and more reliable LEDs light sources. Using additional LED pump (4LED design) and improved more powerful LEDs, the developers have significantly increased their brightness to several thousand ANSI Lumen and expanded the color gamut to almost 100% REC 709. Optoma L1 was the first UST model with a 4LED light engine, the use of which can significantly reduce its price.
Main specs and key features
– superb price with 4LED light source;
– 2,500 LED lumens and 1,050 ANSI lumens in eco mode;
– 4K UHD (3,840 x 2,160) resolution;
– 1,800,000:1 dinamic contrast ratio (Dinamic black technology);
– ~ 100% Rec.709 color gamut;
– uniformity 85%;
– screen size from 75″ to 120″ from a distance of 0.47 – 0.74 m with a projection ratio of 0.25:1.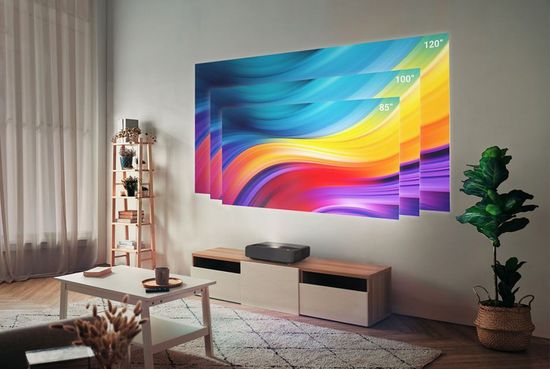 – Google & Netflix certified Android TV dongle from Hako Mini (Hako Mini is an optional accessory depending on the regional plan);
– VRR compatible and 15ms input lag for 240Hz@1080p and 27ms for 60Hz@4K in Game mode;
– 3D support;
– 15W built in speakers;
– advanced curve screen warping adjustment capabilities and geometric correction at 32 points;
– 4-corner keystone correction;
– Lens Sift ±10° V & H;
– 360° mode;
– noise level – 28 dB;
– ultra-compact – 15.7″ x 4″ x 12.2″ (40 x 10.2 x 31.6 cm) при весе 11,2 lbs (5.1 kg).
ANSI / LED / ISO / CVIA Lumens
The company specifies 2,500 LED lumens and 1,050 ANSI lumens in eco mode. Today this confusion is traditional in the industry due to the use of different units.
Most manufacturers use ANSI Lumens (American National Standards Institute), which measures the luminous flux at nine points on the screen.
3LCD projectors do not use a color wheel as a color filter. Due to the absence of color brightness loss, they provide identical white brightness and color brightness (CLO – Color Light Output), creating more saturated image.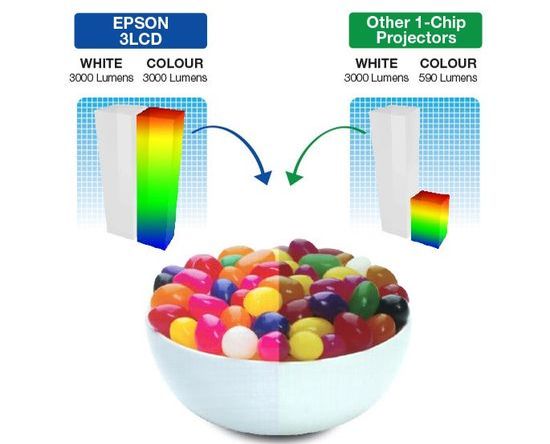 Of course, Epson focuses consumers' attention on this aspect by specifying white brightness and CLO in the specs.
Manufacturers of LED projectors evaluate the perceived brightness in LED lumens taking into account the influence of Helmholtz-Kohlrausch effect.
Some manufacturers indicate the projector brightness in Lux, which characterizes the illumination of 1 m². In particular, 1 Lm provides 1 Lux on a 1 m² screen.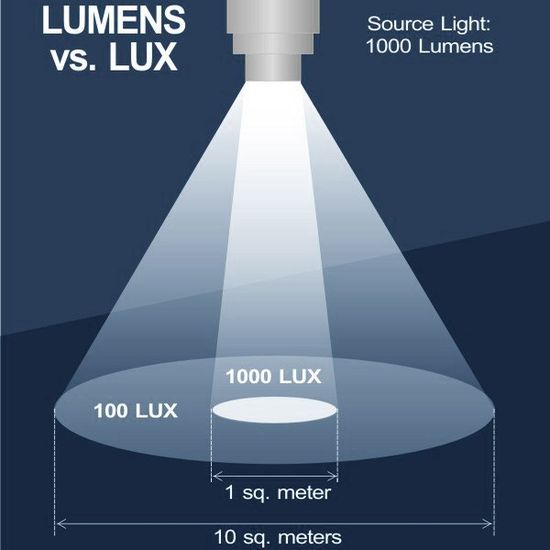 ISO lumens (ISO 21118 from International Organization for Standardization) defines the measurement technique. It takes into account the light source power and effect of noise on brightness.
Finally, the China Electronics Video Industry Association (CVIA) developed a group standard with CVIA lumens. It takes into account, for example, the test color temperature, the value of the color coordinate and requires that the indicated brightness correspond to up to 80% of the nominal light output.
Conversion rates:
– 1,000 LED Lumens ~ 417 ANSI Lumens.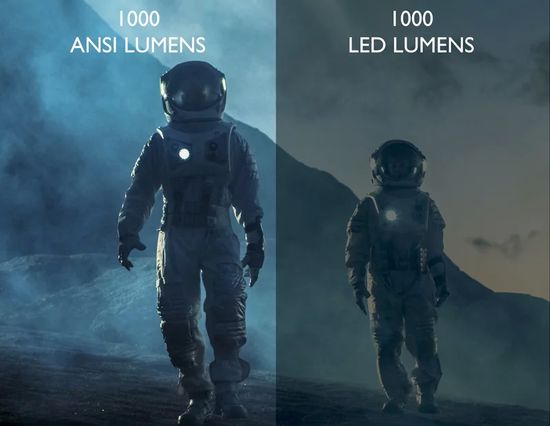 – 1 ANSI Lumen ~ 0.8 ISO Lumens;
– 4,000 ANSI Lumens ~ 2,200 CVIA Lumens.
This chaos can be considered the price to pay for the free market. Probably, leading manufacturers will be able to agree on this aspect over time.
Conclusion
Until now, LED models have been unable to provide richly rich, colorful 4K images on a large screen due to limited brightness. But the new 4LED light engines are much brighter, more powerful and cheaper. They can provide significant price reductions for UST models that are positioned used as an alternative to TV.
Indeed, the expected price of Optoma L1 with 4LED light engine is only $ 1,600 – $ 2,200, which is very cheap for UST premium projectors. Moreover, in the UK and Europe it's already offered for £ 1,900 and € 2,000, respectively.
Of course, the announced brightness may seem insufficient due to confusion with units. But anyway, the effect of brightness on image quality depends on several factors:
– increasing the projection size and its resolution requires increasing brightness;
– at low brightness, ambient lighting makes the image faded and dull;
– HDR performance depends on brightness;
– perceived brightness depends on the image colors.
Simply put, even 1000 ANSI lumens will be enough to produce a colorful, rich display of a green baseball field in a dark room in SDR mode on a screen up to 100″. Conversely, even the 3,500 ANSI Lumens of an expensively powerful projector may not be enough to produce a high-quality 150″ 4K image in HDR mode at diffuse sunlight.
Therefore, assessing the Optoma L1 brightness is still premature. But it's definitely better suited for the twilight of an apartment in foggy Albion compared to the veranda of a villa in sunny California.
This video demonstrates step-by-step setup of Optoma projectors.