Just 10 years ago, companies mainly offered only low-power children's models for cartoons and expensive mid-focal Home Theater projectors. The large sizes to dissipate the heat of powerful lamps and fan noise to cool them, limited content, strict requirements for room darkening due to low brightness, etc radically limited their popularity.
Modern projectors
Today, companies have successfully solved most problems. Streaming and mirroring eliminated the content problem.
SSL (Solid State Lightsource) light engines have a service life of up to 25,000 and practically do not heat up. With rare exceptions, modern models use LEDs, laser phosphor (ALPD 3.0 or Advanced Laser Phosphor Display technology) or triple-laser RGB (ALPD 4.0 version) light engine. For reference, a laser diode is a traditional optical cavity diode. Of course, it's more expensive, but it provides more powerful coherent radiation. As a result, companies have reduced projector size and cooling fan noise level.
In addition, modern SSL models are brighter. Combined with highly efficient ALR (ambient light rejecting) or CLR (Ceiling Light Rejecting) screen, increased brightness has reduced dimming requirements.
As a result, the projector image quality has become closer to that of TVs. Moreover, projectors provide image sizes from 100″ and higher. Considering approximately the same price level, projectors were able to compete with TVs as their alternative in the living room.
But mid-focal models have a significant drawback. They can create a fairly large projection from a distance of several meters and, as a result, cannot be placed near the screen. Of course, wires on the floor create significant discomfort in the living room, especially if there are children and pets in the family. In fact, a complex and troublesome ceiling mount was the only way to solve this problem.
UST (ultra short throw) projectors radically solved this problem. At Berlin IFA 2015, LG introduced the first PF 1000 LED UST projector with a launch price of $ 1,000. From a distance of only 15 inches (38 cm), it provided a projection with a diagonal of 100″, and from a distance of 4.3 inches (11 cm) – 60″.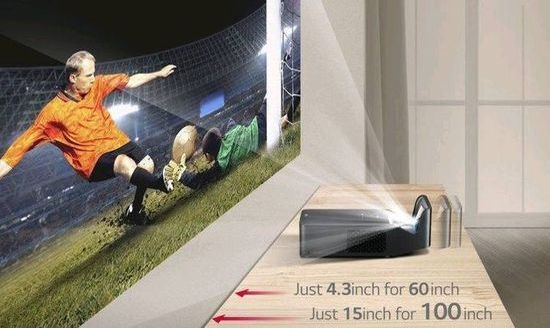 UST projectors
In fact, PF 1000 started a new segment in the projector industry. Consumers were enthusiastic about the new product. Of course, companies responded adequately to demand. As a result, the market quickly became flooded with UST projectors. Today they are increasingly replacing traditional TVs from living rooms. Considering conjuncture, some manufacturers and sellers have even changed their name from 'projectors' to 'laser TVs'. Perhaps some physicists may smile skeptically at this marketing term. But formally, any projector with a built-in TV receiver can be positioned as a TV with a screen outside the housing. However, most manufacturers still prefer to call them UST projectors.
This year was no exception, and their range expanded with:
– Visionair-e Platinum Vision 3000;
– BenQ V5000i;
– Philips Screeneo;
– Epson EpiqVision Ultra LS800 and Epson EB-810E;
– Formovie Theater;
– Hisense PX1-PRO;
– CHiQ B8U and B7U;
– Hisense PL1, etc.
Today, Hisense claims dominance in this segment. This year, the Chinese giant even created separate Laser TV and Laser Cinema lineups, which combine models with/without ALR screen included. But, of course, other companies are also not wasting time. For example, Epson EpiqVision line of streaming UST projectors includes LS300, LS500, LS800, PowerLite 810E, and announced EpiqVision Ultra LS650.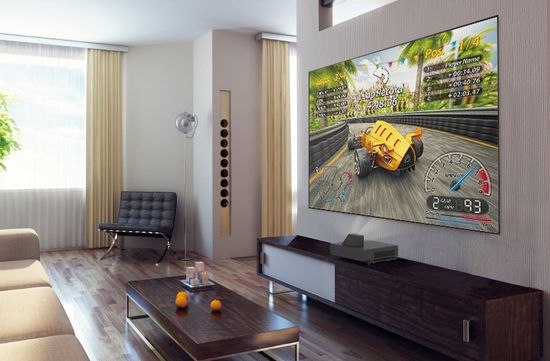 3LCD projectors
All Epson UST models use ALPD 3.0-based Laser Phosphor light engine and 3-chip 3LCD technology. It has several key features. As known, DLP technology generates colors using a color wheel, which is a color filter. Accordingly, at any given time it allows only one color to pass through, losing others. 3LCD models work without color wheel and color loss. Therefore their White Brightness is always identical to the Color Brightness (CLO-Color Light Output). As a result, they provide a brighter and more saturated image compared to DLP models.

Unfortunately, their contrast is inferior to DLP and LCoS projectors.

But the company successfully solves this problem with the effective DeepBlack algorithms and C2 Fine (Crystal Clear Fine) technology.

In fact, it uses a VA matrix with an inorganic alignment layer that enhances image contrast.
To play 4K content, Epson 4K models use pixel shift ('4Ke'). It shifts each pixel once diagonally, doubling a 1080p LCD chip's effective resolution.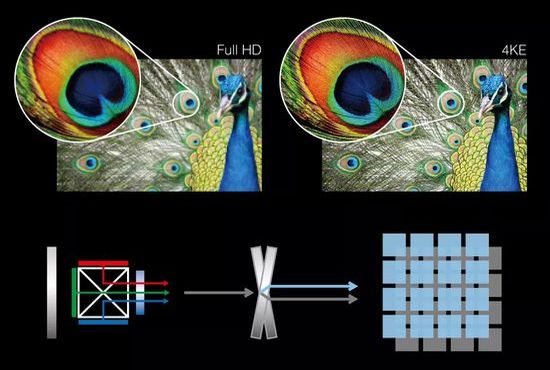 Latest Epson models use 4K PRO-UHD advanced pixel-shifting which increases detail and clarity without sacrificing picture brightness.
Modern DLP 4K projectors use DLP DMD (Digital Micromirror Device) chipset from Texas Instruments with support of XPR (Xpanded Pixel Resolution) technology. In fact, it displays 4K content using a relatively cheap 1080p chipset. Its 4-phase version divides the 8 million pixels of a 4K image into four parts of 2 million each. Then, using only 2 million micromirrors, projector sequentially reproduces four 1080p images, shifting them by half a pixel relative to each other. Due to the high frequency, the eyes and brain perceive them as a single image with higher resolution. Pixels are shifted by tilting the lens using 4 XPR module electromagnets.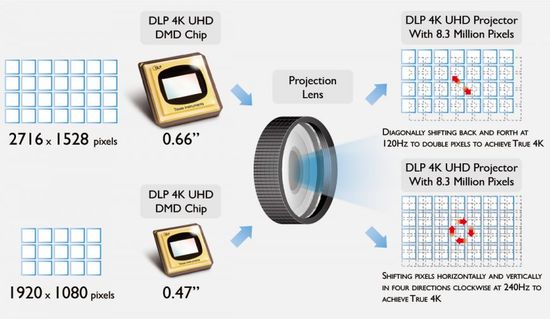 Epson UST projectors
The flagship LS500 4K and LS300 Full HD (1080p) were presented in 2020. Both models have Android OS and support Google Assistant. The list of differences includes (LS500 vs LS300):
– $ 4,300 vs $ 1,760;
– 4K w/pixel shift vs Full HD (1080p) resolution;
– LS500 has periscope-style lens.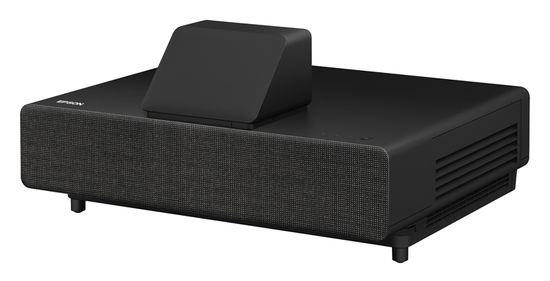 – 4,000 ANSI Lumens vs 3,600 ANSI Lumens brightness;
– 2,500,000:1 vs 1,500,000:1 dinamic contrast ratio;
– screen size – LS500 comes with 100″ or 120″ screen vs up to 120″ inches;
– 2x 10W vs 2x 5W (by Yamaha) internal speakers;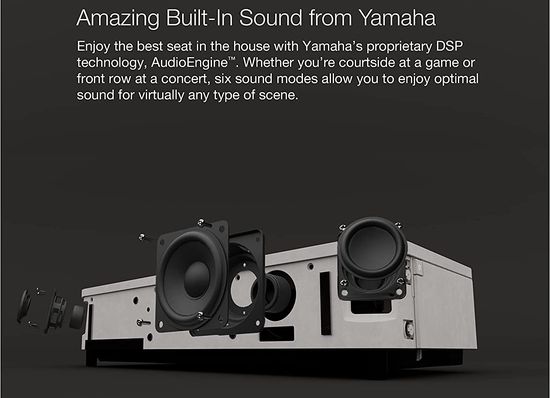 – Geometric Correction vs no;
– Full HD 3D vs no.
Last year, the company introduced EpiqVision Ultra LS800. It could be positioned as a 4K version of the LS300 or as a cheaper LS500 version. However, the lower price is largely due to the lack of a screen included.
Priced at $ 3,500, the projector provides 4,000 ANSI Lumens, 2,500,000:1 dinamic contrast, up to 120″ screen size, has 4K PRO-UHD, Android OS, 2x 5W (by Yamaha) internal speakers, superb 16.7ms input lag, and supports Google Assistant and quick setup with Epson Assistant app.
This year, the company introduced Epson PowerLite 810E 4K UST. In fact, it's an improved version of last year's EpiqVision Ultra LS800. 810E is slightly cheaper ($ 3,300 vs $ 3,500), significantly brighter (5,000 ANSI lumens vs 4,000 ANSI lumens), provides larger screen size (up to 150″ vs 120″), has more powerful speakers (2x 8.0W vs 2x 5W) and supports 16:10, 21:9, and 16:6 aspect ratio.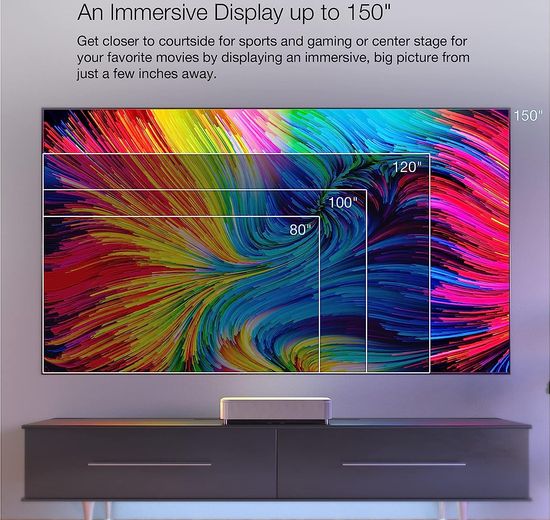 The announced LS650 logically completes the list of new Epson UST 4K models.
Epson EpiqVision Ultra LS650
LS650 has a similar chassis to the existing LS300. It uses 0,62″ LCD panel with C2 Fine. Like previous models, the LS650 uses Laser Phosphor light engine, which provides 3,600 ISO lumen brightness.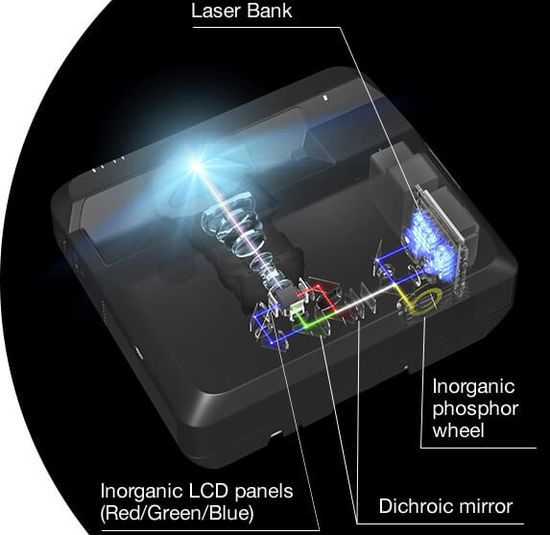 Similar to the LS800, the new projector will provide color gamut with coverage of up to 100% of the Rec.709 color space. In addition, it supports real-time 10-bit analog-to-digital video processing for smooth tonal transitions.
4K (3,840 x 2,160) resolution is achieved by 4K PRO-UHD technology. According to the company, the projector supports 2,500,000:1 dynamic contrast ratio.
Ultra short throw 0.26:1 lens produces an image up to 120″ (100 inches@10.5″). For added precision, LS650 offers a manual focus slider.
Model has Cinema, Dynamic, Natural and Vivid color modes.
Like last year's LS 800, the LS650 offers a very convenient setup with Epson's Assistant app.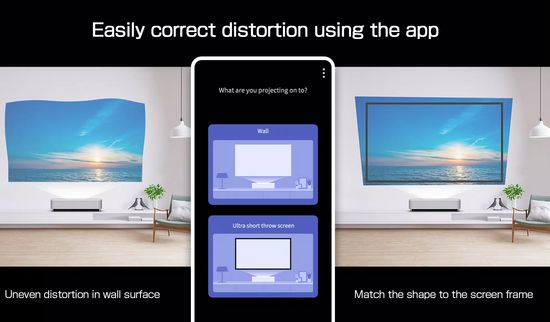 It only requires to take a photo of a projected target pattern with a smartphone. Then, the image borders 'snaps' into place.
New LS650 has a 2.1-channel Yamaha designed sound system with improved transmission due to an updated metal grille across the front. It includes two full-range 5W speakers and one 10W subwoofer. But one of the HDMI 2.0 ports with eARC provides connection of soundbar.
The input lag up to 20 ms for 4K@60Hz is good for most games.
The LS650 supports full 10-bit HDR color processing for HDR10 / HLG, and has an Android TV OS, web-streaming platform with integrated Google Assistant, Chromecast built-in, available apps for Amazon Prime Video, Hulu, HBO Max, Disney+, YouTube, etc. Unfortunately it does not have an authorized Netflix app, but this is typical for most modern Android-projectors.
Conclusion
Of course, the marketing prospects of the new model will depend on the price. Given the specs and price of the LS800, it's unlikely to be significantly higher than $ 2,500. But it will also be determined by the delivery package. In particular, highly efficient 100″ or 120″ Epson SilverFlex ALR screens redirect up to 90% of ambient light, but cost several thousand. They provide increased contrast and a crisp vibrant image even in diffuse sunlight. Of course, the included screen for a relatively small increase in price will make the deal much better. Otherwise, the LS650 will face stiff competition from a long list of superb UST 4K models, including:
–Visionair-e Platinum Vision 3000 ~ $ 3,750;
–BenQ V5000i ~ $ 3,500;
–Philips Screeneo U5 ~ $ 3,500;
– Epson EpiqVision Ultra LS800 ~ $ 3,500 / € 3,300 / £ 3,200;
–Epson EB-810E ~ $ 3,300;
–Formovie Theater ~ $ 3,000;
–Hisense PX1-PRO ~ $ 3,000;
– LG HU715Q ~ $ 2,620;
–Optoma CinemaX D2 ~ $ 2,330;
– CHiQ B8U and B7U ~ $ 3,000 and up to $ 2,000;
–Hisense PL1 ~ $ 2,500 / up to € 2,000.
This video introduces Epson SilverFlex Ultra Ambient Light Rejecting Screens.