In the coffee machine segment, the Jura brand has long become a cult favorite among coffee lovers. It belongs to Swiss Elektroapparate AG, which develops, produces and sells premium home appliances since 1931. Premium coffee machines became its main product in the early 90s of the last century. Today the company offers a wide range of mid-budget, premium and luxury super automatic espresso machines.
Jura coffee machines are manufactured in Switzerland by Eugster/Frismag company. As known, it and Saeco are the world's leading manufacturer in this segment. For reference, Eugster/Frismag is OEM supplier (original equipment manufacturer) for Bosch, Melitta, Nivona, etc brands.
Today Jura coffee machines lineup includes compact A and ENA, full-size D, E, S, J, Z series, and luxury Giga models. To be fair, the expensive Giga coffee machines can hardly boast of superb value for money. But the high price is quite adequate for Jura impeccable reputation, suberb build quality, luxurious design, highest innovation level and ultra-wide functionality.
Giga 10 costs $ 5,000 / € 3,000 / £ 3,450 (US, Europe, UK) and is an improved version of discontinued Giga 6 (2019).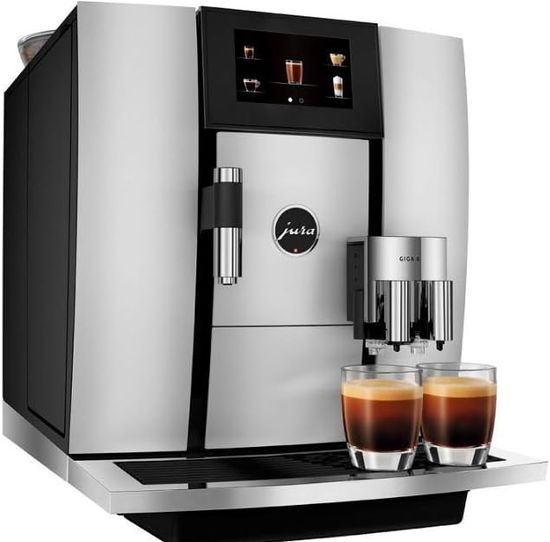 Today Giga 6 costs ~ $ 4,000 / € 3,260 / £ 3,795.
But technologically it's closer to Jura Z10 (2021), whose current price is ~$ 3,700 / € 3,260 / £ 2,500.
However, prices in Europe and the UK fluctuate greatly and depend significantly on the model color.
Among other models, the technological level, class and price of Giga 10 are closest to Miele CM 7750 (2021). Today it costs ~$ 6,400 / € 4,000 / £ 2,680. The price difference between US, Europe and UK seems excessive, but may be due to Miele's regional pricing strategy.
Jura GIGA 10
Jura GIGA 10 is available in popular Diamond Black.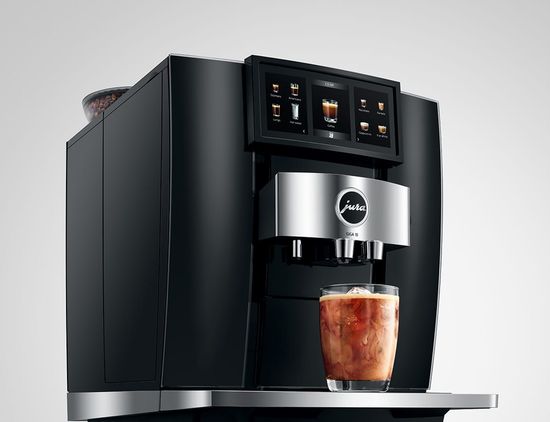 It uses heating system with two thermoblocks, has two grinders and two bean hoppers.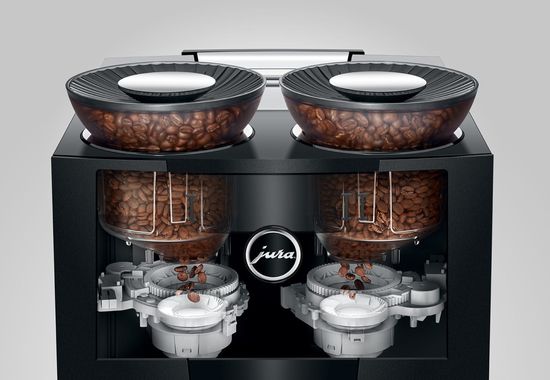 As known, models with two thermoblocks can make two espressos at the same time and do not require a pause between cycles. Two ceramic disc grinders greatly enhance the grind customization options using the 'Set Grind Consistency' function in the programming menu. For example, one grinder can be set to an extra coarse grind which is optimal for cold brew with cold extraction process. The second coffee grinder can be set to very fine grind for espresso or medium grind, which is optimal for American filter-style coffee. Moreover, the coffee machine offers a naming option for each grinders, which may reflect their purpose (decaf, cold brew, etc). It's available in 'programming menu-Display option – Grinder Name'.
The second bean hopper radically simplifies the use of different coffee variety or roast levels. In addition, the coffee machine controls the filling of the bean hoppers. But given their transparency, this option may only be useful for very absent-minded coffee drinkers.
Of course, duplicated components increase the price and are usually only used in premium coffee machines.
The additional boiler, grinder and bean hopper are GIGA 10 bonuses, but they significantly increase the weight and size, which reach 36.9 lbs (16.7 kg) and 16.3 x 12.6 x 19.5 inches (41.4 x 32.0 x 49.5 cm). In addition, its ventilation requires a lot of empty space on the sides and back. Therefore, the coffee machine will fit harmoniously only into the interior of a fairly spacious kitchen. But given the price, its happy owners hardly live in tiny apartments.
Specs and programs
Key technologies:
– Cold Extraction Process and 3D Brewing Technology;
– Pulse Extraction Process (P.E.P.);
– Intelligent Pre-Brew Aroma System (I.P.B.A.S.);
– Intelligent Water System (I.W.S.);
– Energy Save Mode (E.S.M.).
GIGA 10 uses premium Jura's platform:
– large 6.7″ touchscreen with Panorama coffee panel;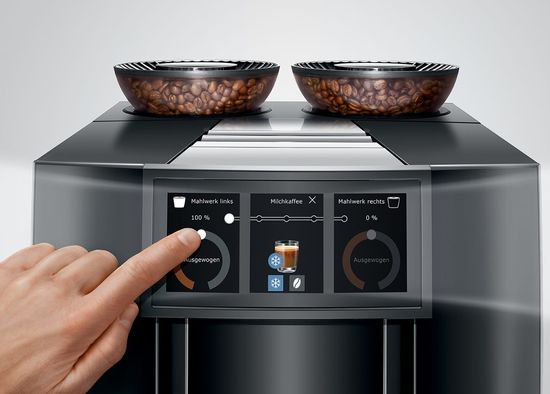 – 2 boilers;
– 2-cup function;
– 15 bar pump;
– 2.6 liter (87.9 fl oz) water reservoir;
– max / min cup height 6.0″ / 2.8″ (15.2 / 7.1 cm);
– 2 ceramic flat burr grinders with infinitely variable adjustment;
– 2 bean hoppers with a capacity of 560.0 g / 19.8 oz;
– grounds discard container capacity – 20;
– programs – unprecedented 32 specialty drinks;
– user profiles – 4;
– pre-ground coffee bypass.
Several years ago, some companies abandoned this option in their models. But the consumer market wasn't keen on the idea. Firstly, this function is needed to prepare decaf coffee. Also, coffee lover may inherit or win a huge sack of ground coffee in the lottery.
A full list of the drink options: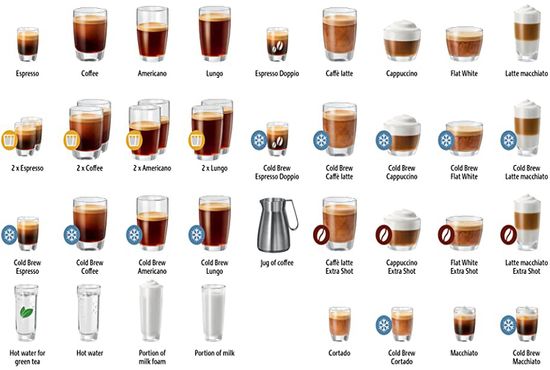 – espresso+double espresso+cold brew espresso+espresso doppio+cold brew espresso doppio+espresso macchiato;
– americano+double shot americano+cold brew americano;
– cold brew macchiato;
– regular brewed coffee;
– brewed coffee double shot;
– cold brew coffee;
– coffee pot;
– lungo+double shot lungo+cold brew lungo;
– cortado (cappuccino with reduced milk – 1:1 instead of 1:3)+cold brew cortado;
– caffè latte+cold brew caffè latte+caffè latte extra shot;
– cappuccino+cold brew cappuccino+cappuccino extra shot;
– flat white+cold brew flat white+flat white extra shot;
– latte macchiato+cold brew latte macchiato+latte macchiato extra shot;
– milk foam+milk+hot water+hot water for green tea (65°C-80°C).
Key Features
Cold Extraction Process was first implemented in brew unit 8 gen on the Jura Z10.
In this process, cold water is slowly pulsed through the freshly ground coffee under high pressure.
3D Brewing technology enhances extraction with a special system for injecting water and volumetric surface of lower piston. They increase the contact area between the water and the coffee in 3D space. Under high pressure, the water shower very quickly permeates the entire tablet volume, ensuring efficient coffee extraction even with the help of cold water.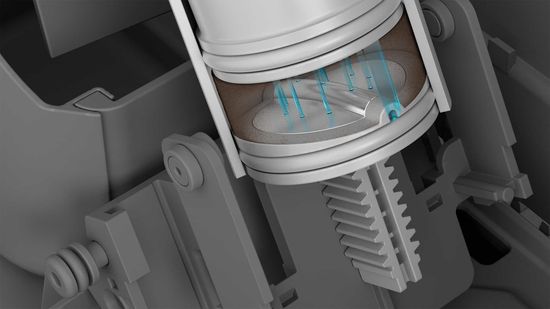 Jura's Pulse Extraction Process (P.E.P.) pushes water through the coffee with short pauses, enhancing extraction.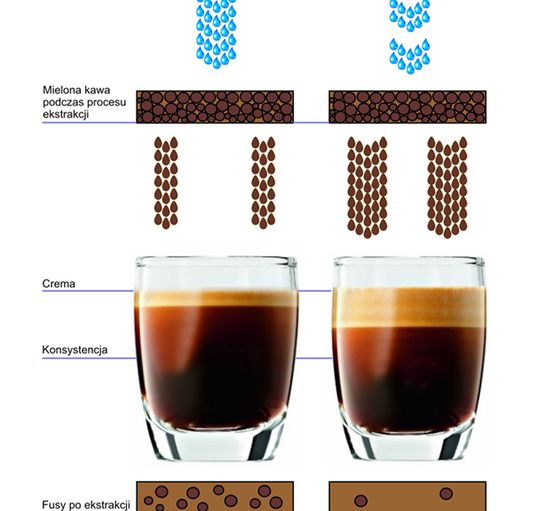 This effect may be due to the expansion of the interaction area between water and coffee in the horizontal plane due to the pause between cycles.
In addition to the excellent visualization, scrolling on the panoramic touchscreen simplifies the program selection.
Capacious 2.6-liter (87.9 ounces) water reservoir is very suitable for two boilers. For comparison, the capacity of most modern coffee machines rarely exceeds 1.7l (60 ounce).
GIGA 10 comes with a CLARIS smart filter. In addition, the Intelligent Water System (I.W.S.) with a portion counter notifies you when its cartridge needs to be replaced. Considering the ~$15 price, some are skeptical about its use. Indeed, purified, non-hard water is unlikely to require additional purification. Otherwise the filter is very effective. Anyway, this option can be disabled.
Dual coffee spout is width adjustable, which is very convenient, for example, for narrow espresso cups.
Model comes with WiFi Connect transmitter for Jura J.O.E. app. It offers the tips, tricks, recipes, settings, and a wide range of smart options. In addition to traditional remote program launch, for example, it creats Siri shortcuts for any favorite drink.
Jura GIGA 10 vs Jura GIGA 6 vs Z10 vs Miele CM 7750
Giga 6
Unlike Giga 6, Giga 10 supports Cold Extraction Process and 3D Brewing technology. In addition, it offers 32 vs 11 specialty drinks, 6.7″ Panorama coffee panel vs 4.3″ touchscreen and 4 vs 1 user profiles. Otherwise, the models are identical.
Z10
The models offer an identical technologies, settings, and a similar set of coffee drinks. But the design and platforms are different (Giga 10 vs Z10):
– Diamond Black vs Aluminum White and Diamond Black/White;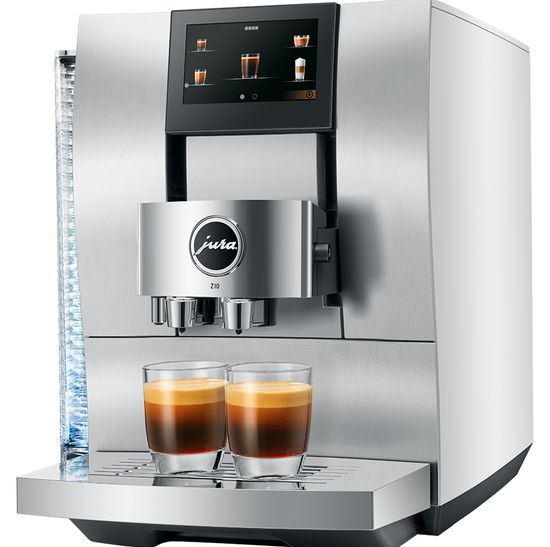 – 6.7″ Panorama Coffee Panel vs 4.3″ touchscreen display;
– two 10 oz bean container and 88 oz water tank vs 10 oz bean container and 81 oz water tank;
– 2 vs 1 boiler;
– 2 vs 1 grinder;
– 40 lbs vs 27 lbs.
Miele CM 7750 CoffeeSelect
The differences between Jura and Miele flagships (Giga 10 vs Miele):
– Diamond Black vs Obsidian Black.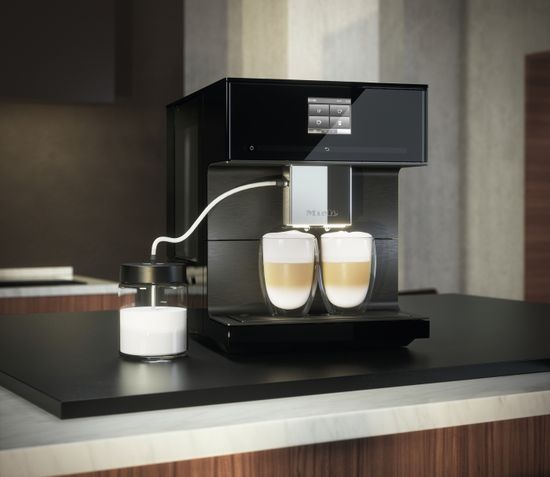 – 6.7″ Panorama Coffee Panel vs monochromatic LCD;
– brew unit – 8 gen with 3D Brewing technology vs brew group with a dynamic brewing chamber (it expands during the extraction process to improve espresso quality);
– user profiles – 4 vs 10;
– water reservoir capacity – 87.9 fl oz / 2.6 l vs 74.4 fl oz / 2.2 l;
– boilers – 2 vs 1;
– grinder – 2 (ceramic flat burr grinders) vs 1 (stainless steel conical burr grinder is a part of AromaticSystem with a dynamic brewing chamber);
– bean hoppers – 2 vs 3;
– specialty drinks – 32 vs 20.
In addition, Miele is very quiet due to the additional sound insulation, has Pot Function (makes up to eight coffees at one time) and comes with glass milk jug.
Conclusions
Pros
– 8 gen brew unit with 3D Brewing technology;
– auto grinder adjustment;
– Cold Extraction Process;
– two boilers/grinders/bean hoppers;
– 35 specialty coffee drinks;
– superb espresso flavor;
– large 6.7″ touchscreen 'Panorama' user interface;
– optional Cool Control milk jug;
– one-touch americano;
– cup illumination;
– height and width adjustable dual brew spout.
Cons
– high price;
– slightly confusing and limited menu navigation.
The Jura GIGA 10 was a very successful replacement for the discontinued GIGA 6. With a slight increase in price for Europe, it offers 3D Brewing technology, Cold Extraction Process, superb 6.7″ touchscreen and a radical increase in specialty coffee drinks to unprecedented 35. However, in the US the price difference reaches $ 1,000.
In fact, the model could be positioned as a more luxurious version of the very popular Jura Z10 (2021). With similar functionality, it offers additional boiler, grinder, bean hopper and large 6.7″ touchscreen Panorama. As a result, GIGA 10 has expanded the choice for fans of the Jura brand.
Coffee lovers with a good budget have received a worthy alternative to superb Miele CM 7750 (2021). Both brands have an impeccable reputation, and they flagships offer an excellent range of innovations, including Jura's 8 gen brew unit with 3D Brewing technology and Miele's brew group with a dynamic brewing chamber. In Europe and the UK, their prices fluctuate widely, but are generally approximately the same. But in US Miele is $ 1,400 more expensive ($ 6,400 vs $ 5,000), which is a significant bonus in favor of the Swiss company.
This video shows Jura GIGA 10.