Probably, the German Miele brand today is one of the oldest in the consumer electronics segment. This company was founded in 1899. German reliability, an impeccable reputation and a high innovative level have made it popular around the world for the third century already. To be fair, Miele products are quite expensive. However, the company does not hide its focus on the premium segment. But, of course, its models are also present in mig-budget price segments.
Miele coffee machines
Coffee machines are one of the company's business activities. It offers built-in and countertop models. Miele built-in coffee makers have long dominated the market.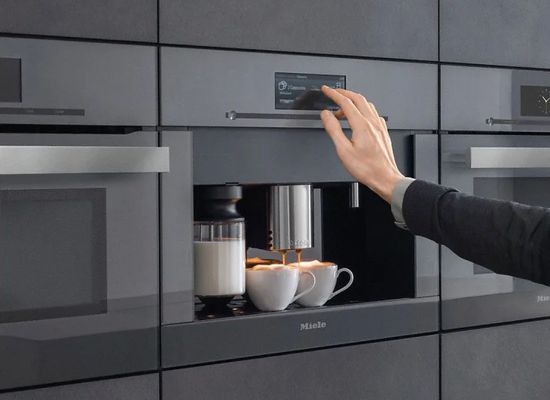 Prices of available models today range from $ 4,700 for the CVA 7440 to $ 6,500 for the CVA 7775. But to be honest, the competition in this segment is not very high. Today Miele competes mainly with Italian Smeg and German Bosch. But cheaper Smeg built-in coffee machines offer more modest design, functionality and specs. The prices and class of Bosch models are quite comparable with the Miele CVA. For example, 800 Series (BCM8450UC) costs ~ $ 3,700 today.
The limited demand for built-in coffee machines is due to quite objective factors. They are expensive and require complex installation. Therefore, many prefer countertop models, which are much cheaper, easy to install in any room and fit perfectly into the interior of any kitchen.
The list of current Miele countertop coffee makers includes:
– Silence series – CM 5310 (obsidian black/tayberry red) and CM 5510 (rose gold/silver gray metallic) – $ 1,800 and $ 1,900;
– MilkPerfection series – CM 6160 (lotus white/obsidian black) and CM 6360 (lotus white-CM/obsidian black bronze/obsidian black) – $ 2,300 and $ 2,800;
– CM 7750 CoffeeSelect – $ 6,400.
But market prices are often lower. For example, the CM 7750 CoffeeSelect is available for $ 5,700, and the CM 6360 costs $ 2,700.
In terms of competition, the CM 7750 / 6360 are close to the Swiss Jura Z10. Impeccable coffee quality, German/Swiss reliability, easy operation and care make them the ideal choice for the office as a semi-professional coffee machine.
Miele CM 7750 features
The company introduced the flagship CM7750 in 2019. Today it continues to be positioned as the flagship model of Miele countertop coffee machines.
Model has:
– three bean hoppers (CoffeeSelect function);
– active stainless steel cup warmer;
– ground coffee bypass;
– adjustable shot volume, temperature and strength;
– AromaticSystemFresh;
– coffee pot function (up to eight coffees at one time);
– 'one touch for two' option (two drinks in a row);
– WiFi connect;
– dishwasher safe;
– AutoDescale with a fully automatic self-descale program and Miele descaling cartridge.
AutoDescale requires a Miele descaling cartridge up to $ 100.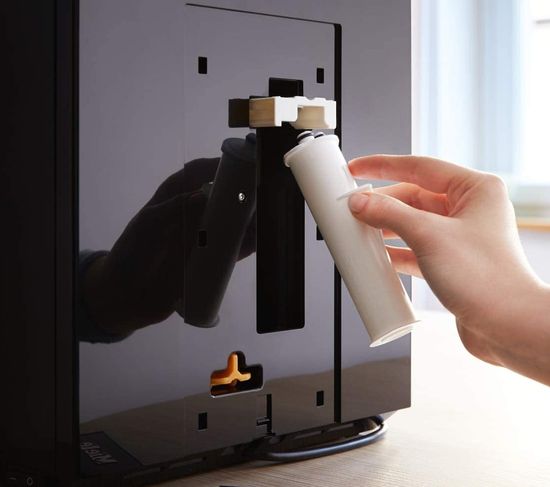 Some prefer to use Miele coffee machine cleaning tablets. This cleaning takes about 10 minutes;
– milk pipework auto rinsing;
– CupSensor (sensors to automatically adjust the spout height depending cup/glass/mug size);
– 10 programmable user profiles (each profile can store up to 10 recipes);
– very user-friendly interface.
The user interface (UI) in CM 7750 is simple and intuitive. Besides the display, it has the back and power buttons. In fairness, Miele's controls will appeal to minimalists and ascetics. Many much cheaper coffee machines have more colorful screens.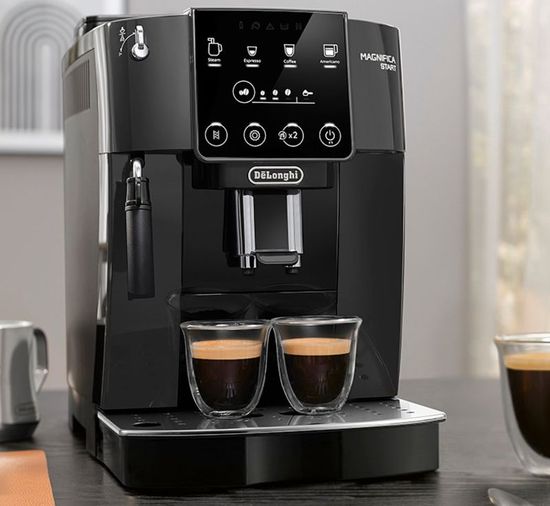 Therefore, text display of CM 6360 with separate sensor buttons seems antediluvian.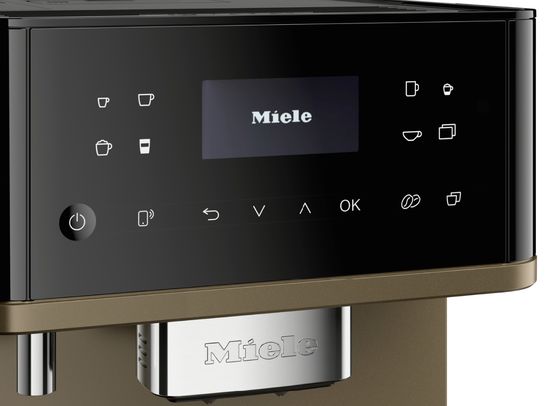 But many perceive its simplicity as a bonus.
Control
Miele's deliberate refusal to participate in the innovation race can be positioned as a key feature of the brand's models. Miele focuses on an elegant, understated design, reasonable functionality and build quality. Indeed, many innovations are quite contraversive. For example, Bean Adapt technology in Delonghi PrimaDonna Soul seemed too complicated to many. TrueBrew Over Ice technology in DeLonghi Dinamica Plus, Jura 3D brewing technology in Jura Z10 or DeLonghi cold foam function in DeLonghi Eletta Explore appeals to cold lovers coffee, but most are skeptical of cold espresso.
Despite reasonable conservatism, the CM 7750 supports phone control via the Miele@mobile app.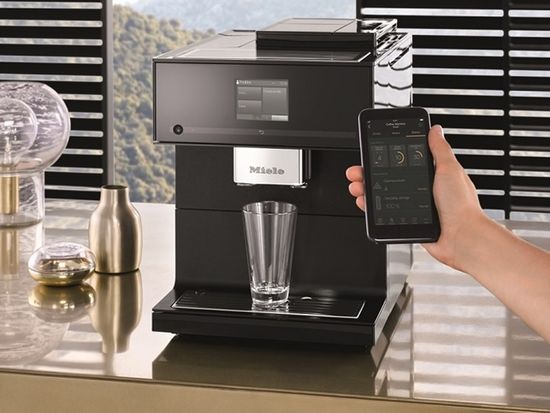 Miele BaristaAssistant app offers a step-by-step guide to create from four to eight user recipes.
Programs
– ristretto – concentrated, strong espresso with very little water;
– espresso – intensive flavor + thick crema;
– coffee – traditional recipe with freshly ground coffee;
– cappuccino – espresso + creamy hot milk froth;
– latte macciato – strong espresso + hot milk + milk froth.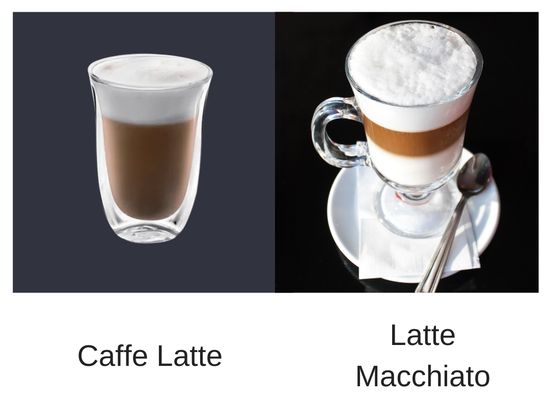 – caffé latte – hot milk + espresso on top;
– long coffee – 2x espresso + hot water up to a full cup.
– espresso macciato – espresso + small cap of milk froth;
– cappuccino italiano – espresso + milk froth on top;
– caffé au lait – coffé + hot milk froth in a bowl;
– flat white (cappuccino version) – espresso + milk froth with very tiny bubbles;
– caffé americano – long coffee version;
– long black – hot water + double espresso;
– green / black / herbal / fruit / white / japanese tea (with different water temperature), hot milk and hot milk froth.
CoffeeSelect function
As known, the inability to switch between coffee beans is a traditional limitation of any automatic coffee maker. The German developers solved this problem with a triple bean hopper, calling this option the CoffeeSelect function.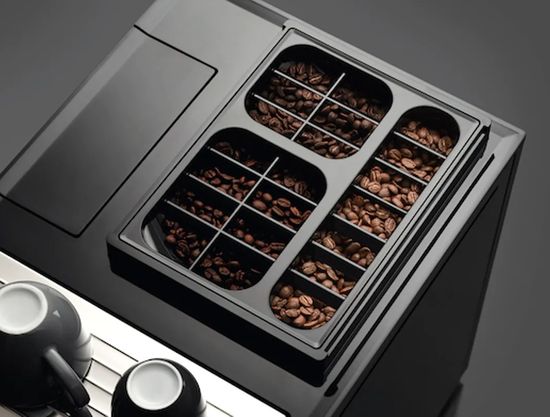 Of course, it radically expands the possibilities of experimentation. In addition, the many people prefer different beans for espresso and milk-based recipes. Additionally, the CoffeeSelect function supports the selection of a specific hopper for any branded drink.
But it increased the demands on the grinder. The company even developed a pretty special slanted grinder with stainless steel conical burrs and infinitely adjustable. It uses an impeller which removes excess grounds from the burrs, reducing cross contamination when switching between bean hoppers. The slanted grinder design is due to its additional use as a component of Miele's AromaticSystem, which also includes a dynamic brewing chamber. As known, it improves mixing water and coffee, increasing coffee extraction.
Unfortunately the CoffeeSelect function with triple bean hopper and slanted grinder increased the model price significantly. Probably, its improvement has good prospects. But while other leaders, including DeLonghi, Jura, Bosch, Philips (Saeko), etc, are in no hurry to introduce their own versions of this technology. To be fair, DeLonghi Bean Adapt technology solves a similar problem by optimizing extraction depending on the type of coffee bean.
Miele CM 7750 vs Jura Z10 vs Miele CM 6360 MilkPerfection
Platform (for all):
– super automatic espresso machine;
– stainless steel with plastic parts;
– cappuccinatore (milk frother);
– one boilers;
– pump pressure – 15 bar;
– stainless steel conical burr grinder (five levels infinitely variable);
– 2-cup function.
Differences (CM 7750 vs Jura Z10 vs CM 6360):
– $ 5,700 vs $ 3,800 vs $ 2,700;
– Obsidian Black vs Aluminum White / Diamond Black vs many colors;
– user profiles – 10 vs 1 vs 8;
– controls – monochromatic LCD with buttons vs touch screen with buttons and dials vs text display with buttons.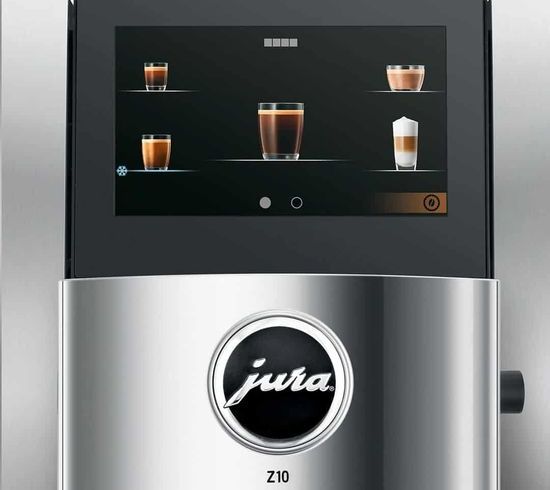 – water reservoir capacity – 2.2 l / 74.4 fl oz vs 2.4 l /81.2 fl oz vs 1.8 l / 60.9 fl oz;
– maximum cup height – 3.2 in / 8.1 cm vs 3.0 in / 7.6 cm vs 3.1 in / 7.9 cm;
– bean hopper capacity – 540.0 g / 19.0 oz vs 290.0 g / 10.2 oz vs 300.0 g / 10.6 oz;
– grounds discard container capacity (shots) – 16 vs 20 vs 10;
– specialty drinks – 20 vs 24 vs 17.
Conclusions
Miele CM 7750
Pros
– innovative CoffeeSelect function with triple bean hopper and slanted grinder;
– flush LED lighting;
– very quiet grinder;
– 10 profiles are ideal for the office;
– superb espresso and milk foam.
Cons
– too high price.
Pros
– 3D brewing technology for ice-free Cold Brew;
– Pulse Extraction Process technology;
-full color touch screen;
– setting the temperature of milk and milk foam;
– innovative Product Recognizing Grinder (P.R.G.) with electronic control.
Cons
– no user profiles and automatic milk hose rinsing.
Of course, the Miele CM 7750 is too expensive. But the impeccable quality of coffee, German reliability, 10 user profiles, simple operation and care are quite consistent with the semi-professional level. It's ideal, for example, for the office. In this case, the price importance is slightly reduced.
The Jura Z10 also makes superb coffee, offers equally high Swiss reliability, and is almost $ 2,000 cheaper ($ 3,800 vs $ 5,700). Unfortunately, the lack of user profiles limits usability, for example, in the office.
With the exception of the innovative triple bean hopper, the CM 6360 offers nearly identical functionality and specs. But it's available in many colors and is drastically cheaper ($ 2,700 vs $ 5,700), offering the best value for money. Compared to the Jura Z10, it's cheaper by more than $ 1,000 ($ 2,700 vs $ 3,800), which is a strong argument in its favor. These factors make it the best choice as a home coffee machine.
This video shows the Miele CM 7750 CoffeeSelect with the innovative triple bean hopper.