Of course, the German Miele & Cie. KG does not require a presentation. This company was founded in 1899 as a manufacturer of separators and churns. Later, Miele began to specialize in the design and manufacture of premium home appliances. Probably, today it's one of the few European companies that continues to successfully compete with energetic Asian giants in the segment of household appliances. The company has offices in 47 countries of the world, owns eight factories in Germany and one each in Austria, the Czech Republic, Romania and China. The Miele product range includes built-in appliances (hobs, electric stoves, hoods, coffee machines), microwaves, refrigerators, dishwashers, vacuums & robotic vacuums, etc.
Miele coffee machines have been in the top ten for decades. The company produces built-in (CVA line) and countertop (CM6 series) models.
Miele CM6 is quite competitive, but no more due to the huge competition in this segment.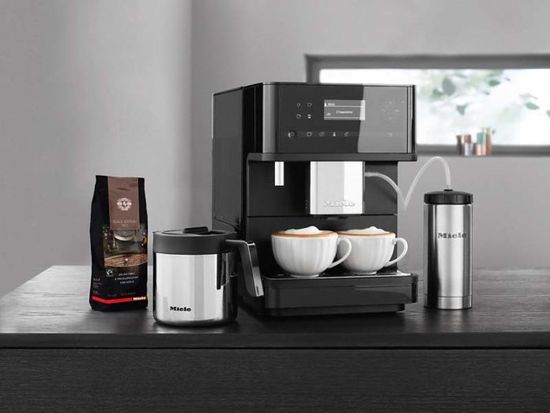 Indeed, the market today offers premium Jura coffee machines, multiple platforms of the super popular DeLonghi coffee makers, very good budget/mid-budget Philips / Saeco series, including Philips 1200, 2200 and 3200 and recent Philips 4300 & 5400 series, reliable Siemens EQ series, etc. Of course, success in such a company of competitors requires a lot of effort, and probably luck. However, the Miele CM6350 is one of the bestsellers.
But the Miele CVA line is consistently popular among built-in coffee machines.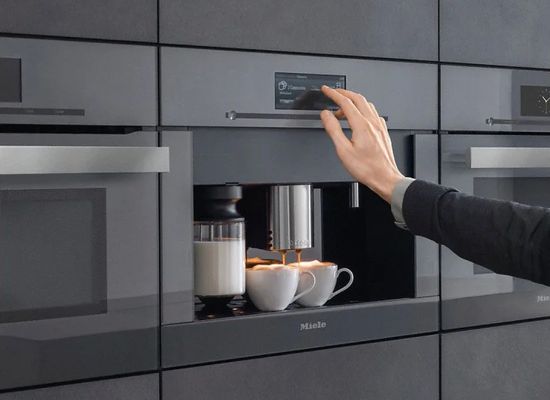 Perhaps this is due to the company's specialization in the built-in appliances segment. Of course, these models are quite expensive, but traditionally excellent German quality, wide functionality and a high innovation level compensate for this drawback.
Miele CVA built-in coffee machine range
Today, CVA line includes 6xxx and 7xxx series.
CVA 6xxx:
– CVA 6805 – $ 4,300 (water tank or DirectWater feature – can be connected to a waterline, M Touch controls);
– Miele CVA 6800 – $ 3,900 (no DirectWater, M Touch controls);
– CVA 6401 / CVA6405 – $ 3,500 / $ 3,900 (no DirectWater, traditional controls).
Miele 7xxx:
– CVA 7440 – £ 2,900 (just over $ 4,000) – DirectSensor display, no DirectWater;
-Miele CVA 7840 – £ 3,600 (just over $ 5,000) – M Touch + MotionReact display with movement sensor, no DirectWater;
– CVA 7845 – £ 3,800 (just under $ 5,300) – M Touch + MotionReact display with movement sensor, DirectWater.
The Miele CVA7xxx can grind coffee beans separately for each cup.
All models support innovative features, including:
– AromaticSystem (intense aroma with fewer bitter tones) – uses dynamic brew chamber with variable volume;
– OneTouch for Two – provides simultaneous preparation of two coffee drinks by touching one button.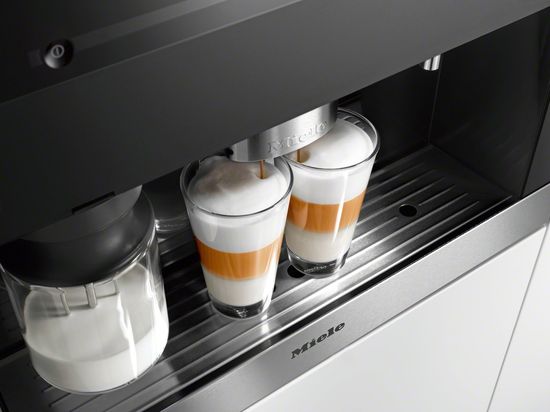 – patented CupSensor automatically adjusts the central spout height. The sensor recognizes the cup height and positions the central spout accordingly. This technology avoids splattering and improves the crema quality. After adding the milk, the central spout automatically rises by 0.39 "(1 cm) to prevent soiling.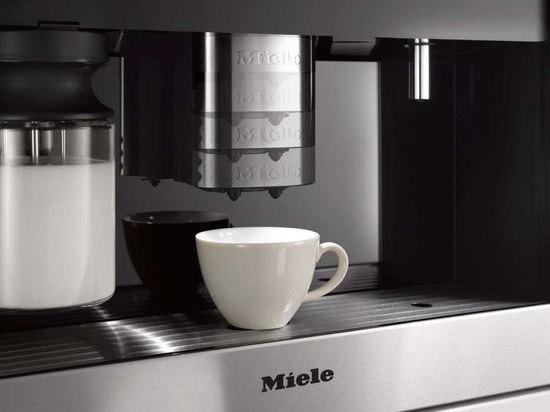 – new EasyClick milk system simply clicks into place at the front in the appliance door and is just as easily removed.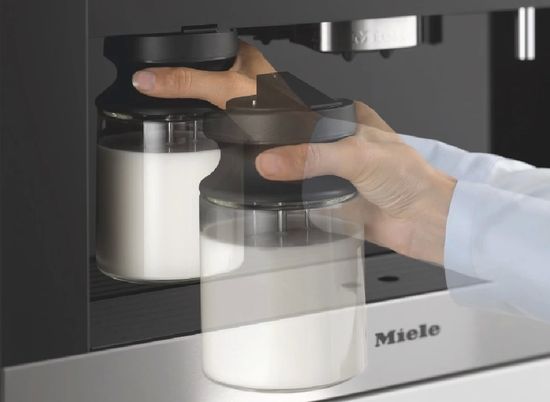 – new cleaning programs;
– automatic rinsing of water container milk pipework after making a milk based coffee drink;
– ComfortDoor – door system with fully opening front provides convenient access to all components.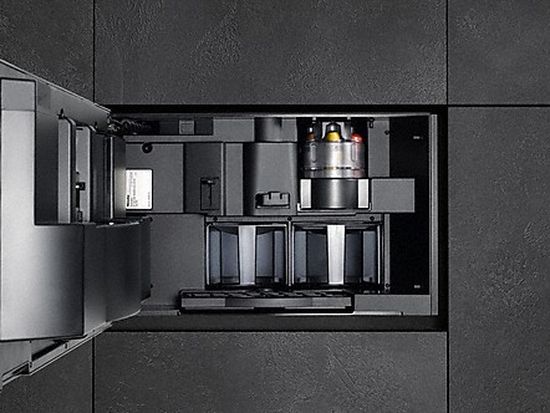 – ComfortClean – cleaning in the dishwasher;
– AutoDescale program.
– Coffee pot feature.
Miele CVA key features
The class and price of a modern coffee machine depends on its functionality and customization.
Functionality depends on the range of coffee drinks that the coffee machine can prepare by 'one touch', and is determined by the number of programs that are started by the 'direct launch buttons'.
Of course, this is quite a difficult task, because some recipes require several steps. For example, Latte macchiato requires the following steps:
– brew unit automatically lowers to the cup height;
– coffee machine doses hot milk and makes freshly grind coffee beans to make a strong espresso;
– milk froth is dispensed on top of the beverage.
Mid-range espresso machines typically provide 3-4 recipes. The Miele range reaches 6 + 3 recipes, which corresponds to the premium level.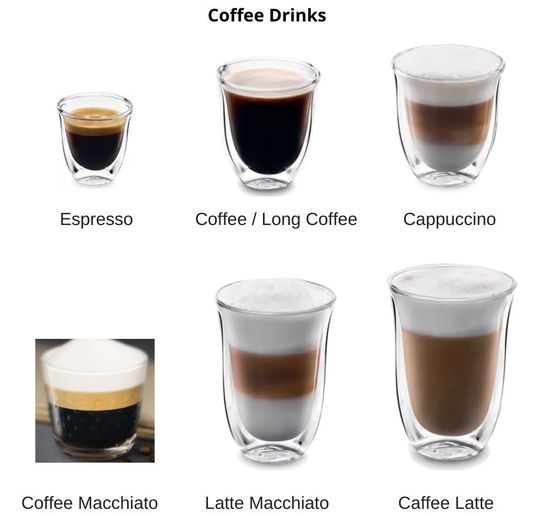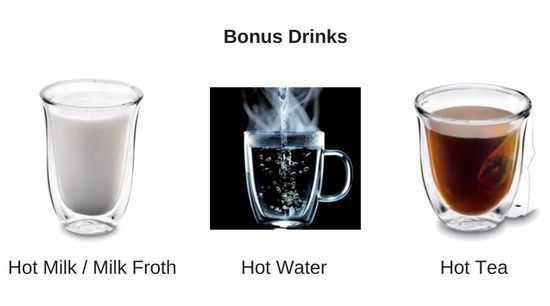 Customization affects coffee flavor and taste, which depends on the amount of beans, the brewing temperature, and the pre-brewing time. Miele's Aromatic System supports five settings:
– bean selection – Miele built-in coffee makers can process any bean, ground coffee or decaf;
– coarseness of grind – Miele uses an extremely effective ceramic conical grinder, the grind of which is adjustable with a small lever;
– brewing temperature – default or custom settings (minimum / low / medium / high / maximum). The temperatures can be saved for each drink on the user profile, which is handy when experimenting with various bean types;
– pre-brewing time;
– portion size – default or custom settings for amount of water and milk for each drink on the user profile.
Miele CVA Care
Like any technically complex device, the coffee machine requires maintenance. But care directly depends on the intensity of its use. In any case, a coffee lover is unlikely to prepare a drink in a dirty coffee maker. The simplified care option includes:
– Daily – a quick rinse program (less than 10 seconds) for internal pipes and nozzles clean after each drink. Of course, if necessary, you should clean the milk flask, empty the waste unit and drip tray;
– Weekly – cleaning the front of the device, main dispenser, sensor cover, interior, inside drip tray, brew unit, and the milk valve with a cleaning brush;
– Monthly – cleaning the coffee bean container;
– When prompted – a notification about the need to descale the machine.
Conclusions
The later 7xxx series is for Europe. Despite almost identical specs and design, it's significantly more expensive vs 6xxx ($ 4,000 / $ 5,000 / $ 5,300 vs $ 3,500 / $ 3,900 / $ 4,300). This is probably due to the company's regional pricing strategy.
Unlike CVA 6800, CVA 6805 DirectWater can connect to a waterline, has a steam wand to make frothed milk for other drinks, automatically cleans the coffee circuit and requires a minimal amount of cleaning. But CVA 6800 has a cup warmer. At the same time, CVA 6805 is more expensive by $ 400.
The CVA 6401 is $ 800 cheaper vs CVA 6805, has a water tank only and cannot connect to a waterline, uses traditional controls, does not automatically cleans the milk circuit, and does not use a sleep mode to conserve power.
Other specs of model are almost identical. Of course, a wide range of prices and functionality allows the consumer to choose the best option for himself.
But production in the segment of built-in coffee machines has a key feature. In particular, Siemens / Neff / Miele / Gaggenau / Bosch coffee machines are manufactured in the same plant by a separate OEM-Eugster / Frismag manufacturer.
Of course, they differ in form factor, functionality and pricing strategy. But almost all components are identical to Bosch coffee machines, and the build quality is traditionally high and identical for all brands.
The situation is similar for Smeg / Asko / Teka / Whirlpool / Hotpoint-Ariston / Electrolux / AEG / Gorenje / Kuppersbusch / Bauknecht / Delonghi. Almost all models under these brands are manufactured at the Delonghi factory, and brewing units, coffee grinders, pumps, boilers, electronics, cappuccino makers are identical to freestanding Delonghi coffee machines.
The video shows the cleaning process the brew unit in Miele built-in coffee maker and proper Waste Flap orientation.
P.S.
In general, most Miele built-in espresso machines are premium. In terms of competition, the $ 3,600 'budget' CVA 6401 overlaps with the most expensive series from another super popular brand. Specifically, Smeg CMSU4104S Linea (2020) is being offered today for $ 3,360. Of course, the difference reaches almost $ 250, but it varies in the range of 5-10%, allowing the models to be positioned in one price segment.
Smeg Linea has fully touch controls. In fact, this is its only difference from the cheaper $ 3,150 Smeg CMSU4303X Classic.
Smeg offers 13 automatic programs including espresso, doppio+, coffee, long, 2x espresso, americano and milk-based drinks (cappuccino, latte macchiato, caffe latte, hot milk, cappuccino +, espresso macchiato, flat white and cappuccino mix).
Its functionality is quite consistent with the premium level. Specifically, Smeg has:
– auto switch-on;
– pre-heat;
– single / double coffee;
– milk jug;
– grind adjustment;
– 5 levels of coffee strength;
– adjustments: coffee size / coffee temperature / coffee grinder / cappuccino foam – 5 / 3 / 13 / 3 levels;
– auto descaling and auto rinse at every switch on / off;
– water level & hardness contol, & child lock.