As known, mergers, acquisitions and purchase of brands are traditional business tools. But as a result, users sometimes get confused about brands. For example, consumers sometimes ask which is better – Bosch vs Siemens (refrigerator, coffee machine, etc)? But a short explanation will help clear up this confusion.
BSH ("Bosch and Siemens Hausgerate") was formed in 1967 as a joint venture for the production of household appliances with the participation of Robert Bosch GmbH (Stuttgart) and Siemens AG (Munich) companies.
Today BSH operates 45 factories in 15 countries in Europe, USA, South America and Asia and unites 14 brands. Therefore, Bosch and Siemens coffee machines differ only in design and some minor functions. In fact, the entire lineup under the Bosch brand has complete Siemens counterparts. Curiously, many analogs under different brands differ in price by 5-10%. Of course, in these cases, price and discount become the main selection criteria.
These coffee machines are manufactured by an OEM (original equipment manufacturer) Eugster / Frismag company. As known, OEM companies produce parts and equipment that can be sold to other manufacturers under a different brand name. For example, Acme Manufacturing Co manufactures power cords for IBM and is an OEM. In particular, Eugster / Frismag produces also coffee machines under the brands Jura, Melitta, Miele, Nivona, etc.
Siemens EQ.3 and Bosch VeroCup series
EQ.3 line appeared as a budget Siemens series on a new platform in 2017. It includes s100 (TI301509DE), s300 and s500 models. It can hardly be positioned as compact, but its dimensions are significantly smaller compared to the EQ.6 and EQ.9 series.
A year later, the range expanded with a similar Bosch VeroCup series, including the VeroCup 100 (TIS30159DE), 300 and 500, which has slight differences in design, but is significantly cheaper. But at the same time, the nuances of finishing the front panel are the only difference between, for example, Bosch VeroCup 100 and Siemens EQ.3 s100.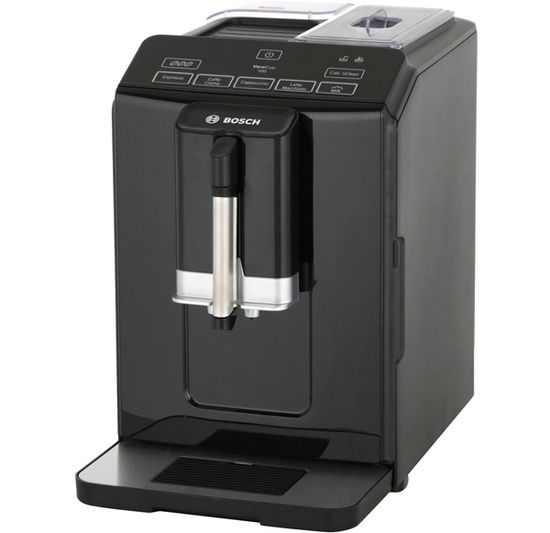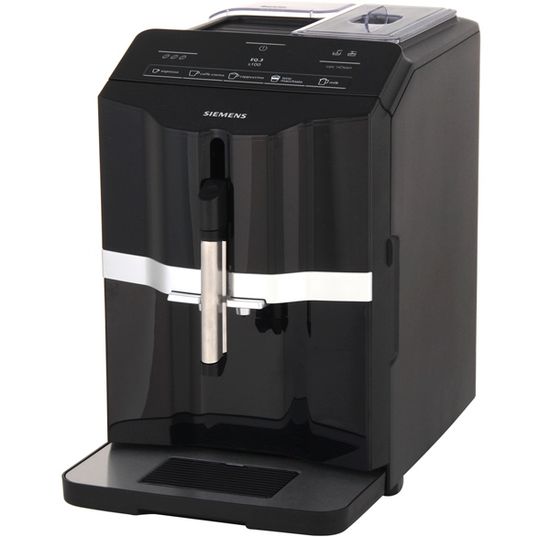 The differences between s500 and s300 are also insignificant.
Siemens EQ.3 s500 vs s300:
– added a sixth DoubleShot strength, which uses two grinds to make a double espresso;
– black glossy upper part of the front panel instead of matte silver.
The differences between s100 and s300 are more significant.
Siemens EQ3 s100 vs s300:
– 3 vs 5 grind settings;
– no screen;
– 3 vs 5 strength settings;
– no "2 portions" button;
– no portion counter.
Siemens EQ.300
In 2019, the company introduced the new Siemens EQ.300 series. But only two additional zeros in the name and the stripe color became the main difference of the "new" models.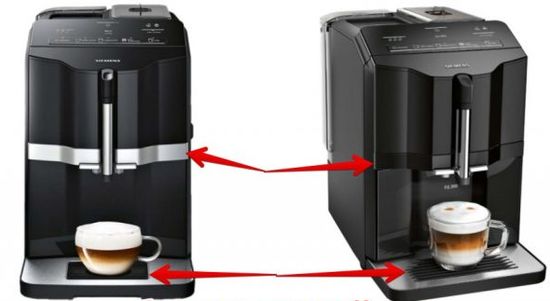 It seems that the company's management is quite satisfied with the situation and has decided not to change anything in its budget series. Perhaps conditionally "new" series is designed to solve marketing problems, demonstrating the continuous development of budget Siemens (Bosch) coffee machines. On the other hand, the prices of the new models have also remained virtually unchanged.
Specs:
– unusual ceramic coffee grinder with three grind settings uses only one bottom milestones and a pressure steel plate on top. But in the event of a breakdown, according to the regulations, the entire unit is replaced as an assembly. This decision seems controversial;
– the pump provides up to 15 bar;
– 1300W flowing thermoblock;
– the screw brewing unit holds from 5 to 14 grams of coffee.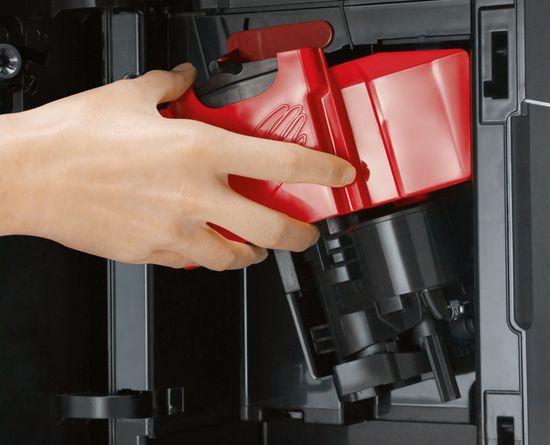 Unfortunately, not very strong plastic is sensitive to mechanical stress and can deform, for example, when solid particles enter. Therefore, the brewing unit requires frequent rinsing under the tap and regular lubrication at least once every 200 cycles.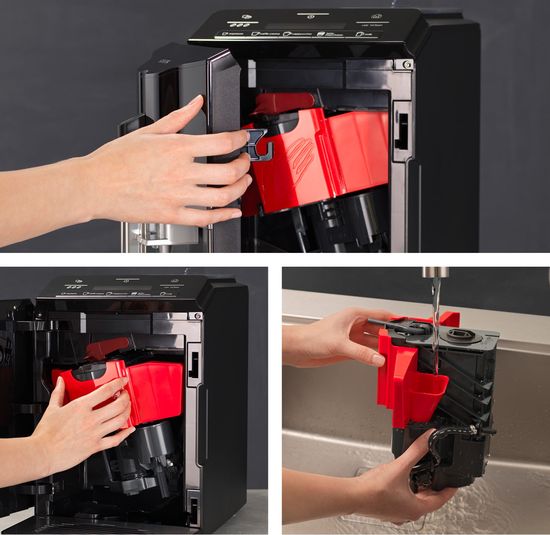 Otherwise, the screw mechanism will jam. Moreover, the abrasion of the plastic in the places of the most intense friction makes it unrepairable. Of course, service centers solve this problem, but costs are inevitable;
– coffee bean hopper – 250 grams;
– water tank – 1.3 liters;
– coffee cake container – 10 servings.
– 3 strength settings without temperature adjustment.
New models have LED indicators instead of a screen, do not provide two cycles in a row and do not use pre-ground coffee.
Milk frother
Five direct-launch touch buttons on the front panel are for espresso, coffee crema, cappuccino, latte macchiato and milk.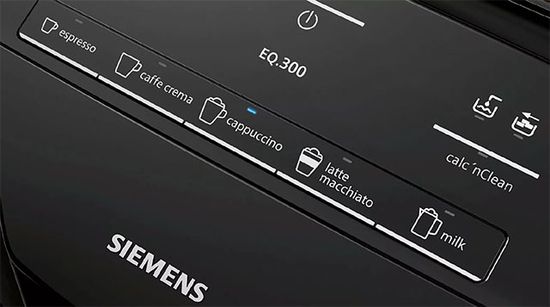 The company positions milk frother as automatic. But its design is similar to the manual Panarello.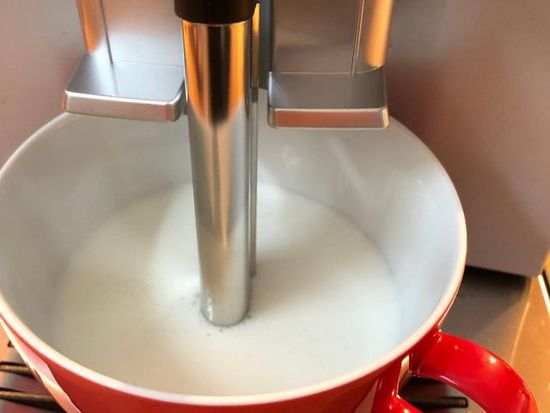 It's manually lowered to the required height in the cup, whips milk with steam and washes under running water. The optimum immersion height is just below the milk level in the cup.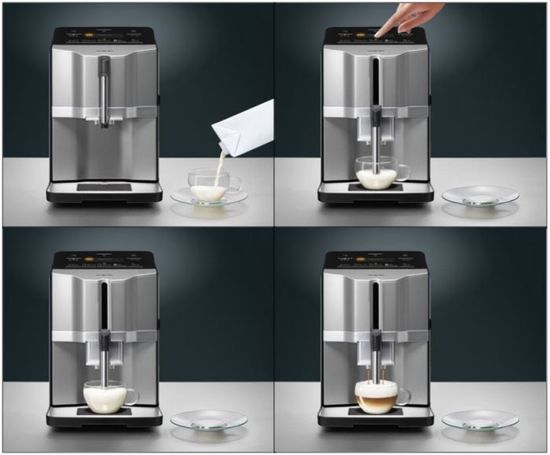 Probably, it's more in line with the semi-automatic model. Accordingly, the amount of milk in a portion is not programmable and depends on your tastes.
The volume of espresso and lungo varies in the range 25-60 ml (default 25 ml ) and 80-200 ml (default 80 ml), respectively.
In fact, milk frother is a Steam wand, which is combined with a coffee dispenser in one module.
Raf coffee is an unexpected plus of this milk frother, which can whip milk in a cup with coffee. The recipe for this popular coffee drink is quite simple. The 10% cream, 5-15 grams of vanilla sugar and a little syrup are added to the espresso and whipped using the Milk program.
Analogue EQ.3 s500 has no active cup warmer on top, offers 3 vs 5 grind settings, 5 vs 3 strength settings, has a start button for two cycles in a row and a two-line text screen.
Conclusions
In fact, Siemens only formally updated the popular Siemens EQ.3 line, offering a similar budget EQ.300 series. Probably the limited range of programs, the lack of mechanical reliability of the screw brewing unit and the dubious design of the new coffee grinder with only bottom milestones are essential cons for the middle and premium price segments. But they are quite adequate for the budget range. Given the low price and impeccable German quality of parts and assembly, Siemens EQ.300 coffee machines are more than competitive.
But considering the almost complete identity of Bosch VeroCup, Siemens EQ.3 and Siemens EQ.300, price and discounts become the main criteria for choosing the optimal model from these series.
Today Siemens EQ.300 and Siemens EQ.500 series offer models throughout segment of mid-budget coffee machines.
This video introduces Siemens EQ.300.
P.S.
Traditionally for industry leaders, Siemens is constantly updating the range of its models. Basically, these changes are minor and relate to design or minor features. Today, the list of current models in this series includes:
– EQ.300 TI351209RW – black silver color;
– EQ.300 TI355209RW – stainless steel (most expensive);
– TI353201RW – silvery white;
– TI35A209RW – black (cheapest);
– EQ.3 s100 – black.
All models have the 'espresso', 'coffee creme', 'cappuccino' and 'latte macchiato' programs. With the exception of the EQ.3 s100, all coffee machines also have a 'milk foam' mode. The EQ.3 s100 offers 'hot milk' instead.
All models offer self-cleaning and cup warming functions.
Controls of TI351209RW, TI355209RW and TI353201RW include display and touch panel. The TI35A209RW and EQ.3 s100 do not have a display.
With the exception of the EQ.3 s100, all models use a timer.
Today models of this series are the cheapest among automatic espresso coffee machines.