The digital revolution has kicked off explosive growth in the consumer electronics segment, including PCs, smartphones, tablets, etc. As a consequence, people began to spend significantly more time at the displays. Unsurprisingly, many have started talking about display safety in the context of eye fatigue.
The range of factors is wide enough and includes blue spectrum, glare, screen flickering, etc. Of course, they all have key features. For example, fast response time and high frame rate are important for gamers because input lag is accompanied by image trail that reduce detail.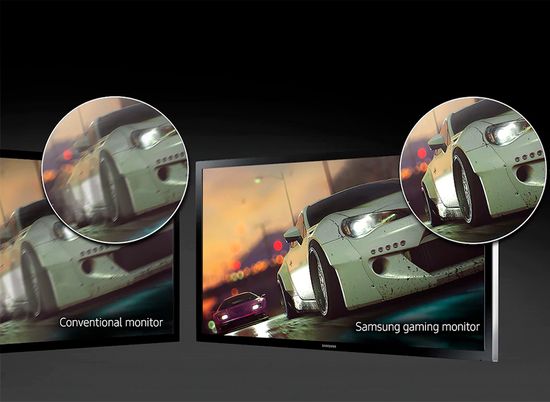 Interference due to poor quality upscaling in budget TVs also reduces image clarity, increasing eye fatigue. Of course, the article format does not provide for a complete list of all factors, limiting itself to only a few of them.
Flicker-free & blue filtering
As known, PWM (pulse width modulation) is one of the most effective technologies to adjust brightness. Unfortunately, its operation principle inevitably causes screen flickering, which negatively affects about 30% of people, provoking eye fatigue and even headaches.

Flicker-free technologies are based on combined control, using PWM only at low brightness levels.
Blue filtering technologies are the next most popular among display manufacturers. The problem in this spectrum range is associated with the short wavelength of blue. As a result, partially dissipating in front of the crystalline lens, blue reduces image clarity and increases eye strain, causing increased eye pressure. With prolonged exposure, this effect can provoke fatigue, headaches and even myopia over time.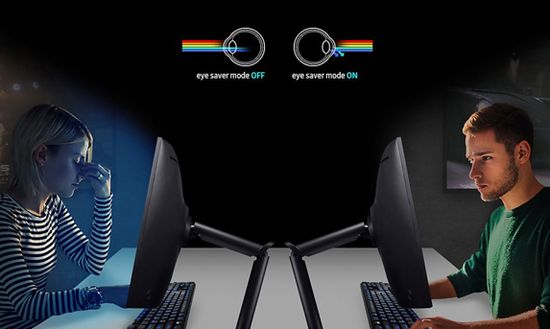 To eliminate this problem, manufacturers partially filter the visible spectrum in blue range. The companies use different names for these technologies. For example, ASUS calls its technology Ultra-low Blue Light, BenQ – Low Blue Light, Samsung – Eye Saver Mode, etc.
Unfortunately, this filtering causes color distortion, reducing color accuraty. To compensate for this, companies are developing optimal modes for different content. In addition, almost all devices have an adjustment of filtration intensity.
Other eye protection technologies
Suboptimal brightness and contrast settings also increase eye fatigue. For example, too dark or too bright image reduces its detail. By optimizing this balance, companies develop modes with optimal settings for different content (Cinema, Vivid, Standard, etc). But, of course, local dimming technology is most effective today for adjusting brightness in different areas of the frame.
Moreover, this year has become a watershed for LCD displays. At CES 2021 Samsung, TCL and LG unveiled super innovative Neo QLED, OD-Zero and LG QNED models with miniLED backlight.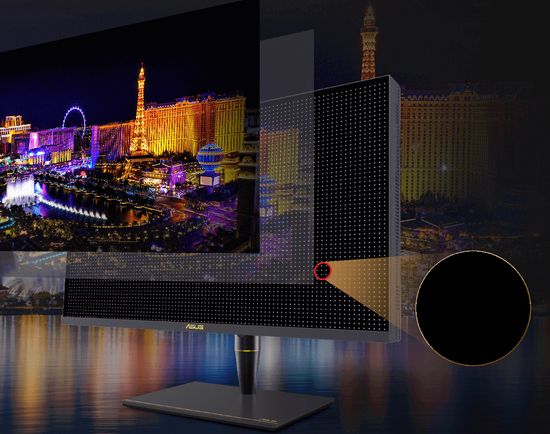 It uses a huge number of miniature LEDs that are combined into thousands of local dimming zones. According to experts, the contrast of the new LCD miniLED TVs can come close to the ideal contrast of expensive OLED panels, the self-emitting LEDs of which operate without backlight.
High display brightness at low ambient light also increases eye fatigue. Therefore, many modern displays have a light sensor, based on the data of which the system automatically adjusts the brightness. For example, BenQ solves this challenge with B.I.+ (Brightness Intelligence Plus) technology.
The matte screen and various anti-glare technologies (Acer ComfyView, etc) also reduce eye fatigue.
According to some ophthalmologists, the curved display provides the same distance for different screen parts, reducing the eye strain for focusing.
Some companies use original names for various combinations of these technologies, such as BenQ Eye-care or Acer VisionCare.
Gamer monitors
As a rule, adults independently regulate eye fatigue, periodically taking breaks from work. But teenagers are often addicted to games, forgetting about this aspect. Therefore, eye protection is especially relevant in gamer monitors. Of course, the list of models with effective protection is quite wide. But some companies pay special attention to it.
The 49-inch Samsung C49HG90DMI (LC49HG90DMIXCI) with a curved SVA panel and DFHD (3840 × 1080) resolution has a 32: 9 aspect ratio, which is identical to two 27-inch panels with a 16: 9 aspect ratio. It supports the simultaneous display of two images from two different sources.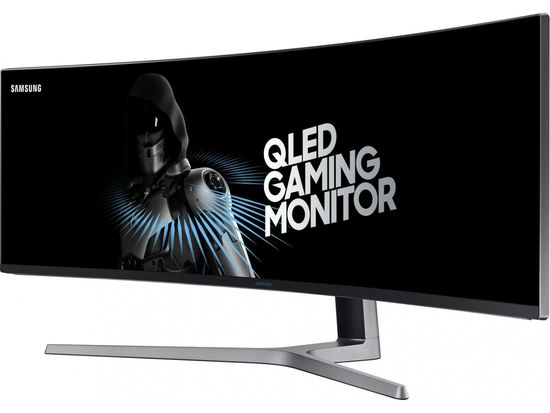 MagicBright technology optimizes brightness based on content, Eye Saver Mode filters out blue, PWM-free backlight eliminates flicker.
Dell UltraSharp U4919DW is one of its main competitors today. With a similar 32: 9 aspect ratio, it has a Super UltraWide (5120 x 1440) resolution and a 3800R vs 1800R curvature for Samsung.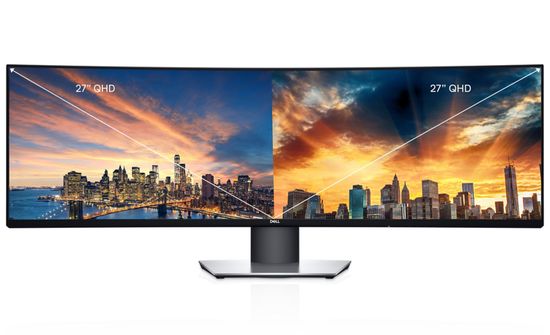 ComfortView filters blue. It also has flicker-free IPS panel and AR (anti-reflective) coating.
The 31.5-inch ASUS ROG Strix XG32VQR with VA panel and WQHD (2560 x 1440) resolution has 1800R curvature and 4 ms response time.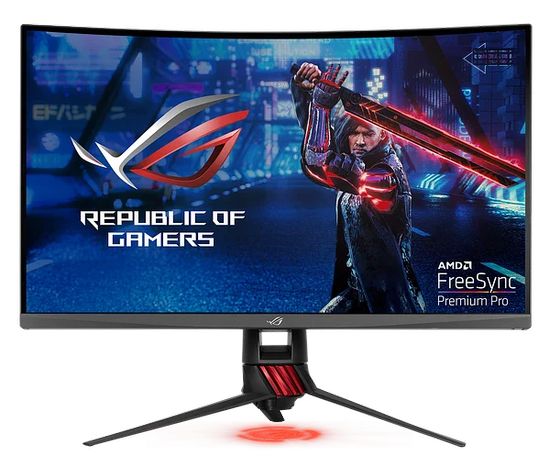 The company uses Flicker-free, Ultra-Low Blue Light (4 modes) and Shadow Boost (improved black detail) in this model.
The more affordable Acer R240HYAbidx (UM.QR0EE.A01) with excellent brightness / contrast settings out of the box uses the VisionCare, including Flicker-Less, Blue Light Filter and anti-glare ComfyView.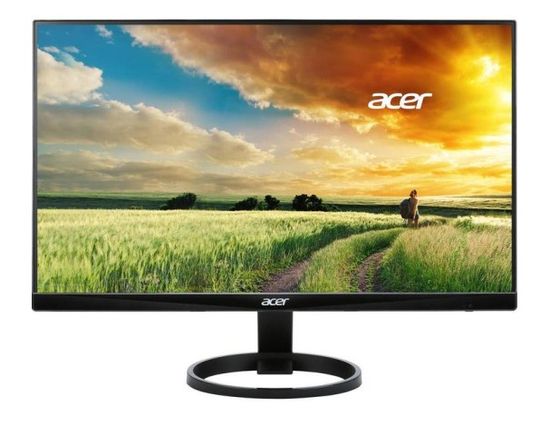 BenQ is also active in the development of eye protection technologies. Its Eye-care includes Low Blue Light+ (blue light filter), flicker-free WLED backlight, Brightness Intelligence color correction system (increases saturation with decreasing brightness), and automatic screen brightness adjustment based on ambient light.
Conclusion
Today, a rather heated discussion continues between ophthalmologists about the optimal image resolution and contrast, the danger to the eyes of the blue spectrum, glare, screen flickering, etc.
But despite the heated debate, many companies prefer to play it safe by making efforts to minimize these risks. For example, many smartphone manufacturers are actively expanding their range with flicker-free models. Moreover, the Chinese giant Xiaomi recently developed DC Dimming technology, which virtually eliminates this unpleasant effect.
Perhaps this trend is partly due to marketing considerations. Of course, eye protection technologies significantly increase the competitiveness of their products. But on the other hand, reducing risks to vision is objectively beneficial also to consumers.
This factor is especially important when choosing model for teens, who are usually less attentive to their health.
This video demonstrates HDR performance improvement with B.I.+ (Brightness Intelligence Plus) technology in BenQ Eye-care EW3270U 4K gaming monitor.