Of course, the screen is one of the main components of a smartphone and the companies have always paid great attention to its improvement.
As known, the first light-emitting PPV polymer (polyphenylenevinylene) was synthesized at the Cavendish Laboratory of the Cambridge University in 1989. Three years later, Cambridge Display Technolodgy (CDT) was founded to produce polymer light emitting materials. The first Samsung X120 phone with an OLED screen was introduced in 2004.
After 4 years Nokia introduced the N85 with an AMOLED display.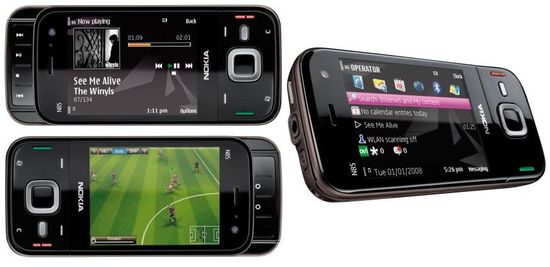 Introduction
Since 2007, AMOLED technology has been widely used in phones, media players, digital cameras, etc. Today it's the main and only competitor to traditional LCD screens, and the comparison AMOLED vs LCD often is present in many reviews.
As known, multilayer organic polymers in OLED-matrices emit their own light under the electric current action, without requiring backlight. Today companies only use matrices with an active matrix, which are called AMOLED (Active Matrix Organic LED). But OLED TVs makers continue to use the traditional OLED acronym without the addition of AM.
Several years ago, companies started using AMOLED screens even in mid-budget models. This technology delivers vivid colors, excellent viewing angles and infinite contrast with low power consumption. Unfortunately, it has a significant drawback. The developers adjust the brightness of the AMOLED matrix using PWM (pulse-width modulation). This technology provides high precision and wide range of adjustment, but its operation is accompanied by flicker.
Until a few years ago, companies did not attach importance to it. According to statistics, only about 20% of people visually perceive flicker with a frequency of more than 200 Hz. But according to many physiologists, the brain perceives it on a subconscious level, even without visualization. Therefore, some users experience headache and eye strain. As a result, fierce competition forced the developers to tackle this problem and they did an excellent job with this task, developing quite effective methods for reducing the flicker of AMOLED screens.
PWM (pulse-width modulation)
As known, screen brightness can be adjusted with increasing / decreasing the current (voltage) or using the pulses. As the name suggests, PWM uses the pulse width (duration) for this purpose.
Simplified, this technology works as follows. For example, frequency is 4 pulses per second. In this case, the duration of each pulse is only 0.25 sec. Each pulse turns on the LED. Accordingly, a twofold reduction in the pulse width will reduce the brightness by 50% without changing the voltage and frequency. In this example, each new pulse will arrive in 0.25 seconds, but their duration will be reduced to 0.12 seconds. Accordingly, the LED will only be on for half the time, which will reduce its overall brightness. Reducing the pulse width to 0.01 seconds will reduce the brightness to a minimum because the LED will only turn on for 0.01 seconds and turn off for 0.24 seconds.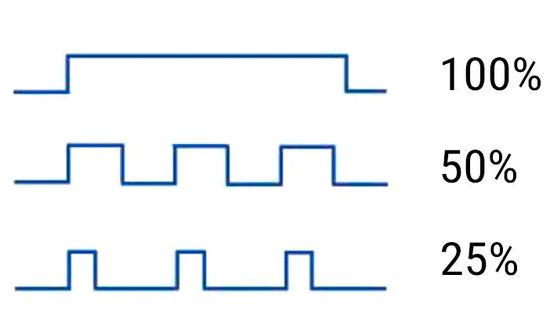 Compared to direct voltage regulation, PWM is very efficient, economical and provides much wide range of brightness control.
Additionally, the appeal of PWM is due to the features of organic LEDs. First, the constant glow with analog control causes them to heat up, shortening their service life. Secondly, the specs of organic LEDs are non-identical, which causes non-uniform brightness. This effect is especially pronounced at low brightness and significantly reduces the image quality.
PWM provides perfect uniformity. Unfortunately, its relatively low frequency (200-300Hz) causes human perceived flicker. Wherein, the flicker intensity increases at maximum brightness.
Similar to LCD, increasing the PWM frequency can also solve the flickering problem. For example, Microsoft Lumia 950 used PWM with 500Hz.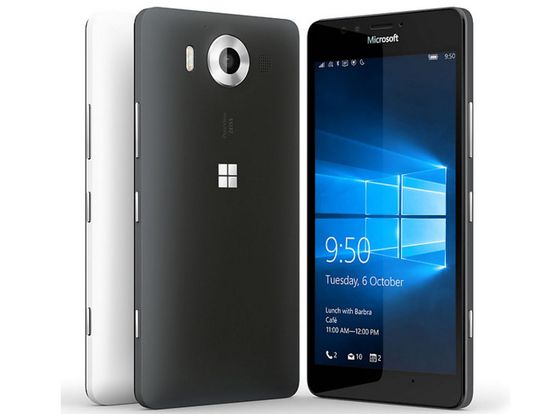 Unfortunately, this idea has not been continued.
Hybrid brightness control
Many IPS screens also use PWM. Popular smartphones with this technology include Sony Xperia 10 and 10 Plus, Xiaomi Redmi Note 7, Huawei P Smart Plus, Xiaomi Mi 8 Lite, etc. But their flickering is not a problem due to the very high frequency, which exceeds 2000 Hz. For comparison, the iPhone 11 Pro, Xiaomi Mi 9 and Samsung Galaxy S10 with AMOLED screens operate at 290 Hz (290 pulses per second), 245 Hz and 240 Hz, respectively. Moreover, some AMOLED models use even lower PWM frequency:
– OnePlus 7 Pro – 122 Hz;
– Samsung Galaxy A50 – 119 Hz;
– Xiaomi Mi 8 Pro – 100 Hz.
Their intense flickering at maximum brightness quickly tires the eyes, even for people with excellent vision.
Of course, industry leaders have tried to find a compromise solution to this problem. For example, in 2015 LG first introduced flicker-free OLED panels in its experimental LG G Flex 2 with a curved P-OLED screen.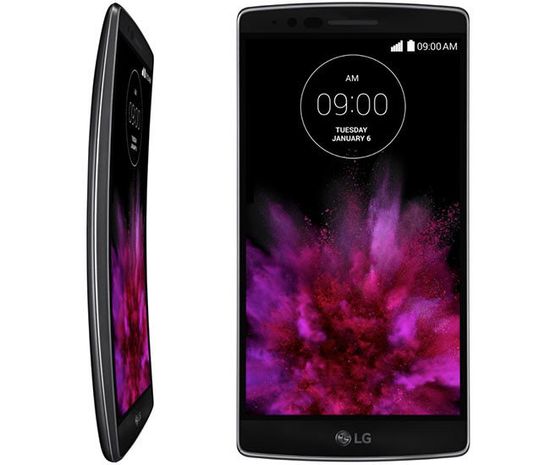 Its brightness control is implemented at the hardware level using current modulation that drives organic LEDs. Screen controller did not use a PWM (pulse width modulation) module. Accordingly, there was no flicker even at the maximum brightness. Unfortunately, the image quality was very low due to the poor quality of the P-OLED matrices.
As a result, the company abandoned these attempts.
But later the developers found an elegant solution to the problem by combining two control methods. For example, OLED iPhones use PWM only at low brightness with minimum flicker, and switch to analog control at 50% or higher brightness when the unevenness is minimal. Samsung and LG use this algorithm as well.
DC Dimming
Several years ago, Xiaomi introduced the innovative DC Dimming technology. The company does not disclose its key features, but it does significantly reduce PWM flicker by radically smoothing out the pulses amplitude.

Perhaps DC Dimming turns on the brightness to the maximum, while simultaneously reducing the filter transparency. Unfortunately, DC Dimming has cons, including the loss of midtones on a dark background at low brightness.

Some experts positione DC Dimming as the next generation of hybrid brightness control for AMOLED displays. Indeed, its efficiency significantly surpasses the algorithms of other companies.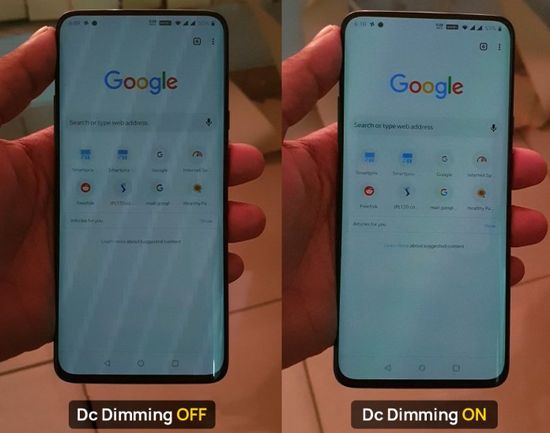 Today this feature is supported by the following models:
– Huawei P30;
– OnePlus 7 Pro and OnePlus 7;
– Black Shark 2;
– Xiaomi Mi 8 and 9;
– Redmi K20 and K20 Pro;
– Oppo Reno 10X Zoom;
– Realme X.
Conclusion
Probably, eye safety when using gadgets can be positioned as a steady trend in recent years. The effective innovative ways to reduce blue, glare and flicker, the increase in image quality through resolution, color gamut and contrast, demonstrate the determination of companies to actively use the eye safety of their devices as an important element of the competition. Gradually, this factor is becoming a selection criterion for many consumers. But, of course, it requires at least basic information, which today can be easily obtained on the Internet.
This video offers Realme X2 Pro (Realme is OPPO sub-brand) with fixing DC Dimming mode errors.