Today the smartphones, tablets, laptops, etc have become an integral part of our live. Unfortunately, new opportunities come at a cost to our health. For example, the rapid intrusion of smart gadgets with displays has dramatically increased eye strain. As a result, many people are justifiably worried about their safety. Of course, scientists and doctors did not stand aside and have been trying for a long time to minimize these risks.
The main factors
Jeff Anshel OD, FAAO (Fellow of the American Academy of Optometry), is one of the most respected experts in the study of eye fatigue dependence on the display. His books "Healthy Eyes, Better Vision; Everyday Eye Care for the Whole Family" (1990) and "Visual Ergonomics in the Workplace"(London, 1998) were among the first systematic works in this area. Back in 1991, he developed a simple 20-20-20 rule for his employees, which recommends, when working with a display, focusing vision on an object 20 feet (6 meters) away from him for 20 seconds every 20 minutes.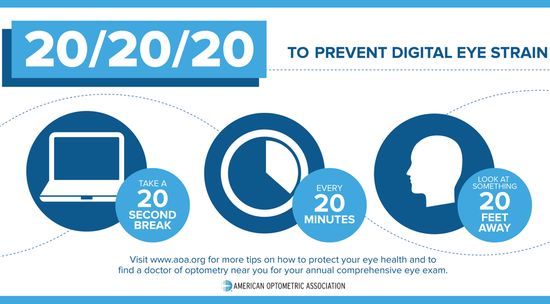 Of course, since then, many ophthalmologists have carefully studied this aspect, expanding the list of problems and discussing ways to overcome them. Today, this list includes:
-eye protection from blue;
-anti-glare protection;
-screen resolution;
-PWM flicker in OLED (AMOLED) devices.
Of course, the solution to these problems mainly depends on the developers and they successfully cope with this task. But following the basic advice of ophthalmologists also remains effective. This list includes:
– the optimal distance between the screen and the eyes is equal to the arm length;
– the optimal angle of view is slightly top-down;
– setting the optimal brightness depending on the ambient lighting.
Unfortunately, increasing the screen brightness increases eye strain. But the night light will let you dim the backlight. Many modern displays provide automatic backlight adjustment using an integrated light sensor.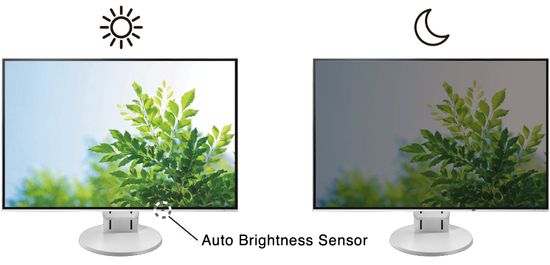 – artificial tears.
A humidifier next to the display or in the room further reduces corneal dryness.
Anti-glare protection
The matte screens are better for eyes vs glossy due to the lack of glare from sunlight.

In addition, matte film is more scratch resistant and oleophobic. Unfortunately, matte coating reduces brightness, contrast, sensor sensitivity and sliding your finger across the screen.
Companies today mainly use Gorilla Glass or PET films (polyethylene terephthalate). Of course, they are also developing new technologies. For example, a few years ago, scientists announced Quarter-wave AR coating that drastically reduces light reflection via destructive interference. This technology uses an evolutionary mechanism to protect the butterfly from predators, whose eyes hardly reflect light. The surface of their eyes is covered with millions of microscopic outgrowths that prevent light from reflecting. The developers have found a way to produce a similar structure on a glass surface.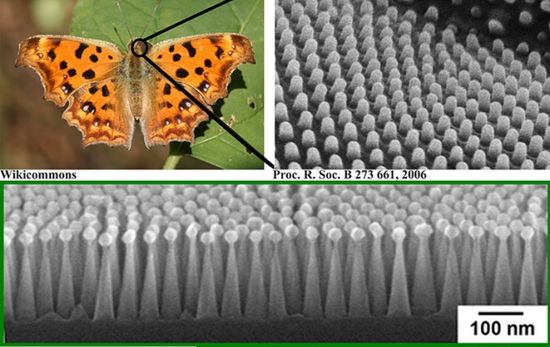 In this case, a layer of material with the appropriate refractive index is applied by vacuum deposition to the glass surface. The thickness of this layer is a quarter of the wavelength in the given medium. Going forward, this technology will be able to completely block out glare without compromising brightness and contrast. But today, due to the high cost, it's used only in expensive professional equipment, for example, in telescopes, etc.
The version about the negative impact of high-energy visible light (HEVL range of blue-violet waves) on vision appeared more than 10 years ago and was based on two factors. First, visible electromagnetic radiation with a wavelength of about 380 nm (ultraviolet) has a maximum frequency and, accordingly, intensity.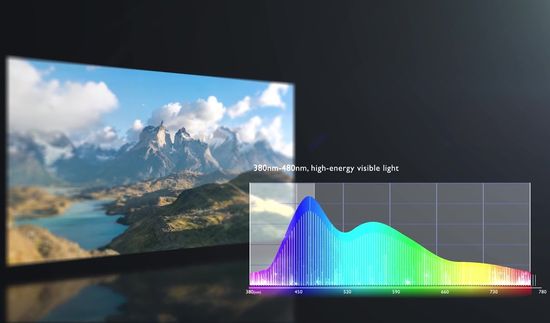 According to American scientists from the University of Toledo, its prolonged exposure can cause the formation of toxic molecules in the light-sensitive cells of the eye and provoke gradual retina macular degeneration. Second, shortwave blue is partially scattered on its way to the receptors, redusing image clarity and causing additional eye strain.
Some ophthalmologists have noted the negative impact of blue on circadian rhythm. As known, our brain regulates activity based on the level of the melatonin hormone.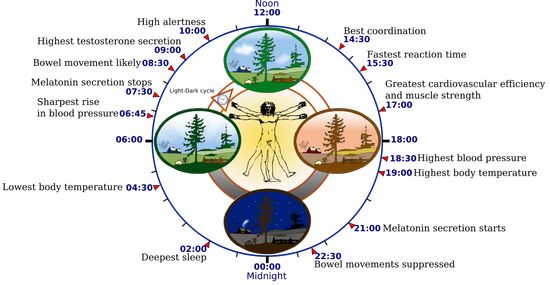 The solar ultraviolet light blocks its synthesis during the daytime. But in the evening, in sun absence, the body actively generates melatonin, which ensures the transition to healthy sound sleep. In fact, the UV light from the display acts on the brain like a cup of coffee. But the night mode with reduced blue partially fixes this problem. Almost all modern models support this mode, including auto using the light sensor.
Today companies offer innovative anti-blue-light hydrogel films.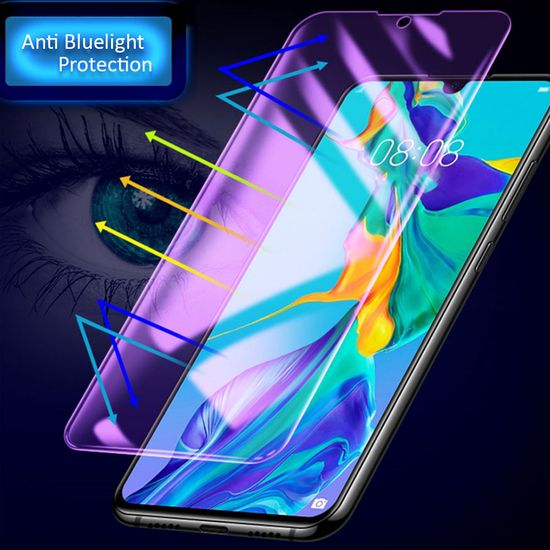 Besides, the most gadgets use effective software algorithms to reduce the blue intensity. Additionally, the internet offers the apps with this function, for example, f.lux for rooted Android devices, or Night Filter for non-rooted gadgets.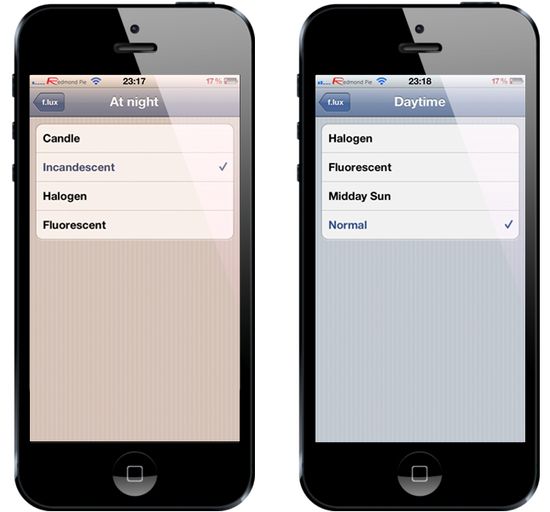 Screen resolution
Of course, image clarity and contrast depend on the resolution and directly affect eye strain. But this influence different for phones and TVs due to screen sizes and viewing distances. Of course, requirements to resolution are significantly higher for a 6.5-inch smartphone at a distance of 5-10″ compared to a 65-inch TV with a viewing distance of 5-10 feets.
Several years ago, most smartphones provided 200-300 ppi (pixels per inch) only. Today, many companies have already doubled this spec even in the budget segment. Moreover, the pixel density of the Sony Xperia Z5 has reached 806 ppi.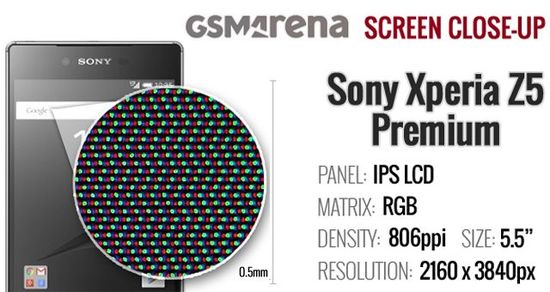 Therefore, this factor has lost its significance in terms of eye strain. According to many ophthalmologists, the eye does not distinguish the difference after 400 ppi.
On the other hand, it's possible that high resolution reduces brain fatigue by increasing detail. According to some physiologists, increasing the dynamic signal-to-noise ratio reduces the brain's need to interpolate missing pixels.
PWM flicker
As known, all OLED displays, including AMOLED, P-OLED, Dynamic AMOLED, etc use their own radiation from organic diodes and do not have a backlight. As a result, the eye perceives light only from active pixels on the screen. At the same time, all other screen pixels are completely black.
This technology delivers vivid colors, excellent viewing angles and infinite contrast with low power consumption. Today super popular AMOLED screens are already used even in mid-budget smartphones. But they have some features.
In the past few decades, the brightness of LCD and OLED displays in phones, TVs, etc has been controlled using PWM (pulse-width modulation).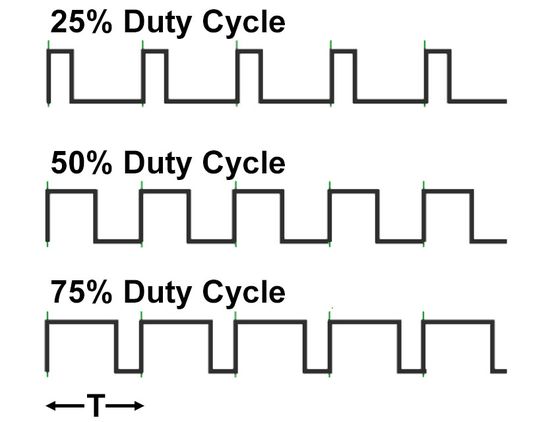 Initially, this technology was developed as a more efficient alternative to the traditional rheostat for pulsed power control. High efficiency ensured the immense popularity of this technology in the 60s of the last century. PWM was ideal for starting fan motors, pumps, robotic servos, etc due to its high precision and wide control range with minimal energy loss. But using it to control the screen brightness has an important nuance.
At high PWM frequency, the eye does not perceive screen flickering. Therefore, we do not perceive the flickering in LCD screens, which PWM frequency of about 2000 Hz. But OLED screens use PWM at only 200-300 Hz due to the some features of organic LEDs. Most people's eyesight also does not visually perceive such flicker. But almost all people perceive it on a subconscious level. As a result, long-term use of a gadget with a flickering screen causes headaches, eye fatigue, etc for some people.
Until recently, companies paid little attention to the flickering in their AMOLED smartphones. But in recent years, fierce competition has forced developers to tackle this problem, and they coped with this task brilliantly.
Basically, brightness can be controlled by current or PWM. At the same time, the maximum PWM flicker appears at high screen brightness. Brightness control with current also has a significant disadvantage. The color accuracy with this method deteriorates sharply at minimum screen brightness. Taking into account these features, Samsung, Apple, and LG have developed a hybrid screen brightness control that uses PWM at low brightness and analog control with current at high brightness. For example, an iPhone with an OLED display uses PWM only for a screen brightness of up to 50% of maximum.
Moreover, several years ago, Xiaomi introduced the innovative DC Dimming technology, which was developed to eliminate flicker. In fact, Chinese developers have perfected the traditional technology and were able to almost completely eliminate the flicker due to PWM, radically smoothing out the amplitude of light pulses.

The company does not disclose the key features of the new technology. Perhaps DC Dimming turns on the brightness to the maximum, while simultaneously reducing the filter transparency. Unfortunately, DC Dimming has cons, including the loss of midtones on a dark background at low brightness.

Today many experts positione DC Dimming as one of the most successful ways to get rid of the flickering in AMOLED smartphones. Moreover, DC Dimming can repeat the fate of BenQ Free Flicker PC monitors, which have virtually set a new standard in the industry by eliminating flickering on LCD monitors entirely.
Today this feature is already supported by the following models:
– Huawei P30;
– OnePlus 7 Pro and OnePlus 7;
– Black Shark 2;
– Xiaomi Mi 8 and 9;
– Redmi K20 and K20 Pro;
– Oppo Reno 10X Zoom;
– Realme X.
Conclusion
Overall, the companies' success in improving eye safety is encouraging. The effective innovative ways to reduce glare, blue and flicker, the dramatic increase in image quality through higher resolution, color gamut and contrast, demonstrate the determination of companies to actively use the safety of their devices as an important element of the competition. Today, more and more consumers take this aspect into account when choosing a model. But, of course, it requires at least basic information, which today can be easily obtained on the Internet.
This video demonstrates how flicker and color accuracy depend on screen brightness on iPhone 12.