A few years ago, smartphone screen flicker with OLED display was considered an annoying inconvenience. Many experts believe that only some people have a very high sensitivity to flicker and this problem is relevant only for them. Perhaps this is based on an analysis of specific complaints, but it seems controversial from a physiological point of view. Genetically, our eyes perceive objects in reflected light. But any gadget is a self-luminous object, which already disrupts the natural work of vision. Regardless of visual perception, flicker increases eye and brain strain.
Ophthalmologists today offer several simple ways to reduce PWM flicker.
1. The flicker effect intensifies in darkness due to the maximum dilation of the pupils. But external lighting will reduce this problem. Of course, the ambient light source must be flicker-free. Otherwise, its own flicker may resonate with the display refresh rate.
2. Increasing the distance to the screen reduces this effect because peripheral vision is more sensitive to flicker.
3. Increasing the screen brightness reduces the flicker due to the highest duty cycle. Simultaneous brightness reducing with graphics driver will prevent an increase in eye strain. Google Play offers very effective programs today, including Twilight, Night Owl (Screen Dimmer & Night Mode), etc.
4. Models with screen refresh rates of 120 Hz or greater flicker less.
Unfortunately, they only reduce the problem.
PWM (pulse-width modulation)
As known, the screen brightness can be adjusted with increasing / decreasing the current (voltage) or using pulses. The second method is called PWM. This technology was invented back in the 60s of the last century for the smooth control of electric motors. At the beginning of the new century, it became the main method for brightness control of LCD screens. PWM provides high precision at wide adjustment range and low power consumption. As the name suggests, PWM uses pulse width for this purpose. Dimming is achieved by pulse period. In fact, the pulse width determines the ratio between the on / off periods of the screen, affecting its overall brightness.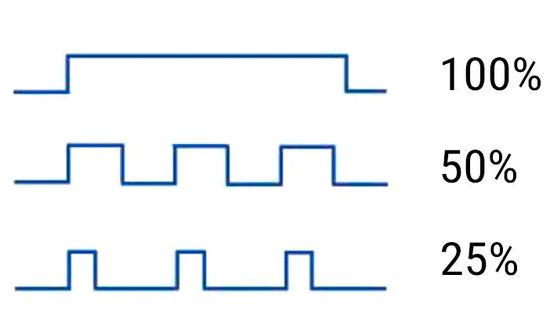 Until 2007, companies only produced smartphones with LCD displays. They used PWM with a frequency of 2000 Hz and higher. Such high-frequency flicker is not perceived by the eye or brain and does not pose a problem.
But since 2007, companies have started using innovative AMOLED displays. Today it's the main and only competitor to traditional LCD screens, and the comparison AMOLED vs LCD often is present in many reviews.
AMOLED display
AMOLED technology provides vivid colors, excellent viewing angles and infinite contrast with low power consumption. For a decade and a half, companies managed to radically reduce their cost, and today even mid-budget phones often use an AMOLED screen. Unfortunately, their PWM frequency is significantly lower and varies in the 200-300 Hz range. But according to statistics, about 30% of people perceive flicker with this frequency negatively, complaining of headaches and eye strain. Of course, companies have tried to solve this problem by increasing the PWM frequency. For example, Microsoft Lumia 950 used PWM with 500Hz.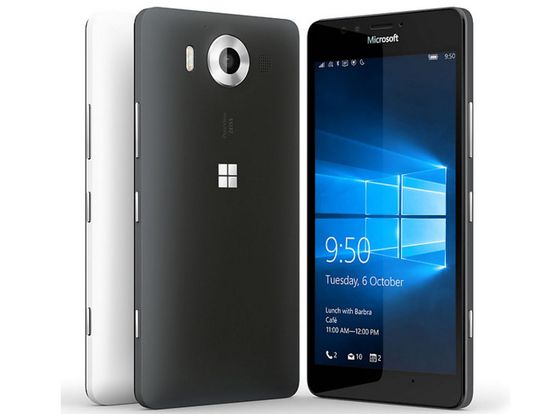 Unfortunately, this idea has not been continued. Perhaps the features of organic LEDs create some technological complexities that add to the production cost.
On the other hand, analog DC control also is not optimal for AMOLED due to a significant decrease in color accuracy at low screen brightness. This flaw is caused by the differences in characteristics of organic LEDs on the matrix.
A few years ago companies did not attach importance to it. But fierce competition forced producers to tackle this problem. And the developers quickly found a neat solution, creating a hybrid brightness control system for AMOLED displays that combined PWM and analog DC. Today it's used, for example, in iPhones. Specifically, Apple uses PWM only at low brightness with minimum flicker, and switch to analog control at 50% or higher brightness when the unevenness is minimal. Samsung and LG phones use this algorithm as well.
DC Dimming
In fact, the term "DC Dimming" is Xiaomi's marketing invention.
More in 2015 LG first introduced flicker-free OLED panels in LG G Flex 2 with a curved P-OLED screen. Its brightness control is implemented at the hardware level using current modulation that drives organic LEDs. Flex 2 did not flicker even at the maximum brightness. Unfortunately, the image quality was very low due to the poor quality of the P-OLED matrices, and company abandoned these attempts.
According to some experts, the technology could be positioned as the latest generation of hybrid screen brightness control. In fact, modern DC (Direct Current) Dimming function is a software technology. It uses a traditional analog brightness control that is enhanced by PWM algorithms. Of course, models with its support also flicker, but software filter significantly smoothes the oscillations amplitude.

But the company does not disclose its key features. Perhaps DC Dimming turns on the brightness to the maximum, while simultaneously reducing the filter transparency. Unfortunately, DC Dimming partially loses midtones on a dark background at low brightness.

But DC Dimming is very well balanced, optimally combining the pros of PWM and analog DC. Simple DC Dimming on / off allows the user to choose between maximum color accuracy but with flicker (DC dimming – off) or flicker-free mode (DC dimming – on) with a slight decrease in color accuracy.
Today this feature is supported by the following models:
– Huawei P30;
– OnePlus 7 Pro and OnePlus 7;
– Black Shark 2;
– Xiaomi Mi 8 and 9;
– Redmi K20 and K20 Pro;
– Oppo Reno 10X Zoom;
– Realme X.
Conclusion
In fact, eye safety aspect when using gadgets has become a steady trend in recent years. Of course, companies respond appropriately to demand. Over the past few years, manufacturers have taken a huge leap forward by developing innovative ways to meet this challenge. The effective reduced glare, protection eyes from blue, the smartphones with flicker-free screens, the increase in image quality through resolution, color gamut and contrast, demonstrate the determination of companies to actively use the eye safety aspect as an important element in competition. Gradually, this factor also is becoming a selection criterion for many consumers.
This video introduces the latest Huawei Mate 40 Pro Plus flagship with Harmony OS, 76-inch OLED display and hardware DC Dimming functionality.
P.S.
In fact, in AMOLED phones, screen intensely flashes only at screen brightness less than 60%. Moreover, the flicker intensity increases with a further decrease in brightness. This is due to the low frequency of pulse-width modulation (PWM) that is used to adjust the brightness. DC Dimming reduces flicker at low brightness and turns off at more than 50% brightness. Models with a high PWM frequency do not have this problem, because the brain only perceives flicker up to 300Hz.
Unfortunately, many budget and even mid-budget phones use low frequency PWM and do not support DC Dimming function. The list of current Android models with this problem will help you choose a model taking this factor into account.
Xiaomi
– Redmi K30 Ultra – 270.3 Hz;
– Mi 9 SE / 9 / 9T / 9 Lite / Mix 3/8/8 Explorer Edition / A3 – 255 / 245.1 / 245.1 / 240.4 / 240.4 / 238 / 100 / 219 Hz;
– Black Shark 3 – 227.3 Hz;
– Poco F2 Pro – 177.3 Hz.
Oneplus
– OnePlus 7T Pro McLaren Edition / 7T Pro / 5 / 3T / 3 / 6T / X / 6 / 7 / 9 Pro / 7 Pro – 294.1 / 294 / 250 / 244 / 243.9 / 240 / 237 / 236 / 200 / 192.3 / 122 Hz;
– Oppo Reno2 / A91 / Reno2 Z / Find X2 Lite / Find X – 260.4 / 250 / 250 / 247.5 / 227 Hz.
Samsung
Samsung Galaxy J7 (2017) / Note 8 / A3 (2017) / A5 (2017) / A52 5G / A9 (2018) / Note10+ / Note20 / Samsung Galaxy S10 Lite / Samsung Galaxy S21 Ultra / S8 / S8 Plus / Note20 Ultra / A40 – 257.7 / 257.7 / 250 / 250 / 250 / 250 / 250 / 250 / 250 / 250 / 250 / 250 / 245.1 / 245 Hz.
Huawei
Huawei Mate 10 Pro / 20 Pro / 30 Pro / 20 X Xs – 247.5 / 245.1 / 245.1 / 242.7 / 242.7 Hz;
Huawei P30 / P40 – 240.4 / 245 Hz.