In recent decades, the expansion of the model range has become a stable trend in almost all segments of consumer electronics. For example, in 2014 Samsung introduced 56 new smartphones, and LG – 41 new models. Maybe such expansion rates are excessive. On the other hand, it's objectively beneficial to consumers. Therefore, the manufacturers of TVs, projectors, robot vacuums, drones, etc are actively using the range expansion as one of the competitive tools.
This strategy is due to several factors. Firstly, the digital technology allows companies to extend smart functionality by increasing the efficiency of control algorithms. Second, component manufacturers are constantly improving the specs of their products, empowering developers.
At the same time, the cost of new models often does not exceed the price of their prototypes. As a result, the consumer market is expanding with more functional models while maintaining the same price level.
Coffee machines
Coffee machines are no exception, and the leaders are regularly introducing new series. The companies are constantly developing new and improving previous technologies for brewing, cleaning, preparing drinks, etc, increasing the competitiveness of their models through innovations. Of course, coffee machines are not the most sophisticated devices compared to, say, smartphones or TVs. But they have great potential in terms of increasing the customization level and expanding the range of various coffee drinks.
This trend has dominated new models from previous years, including Delonghi ECAM 650, Melitta Caffeo Barista, Siemens-EQ.9, Jura Z6 Impressa, etc. For example, all six profiles of Philips Saeco Xelsis series support 14 recipes, including hot water / milk and six additional ones. Them total number reaches 120 customized recipes and 14 preset in the guest profile that today is an absolute record.
Over the past two years, the main industry leaders have expanded their lineup with Gaggia Cadorna, Jura Impressa C8, Philips EP 1200, EP 2200 and EP 3200, Delonghi PrimaDonna, Dinamica, Magnifica and Autentica coffee machines. In particular, in 2020 DeLonghi introduced ECAM 46.860.B and ECAM 550.85.MS. They can hardly be positioned as revolutionary espresso coffee makers. However, they have successfully expanded the popular PrimaDonna Class lineup.
Delonghi ECAM 550.85.MS Primadonna Class EVO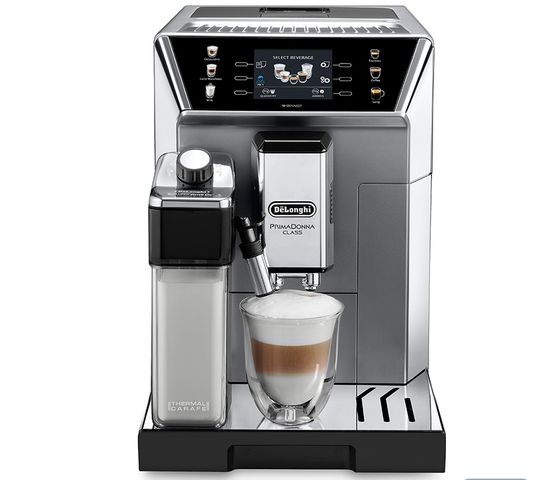 Delonghi ECAM 550.85.MS Primadonna Class EVO formally replaces the previous ECAM 550.75 flagship. In turn, ECAM 550.75 replaced DeLonghi ECAM 45.764 with a list of significant improvements, including steel elements in design, thermally insulated milk jug with two walls (similar to PrimaDonna Elite), cup lighting, additional manual cappuccino maker included, 6 user profiles, additional Americano mode, etc.
The differences between ECAM 550.85 vs ECAM 550.75 are radically more modest. In fact, this list only includes an additional Tea mode. Similar to the Hot Water mode, the new mode supports a choice of volume (30-420 ml, default – 150 ml), and four temperatures (for brewing different types of teas).
Of course, the improvements are not impressive. But with the same cost of the models, even this expansion of functionality is quite adequate.
Delonghi ECAM 46.860.B Eletta Cappuccino EVO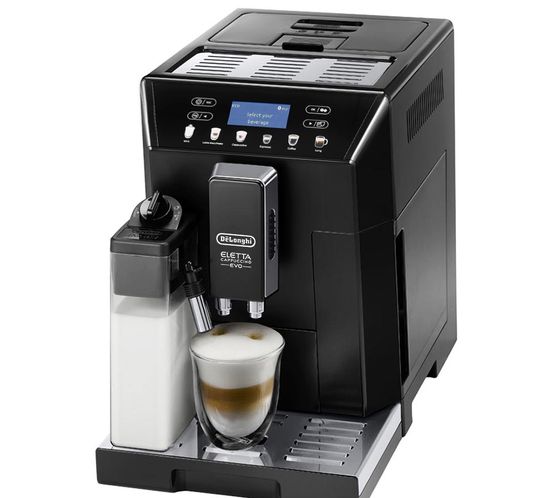 Given the name, Delonghi ECAM 46.860.B Eletta Cappuccino EVO does not belong to the PrimaDonna Class series. But in reality, the hardware base, chassis and body of this model are almost identical to the ECAM 550.55 PrimaDonna Class, except for the control panel and design of the coffee dispenser.
In fact, ECAM 46.860 has become the junior model of this series. Like the ECAM 350.55, it uses a 4-line monochrome display with blue backlight instead of a large color screen.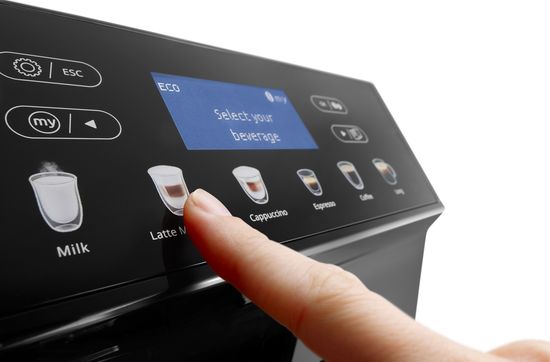 Accordingly, the location of its touch buttons is slightly different. In addition, the screen displays only one preset "MY" user profile instead of three in the 550.55 model. Unfortunately, the Bluetooth module is also missing, and ECAM 46.860.B does not support control by smartphone. Perhaps this was the formal reason for the classification of the model in the Eletta series, all models of which operate without this option.
The recipes of both models is practically identical, only Ristretto at 46.860 replaces Espresso Macchiato at 550.55.
Functionality
The model supports the preparation of six recipes with direct launch from the control panel in one click, six recipes via an additional menu of drinks, hot water and double portions.
Сontrol panel
– Espresso (default 40 ml, adjustable from 20 to 180 ml);
– Coffee (180 ml, 100-240 ml);
– LONG (160 ml, 115-250 ml).
The cooking algorithm uses two grinds and two spills. The pump operates in a pulse mode for 1/1 second. In fact, the coffee machine dispenses coffee for 1 second, then stops for 1 second, etc. Accordingly, the cycle time is approximately doubled compared to the "Coffee" program. By default, the 160ml total volume uses two 80ml spills;
– Cappuccino;
– Latte macchiato;
– Hot milk.
Additional menu
– Doppio+ (default 120 ml, adjustable from 80 to 180 ml)— the strongest and richest espresso. The coffee machine uses a long and intermittent pre-wetting, providing a maximum strength based on about 14 grams of ground coffee.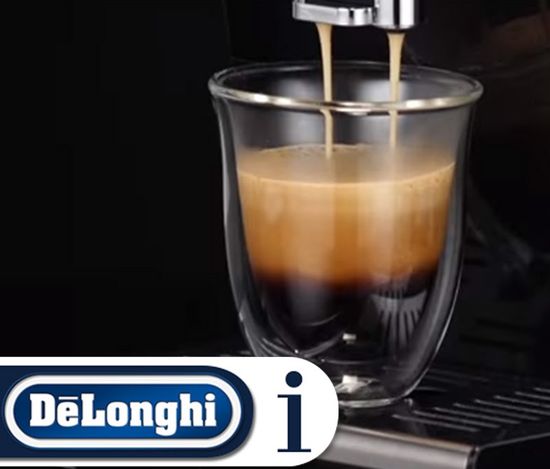 – Cappuccino+ is a cappuccino based on Doppio+;
– Cappuccino Mix – a traditional recipe with the addition of whipped milk to espresso.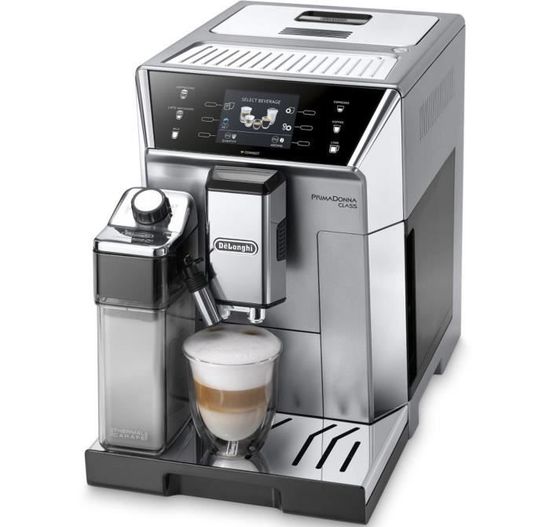 – Latte;
– Flat White;
– Ristretto Latte.
Conclusions
In fact, Delonghi ECAM 550.85.MS Primadonna Class EVO is a copy of the ECAM 550.75 model with an additional "Tea" mode. At the same price, its choice is quite reasonable.
Delonghi ECAM 46.860.B Eletta Cappuccino EVO can be positioned as a budget version of ECAM 550.55. The list of differences includes:
– a small monochrome screen instead of a large color display;
– no user profiles for drinks;
– no Bluetooth module for control by smartpohone.
On the other hand, the 46.860 can be positioned as an improved version of the legendary ECAM 350.55 with larger tanks for water and beans, and with an additional Cappuccino Mix mode.
Of course, the class of these models is lower compared to the new Delonghi PrimaDonna Soul series, but they very successfully expands the Delonghi ECAM budget segment.
The video demonstrates the preparation of milk drinks with Delonghi ECAM 46.860.B Eletta Cappuccino EVO.
P.S.
In addition to these coffee machines, in 2020 the PrimaDonna line has expanded with PrimaDonna Soul series with innovative Bean Adapt technology.
In fact, it increases the automation and customization levels of the coffee machine. Depending on the coffee grade and its roast degree, Bean Adapt technology automatically optimizes the grinding, dose and temperature parameters.
The controls on the screen toggle grain profiles. This series offers up to 6 grain profiles. But their creation and editing is done through the Delonghi Coffee Link app. These options require information about the coffee beans (pure arabica / mix with robusta) and their roast degree (visually by color or data on the package). In addition, the models come with a colorator that contains 4 color shades ("light roasted", "medium roasted", "dark roasted" and "medium dark roasted"). Based on the responses, Bean Adapt chooses the optimal settings.
What's more, Bean Adapt offers Espresso Soul for finer customization. However, this mode includes the making of 5 test coffees. Probably, it will be interesting for coffee lovers with a penchant for experimentation. But many will find it too complicated and troublesome.
After setting up bean profiles, the coffee machine saves and uses them. For convenience, each bean profile can have a name or photo.