High consumer demand is almost always accompanied by fierce competition from manufacturers. Of course, the price, technical values and functionality are the main factors of their competitiveness. Functionality is the most promising competition area, because it allows companies actively to regulate this aspect. In turn, the functionality of any model substantially depends on the use of new technologies. Thus, the innovation degree of any household appliances directly affects its competitiveness. The coffee machines segment is no exception, and Delonghi ECAM 650 coffee machines innovations are convincing proof of this trend.
Today, Delonghi PrimaDonna Elite models are flagship and use almost all of the company's innovative solutions in this segment. This series includes Delonghi ECAM 650.85, 650.75 and 650.55 models. The most popular Delonghi ECAM 650.75.MS differs from the cheaper ECAM 650.55.MS only by the larger 4.3" touch screen and the presence of a separate jug for making hot chocolate.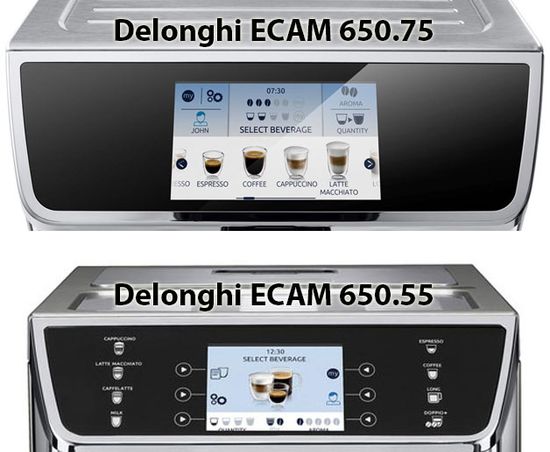 Differences of the 650.85 are more significant, but they are not important from an innovative point of view. These include the option of making tea with a choice of 4 temperatures for herbal, white, green and black tea, and the program Cold Coffee and Cold Whipped Milk.
Drinks customisation
Its capabilities are quite commensurate with the similar Coffee Equalizer technology in the Philips Saeco Xelsis series. It supports six user profiles and a separate guest profile, which contains pre-installed recipes for almost all popular coffee drinks. Of course, the guest profile can be used as a base for original recipes.
Of course, each of the six profiles supports 14 recipes, including hot water / milk and six additional ones. Thus, the total number reaches 120 customized recipes and 14 preset in the guest profile that today is an absolute record. Of course, such opportunities may be redundant for household use of a coffee machine, but they are very convenient, for example, for the office.
The models also provide a supply of espresso in the cup first, and then – frothed milk for cappuccino. The models also provide the correct filing order. Whipped milk is added on top of coffee, which is important for making cappuccino.
The basic recipe list includes:
– espresso;
– coffee – which is actually a Lungo;
– doppio + – double espresso for one grinding;
– LONG – Americano – longer extraction;
– cappuccino – a third of milk, a third of milk froth and a third of espresso;
– cappuccino + – cappuccino with double espresso;
– latte macchiato;
– cappuccino mix – at first coffee, and then – whipped milk;
– espresso macchiato – espresso and some milk with foam;
– latte – espresso, 3 servings of milk and some foam;
– flat white – Lungo, double milk and some foam;
– hot milk and water;
– hot chocolate.
The video at the end shows macking hot chocolate with De'Longhi PrimaDonna Elite ECAM 650.75.
Delonghi Coffee Link app
Coffee machine control with a smartphone is the main innovation of this series. Delonghi PrimaDonna Elite is equipped with a built-in Bluetooth 4.0 LE module that supports iOS 7 or higher or Android 4.3 and higher. Delonghi Coffee Link app is available in the AppStore or Google Play. Unfortunately, these coffee machines support Bluetooth connection for only one device.
In fact, this app completely duplicates the device control panel. It provides the choice, setup and start of preparation the any drink, and service functions and usage statistics. Additionally, the app contains detailed instructions and provides communication with Delonghi technical support, which, of course, is very convenient.
The app allows the user to create six custom recipes for each of the six user profiles. They contain the traditional settings for the amount of milk and coffee, coffee strength and temperature. The app functionality is approximately the same as Saeco GranBarista. But Saeco only supports tablets.
Other innovations
Of course, a steel coffee grinder with 13 grinding degrees, a compact removable CRF brewing unit and a LatteCrema milk foaming system also belong to innovative technologies, but they have already been used in the previous Delonghi 45.764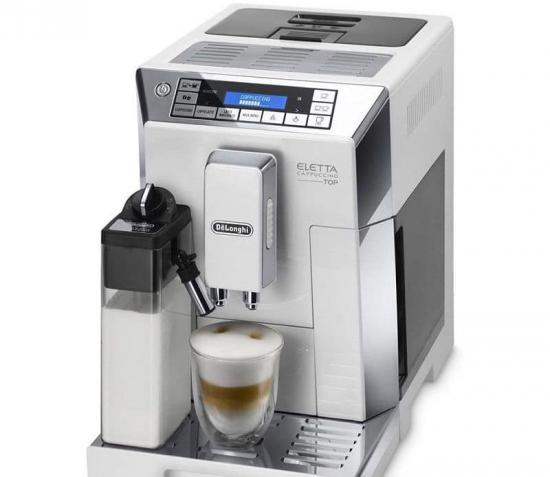 Of course, Delonghi ECAM 650 Coffee Machines innovations analogues are present in many models from the top price segment of other manufacturers. Nevertheless, Delonghi is certainly one of the leaders in the use of innovative solutions.