This review is updated regularly with new models
Last updated: 29 September , 2019
History
Europeans have known coffee for only 300 years, although its history has already exceeded the millennium.
Its story began in a highland called Kaffa in hot Ethiopia around 900.
The young shepherd noticed that goats gladly eat reddish berries from small bushes, after which they begin to frolic energetically. An inquisitive shepherd also decided to try berries and leaves. Soon the young man felt vigor and improved mood. Of course, he told this story to his relatives and friends, and soon the inhabitants of the entire district began to collect the berries and leaves of an amazing plant.
This discovery of Ethiopian goats was very interesting to missionary monks. As a result of long and painstaking work, they were able to make a recipe for a decoction of coffee leaves, the miraculous power of which quickly restores vigor, and helps not to fall asleep during long prayers. The monks also came up with the first coffee drink, which was obtained by simply soaking the berries in water.
But coffee culture appeared only in the XII century, when merchants began to distribute wild coffee grains around the world. Soon, enterprising farmers in Yemen began to cultivate coffee plantations in the Moha city.
In 1615, Venetian merchants first brought coffee to Europe. The invigorating aromatic drink caused a sensation among aristocrats and firmly took a place among the obligatory attributes of a luxurious life. Since then, coffee culture has been tirelessly developing on all continents for over 300 years.
Introduction
Of course, the immense popularity of coffee and coffee drinks has become an excellent incentive for inventors and entrepreneurs. As a result, today the market offers a huge number of coffee machines of various types, the price and functionality of which varies over a wide range.
As known, Eric Favre received the patent for the invention of capsule coffee machine in 1978. But the widespread use of this method of packaging and brewing coffee began only in the late 80s. But in the early years it had problems. Firstly, coffee capsules were quite expensive and in a small assortment. Secondly, the quality of coffee was inferior to the traditional method. As a result, many coffee aficionados even today prefer traditional brewing, arguing their choice with its best taste and aroma.
But over several decades, companies have radically changed the situation, significantly reducing the price of capsules, expanding their range and quality of the finished drinks.
Of course, Nestle is a leader in this segment. It produces very popular Nescafe Dolce Gusto and Nespresso capsules that are compatible with KitchenAid, DeLonghi and Krups models. But today, this list includes many other companies, including Delica (Cremesso), Kraft Foods (Jacobs for Bosch Tassimo), Lavazza, etc.
As a result, the popularity of this segment has increased dramatically. Accordingly, the demand for capsule models also increased. Of course, companies adequately responded to changing market conditions by offering a huge number of different models. This situation pleases consumers, but sometimes it makes it difficult to choose the best coffee machine. Various TOPs simplify this task.
This review offers several single-shot pod-based coffee espresso machines, which are most often present in the various TOPs.
This list contains:
– Breville Nespresso Creatista Plus;
– Delonghi Nespresso CitiZ;
– Lavazza Blue Classy Mini.
Breville Nespresso Creatista Plus
According to many experts, today Breville Nespresso Creatista Plus is one of the most successful single-shot pod-based coffee espresso machines. This 2017 model today costs about $ 350, has compact stylish design, and makes very delicious espresso.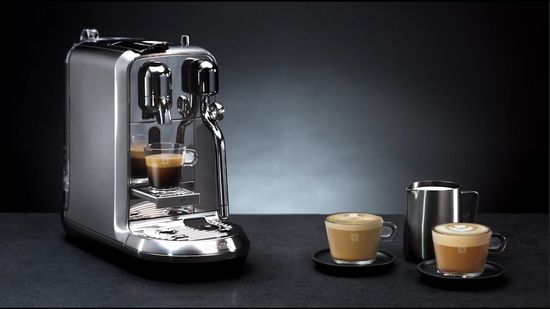 Simple and convenient intuitive interface with TFT LCD display practically does not require reading the manual.
High pressure pump provides 19 bars of pressure, providing highly effective extracting the delicate flavor and premium aromas of each coffee capsule. The fast heat-up system reaches the optimal temperature in just 10 sec. Additionally, this model provides several brewing options, including espresso and lungo (which means "large" in Italian) for espresso, and flat white, cappuccino, or latte for coffee drinks.
In addition, the device heats the milk to a predetermined temperature (55-76°C / 133-169°F) for each cup. Moreover, the workflow of Creatista Plus is practically no different from a regular espresso maker due to start the milk separately, which is familiar and convenient for many. Breville automatic steam pipe works very reliably, uninterruptedly preparing a light brown foamy crema for coffee drinks with constant consistency.
The steam pump self-cleans after every coffee brewing cycle, automatically draining leftovers. In addition, the model has a very capacious water tank at 60 ounces. Given that one espresso contains about 1.6 ounces, this model rarely requires the addition of water.
Pros
– 19 bars;
– 8 beverage selections with adjustable settings (coffee volume, milk temperature and milk texture);
– auto frothing;
– self-cleaning the steam pump;
– 4 texture levels;
– different milk temperature settings;
– fast heat up in 10 sec.
Delonghi Nespresso CitiZ
This stylish compact model of 2017 costs about $ 180 is also often found in various TOPs.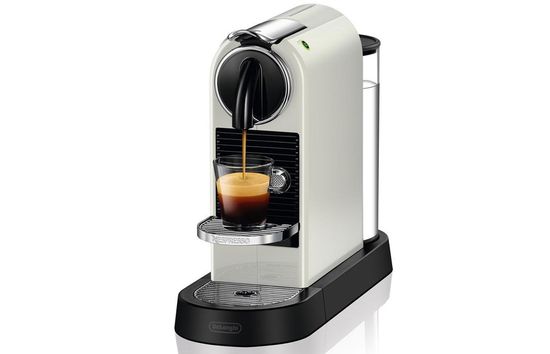 Its innovative and user-friendly design won a Reddot Design Award.
Despite being compact, its pump system provides 19 bar, and brews a cup of barista-style espresso in less than 25 sec.
Moreover, the model has a versatile foldable cup tray, which holds taller coffee or espresso glasses. The two automatic buttons for Espresso and Lungo can be customized for drink volume with a press duration. As a result, adjustable cup size with two programmable Espresso (1.35 oz) and Lungo (5 oz) buttons provide high versatility with very simple and convenient control.
Removable Nespresso capsule container, drip tray and water tank (34 oz) greatly simplify care and cleaning.
The automatic energy-saving function turns the machine off after 9 minutes of inactivity. But you can increase the waiting time to 30 minutes.
Of course, the customization level of Nespresso CitiZ cannot compete with expensive coffee machines, for example, Delonghi ECAM 650, Saeco Xelsis, Melitta Caffeo Barista, Siemens EQ9, or Jura Z6 Impressa. But the great price, compact stylish design, very simple intuitive control, delicious and fragrant espresso, and an amazing milk frother provide huge popularity of this series for two years. Unfortunately, coffee pods are sold only on the Nespresso website.
Lavazza Blue Classy Mini
Probably many people know Lavazza as manufacturer of espresso ground and Lavazza Blue Capsules. But the company also produces the Lavazza BLUE series of single serve espresso coffee machines, includingthe budget LB 910 and the top-end LB 2317. In 2019, the company introduced new mini model. Today Lavazza BLUE Classy Mini with dimensions of only 5.3″ x 13″ x 10.2″ and weighs 7.7 lb is the smallest model in the BLUE range. Moreover, its elegant Italian style won the Reddot Design Award.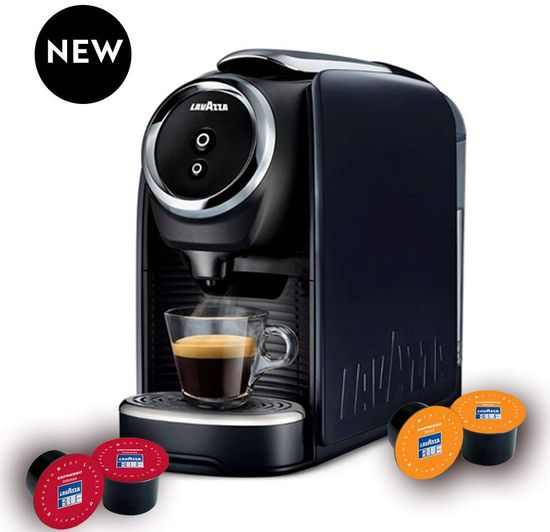 Novelty costs about $ 150, uses Lavazza Blue capsules, has removable cup support, simple touch controls with one programmable setting and one pre-set, provides visual indication of filling the capsules drawer (5 exhausted capsules) and water level. Device uses only two touch controls for espresso coffee or lungo coffee. Additionally, it has a stand-by function for energy saving.
Unfortunately, Lavazza Blue Classy Mini has water tank with capacity only 0.2 gallons (less than 26 ounces). Besides, it works only with Lavazza BLUE Capsules.
Conclusion
1.This review also does not include Best Sellers, the list of which depends on the price, reviews, and the advertising persuasiveness. With the exception of the Lavazza Blue Classy Mini, it also does not contain innovative 2019 models, the price of which has not yet decreased.
2. Of course, these models do not compete with expensive fully automatic espresso coffee machines that use many innovative technologies. Today they provide automatic preparation of a huge number of various coffee drinks, a high customization level, partial automation of cleaning and care, etc. But such functionality at a price of $ 1,000 or more is unlikely to be appropriate for the regular preparation of several cups of delicious coffee.
3. A miniature elegant Lavazza Blue Classy Mini worth about $ 150 will quickly brew a delicious, fragrant espresso or lungo coffee for one person.
Compact Delonghi Nespresso CitiZ with a price of about $ 180 provides 19 bar and brews a cup of barista-style espresso in less than 25 sec.
The more expensive Breville Nespresso Creatista Plus today costs about $ 350. But it has higher specs and supports a higher customization level.
At the same time, all models prepare high quality coffee drinks. However, it substantially depends on the coffee pods used.
Thus, the modern market offers excellent single-serve espresso makers in all price segments. But, of course, the choice of the optimal coffee maker depends on personal preferences and budget.
We sincerely wish you the Right Solution!
Video demonstrates Aeroccino Use in Nespresso Citiz.