As known, a wide range is one of the conditions for successful competition in the consumer electronics segment. Therefore, the leaders are forced to annually expand the previous ones and create new lines of their products. For example, in 2014 Samsung introduced 56 new smartphones and continues to expand their range annually. The list of new LG TVs at CES 2020 has exceeded several dozen NanoCell and OLED models with 4K and 8K resolution, including five separate 4K OLED series.
Of course, coffee machines are no exception. For example, DeLonghi today offers the PrimaDonna, Dinamica, Magnifica and Autentica series, Nespresso CitiZ in the single-serve espresso coffeemakers segment, and premium DeLonghi EPAM 960.75. GLM Maestos.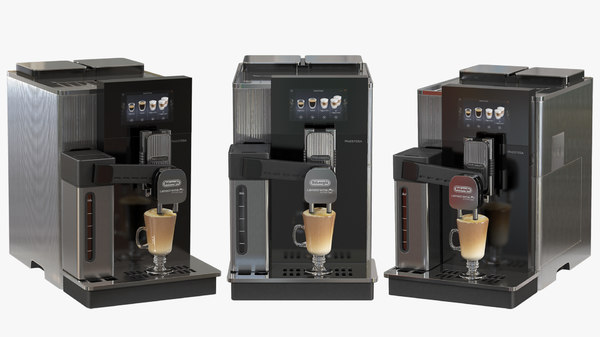 At the same time, the Dinamica series is one of the most popular among mid-budget Expresso coffee machines.
Philips also does not lag behind its competitors. As known, in 2009 Philips bought the famous Italian Saeco. Today the company offers the Philips models and a wide range of Saeco coffee machines. The Philips 1200, 2200 and 3200 are the latest series from this manufacturer based on the new platform.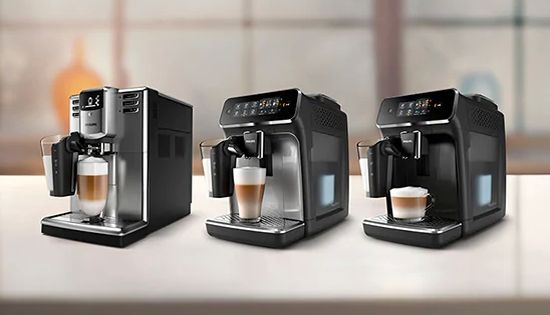 Of course, the Swiss Jura Elektroapparate AG is also well known to coffee lovers. Since 1931, this company has been developing and manufacturing extra-class household appliances. Since the beginning of the 90s of the last century, the Jura has concentrated all its efforts in the design and manufacture of high-quality espresso coffee machines. As a result, for nearly 30 years, Jura coffee machines have been successfully competing in the premium coffee machine segment. Of course, like competitors, Jura pays much attention to expanding its product range.
E6-E8-S8 evolution
As known, the E8 replaced the E6 series in 2016.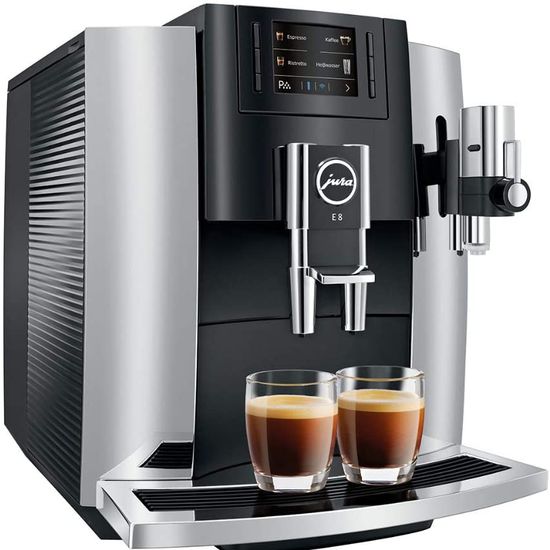 At that time, the list of improvements included the following aspects:
– E8 works with ground coffee;
– Jura E8 has more pre-installed and custom recipes (7 vs 4);
– E8 uses an automatic cappuccino maker with a maximum cup height of 5.9 inches (15 cm) vs semi-automatic cappuccino maker and a maximum cup height of 4.3 inches (11 cm) in E6;
– Flat White mode in E8 makes a classic cappuccino in one click, adding whipped milk to an espresso serving (E6 does not have a similar function);
– unlike E6, the E8 has illumination of cups and filling sensor of the drops tray.
Unfortunately, the price of E8 also increased significantly, exceeding $ 2,000. For comparison, today the cost of E6 does not exceed $ 1,400.
In 2018, the S8 was the next generation of Jura coffee machines in this price segment. In fact, it can be classified as a premium version of the E8 with enhanced functionality, an improved touch screen and design.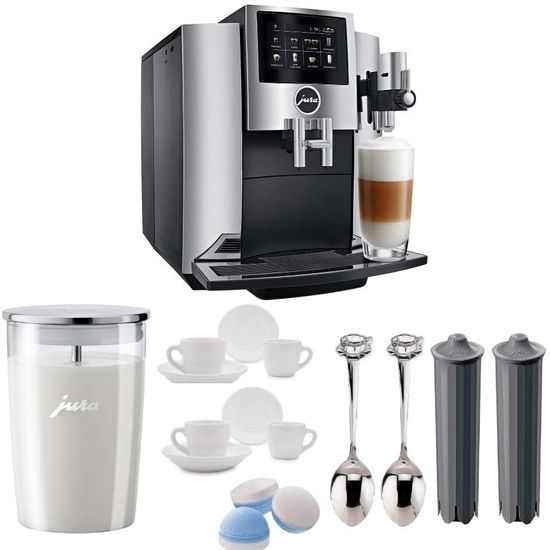 Major enhancements:
– large 4.3" color touch screen;
– very stylish design;
– two additional recipes (latte and espresso macchiato);
– additional hot water supply for green tea;
– 10 coffee strength settings instead of 8 in E8;
– 3 cooking temperature settings instead of 2;
– maximum cup height increased to 4.65 inches for coffee and 6.3 inches for milk drinks and hot water (by 7 mm);
– the included Bluetooth Smart Connect adapter provides control by Android and iOS smart devices using the Jura Coffee App.
S8 modes
The company paid a lot of attention to S8 design. As a result, in 2018 Jura Impressa S8 absolutely deserved received two of the most prestigious awards in the field of industrial design, including the iF Design Award and the RedDot Award.
A large touch screen with 8 keys to directly launch drinks provides by default:
– espresso;
– coffee;
– 2 x coffee;
– hot water;
– cappuccino;
– latte macchiato;
– Flat White;
– milk foam.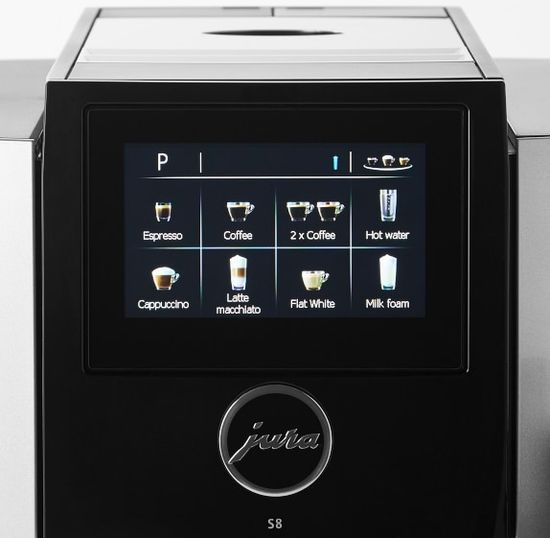 But the model also supports user settings for this set. In addition to the listed drinks, scrolling the screen offers:
– milk;
– latte;
– hot water for green tea;
– ristretto (thick and strong coffee);
– 2 x ristretto;
– 2 x espresso;
– espresso macchiato.
In fact, S8 supports 10 basic recipes and five additional ones. For comparison, Saeco Picobaristo Deluxe provides 13 recipes, and Delonghi ECAM 550.55 – 12.
Of course, each recipe is customizable. The list of settings includes:
– ten levels of coffee strength (in fact, this is amount of coffee beans to prepare one serving);
– three temperature levels;
– a pause between the milk supply and coffee in the range from 0 to 60 seconds;
– volumes for each drink. Moreover, this setting may change during drink preparation.

S8 key features
Jura E8 offers manual mode or automatic cleaning the milk system 10 minutes after the end of coffee preparation. Jura S8 performs an automatic quick cleaning the milk circuit 15 minutes after the preparation of the last milk drink.
In addition, the S8 recognizes ground coffee and controls the filling level of the drip tray. In fact, the user only has to add ground coffee and press the start. Most competitors require a pre-selection of ground coffee for making coffee.
Like other Jura models, the E8 uses the I.P.B.A.S. (Intelligent Pre-Brew Aroma System), automatically adjusting the water amount for pre-brewing depending on the selected amount of ground coffee. In addition, it has an Energy Save Mode (E.S.M.). According to the developers, the optimal settings reduce energy consumption by 40%.
The chassis completely repeats the E line, including:
– steel fast coffee grinder Aroma G3 with six grinding settings;
– vibration pump with a maximum pressure of 15 bar.
The model uses the patented P.E.P. (Pulse Extraction Process) technology to enhance extraction with a minimum drink volume.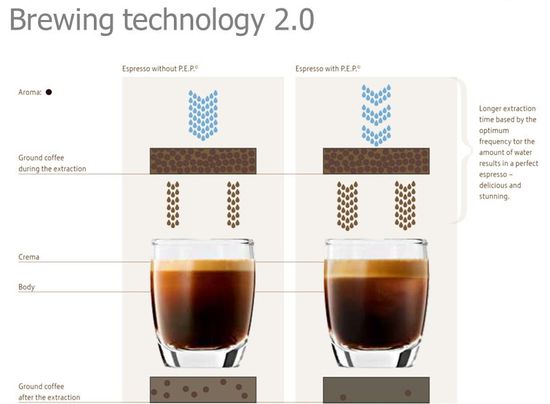 – thermoblock with power up to 1450 W;
– the hopper holds for 280 grams of coffee beans, a water tank -1.9 liters, a capacity for cake – 16 servings;
– two working areas with backlight for one or two servings of black coffee with a maximum cup height of 4.65 inches (center), and for milk, coffee drinks and hot water with a maximum cup height of up to 6.3 inches (right).
The company offers the S8 in two colors, including Chrome and black Moonlight with gray inserts.
Conclusions
Thus, in the mid-range premium, Jura coffee machine fans can choose between the E6, E8, and S8 at prices around $ 1,400, $ 2,000, and $ 2,500, respectively. But, of course, the assessment of the functionality / price depends on the individual preferences of the user and his budget. In the upper premium range, the company offers the Jura Impressa Z9 series with a price of about $ 4,000 and above.
In addition, the company introduced a new compact Jura ENA 8, which has excellent prospects for leadership in this segment.
Moreover, the company has already introduced Jura E8 EB, which is the next generation of E8, and today claims to become the segment leader in terms of price / quality ratio.
This video presents a fully automatic Jura S8 coffee machine.
P.S.
This year, the company has traditionally expanded the line up of its models, presenting, among other things, the super innovative flagship Jura Z10 with milk and milk foam temperature setting, with 3D brewing technology for cold brew drinks, with product recognizing grinder (P.R.G.), etc.
In addition, Jura continues to expand its lineup with EB modifications. In particular, the company introduced the Jura E6 EB (2020 model) version. Compared to the previous Jura E6, it has a faster Professional Aroma Grinder with 6 grinds, a 2.8-inch color display, a chrome platform for cups, and 11 programs, including macchiato and two American recipes. Moreover, Jura E6 EB is significantly cheaper vs E6.
Unfortunately, it does not work with ground coffee, does not have milk foam height adjustment, does not support setting the location of program shortcuts in the menu, and cannot automatically pour milk into the cup. However, these cons are typical for many budget coffee machines.
But it supports main modern technologies, including:
– 11 programs by 'one button';
– 8 levels of coffee strength;
– pulse extraction process (P.E.P.);
– Jura Smart Connect;
– Intelligent Water System (automatic filter detection);
– works with CLARIS Smart cartridge;
– has integrated rinsing, cleaning and descaling programs and controls the fill level of the drip tray.
But, of course, price is one of its main pros. Today some sellers offer it in the basic configuration for only € 680 or $ 770.