The popularity of coffee and, especially, coffee drinks has been growing for several decades. Today, a device for their preparation is present in almost any kitchen. 5-10 years ago automatic espresso machines dominated in the top segment. Of course, the market also offered the capsule espresso machines, but the quality of the drinks, the high price and the limited range of coffee pods significantly limited their popularity. Today, companies have successfully resolved most of problems, dramatically increasing the popularity of these models. As a result, today the market offers a huge assortment of capsule single-serve espresso makers.
But some large companies simultaneously produce both types of coffee makers. For example, in addition to the magnificent automatic espresso machines, DeLonghi also offers the popular capsule single-serve Lattissima series espresso makers.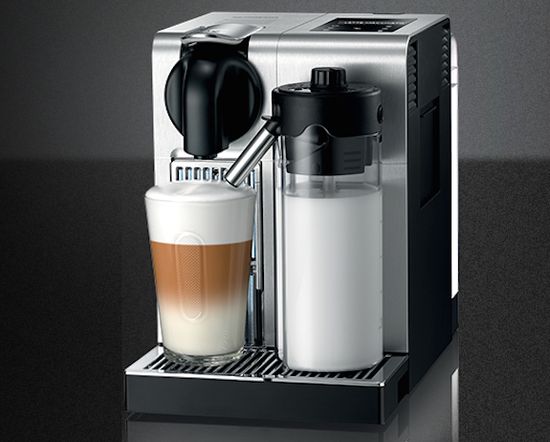 DeLonghi EPAM Maestosa
However, many consumers still prefer automatic espresso machines. Traditionally, leaders annually offer new series and models. But with a certain periodicity, the quantity is transformed into quality and companies offer new concepts.
As known, over the past few years, the company has constantly improved the very popular Dinamica ECAM model line. For example, Dinamica ECAM350.25SB is on most of the top lists, being one of the most popular automatic espresso machine in the US market.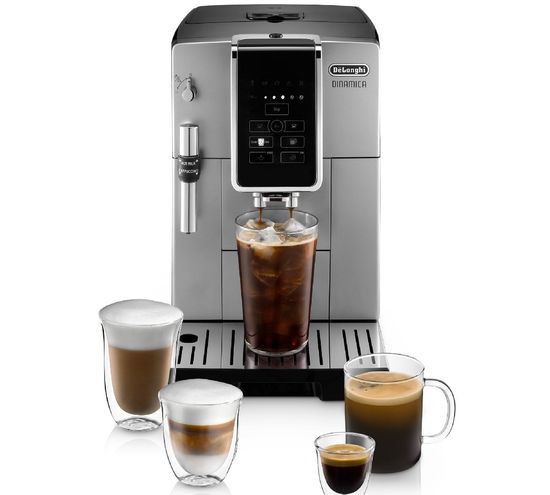 However, the company did not stop there, having introduced in the summer of 2019 Delonghi Maestosa a series on the new platform with the EPAM prefix in the name. Today the cost of the DeLonghi EPAM 960.75. GLM Maestosa reaches $ 5,000 in Europe, and it does not claim to be among the best sellers.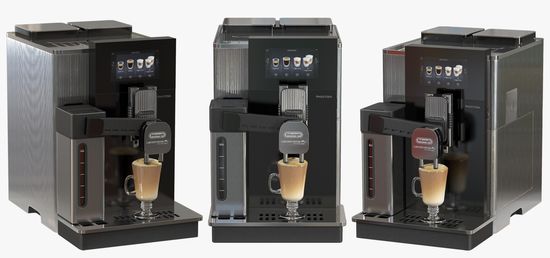 However, the flagships initially perform a different function, setting the main development trends. Probably for the first time the technological level of the household coffee machine exceeds the specs of many commercial coffee makers, including WMF, Schaerer or Franke. But apparently, the company will soon introduce simpler and cheaper modifications in the EPAM Maestosa line.
DeLonghi EPAM 960.75. GLM Maestosa
All plastic panels of the case have a mirror metal coating with corrugation. These two layers of plastic + metal provide additional sound insulation and a strict stylish design. The 5-inch TFT color touch screen is fixed with a swivel joint which provides easy adjustment of its tilt angle.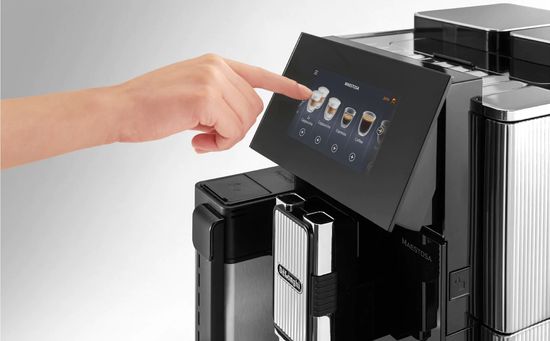 The water tank holds 2.1 liters. The total power of thermoblocks reaches 1550 W, and the pump provides 19 bar. The power button, passive cup heating and two independent coffee grinders with controls for adjusting the grinding degree are located on the top panel.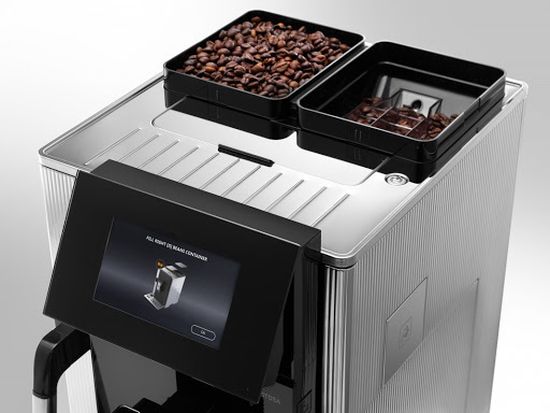 Each bean container of two independent coffee grinders holds about 300 grams of coffee beans.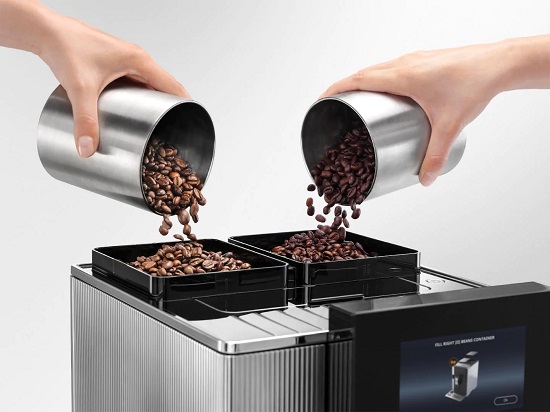 Also, for the first time, the coffee machine uses coffee grinders with flat steel millstones instead of conical.
Of course, two independent coffee grinders comply with the premium level. The company first implemented this option, eliminating mixing and delays when switching between grinding different varieties of coffee beans.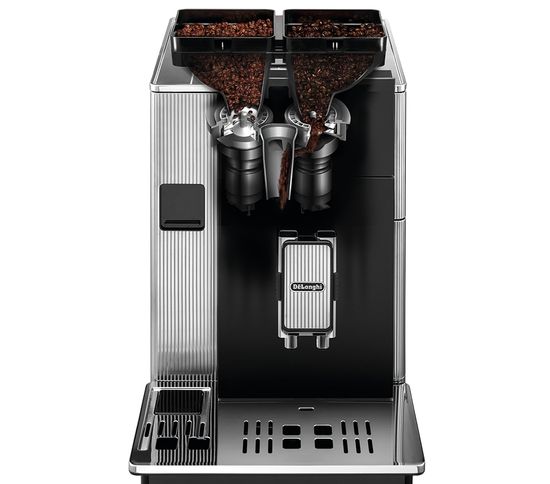 Previously, only the premium models Jura Giga Series and Siemens EQ.9 s700 / 900 offered had this feature. But commercial models often use it.
Adaptive Grinding Technology
In fact, developed by DeLonghi Adaptive Grinding Technology is an improved version of a similar option in Krups Barista. But a German coffee machine uses only one coffee grinder and does not have manual adjustment.
DeLonghi EPAM 960.75.GLM Maestosa has manual adjustment, but with some nuances. The coffee machine shifts the millstones to change the grinding degree after only 5 cycles. Other models with this function usually perform adjustment after 2-3 cycles. In addition, by offering seven grinding degrees in the menu, the setting can only be changed by one level. Perhaps the engineers used this algorithm to completely eliminate the possibility of mixing different varieties and reduce the load on the mechanics. But for many, this decision may seem controversial.
In general, two coffee grinders are very convenient for the simultaneous preparation of coffee drinks for several coffee lovers with different tastes, but not very relevant for one person.
In addition, Delonghi EPAM Maestosa and La Specialista use optical sensors inside bean containers to monitor their fill level.
Milk jug
Traditionally, DeLonghi produces models with milk jug without outlet pipes. In terms of convenience, both solutions have pros and cons. But milk jug provides a clearer separation between fractions of milk foam. Unfortunately, it cannot make two milk drinks at the same time.
DeLonghi EPAM 960.75.GLM uses a special lever with two nozzles to solve this problem. Moreover, this new mechanism has height adjustment, providing the perfect drink for a cup of any height. In addition, this new mechanism has height adjustment, providing the ideally convenient filling for a cup of any height.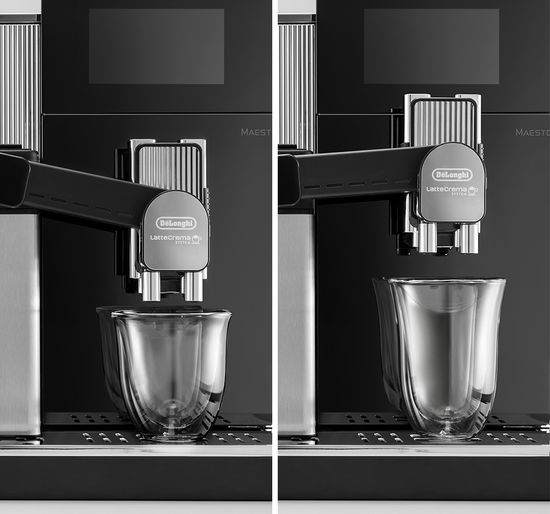 Moreover, the dispenser outlet openings in the lower position are located exactly above the slots in the cup tray. The ideal design ensures a very neat and fast rinsing the milk tract after each preparation of the milk drink.
Previous DeLonghi models adjust the height of the milk foam using a mechanical regulator on milk jug. EPAM 960.75. GLM supports programmable adjustment in the recipe menu, which offers a choice of the amount of foam. But the choice without foam corresponds to a very small amount.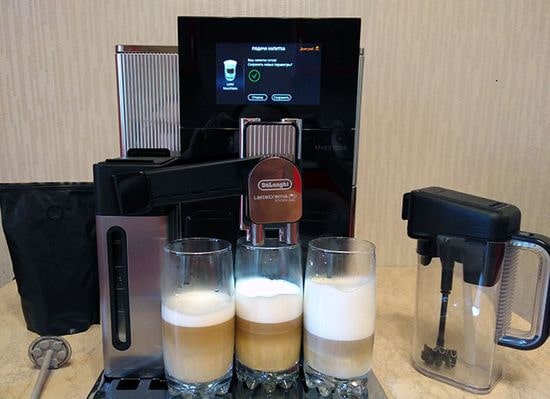 Probably, the one-time setting of your favorite recipes in the menu will be more convenient compared to the manual setting at each coffee brewing.
But with constant use, milk jug requires manual washing at least once a week. Unfortunately, this process is more complicated than washing the outlet pipes of cappuccinatore in a single dispenser.
MixCarafe
As known, the company first used a MixCarafe jug for cocoa and hot chocolate in the ESAM 6900. The flagship ECAM 650.75 also has it, but MixCarafe for the ECAM 650.85 comes with an additional mechanical whisk. EPAM 960.75.GLM uses MixCarafe in the maximum configuration with two additional ice molds.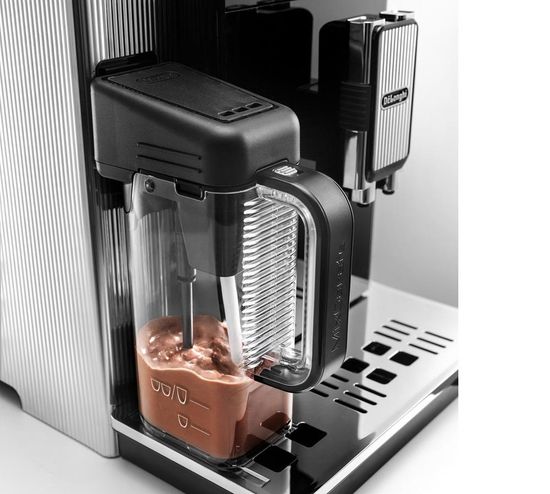 MixCarafe uses a whisk with magnets, which is driven by a second magnet in the cup holder. In fact, this method is identical to the technology in Nespresso Aeroccino, which froth milk using a magnetic drive.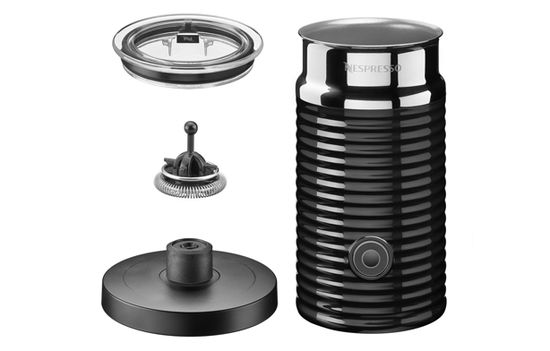 In addition, it has a steam supply tube that heats the jug content if necessary.
MixCarafe uses two whisks, including black for mixing cocoa and chocolate, and gray with a spring for mixing cold drinks. The second option is relevant for cold coffee or cold milk foam, which can be used to make milkshakes. Like the ECAM 650.85, the coffee machine supports the corresponding modes.
MixCarafe uses the same place on the platform as milk jug to make cappuccino/latte.
To prepare cold milk foam, the device recommends using ice cubes, but this is not necessary. In the mode of cold coffee, MixCarafe is first installed under the dispenser to fill, then – in its place for mixing and cold foaming without steam.
Unfortunately, cleaning MixCarafe is more complicated compared to Aeroccino.
Delonghi Coffee Link app
Many DeLonghi models have Bluetooth. Of course, Maestosa was no exception, having received the built-in Bluetooth 4.0 LE module for control from a smartphone based on iOS 7 and higher or Android 4.3 and higher. But coffee machine requires the Delonghi Coffee Link app, which is available on the AppStore and Google Play.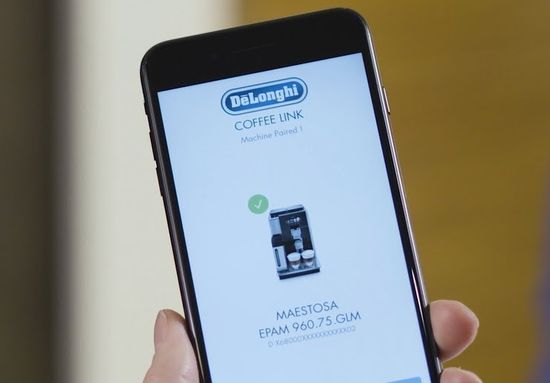 The Coffee Link app also supports the creation of up to 10 user recipes for each of 6 profiles. The program offers the setting of strength, the amount of milk and coffee, foam height, temperature and the choice of coffee variety. Moreover, custom recipes support setting the sequence for the flow of milk and coffee into the cup.
Of course, the coffee making requires the presence of a person near the coffee machine. But the Coffee Link app greatly simplifies the creation of recipes and will be useful for those who like to experiment.
Main recipes
The model also supports the setting of 15 main recipes, not including hot water/milk, double recipes, tea, a thermos/decanter. This list includes:
– Espresso – 40 ml by default, varies from 20 to 180 ml;
– Lungo – 180 ml by default, varies from 100 to 240 ml;
– Doppio+ – 120 ml by default, varies from 80 to 180 ml; double espresso for one grinding with maximum strength and intermittent pre-wetting;
– LONG – 160 ml by default, varies from 115 to 250 ml;
analogue Americano, special program with the technology of lowering the pressure in the brewing chamber and longer extraction, the pump works "second – in a second", is prepared in 2 grindings;
– Americano – espresso + hot water, by default 40 ml of coffee + 110 ml of water, varies – coffee from 20 to 180 ml, water from 50 to 300 ml, total – from 70 to 480 ml in a cup;
– A carafe of coffee – 2, 4 or 6 servings of coffee (lungo) one after another, or approximately 250, 500 and 750 ml. Each pair of servings requires one grinding, total 1, 2 or 3 grinding;
– Cappuccino – 17 seconds of milk, (approximately 150 ml with maximum foam), 65 ml of coffee on top. Duration for milk varies from 5 to 90 seconds (approximately 700 ml), coffee 20-180 ml;
– Latte macchiato – 29 sec of milk with medium foam and 60 ml of coffee;
– Latte – 38 seconds of milk without foam and 60 ml of coffee;
– Flat White – 60 ml of coffee, then 22 sec of milk with a small amount of foam;
– Cappuccino+ – 15 sec of milk with maximum foam, on top 100 ml of doppio+ (espresso of the maximum possible strength); varies for milk from 5 to 90 seconds, coffee from 80 to 180 ml;
– Cappuccino mix – 65 ml of coffee, on top 17 seconds of milk with maximum foam;
– Espresso macchiato – 5 seconds of milk with a maximum foam, on top – 30 ml of espresso.
Conclusion
PROS
– the level of the commercial model;
– excellent assembly and quality of all components;
– two coffee grinders;
– special lever with two nozzles;
– adjustable tilt of the display;
– improved MixCarafe;
– built-in Bluetooth 4.0 LE module;
– Coffee Link app.
Cons
– a huge price;
– the controversial Adaptive Grinding Technology algorithm with a delay of 5 cycles and only one step of regulating the grinding degree;
– no automatic cleaning the coffee path from oils;
– automatic shift of the sequence of recipes in the menu depending on their popularity is inconvenient for remembering.
This video shows some settings for DeLonghi EPAM 960.75. GLM.
P.S.
Of course, the Maestosa EPAM 960.75.GLM great premium 'bean-to-cup' coffee machine, but it's very expensive. Currently its price reaches £ 2,700 or $ 3,600.
Considering this aspect, in 2020 the company developed a much more affordable Delonghi PrimaDonna Soul series. For example, PrimaDonna Soul ECAM 610.74.MB costs about $ 2,150. In doing so, it uses Bean Adapt technology, which can be positioned as a latest improved version of Adaptive Grinding Technology.
Depending on the coffee grade (Arabica / Robusta / their mix) and its roast degree, Bean Adapt automatically adapts all main setting, including grinding, temperature and dose.
As known, Robusta with a high caffeine content, provides coffee strength, but Arabica has a rich flavor and aroma. Therefore, companies usually offer a mix of them. For example, classic Italian blends often use 20% Robusta + 80% Arabica.
Of course, the coffee roast level also significantly affects the drink taste. Bean Adapt uses the 'light' / 'medium' / 'dark' / 'medium dark' roast level classification. It's assessed visually with the help of supplied colorator or based on information on the coffee packag.
Additionally, the espresso machine offers finer customization with Espresso Soul which is based on interactive Quiz (short online survey). But it requires making 5 test cups.
Bean Adapt allows the user to create up to 6 grain profiles via Delonghi Coffee Link app.
Bean Adapt may not be very helpful for experienced coffee lovers, but it will help newbies master the art of making it.