Today, more than 600 companies produce smartphones. But almost 80% of the global market belongs to only ten major manufacturers. This list includes South Korean Samsung (19%) and LG (3%), American Apple (12%), Finnish Nokia (1%) and Chinese Huawei (13%, including Honor), Xiaomi (9%), Oppo (9%), Vivo (8%), Lenovo (3%, including Motorola), Tecno (1%).
But at the same time, Oppo, Vivo and OnePlus are divisions of the Chinese giant BBK Electronics. Thus, Xiaomi can be positioned as one of the three leaders in the Chinese segment.
A wide range and a high innovative level most fully characterize the company's strategy. Today, Xiaomi offers models almost in all price segments of almost all types, including the gaming Black Shark 2, Xiaomi Mi Note 10 cameraphone, etc. Moreover, in the fall of 2019, company introduced the Mi Mix Alpha with an area of its wrap-around screen reaches 180.6% of the body area.
The camera with a 108-megapixel 1/1.33-inch sensor was the second sensation from company in 2019.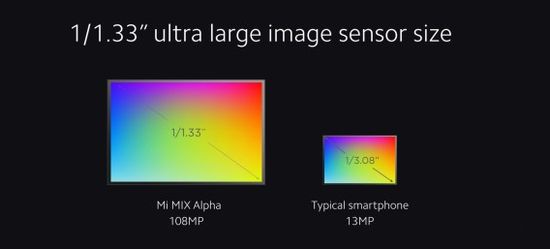 According to many experts, it was the most innovative announcement last year. Of course, a price of almost $ 3,000 is unlikely to allow this model to become BestSeller, but innovative concepts have a different function.
In addition, in December 2019, the company introduced Xiaomi Mi Note 10 with this unprecedented 108-megapixel Samsung ISOCELL Bright HMX sensor. Moreover, in February Xiaomi promises to introduce the fastest Xiaomi Mi 10 with a newest single-chip Qualcomm Snapdragon 865 and innovative LPDDR5 memory.
Xiaomi Mi Note 10
In December, the company introduced the flagship Xiaomi Mi Note 10 in three colors for about $ 610 (€ 549 / £ 472).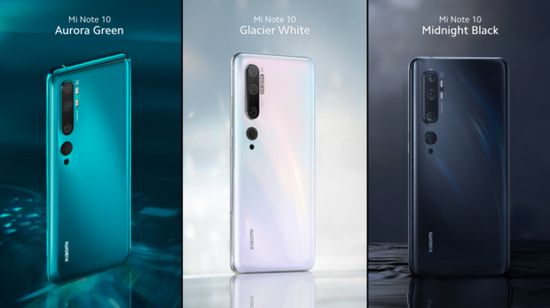 As known, the trend to improve the capabilities of the phone's camera started a few years ago. As a result, today companies offer a wide range of multi-camera smartphones. Basically, manufacturers increase the number of specialized modules and their quality, including pixel and matrix size, its resolution, etc. For example, Sony already announced a smartphone with an unprecedented 8 cameras.
Such models got the name of cameraphones. But today, even mid-budget models often have several cameras with fairly high specs. In fact, almost any flagship of recent years can be classified as a cameraphone. Nevertheless, Xiaomi Mi Note 10 really claims to this status, using the unparalleled 108-megapixel ISOCELL Bright HMX sensor developed jointly with Samsung.

All modules of this world's first 108MP penta camera also corresponds to the highest level.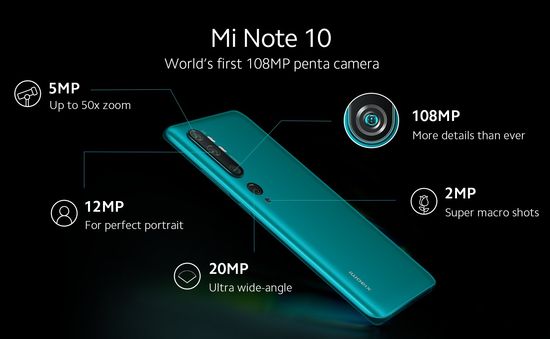 Huge resolution is provided by a 1/1.33-inch matrix with a cell size of 0.8 microns. The camera has f/1.69 aperture, optical stabilization, phase and laser autofocus, and supports Tetracell technology. As known, this innovative technology optimizes the number of generated pixels. In particular, it uses the re-mosaic algorithm when shooting in high ambient light conditions or combines four adjacent pixels – at low, reducing noise, increasing photosensitivity, and expanding the dynamic range.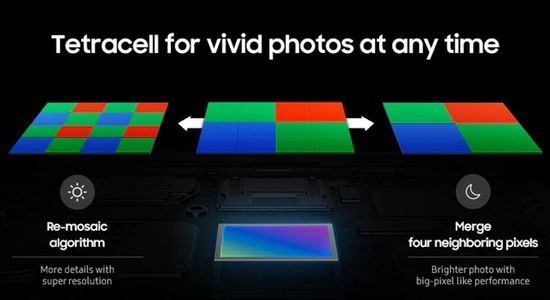 Sony uses a similar technology called Quad Bayer.
Key Features
But by default, Xiaomi Mi Note 10 uses 6016 x 4512 resolution, instead of the maximum 12032 x 9024. Such an algorithm increases the amount of information, reduces the processor load, and saves memory. For comparison, a 108-megapixel photo in good ambient light requires about 18-25 MB and takes a long time to process the photo.
In fact, the 108-megapixel module supports three shooting modes, including standard (6016 x 4512), night (6016 x 4512) and maximum (12032 x 9024).
In principle, the automatic mode provides a fairly high quality night shooting.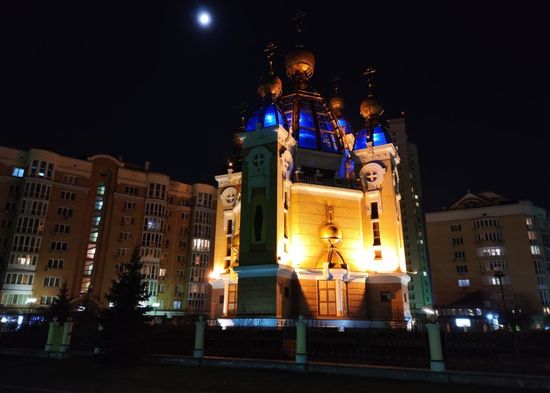 But the night mode significantly improves it by gluing several shots with different parameters, increasing detail and optimizing exposure.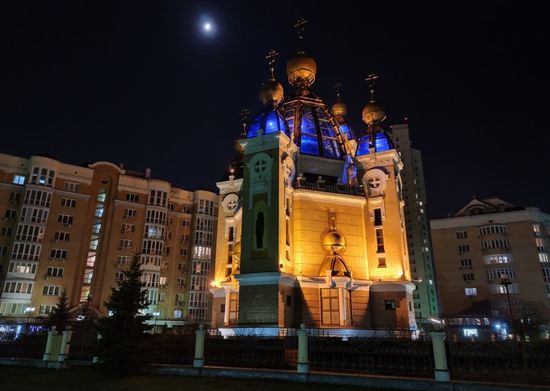 In addition to the magnificent camera, the rest of the specs also correspond to a very high level.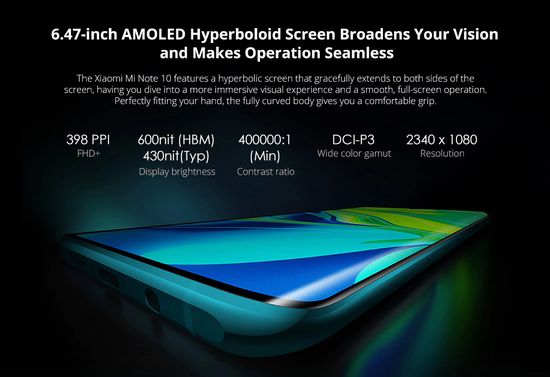 A bright 6.47-inch AMOLED screen with 2340 x 1080 resolution (398 ppi) provides DCI -3 color gamut coverage with 400,000 contrast.
The model uses a single-chip 8-core Qualcomm Snapdragon 730G (SD730G) mid-range with 2x ARM Cortex-A76 (Kryo 470 Gold – 2.2 GHz) and 6x ARM Cortex-A55 (Kryo 470 Silver – 1.8 GHz) with built-in Qualcomm Adreno 618.
The Mi Note 10 platform also contains wireless Bluetooth 5.0 (A2DP, LE, aptX HD) and NFC modules, dual-band Wi-Fi 802.11 a / b / g / n / ac, and an infrared port.
The excellent 5260 mAh battery provides about two days of battery life.
Finally, the phone has an optical fingerprint scanner, Gorilla Glass 5, and supports fast charging.
The lack of support for memory cards and slow autofocus are cons of the model. In general, today, Mi Note 10 claims to be the leader among cameraphones.
Xiaomi Mi 10 and 10 Pro 5G
Xiaomi Mi 10 also claims to be a sensation in 2020. Firstly, the company took into account the criticisms in the address of the previous Xiaomi Mi 9 and significantly improved the design of new flagship. Frameless screen-waterfall looks very stylish.
Secondly, Xiaomi Mi 10 really claims to become the fastest smartphone through the use of the latest Micron LPDDR5 (mDDR or Low Power DDR) memory modules.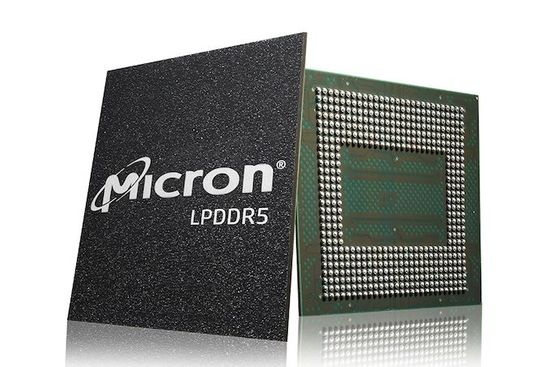 But Samsung also promises to launch mass production of 12Gbps LPDDR5 modules in 2020.
As known, in 2018 Samsung first introduced 8GB LPDDR5 using a 10-nanometer process technology. Improving energy efficiency has reduced energy consumption by 30% compared to previous LPDDR4X. In addition, an increase in memory banks from 8 to 16 increased its speed.
On February 19, 2019, the Joint Electron Devices Engineering Council officially approved the new Low Power Double Date Rate 5 (LPDDR5) memory standard. In accordance with its specs, LPDDR5 will operate at a speed of 6400 Mbit/s, which is twice higher compared to first generation LPDDR4 (3200 Mbit/s).
As known, the new standard uses two new Data-Copy and Write-X operations for data writing optimization.
According to Micron Technology, Micron LPDDR5 modules will provide a 50% increase in speed and a 20% reduction in power consumption compared to LPDDR4x. The range of modules includes 6, 8 and 12 GB.
According to preliminary data, Mi 10 and 10 Pro will differ only in battery capacity.
Key Features
Other specs also correspond to a very high level. MIUI 11 runs on Android 10.0 (Q).
The smartphone has a 6.37-inch AMOLED screen with 2340 x 1080 resolution (403 ppi). In addition, the screen has Corning Gorilla Glass 6 and supports DCI-P3, HDR10, and 120 Hz.
The Mi 10 Pro 5G uses an octa-core Qualcomm Snapdragon 865 (7 nm +), including 1×2.84 GHz Kryo 585 + 3×2.42 GHz Kryo 585 + 4×1.8 GHz Kryo 585), with an Adreno 650 GPU.
The smartphone uses:
– 108 MP, f/1.8, (wide), PDAF, Laser AF, OIS;
– 12 MP, f/2.2, 54mm (telephoto), 1/3.6″, 1.0µm, PDAF, Laser AF, 2x optical zoom;
– 16 MP, f/2.2, 13mm (ultrawide), 1/3.0″, 1.0µm, PDAF, Laser AF;
– 5 MP, depth sensor.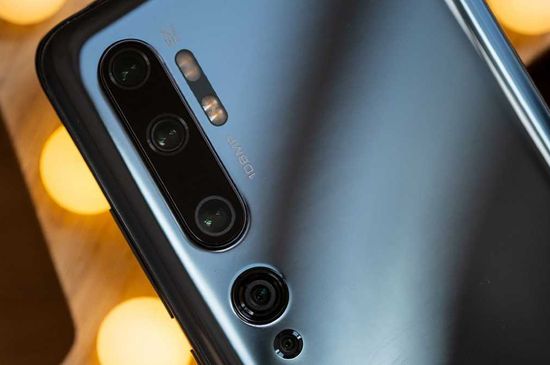 Mi 10 supports NFC, but unfortunately does not have a Headphone Jack.
Its preliminary price may be slightly above $ 600.
In general, the 108-megapixel sensor, LPDDR5, and the relatively affordable price are excellent prerequisites for its marketing perspective.
Conclusion
Once again, Xiaomi met the expectations of its fans by introducing two great innovative models. The 108-megapixel sensor and LPDDR5 memory provide them with good prospects in the competition. Of course, in February Samsung will unveil its Galaxy S20 5G with even more impressive specs.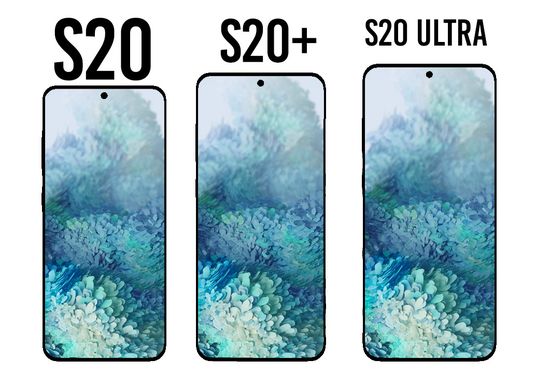 But they are unlikely to compete due to price differences. According to preliminary data, its cost will vary around € 1,000.
This video offers a preliminary comparison of the Samsung Galaxy S20 Ultra vs Xiaomi Mi 10 Pro.