Of course, Samsung does not require the introduction. Over the past few decades, the company has been steadily leading in the consumer electronics segment, including smartphones, TVs, robotic vacuum cleaners, refrigerators, etc. As known, the Samsung Group pays great attention to its own developments, using innovative technologies as the main tool for successful competition. As a result, the company almost every year offers innovative models in almost all segments of consumer electronics.
High-tech smartphones perfectly illustrate this trend. In addition, it has a positive side effect. A large number of high-tech components allows the company to actively experiment with the configuration of smartphones, offering a huge range of models with functionality and price in a wide range. Of course, this diversity expands marketing capabilities, allowing the company to successfully search for the optimal price / quality ratio. For example, many Best Sellers have average specs, but a very successful configuration, which fits the price perfectly.
But smartphones from previous years also remain relevant for at least several years. As a result, the total number of models from leaders often reaches several tens, complicating the choice of the optimal phone. However, even their simplified classification can help solve this problem.
Today, Samsung offers three lines, including the Galaxy A, J, S, C and M series, Galaxy Note and Galaxy Fold with a flexible screen.
A, J, C and M series
A-series is a middle class. Today it's the most popular series. In fact, the updated A-series of 2019 combined the current A-series with J models, reducing the lineup to about 10 smartphones.
The list of popular models includes Samsung Galaxy A8 + (2018), A6, A10 (6.2-inch IPS display with 1520 x 720 resolution and 271 ppi), A30, A40, A50, A70 and A90. Moreover, Samsung Galaxy A90 became the first mid-budget 5G-compatible smartphone.
J-series is a budget segment. These models have a relatively inexpensive case, good cameras and support work from two accounts.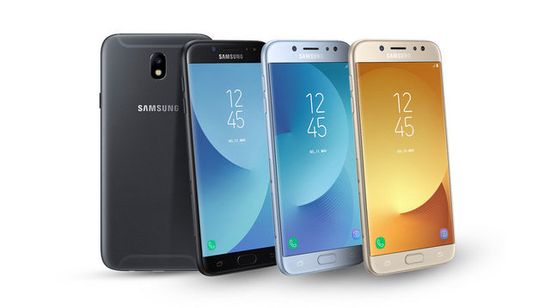 C – series, including C5 and C7 models, was developed in 2016 for the Chinese market.
The M-series uses more plastic, cheaper equipment, and is about 10-30% cheaper compared to A-series. According to many experts, Samsung posits these models as competitors to Huawei / Honor / Xiaomi and other Chinese manufacturers.
Flagship S-series
Of course, it attracts the maximum attention of experts, demonstrating trends of further development. In 2019, the company introduced four flagship smartphones with slight differences, including the Samsung Galaxy S10e, S10, S10+ and S10 5G. For example, the S10e uses only a 5.8-inch flat Full HD Dynamic AMOLED display with 2280 x 1080 resolution (435 ppi), has less RAM (6GB vs 8GB) and a battery with less capacity (3100 vs 3400 mAh). However, it provides the same battery life due to reduced energy consumption. In addition, the S10 and 10+ have 3 cameras at the rear panel, and the S10e uses only two. But the relevance of the zoom telephoto camera for the flagship smartphone is controversial.
Samsung Galaxy S10 uses a 6.1-inch curved Quad HD Dynamic AMOLED display with 3040 x 1440 resolution (551 ppi), and improved interface with real-time hints for shooting. The Samsung Galaxy S10+ has a 6.4-inch display. Additionally, its battery capacity reaches 4100 mAh. The S10 5G with a 6.7-inch curved Quad HD screen completes the line. In addition, it uses quad rear cameras and dual front cameras.
Moreover, after the acquisition of Harman Kardon and AKG companies, Samsung equips its smartphones with excellent acoustics.
Pros:
– flagship components (8-core Samsung Exynos 9820, Corning Gorilla Glass 5, IP68, etc);
– high performance;
– great stereo sound;
– exellent specs of main camera;
– reverse wireless charging;
– immersive screen.
The high realism of playback in HDR10+ and surround sound Dolby Atmos through AKG speakers allow the company to position its flagships as the immersive devices.
Cons:
– setting up an ultrasonic fingerprint scanner requires instructions;
– flicker due to low frequency PWM;
– not optimal ergonomics of the power button location;
– false positives at the curved edges of the display.
Samsung Galaxy Note 1,2,3,4,5 and Edge
As known, the company introduced the first Samsung Galaxy Note (GT-N7000) at IFA 2011.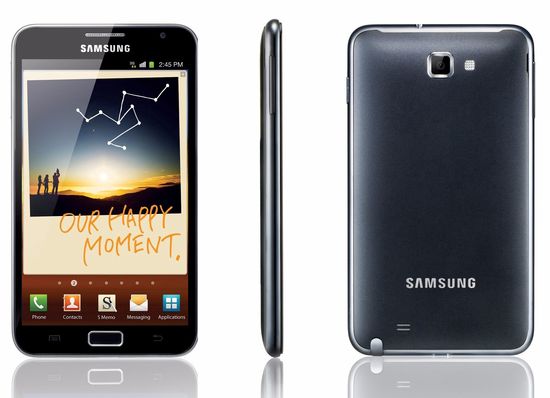 In fact, this series formed a segment of a new form factor called phablet, which combined the pros of a smartphone and tablet. The size of its screen reached 5.3 inches, overtaking all competitors in this parameter. In addition, the model used the S Pen stylus. Some experts predicted the abandonment of this accessory due to the appearance of capacitive screens. But the company expanded S Pen functionality and retained it for phablets.
In 2012, the company proposed the Galaxy Note II with a 5.5-inch Super AMOLED screen with a 720p resolution. Of course, the rest of the components, including the chipset, RAM and battery, have also been traditionally improved. In addition, the smartphone supported the Air View function while holding the S Pen above the display.
Galaxy Note 3 had a more stylish design, 13-megapixel camera, infrared port and microUSB 3.0, and the resolution of its 5.7-inch screen increased to 1080p.
In autumn 2014, the company introduced the Galaxy Note 4 in a matte metal case and a screen with Quad HD (2560 x 1440) resolution.
The Samsung Galaxy Note Edge experimental display has a curved edge to display notifications.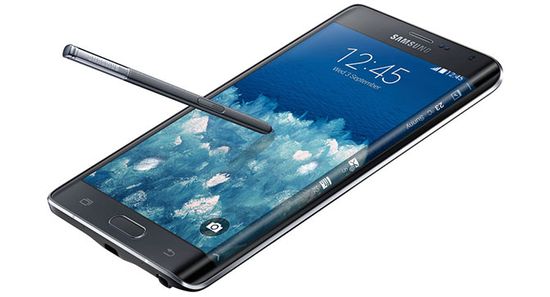 But the difference of several hundred dollars did not allow Note Edge to get around Note 4 in popularity.
In early 2015, Samsung introduced the Note 5 with an improved glass and metal design. This model had wireless and fast charging features, an improved S Pen and fingerprint sensor.
Samsung Galaxy Note 7,8 and 9
Unfortunately, the Galaxy Note 7 was a tragic moment in the evolution of the Note series. The model had a beautiful design, excellent performance and even an iris scanner.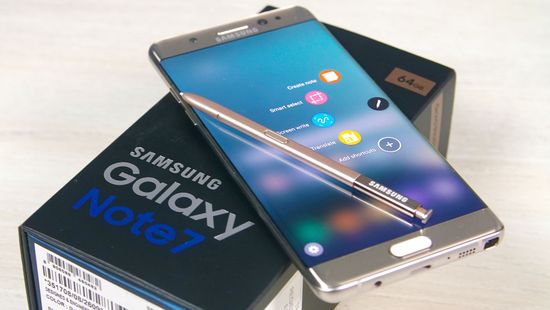 In addition, it used the Samsung Experience instead of TouchWiz, and the S Pen supported the creation of gif animations from any video.
But after several random explosions of smartphones, America banned its use on domestic flights and the company stopped its production.
In 2017, Samsung introduced the Galaxy Note 8 with a 6.3-inch Super AMOLED display with 2960 x 1440 resolution, providing excellent pixel density of 521 ppi.
Additionally, the Samsung Exynos 8895 processor with a maximum clock speed of 2.4 GHz provided the model with excellent performance. Moreover, its main camera has two 12-megapixel modules and support for their optical stabilization. Finally, Samsung once again has expanded the functionality of the S Pen with a drawing program and text input.
Galaxy Note 9 with a 6.4-inch Super AMOLED matrix with a resolution of 2960 x 1440 pixels (516 ppi) is considered one of the most successful models of 2018. The model has a stylish design, provides high performance and supports memory cards. In addition, it has effective cooling, a quick fingerprint scanner, unlock with recognition of the iris, remote control using S Pen, DeX mode, etc. Many experts called this model the most functional. Unfortunately, the Bixby does not turn off.
Samsung Galaxy Note 10
In 2019, Samsung introduced the Galaxy Note 10 with a 6.3-inch Super AMOLED matrix with 3040 x 1440 resolution (495 ppi) in versions of 12/256GB and 12/512GB. Note10 + with a 6.8-inch screen has become the largest Note model.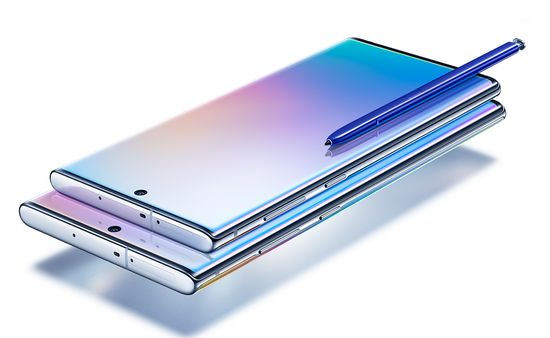 The company has significantly improved DeX mode (smartphone as a touch panel without connecting an external keyboard and mouse). Now this option does not require a special docking station. In addition, Samsung has once again expanded the S Pen functionality, added a 6-axis accelerometer and 3 built-in gyroscopes for S Pen Air option. Moreover, the model provides peak brightness up to 1200 nits, has an advanced fingerprint scanner, automatic connection to Wi-Fi by geometries and supports several memory cards (only 10+ model). Unfortunately, the battery life does not exceed 10 hours, and the low-frequency PWM of AMOLED display traditionally causes blinking.
Samsung Galaxy Fold
As known, in November 2018 at SDC 2018, the company first announced the Galaxy Fold. After fixing some issues, the company finally unveiled the first Samsung Galaxy Fold 5G in July at IFA 2019 in Berlin.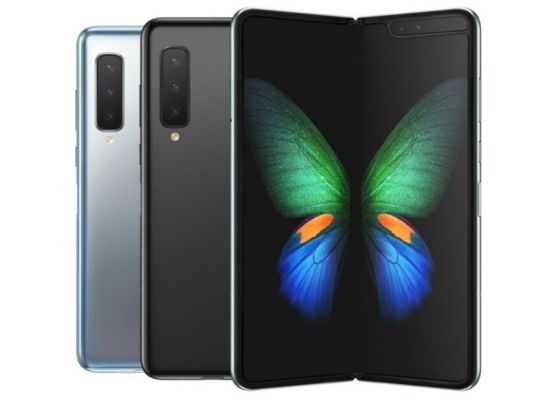 The new smartphone uses an 8-core Qualcomm Snapdragon 855 (1 × Kryo 485 Gold, 2.84 GHz + 3 × Kryo 485 Gold, 2.42 GHz + 4 × Kryo 485 Silver, 1.78 GHz) and two screens, including 7, 3-inch Dynamic AMOLED with 2152 × 1536 resolution (362 ppi) and 4.8-inch Dynamic AMOLED with 1680 × 720 resolution (401 ppi). The remaining components also correspond to the top level. Many experts position it as the main sensation of the year.
PROS
– unique design with a folding screen;
– a powerful hardware platform and a large amount of fast memory;
– two Dynamic AMOLED displays;
– great build;
– a good set of cameras;
– battery with a capacity of 4380 mAh.
CONS
– high price;
– visualization of the fold line.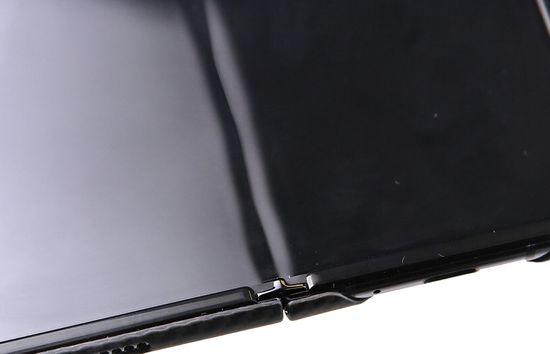 – uncomfortable ergonomics for working with one hand;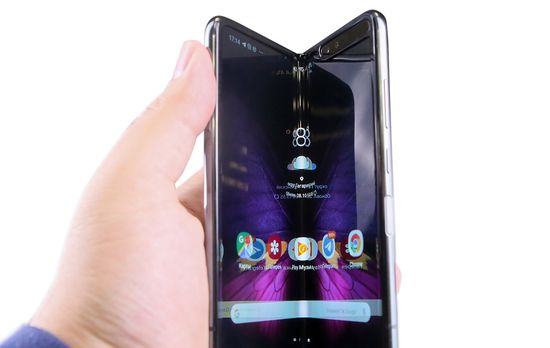 – no mini-jack;
– only one slot for a SIM card;
– not very durable case;
– no dust and moisture protection;
– unusual screen geometry due to 4.2: 3 aspect ratio;
– the camera cutout in the "tablet" position interferes with video watching.
But already on the SDC19, Samsung announced the Galaxy Fold 2.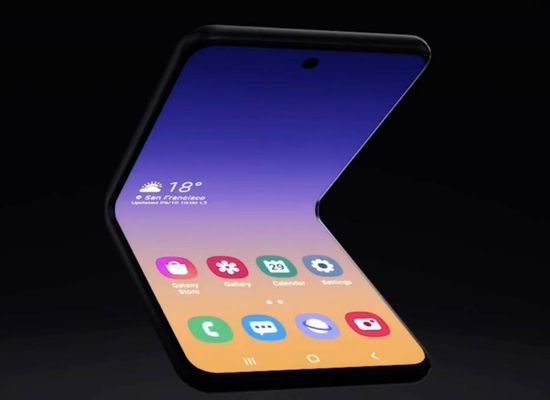 Conclusion
Thus, today the lineup of Samsung smartphones includes an almost complete range of modern cell phones. Reliability, excellent technical service, high quality components, including a high-performance Exynos processors, high-quality cameras, gorgeous Dinamic AMOLED displays with HDR10 support, capacious batteries, fast UFS memory, the convenient One UI and the multifunctional S Pen stylus in Galaxy Note ensure their high competitiveness. In addition, the company confidently leads in innovative technologies. The DeX mode, infrared fingerprint sensor, the recognition of the iris and Galaxy Fold, perfectly illustrates this aspect. Today we can assume that folding smartphones may become one of the directions for their further improvement.
Thus, any consumer can easily choice the optimal phone in any price segment, depending on their preferences and budget.
This video offers a demonstration of the Samsung Galaxy Fold 2 for 2020.