Fierce competition in the consumer electronics segment forces companies to constantly experiment. Of course, the modern smartphone market is no exception. In recent years, many segment leaders have been actively expanding their assortment, experimenting in search of the best price / quality ratio. As known, this parameter significantly affects the choice of the optimal phone. For example, many Best Sellers have only average specs, but a good price / quality ratio has ensured them marketing success. As a result, some companies annually released a large number of models with almost identical specs. For example, in 2014 Samsung introduced 56 new models, and LG – 41 new smartphones.
But the cost of any product consists of the costs of development and design, production, logistics, advertising, etc. Further support also requires additional costs for updating the operating system, production of components for repair, etc. As a result, a large number of models almost always reduce profits due to rising costs. Therefore, many companies, including, for example, Apple and Google, prefer to limit their lineup to several models per year. Having recorded operating losses in 2016 and 2017, LG management also decided to reduce the range of new phones to reasonable sufficiency. At CES 2018, LG Electronics vice chairman Cho Sung-jin voiced this decision, answering a question about the release date of the next LG flagship.
Indeed, in 2019, the company significantly reduced the number of new models, compensating for it with a significant improvement in the presented several models.
LG phones
Today, more than 600 companies produce smartphones. However, almost 80% of the world market belongs to ten major manufacturers, including South Korean Samsung (19%) and LG (3%), American Apple (12%), Finnish Nokia (1%) and Chinese Huawei (13%, including Honor), Xiaomi (9%), Oppo (9%), Vivo (8%), Lenovo (3%, including Motorola), Tecno (1%).
As known, LG Electronics dominates the segment of OLED TVs. Naturally, the company also produces OLED displays for smartphones, using them in its models. However, some LG phones, including the flagship 2018 G7 ThinQ, use the IPS matrix without screen flicker due to the low-frequency PWM. Some ophthalmologists note the negative impact of this effect in terms of eye strain. On the other hand, this factor depends on reasonable sufficiency. Short-term flickering of an OLED screen is unlikely to harm vision, but after a few hours, your eyes will get tired from any screen.
Despite the production of 5,000 matrices per day, the share of LG displays is negligible compared to Samsung, which stably dominates in this segment. However, LG Display sells OLED screens to Apple. In addition, the company is jointly developing OLED displays with Lufthansa Technik for use in aircraft.
Modern LG models use Qualcomm Snapdragon chipsets, UFS memory and LG UX UI. In autumn 2019, the company introduced the latest Android 10-based UX 9.0 UI. According to some experts, it is very similar to the Samsung One UI interface. But maybe this is due to the similarity of aesthetic tastes of South Korean designers. The company has already released beta versions with an upgrade to Android 10 for the LG G8 ThinQ and V50 ThinQ.
Today the company offers flagship G and V series and a wide range of mid-budget Q and K models.
LG G7 ThinQ
The LG G7 ThinQ is the flagship of 2018.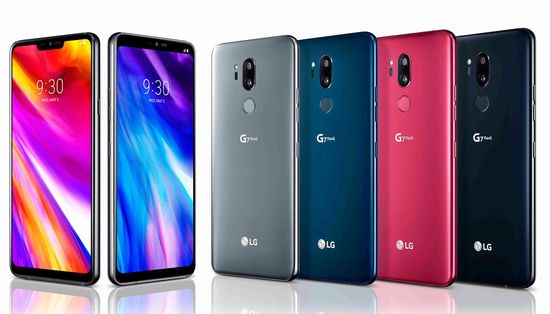 The phone uses an ultra-bright (up to 1000 nits) 6.1 – inch IPS display with 3120 x 1440 resolution (564 ppi), providing extended DCI-P3 color gamut and HDR10 support. In addition, the model has an 8-core Qualcomm Snapdragon 845 (4 Kryo 385 Gold (Cortex-A75) with a frequency of 2.8 GHz for CPU intensive tasks and energy-efficient 4 Kryo 385 Silver (Cortex-A55) with a frequency of 1.8 GHz ), RAM 6 GB, dual 16-megapixel camera (f/1.6 + f/1.9) and supports 2 SIM cards. The company supplies a phone with Android 8.1. DTS-X technology provides excellent 3D stereo sound. In addition, its protection complies with Militare Standard 810G + IP68. Unfortunately, the battery capacity is only 3000 mAh.
LG V40 ThinQ
The LG V40 ThinQ became the second flagship of 2018.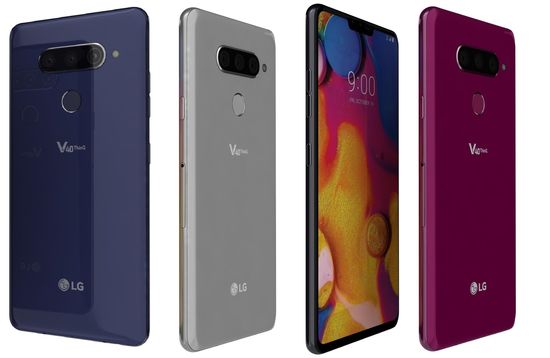 The V40 uses a 6.4-inch P-OLED panel with 3120 x 1440 resolution (537 ppi). Traditionally for this technology, the maximum brightness does not exceed 504 nits, but the minimum is only 3 nits, providing excellent contrast. Like the G7, the model uses the 8-core Qualcomm Snapdragon 845.
Of course, the phone supports Dolby Vision, Always-on display and HDR10.
ESS Technology's Saber ES9218PC DAC, resonant Boombox camera, DTS: X 3D Surround Sound for 7.1 channels, and a voice recorder with audio support in FLAC format provide traditionally superior sound quality.
Of course, five cameras have become its main advantage. V40 uses a three-module main camera.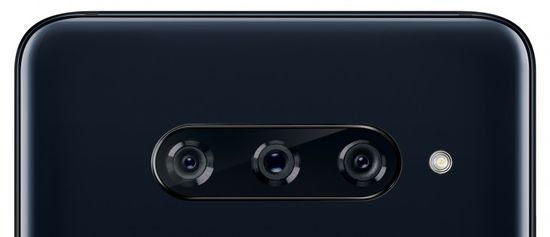 The aperture of the 12-megapixel optics sensor with large pixels reaches f/1.5. In addition, it has optical image stabilization. The second ultra-wide-angle module uses a 16-megapixel sensor with an aperture of f/1.9. The third 12-megapixel module with f/2.4 aperture has optical stabilization, phase autofocus and 2x optical zoom. Maybe this set is inferior to the top camera phones, including Huawei P20, Mate 20 Pro, Google Pixel 3 or Samsung Galaxy Note 9. But in general, the quality of shooting corresponds to a very high level. Moreover, the phone supports recording 4K video at 60 fps. Unfortunately, optical stabilization does not support this mode.
In addition, the phone uses 8-megapixel standard module and 5-megapixel module with wide-angle optics for selfie.
LG G7 Fit
The LG G7 Fit was introduced at CES 2019. In fact, it has become the mid-budget version of the LG G7 ThinQ.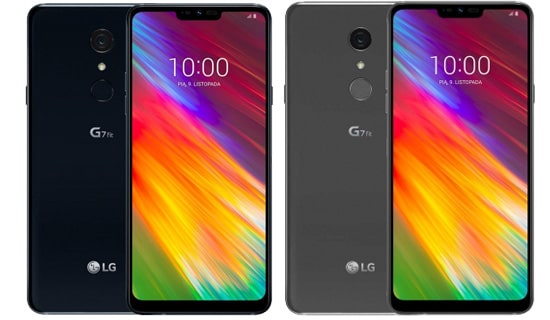 The phone uses a 6.1 – inch IPS (LTPS LCD) display with 3120 x 1440 resolution (QHD+) and a pixel density of 563 ppi. The model runs on Google Android 8.1. The main differences from the G7 include the use of the 4-core Qualcomm Snapdragon 821 chipset (2016), the main camera with only one module and the lack of wireless charging. In addition, the phone provides video recording of only 2160 x 30fps (G7 – 2160 x 60fps), and the widest aperture is only f/2.20 (G7 – f/1.9 & f/1.6).
However, Qualcomm Snapdragon 821 demonstrates excellent performance, gaining 170,000 points in AnTuTu Benchmark. In addition, the G7 Fit protection complies with the MIL-STD810G standard and IP68, model has Bluetooth 5, NFC chip and high-speed memory. Boombox technology provides great sound.
Unfortunately, battery capacity is only 3000 mAh, which provides about 8 hours of video playback at maximum brightness. Normal games drain the battery in about 6 hours, complex games in 4 hours. Despite the Fast Charge inscription on the network adapter, the battery lasts 1 hour 30 minutes.
Today, this model competes with ASUS Zenfone 5Z, Huawei P20, Honor 10 and Samsung Galaxy A9 (2018).
V50 ThinQ 5G
At MWC (Mobile World Congress) 2019, the company introduced its first 5G model.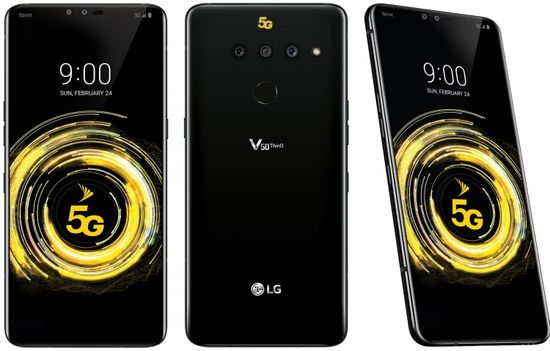 Instead of folding models, LG offered a case with a built-in 6.2-inch display, which is connected via POGO-contacts on the rear panel.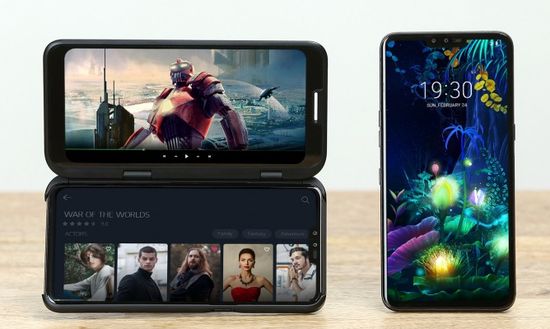 Probably, today the assessment of the feasibility of a second screen or a folding display is still premature. But next year, consumers will already be able to appreciate this trend.
The model uses a 6.4-inch OLED display with QHD+ resolution (537 ppi), Snapdragon 855 chipset, 6GB RAM, three-module main camera (16 MP (f/1.9) + 12 MP (F/1.5) + 12 MP (f/2.4 ) and front 8 MP + 5 MP. The battery capacity reaches 4000 mAh.The phone runs on Android 9.0 Pie, meets the MIL-STD 810G standard, and supports Dolby Vision, Always-on display and HDR10.
G8 and G8s ThinQ
In addition to the V50, at the MWC 2019 the company also introduced the G8 and G8s ThinQ.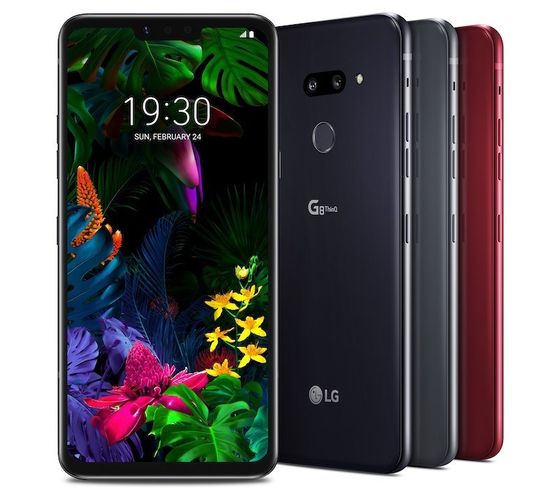 In fact, the G8s is a slightly simplified version of the G8. A list of minor differences include displays, battery capacity and camera resolution.
Models have innovative OLED displays that support Crystal Sound technology, which uses the screen as a resonating surface for sound output.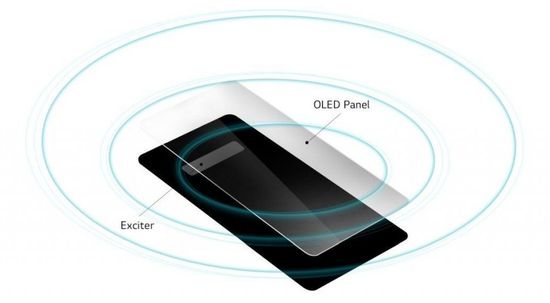 The G8 uses a 6.1-inch OLED FullVision (18: 9) screen with a 3120 × 1440 resolution (564 ppi), the main camera (16 MP (f/1.9) + 12 MP (f/1.5) + 12 MP (f/2.4 )) and the front 8 MP + Z Camera (ToF). Its battery capacity is 3500 mAh.
G8s is equipped with a 6.2-inch OLED FullVision (18: 9) screen with 2248 x 1080 resolution, the main camera (13 MP + 12 MP + 12 MP) and a front 8 MP + Z Camera (ToF). Its battery capacity reaches 3550 mAh.
Both models work under Android 9.0 Pie, use Snapdragon 855, 6GB RAM and 64/128GB.
Front 3D-sensors with Time-of-Flight (ToF) technology provide Face Unlock and gesture control. Today, the Air Motion option provides only receiving incoming calls, volume control and screenshot. Apparently, in the future its capabilities will expand.
In addition, the models have all the traditional flagship options, including a fingerprint scanner, Hand ID, protection against water and dust (IP68), level of protection against external influences (MIL-STD 810G), 32-bit Hi-Fi Quad DAC , stereo speakers and boombox speaker.
Conclusion
In general, high reliability, innovative displays, great technical service, excellent sound quality and high-quality cameras ensure the high competitiveness of LG smartphones, allowing them to be among the leaders in the segment. In addition, the company's pronounced innovative orientation creates excellent prospects for future LG smartphones. As known, the company has already announced for 2020 new models under the names G10, G20, G30 and G40.
This video offers concept and trailer with specs, features, price and release date of the new revolutionary mobile phone LG V60 ThinQ 5G (2020).