A modern smartphone is rightfully considered one of the most complex devices in the consumer electronics segment. Of course, it uses many complex components whose specs directly affect its functionality and, as a result, the choice of the optimal model. Today, this list includes the number and set of cameras in multi-camera smartphones and specs on main camera, smartphone performance and smartphone storage, operation system, etc. But of course, the display is one of the main components. Display type directly affects display features, which, inter alia, affect its service life and safety for vision.
All modern TVs and smartphones use LCD or OLED screens. As known, LCD (Liquid Crystal Display) technology uses fluidity and anisotropy of crystals. Anisotropy characterizes the dependence of the light conduction of a crystal on its spatial orientation. In turn, the orientation of the crystals is effectively controlled by the electric current that is supplied through transistors to the LCD matrix. In fact, crystals serve as a filter for light, skipping the desired color of a certain frequency depending on the transistor state. Thus, the LCD matrix forms a pixel of the desired color on the screen surface. All modern LCD matrix use LED backlight as a light source.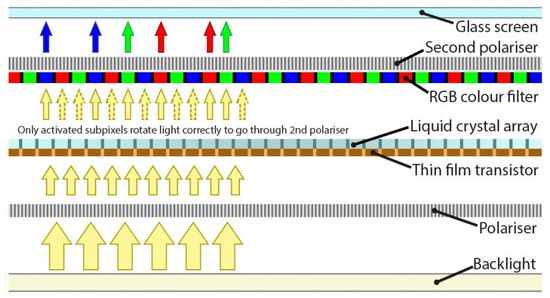 Pros
– relatively low price;
– low power consumption;
– long service life;
– high brightness;
– minimum flicker;
– lack of magnetic interference.
Cons
– relatively large response time;
– interpolation reduces image quality;
– a relatively high black level due to the backlight limits the contrast;
– small viewing angles.
All modern LCD screens use active TFT (thin-film transistor) technology with separate transistor and capacitor for each pixel.
LCD technology
TN + film, STN (Super Twisted Nematic), Double STN and DSTN (Dual-ScanTwisted Nematic)
A few years ago, this technolohy was the most innovative matrix technology. It got its name because of the arrangement of crystals that are twisted into a spiral.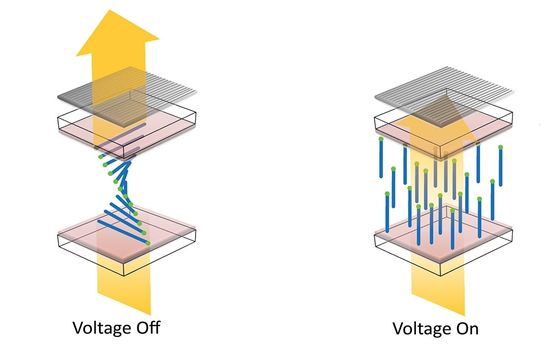 For brevity, all these matrices are often called TN.
Pros:
– response time does not exceed 16 ms;
– low price.
Cons:
– small viewing angles;
– low contrast;
– low level of color rendering.
IPS (in-plane switching).
When exposed to an electrical signal, the crystals rotate perpendicular to their initial position instead of twisting into a spiral.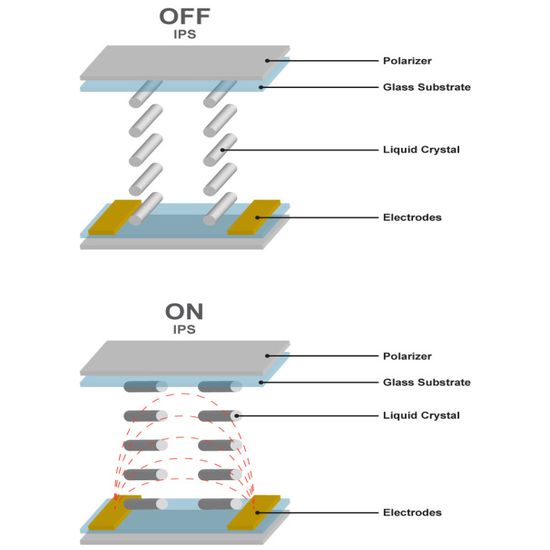 In fact, IPS LCD has become an improved version of TN due to using two transistors per pixel and a more powerful backlight. These screens provide maximum viewing angles and good color reproduction. These pros have provided the advantage of IPS vs TN technology. IPS consume more power than OLED screens, but less than TN.
Pros:
– maximum viewing angles up to 178 degrees;
– natural color rendition;
– good black;
– high contrast.
Cons:
– high price compared to TN;
– higher response time.
PLS (Plane To Line Switching)
PLS was developed by Samsung in 2010 and, according to the company, is an improved IPS version. But according to many experts, the development of this technology was largely due to the company's desire to eliminate dependence on Hitachi (the developer and main producer of IPS matrices).
Pros
– very high pixel density;
– 100% sRGB coverage;
– wide viewing angle up to 178 degrees;
– low response time;
– low power consumption;
– high contrast;
– lack of distortion.
LTPS LCD (Low-Temperature PolySilicon)
TFT transistors in IPS matrices use amorphous silicon (a-Si) as liquid crystals. Unfortunately, this material has several drawbacks, including low electron mobility, high power consumption, large physical dimensions of the control matrix transistor, and large sub-pixel sizes. Accordingly, the low electron mobility increases the response time, and the large size of the subpixel limits the matrix resolution. But using the single-crystal silicon with high electron mobility is impossible on a glass substrate, because the required temperature exceeds the glass melting temperature.
LTPS LCD technology solves this problem by converting amorphous silicon into a polycrystalline form without using high temperatures that can damage the glass substrate. In particular, it uses annealing with an excimer laser at a temperature of no more than 300-400°C. This technology has provided a reduction in size and an increase in the speed of control elements. As a result, the electron mobility increased from 0.5 sq cm / Vs (volt x sec) to 200 sq cm / Vs compared to structures based on amorphous silicon. In addition, it increased the aperture coefficient of the cell (the ratio of usable area to total). As a result, all these improvements provided an increase in the matrix size with the same resolution.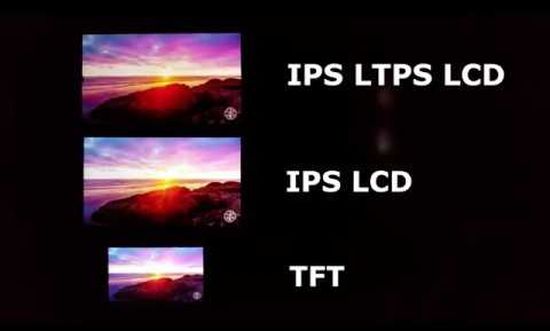 Moreover, the technology provides the simultaneous formation of integrated circuits, reducing the number of conductors and contacts. All this significantly increased the reliability of the matrix as a whole. Additionally, the reliability of polycrystalline transistors is approximately 100 times higher compared to amorphous silicon.
As a result, LTPS screens successfully crowd out IPS matrix based on amorphous silicon.
Strictly speaking, LTPS technology is not tied to a specific signal generation method and can be used for steering matrices in LCD and OLED displays.
IGZO, Retina and Triluminos
IGZO LCD (Indium Gallium Zinc Oxide) is the next step in the development of LCD screens. This technology reduces the size of transistors, increasing their density and, accordingly, screen resolution while simultaneously reducing power consumption. As known, Sharp first introduced it in 2013. The technology uses complex semiconductors based on indium, gallium, zinc and oxygen. Today, Sharp already offers IGZO screens with a resolution of 8K and a pixel density of 2700 ppi or more.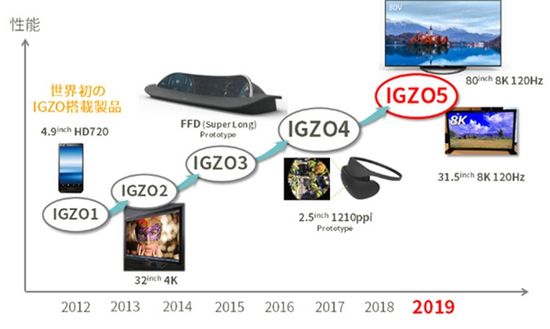 Huge resolution and low power consumption provide excellent prospects for this technology.
As known, since 2010 Apple has been using Retina screens. The company was able to reduce the distance between pixels and subpixels.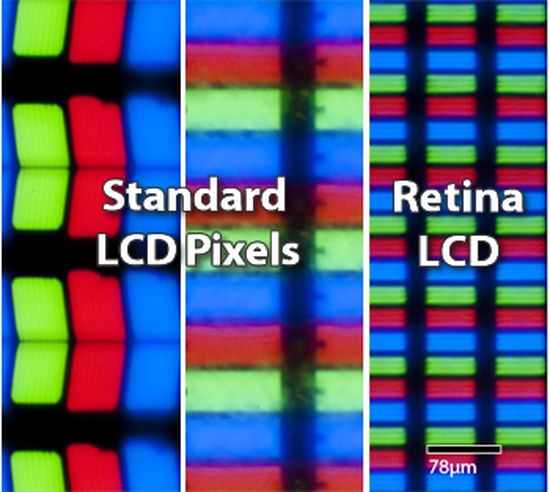 As a result, the pixel density of the matrix reached 300 ipp and higher. Due to this, Retina provides excellent color reproduction with the most realistic image. In addition, they have excellent viewing angles, and their contrast reaches 900: 1, which corresponds to the level of Super Amoled. Today, their resolution already exceeds Full HD (1920 x 1080).
Moreover, these screens provide an anti-glare effect even for direct sunlight due to a special filter.
Unfortunately, it has several drawbacks, including high power consumption and fuzzy auto brightness settings.
In fact, Triluminos display is Sony's marketing term for LCD displays. Physically, Triluminos technology is a quantum dot LCD, similar to Samsung's QLED. As known, this technology uses microscopic (quantum) particles in an LCD matrix, which significantly improve color reproduction and brightness.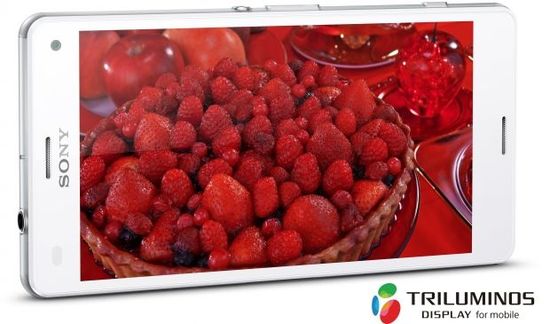 Conclusion
Fierce competition encourages companies to constantly improve all the components of their models, including screens. In addition, competition intensifies due to competition between LCD and OLED technologies. For example, many leading companies, including Apple, are simultaneously developing both directions.
Of course, innovative technologies are the main development tool. As a result, the quality of Retina, Samsung's QLED, Sony's Triluminos and LG's NanoCell already is close to OLED. On the other hand, companies continue to successfully lower prices for OLED models. As a result, the border between them is gradually erased. But we can only welcome this trend, which expands our choice.
This video demonstrates the Sharp Aquos R3 with Pro IGZO display (QHD+, 3120 x 1440).