Expansion of the assortment remains one of the main trends in almost all segments of consumer electronics. In fact, this strategy has become one of the main competition tools. Typically, modern innovations are based on digital technologies, which develop very quickly. Accordingly, the development of new and improvement of previous algorithms allows companies to effectively expand the functionality of their models by expanding smart options.
Of course, coffee machines are no exception. In terms of technical complexity, they can hardly compete with smartphones, TVs, etc. But modern espresso machines have great prospects in terms of increasing the customization level, automation, and improving extraction technologies through innovative technologies. This trend has dominated almost all flagships in recent years, including Delonghi ECAM 650, Melitta Caffeo Barista, Siemens-EQ.9, Jura Z6 Impressa, Philips Saeco Xelsis series, etc.
2020 was no exception. For example, DeLonghi introduced new mid-budget ECAM 46.860.B and ECAM 550.85.MS and PrimaDonna Soul series with innovative Bean Adapt Technology.
Delonghi PrimaDonna Soul ECAM series
Delonghi PrimaDonna Soul ECAM series contains several modifications. As in other segments of household appliances, their names differ for regions. The platforms, basic specs and technologies of models almost identical. The list of differences includes:
– Delonghi ECAM 610.35.B or 616.35.B – basic model in black with three user profiles (not available);
– 610.55.SB or 612.55.SB or 616.55.SB – added silver design elements, five custom profiles and Long Black program.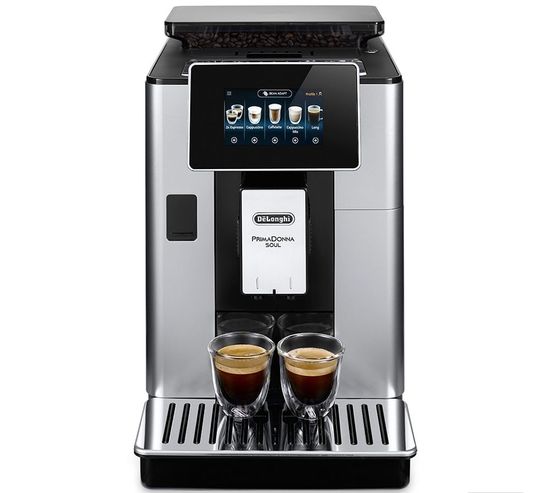 – 610.74.MB or 616.74.MB – one of the two top versions. The list of additions includes Coffee Pot, Mug To Go and Over Ice programs, double-walled thermal milk container, and thermal mug.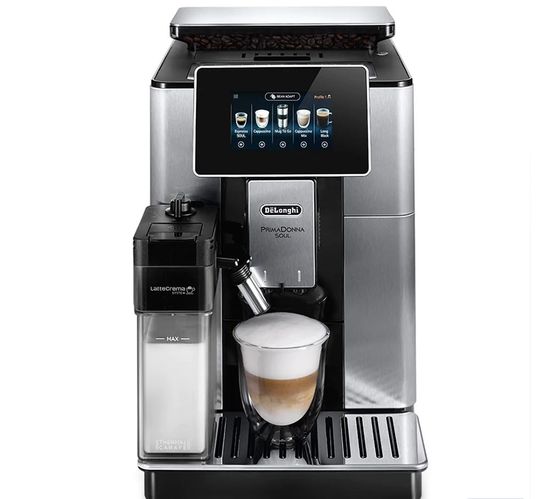 – 610.75.MB or 616.75.MB – the second top modification, comes with a coffee pot instead of a thermo mug.
Key features
1.Large informative 4.3-inch color TFT-display with touch control based on a capacitive sensor.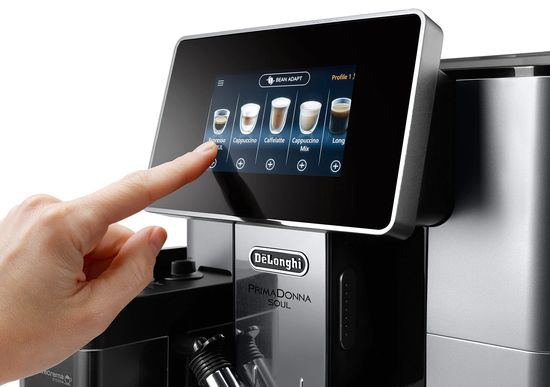 2. Coffee grinder.
Two coffee grinders with flat burrs and with an efficient grind adjustment system first appeared in the flagship DeLonghi EPAM 960.75.GLM Maestosa as one of the major innovations. Like Maestosa, the Soul supports seven electronically adjustable grind levels.
Physically, the micromotor moves the burrs relative to each other, adjusting the grinding degree.
As known, flat burrs are more consistent and more expensive, but can heat up quickly during operation if ventilation is insufficient. Most modern conical burrs are quieter, cooler, and cheaper, but less consistent. Of course, the last aspect affects the ground coffee quality. In particular, many experts note that the taste of espresso is improved by reducing the bitter taste and expanding the range of flavors. Therefore, coffee grinders with flat burrs are quite appropriate in mid-budget and premium coffee machines.
3. Innovative Bean Adapt technology.
In fact, Bean Adapt technology provides optimal grinding and brewing parameters to execute the perfect coffee extraction depending on the selected beans.
Platform
Delonghi ECAM 610.xx body is identical to EPAM 960.75. GLM Maestosa. The list of its components includes:
– a removable compact brewing unit that holds from 6 to 14 grams of ground coffee.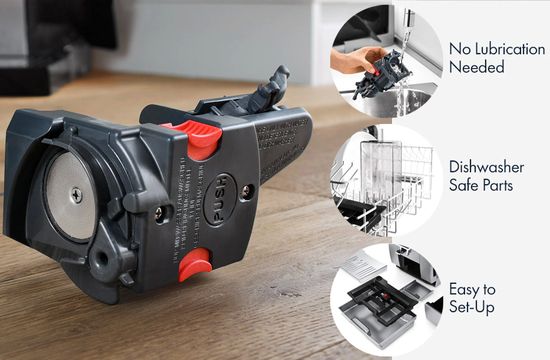 – ARS pump providing 19 bar (it has been used for a long time in PrimaDonna Elite and Class);
– two boilers with a total capacity of 1450 W;
– bean hopper for 500 grams;
– 2.2 liter water tank;
– container for cake for 20 servings;
– fan over the motor of the brewing unit reducer;
– cappuccino maker – analogue of LatteCrema with adjustable froth milk height and quick cleaning mode. The premium versions use double-walled thermal milk container with cappuccino maker.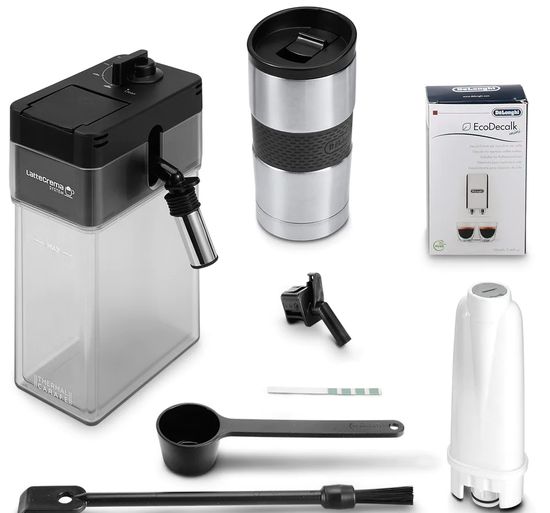 In the new container, the milk stays cold longer.
The milk foam control knob adjusts the consistency of the steamed milk. The model offers three levels:
– almost no foam: Hot milk, CaffeLatte;
– little foam: Cortado, Flat White;
– max foam: Cappuccino, Espresso Macchiato, Latte Macchiato;
– coffee card: Espresso SOUL; Over Ice & Mug to Go.
In addition, PrimaDonna Soul is the first to use a removable two-piece coffee dispenser.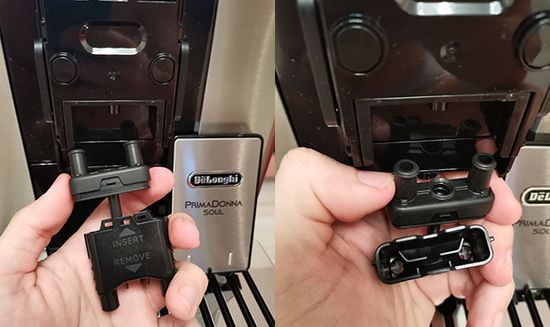 It which is very easy to remove and rinse under running clean water. Traditionally, coffee machine dispensers are manufactured as a single unit. It's very difficult to remove and often requires replacement. Of course, the new dispenser can be classified as one of the main pros of the series.
Recipes
This coffee machine has 21 recipes, including new Long Black, Mug To Go and Over Ice. In addition, the coffee machine supports up to 10 custom recipes for each of 3-5 profiles via the Coffee Link. But of course they are different from the bean profiles for Bean Adapt technology.
Programs:
– Espresso SOUL (special mode) – an analogue of espresso, but with a given coffee strength, which is selected by Bean Adapt depending on the bean used;
– Espresso – default 40 ml / adjustable from 20 to 180 ml;
– 2x Espresso – 80 ml / (40 – 360) ml. Delonghi prepares it in one grind, using more ground coffee;
– Coffee (Lungo) – 180 ml / (100 – 240) ml;
– Doppio + – 120 ml / (80 – 180) ml. This special double espresso program uses a single grind with maximum strength and intermittent pre-wetting;
– LONG – 160 ml / (115 – 250) ml (analogue Americano). This special program lowers the pressure in the brewing unit and lengthens the extraction time using "second-after-second" mode of the pump. Program uses two 2 grinds;
– Americano – 40 ml espresso, then hot water 110 ml / (70 – 480) ml;
– Long Black – 160 ml hot water, then double espresso coffee 40 ml / (90 – 480) ml;
– Coffee Pot – 1 – 6 servings of Lungo one after another; the maximum volume depends on the volume of each beverage (125 – 250 ml); the recipe is very convenient for large companies;
– Over Ice – 100 ml / (40 – 240) ml. In fact, Over Ice is Lungo with ice;
– Mug To Go requires a thermo mug. The user selects two of the three ingredients (coffee, milk, water), their sequence and the volume of each drink;
– Cappuccino – 17 seconds for milk (approx 150 ml with max froth), then 65 ml of coffee. Adjustment – 5 – 90 sec for milk (up to 700 ml), 20-180 ml of coffee;
– Latte macchiato – 29 sec for milk (medium foam) and 60 ml of coffee;
– Latte – 38 sec for milk without foam and 60 ml of coffee;
– Flat White – 60 ml of coffee, then 22 sec for milk with a small foam;
– Cappuccino+ – 15 sec for milk with max foam, then 100 ml doppio+ (max strength espresso). Adjustment – milk 5 – 90 sec, coffee 80 – 180 ml;
– Cappuccino Mix – 65 ml of coffee, then 17 sec for milk with max foam;
– Cortado – 30 ml espresso, then 6 sec for milk with max foam;
– Tea – 20 – 420 ml of hot water with a temperature of 65 to 83° C;
– Hot milk;
– Hot water – 20 – 420 ml.
Pros & Cons
Pros
– innovative Bean Adapt Technology;
– stylish design;
– large screen;
– 21 programs including new Long Black, Coffee Pot, Mug To Go and Over Ice;
– new LatteCrema system with double-walled thermal milk container;
– a coffee grinder with flat millstones;
– new easily removable coffee dispenser;
– relatively affordable price compared to EPAM 960.75. GLM Maestosa.
Cons
1. Lack of volume settings for each ingredient separately on the control panel.
Siemens traditionally only regulates the total volume of drinks. Philips in their latest EP 4300 and 5400 series also refused to set the volume of coffee and milk separately, adjusting only the total volume. Unfortunately, Delonghi PrimaDonna Soul has also simplified this setup, providing only the total volume setup. But for many users, this simplification is unlikely to be convenient. This option will now only be available in "MY" mode.
2. Similar to Jura, the Coffee Link app uses the time in seconds to adjust the milk volume (1 second roughly corresponds to 7-8 ml for max intensity), and milliliters for coffee. In principle, this is convenient. But unfortunately, many of the recipes in the app only support one ingredient adjustment. Thus, the user can only adjust the total volume via the control panel, and the volume of only coffee, milk or water from the app.
3. Coffee Link allows you to create your own recipes from just two ingredients.
4. Launching the app and connecting it to the coffee machine takes about 30 seconds and, unlike Maestosa, sometimes works unstable.
5. Traditionally for Delonghi, the coffee machine automatically places drinks on the screen depending on the frequency of their use without editing function.
Conclusions
Of course, the Delonghi PrimaDonna Soul series can be considered a huge developer success. In fact, the PrimaDonna Soul can be positioned as a Maestosa without some controversial frills, including a separate jug for chocolate and iced coffee, a glass front panel with a hinged screen rotation system and a second manual cappuccino maker. Unfortunately, the second grinder and the programming of the milk froth height have also disappeared, reducing the model's class. But innovative Bean Adapt technology, new easy-to-remove dispenser, several new programs and double-walled thermal milk container more than compensate for these losses. Some of the problems with adjusting the volumes of ingredients are hardly significant for most consumers. Most importantly, Delonghi PrimaDonna Soul is almost three times cheaper than the excellent DeLonghi EPAM 960.75.GLM Maestosa. Therefore, the series has a good chance of dominating the lower end of the price segment among modern premium espresso coffee machines.
This video demonstrates the beverage settings in the display menu of new PrimaDonna Soul ECAM 610.75.MB.
P.S.
Of course, Bean Adapt technology is not the only innovation in the latest DeLonghi espresso machines. This list includes a smart tamping station (in the Maestro), sensor grinding technology, active temperature control, and dynamic pre-infusion.
Considering the preferences of some users who like to experiment with recipes, the companies constantly increase the customization level of their models. And Bean Adapt fits perfectly into the new trend of closer collaboration between the espresso machine producers and coffee lovers.
Today Bean Adapt technology is used in flagship La Specialista Maestro (manual mode) and the PrimaDonna Soul (automatic mode). Their price is about the same and is $ 2,200 (DeLonghi Maestro EC9665M) or $ 2,150 (DeLonghi ECAM 610.74.MB).
The PrimaDonna Soul automatically adjusts the grind setting, dose size, and water temperature depenting on the coffee used. In this case, the algorithms use DeLonghi's pre-settings.
A manual La Specialista Maestro is aimed at coffee lovers who prefer to experiment with the settings on their own. In fact, the espresso machine offers settings as a reference point, allowing the user to adjust them.
The popularity of the 'joint' coffee brewing trend has been growing for several years now. In response to demand, in September the company even launched a virtual Coffee Lounge platform that allows coffee lovers to consult local roasters or exchange recipes with each other.
Moreover, in Australia, the DeLonghi Coffee Lounge has partnered with several esteemed local specialty coffee roasters to host educational classes. A similar service also is already appearing in some countries in Europe and in other regions.