Growing demand for modern household appliances stimulates competition between manufacturers. As a result, companies are constantly improving the consumer qualities of their devices, increasing their competitiveness. Of course, price and functionality are among the main criteria when choosing a particular model. But functionality is equally important. Its extension is mainly based on the active use of innovative technologies. Therefore, this trend has been actively developing in recent decades. The coffee machines segment is no exception, and Melitta Caffeo Barista coffee machines innovations fully consistent with this trend.
Flagship Melitta Caffeo Barista line contains three T, TS, TSP subseries and budget Melitta Caffeo Ci model that automatically making only espresso, lungo, cappuccino and latte macchiato. The basic and medium Melitta Caffeo Barista T, TS support 4 user profiles and 18 coffee making programs. More expensive Melitta Caffeo Barista TSP supports 8 user profiles and 21 programs.
The list of minor differences also includes LED backlight and warming up of cups. But the major innovations are the same for all models in the series. The removable brewing unit, the powerful thermoblock and the steel coffee grinder with an adjustable grinding degree are already traditional for modern coffee machines of the upper price segment and cannot be considered as innovations.
Touch & Slide
A large and color, but not a touch screen provides control. Touch buttons and touch sliders are located all over the front panel.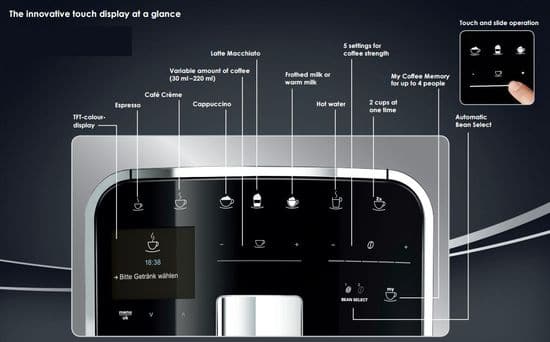 Unfortunately, it takes some time to get used to their location.
Drinks customisation
Melitta Caffeo Barista contains a wide selection of pre-installed recipes, the number of which reaches 21 in Melitta Caffeo Barista TSP. The competitors, for example, Delonghi ECAM 650 series and Saeco Xelsis series provide only 15 and 14 recipes, respectively.
In fact, the most popular recipes require just one click. These include espresso, Crema Cafe, cappuccino and latte macchiato. The rest of the drinks require a few keystrokes in menu.
Coffee machines also support 4 to 8 user profiles and provide the addition of four recipes.
The list of settings includes the amount of coffee, foam, milk and hot water, the choice of compartment for coffee beans, cooking temperature and coffee strength.
TSP and advanced TS can additionally cook:
– Red Eye – Crema Cafe and ristretto;
– Black Eye – Crema Cafe and two servings of ristretto;
– Death Eye – Crema Cafe and three servings of ristretto.
But these recipes can only be recommended for people with a healthy heart.
Available recipes
This list includes:
– Espresso – 7 g of coffee, 40 ml;
– Ristretto – 7 g of coffee, 30 ml;
– Lungo – 7 g of coffee, 60 ml;
– double espresso – two espresso in a row, each of 7 g of coffee and 40 ml, for a total of 80 ml;
– double ristretto – two ristretto in a row, each of 7 g of coffee and 30 ml, for a total of 60 ml;
– Cafe Crema – 7 g of coffee, 120 ml, 9 bar, slightly roasted grains are preferable;
– double Cafe Crema – two Cafe Crema in a row, each of 7 g of coffee and 120 ml, totaling 240 ml;
– Americano – 30 ml of espresso from 7 g of coffee machine and 120 ml of hot water;
– double americano – 150 ml of hot water are added to two 30 ml espresso, which are prepared in a row;
– Long Black – two 40 ml espresso are added successively to 100 ml of hot water, keeping crema foam. This recipe is also called Scandinavian Americano;
– cappuccino – 80 ml of foamed milk is added into 50 ml of espresso from 7 g of coffee;
– espresso macchiato – ristretto – coffee machine adds 20 ml of foamed milk;
– Latte – 110 ml of lightly foamed milk is added to 70 ml of lungo;
– Cafe au Lait – Cafe Crema with a volume of 100 ml with foamed milk;
– Latte macchiato – 70 ml of lungo and 120 ml of foamed milk;
– double latte macchiato – two 40 ml espresso are successively added to 120 ml of foamed milk;
– triple latte macchiato – three ristretto 30 ml each in 120 ml of foamed milk;
– Flat White – double ristretto 30 ml each and 30 ml of foamed milk.
Single coffee and milk dispenser
Melitta Caffeo Barista have single combined dispenser for milk and coffee with height adjustment up to 5,5 in. It combines and duplicates the supply of coffee and milk, which speeds up the cooking process. For example, these models provide the preparation of two cappuccino cups on 440 ml only just two grinding cycles. At the same time, the dispenser simultaneously pours coffee and milk into two cups, unlike most modern models, which simultaneously can pour only coffee into two cups.
Bean Select
Melitta Caffeo Barista coffee machines have two compartments for coffee beans with manual selection in T-models and with automatic selection in TS, TSP-models.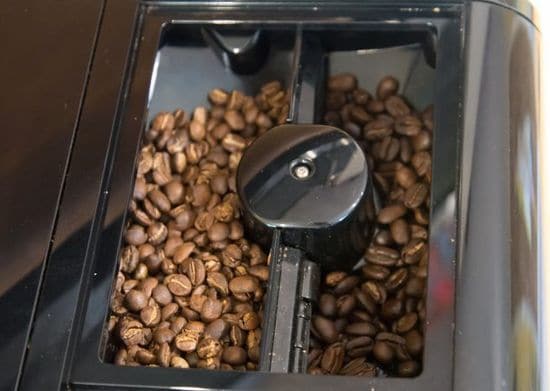 TS and TSP models automatically select the container according to the recipe. For example, espresso drinks use the coffee beans from the left compartment, and Crema Cafe drinks take the grain from the right compartment.
This feature is very rare and practical. After switching over the compartments, the traditional model continues to use two coffee grades for several cycles due to the residual grains from the first container. The program further optimizes the consumption of the coffee beans and the coffee machine provides the preparation of pure coffee starting from the second cycle. Additionally, the sensor monitors the amount of remaining coffee beans and informs about the need to replenish the compartment.
Melitta Caffeo Barista SMART
Additionally, this model supports control via a smartphone or tablet with Android / Apple + Bluetooth using the Melitta Connect App.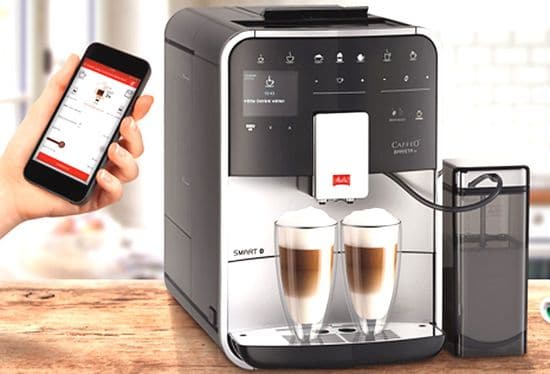 The video at the end demonstrates its operation.
Of course, other manufacturers also use analogs of Saeco Xelsis Coffee Machines innovations. Nevertheless, today Melitta is absolutely deservedly included in the group of innovative leaders.