Expansion of the range continues to be one of the main instruments of competition in all segments of consumer electronics. Almost all leaders annually introduce new line-ups of their TVs, smartphones, etc. To date, the absolute record belongs to Samsung, which introduced 56 new smartphones in 2014! Of course, such range expansion is excessive and costly. But on the other hand, it's objectively beneficial to consumers, and manufacturers take this factor into account. In addition, this strategy allows companies to continually expand the smart functionality of their models by increasing the efficiency of control algorithms.
Of course, coffee machines are no exception, and the market is constantly replenished by new models with innovative technologies for brewing, care, preparing drinks, etc. Probably coffee makers are not the most sophisticated devices compared to, say, smartphones or TVs. But they have great potential in terms of increasing the customization level and increasing the number of recipes for various coffee drinks. This trend has been dominating for several years. For example, all six profiles of Philips Saeco Xelsis series support 14 recipes, including hot water / milk and six additional ones. Them total number reaches 120 customized recipes and 14 preset in the guest profile that today is an absolute record.
As known, in 2009 Philips bought the famous Italian Saeco. As a result, the company today offers the Philips models in the budget and mid-budget segments, and a wide range of Saeco coffee machines. In the spring of 2019, the company introduced the Philips 1200, 2200 and 3200 series based on the new platform. But already in the summer of 2020, the company expanded this lineup with Philips 4300 and 5400 series, which are hardware identical to the Philips 3200.
Philips 4300/5400 key features
1. Both series have identical design with beveled touch panel.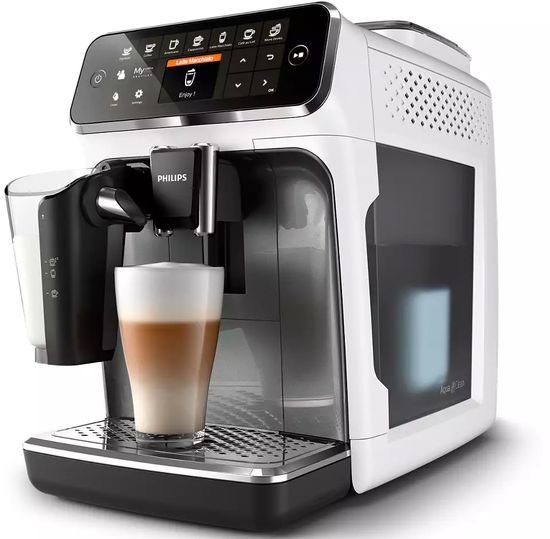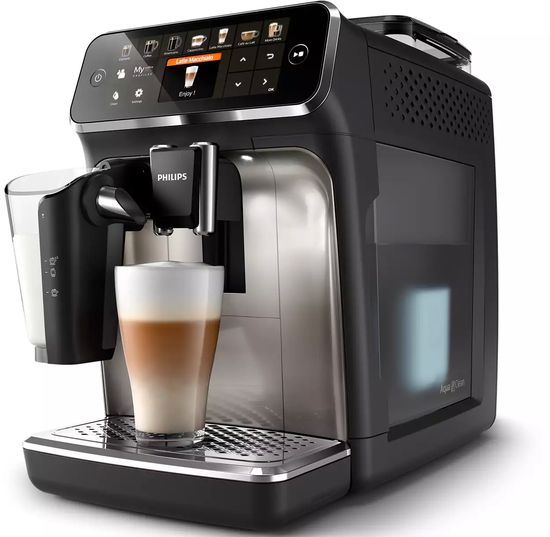 2. The containers for water, coffee beans and cake hold 1.8 liters (front access), 275 grams (seal lid) and 12 portions of cake, respectively.
3. According to the specification, ceramic coffee grinder with flat burrs and infinitely adjustable has 12 degrees of grinding, but in reality it's stepless (smooth).
4. Models use a removable brewing unit with a capacity of 7 to 11 grams of ground coffee, a ULKA water pump with a pressure of 15 bar and a flow-through thermoblock with a power of 1500 W.
5. Both series use a twin coffee dispenser that can accommodate cups up to 145 mm high.
6. The coffee machines have the latest LatteGo cappuccino maker (milk frothing system) with a capacity of about 250 ml.
Traditionally, the model name depends on the color. Specifically, Philips EP43xx includes:
– EP 4341 / 50 – black;
– 4343 / 50 – white with black elements;
– 4346 / 70 – black with light gray elements;
– 4349 / 70 – black with dark gray elements.
Philips EP54xx:
– EP 5444 / 90 – dark gray with chrome elements;
– EP 5447 / 90 – black with chrome elements.
Main pros EP 54xx vs 43xx:
– 12 vs 8 recipes;
– Extra Shot function in EP5444/90 and EP5447/90;
– 4 vs 2 user profiles (by default, both series have a guest profile with preset recipes);
– cup lighting in EP 54xx;
– metal vs plastic cups platform;
– colored vs black and white direct launch touch buttons on the control panel.
New LatteGo
As known, the simple and convenient care of the innovative LatteGo has become its main advantage over a traditional milk jug. In previous series, some users have complained that over time, milk begins to drip onto the drip tray. Based on the reviews, the company has successfully solved this problem by improving the seal between components.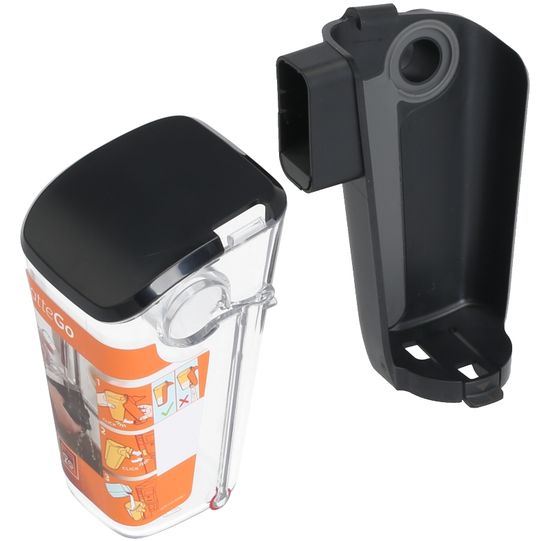 Moreover, LatteGo works without an additional dispenser. Usually, dispensing hot water in coffee machines with a traditional milk jug requires a special tap that is installed instead of the jug. LatteGo sits on the water spout, greatly simplifying the usability.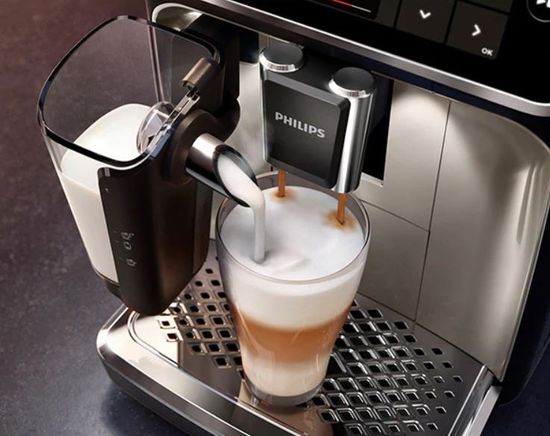 What's more, the latest series provide LatteGo fast flushing (start button in the Clean menu). But unlike traditional hose flushing, it's not ideal due to the slight residual water inside the jug.
In addition, the developers have reduced the temperature of the whipped milk to just over 60°C. As a result, the temperature of the finished cappuccino in the cup is about 65°C, which corresponds to the classic recipe.
Philips 4300/5400 Control panel & Extra Shot mode
Like the flagship Philips / Saeco Xelsis, the new series use control panel with large TFT color display.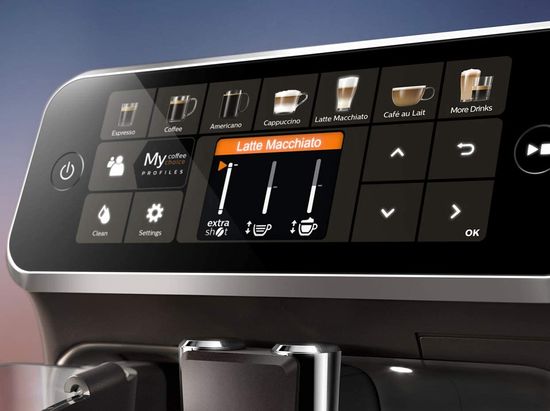 User-friendly interface with auto saving the last settings in the profile is very simple and convenient. Compared to the previous 2200 and 3200 series, the new coffee machines have a separate milk frothing program, and a minimum volume for black coffee increased from 20 ml to 30 ml. At the same time, the minimum volume of Ristretto 20 ml has not changed.
In the absence of water in the container, the 4300 and 5400 series can continue to execute the interrupted coffee program after refilling.
EP5444 / 90 and EP5447 / 90 support Extra Shot mode. In fact, this function compensates for the small capacity of the brewing unit up to 11 grams. It provides an extra 30 ml espresso in almost any drink and is selected in the "strength" setting.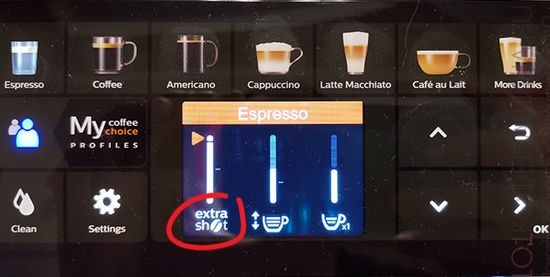 As known, this function was first implemented in Krups models. For max strength, German developers have implemented auto activation of making coffee in two grinds and in two spills. For example, 80 ml of coffee for cappuccino at max strength is prepared as two 40 ml each.
Philips uses a preset volume of 30 ml. For example, if you choose a "cream cafe" with 120 ml Extra Shot, the actual volume will be 150 ml = 120 ml + 30 ml. This mode is convenient for milk drinks that cannot be prepared in two stages.
Philips 4300/5400 programs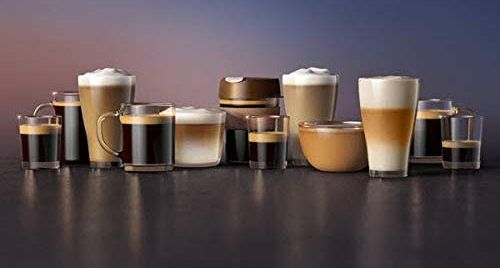 The 5400 series offers 12 recipes, including Flat White and Travel Mug, the 4300 only supports 8 recipes. In addition, they prepare hot water (150 ml / 100 – 300 ml, default / adjustable range) and frothed milk (180 ml / 40 – 320 ml). The eight basic recipes are identical for both series. Six recipes are started directly from the control panel using the touch buttons in the top row, the rest are activated through the More Drinks menu.
Panel:
– "Espresso" – default 40 ml, adjustable from 30 to 90 ml;
– "Coffee" (Lungo) – 120 ml / 100 – 220 ml;
– "Americano" (Espresso + hot water) – a special program brews an espresso, throws the coffee pill into waste and adds hot water through an empty brewing unit. Coffee is always 40 ml, total volume – 120 ml / 80 – 200 ml;
– "Cappuccino" – milk 120 ml / 100 – 210 ml, coffee 40 ml / 20 – 80 ml;
– "Latte macchiato" – milk 200 ml / 80 – 340 ml (80, 140, 200, 270, 340 ml), coffee 40 ml / 20 – 80 ml;
– "Café au Lait (coffee with milk)" – special program, Lungo 90 ml / 50 – 150 ml, then milk 90 ml / 50 – 150 ml (adjustable proportions).
More Drinks
More Drinks menu (4300 only supports the first two recipes):
– "Cream Cafe" – 140 ml / 115 – 220 ml;
– "Ristretto" – 30 ml / 20 – 60 ml;
– "Lungo" – 80 ml / 60 – 180 ml;
– "Flat white" – milk 80 ml / 40 – 180 ml, then two servings of espresso with a total volume of 80 ml / 60 – 140 ml. Extra Shot is not available in this mode due to two-step coffee brewing;
– "Travel Mug" – 240 or 360 ml. In fact, it's an analogue of two "Lungo" 180 ml each;
– "Latte" – frothed milk is added to coffee. Coffee 60 ml / 30 – 90 ml), milk 140 ml / 80 – 340 ml (80, 140, 200, 270, 340 ml). The recipe supports Extra Shot, allowing you to prepare a large portion of the classic "Latte" – double espresso of 30 ml + 340 ml of milk.
Philips EP5447 / 94, EP4347 / 94 LatteGo and EP4321 / 54
In April this year, the company introduced several models of the new series.
EP5447/94 LatteGo
Key Features:
– chrome silver front panel;
– stainless steel drip tray;
– 12 direct-launch programs ('one button') including espresso, coffee, americano, cappuccino, latte macchiato, café au lait, caffé crema, espresso lungo, ristretto, caffé latte, frothed milk and hot water;
– height-adjustable spout;
– 2-component LatteGo milk system;
– intuitive colour LCD display display;
– high level of customization, including 4 user profiles;
– extra shot function for double shot of espresso;
– smart aroma extra system (water temperature in the range 90℃ – 98℃ with the help of water flow rate adjustment);
– ceramic grinder with lifetime until 20,000 cups;
– 12 step adjustment knob for coffee grind;
– only 8 AquaClean filter replacements increase duration between descaling up to 5000 cups;
– removable brew group.
Philips EP4347/94 LatteGo

Key Features:
– silver front panel;
– 8 programs, including espresso, coffee, americano, cappuccino, latte macchiato, café au lait;
– 2 user profiles;
– aroma extra system;
– ceramic grinder with 20,000 cups lifetime;
– 12 step adjustment knob;
– AquaClean filter;
– 2-component LatteGo milk system;
– Removable brew group.
EP4321/54 Classic Milk Foamer
Key Features:
– deep black glossy front panel;
– classic milk foamer (CMF);
– espresso, espresso lungo, coffee, caffé crema and americano programs, and hot water and steam function.
Conclusions
In fact, the Philips EP43xx and EP54xx are the next generation of the new 2019 platform, which was implemented in the Philips EP 1200, 2200 and 3200 series. The large TFT color display, new recipes, Extra shot support in EP54xx are quite consistent with the top level in the mid-budget segment.
But both series have excellent prospects for improvement. In principle, a list of their cons could include:
– no quick flushing of the hydraulic circuit;
– unregulated volume 30 ml in Extra Shot;
– only 90 ml of milk in "Café au Lait";
– no adjustment of the pre-wetting duration;
– no display of the total number of cups (only for each recipe by separation). This information is convenient for monitoring the service intervals.
Of course, they are not critical, but their elimination in the future is unlikely to be a problem for developers.
Not stopping there, this year the company introduced Saeco GranAroma coffee machines, which can be positioned as improved Philips EP5400 at almost the same price.
This video introduces the newest Philips LatteGo EP5447 full automatic espresso coffee machine.