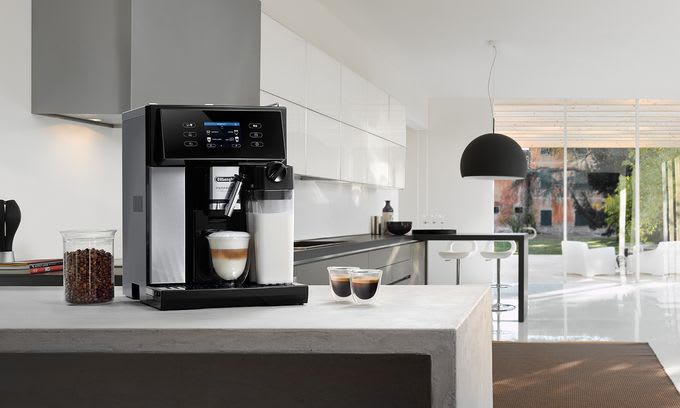 Range expansion has long been one of the main tools for increasing competitiveness in all consumer electronics segments. Probably, Samsung's record, which introduced 56 new smartphones in 2014, is unlikely to be exceeded in the coming years. Nevertheless, the strategy of almost all leaders is based on this trend. Coffee machines are no exception, and DeLonghi is one of the most reputable leaders in this segment.
Usually, companies expand the range of previous series or offer new lines based on several basic platforms. In particular, DeLonghi automatic coffee machines use ESAM, ECAM and ETAM platforms, which differ in the size, design, heater type, cappuccino maker, and in the set of controls. In addition, in 2019, the company introduced a premium EPAM 960.75. GLM Maestosa on the new EPAM platform.
Basically, the ESAM line includes premium models with increased reliability and durability. The ETAM series contains compact models with relatively small water and grain tanks. ECAM platform is versatile.
DeLonghi ESAM Perfecta
While actively developing new lines, the company does not forget the previous series. In particular, DeLonghi has expanded the popular Perfecta line by developing new version of the super popular DeLonghi Dinamica series.
In fact, five years ago, the DeLonghi ESAM 5600.S Perfecta Cappuccino Graphic Touch was the latest in the Perfecta series. According to many experts, this series had one of the best price / quality ratios. Therefore, the refusal of its development caused a slight bewilderment among many. But at IFA 2019, the company showed Delonghi ESAM 420.40.B / 420.80.TB Perfecta EVO, and 460.80.MB Perfecta Deluxe.
The list of the main differences between the models includes:
– black Delonghi ESAM 420.40.B Perfecta EVO does not support Cappuccino+ and Flat White recipes, comes without a coffee pot and has only 4 quick launch buttons on the touch panel (espresso, lungo, cappuccino, and latte macchiato).
– Delonghi ESAM 420.80.TB Perfecta EVO with a titanium-like front panel supports these recipes and Coffee Pot mode, comes with a real coffee pot, has a top metal stand for cups and 6 quick launch buttons, including LONG (analogue of American) and Milk;
– Delonghi ESAM 460.80.MB Perfecta Deluxe uses a large color touch screen and has a very handy Cappuccino Mix recipe. In addition, it supports 3 custom profiles, has many metal inserts, decorative handles and a cup guard.
Of course, it also supports Coffee Pot mode and comes with a real coffee pot.
ESAM platform
Despite its venerable age, the company retains the time-proven ESAM platform. Technically, all models use the same components. This list includes:
– compact removable CRF brewing unit, with a capacity of 6-14 grams of ground coffee;
– steel conical burr coffee grinder with 13 grind settings;
– 15 bar ULKA pump;
– a flow-through thermoblock for coffee and a flow-through steam block for frothing milk foam with a total power of 1450 W. A flat thermoblock with two heating elements is combined with a piston located above it. The aluminum steam block is sensitive to citric acid, so this popular descaling method is not optimal. But, this is true for any ESAM with a milk jug;
– automatic 500ml LatteCrema milk jug with manual adjustment of the milk foam height.
– 250 gram bean hopper, a water tank with a capacity of 1.4 liters, and a container for cake for 14 portions;
– the twin coffee dispenser accommodates cups up to 5,5 inches (14 cm) high;
– several sensors, solenoid valves for water flow distribution, etc;
– dimensions are 11 x 16 x 17 inches (28 x 40 x 43 cm). For comparison, Dinamica measures only 9.4 x 14 x 17 inches (24 x 36 x 44 cm), with a bean and water capacity of 300 grams and 1.8 liters, respectively.
Delonghi Perfecta EVO / Deluxe & Dinamica
Except for the case, the platform and functionality of the Delonghi Perfecta EVO / Deluxe is very similar to Dinamica.
As known, since the fall of 2016, this series has been successfully competing with Jura D6, KRUPS EA89 Evidence Plus, etc. Dinamica series supports an advanced customization level, the new LONG Americano mode, and the new TrueBrew Over Ice mode for iced coffee recipe. In 2018, this series already included the ECAM 350.15B, 350.35W, 350.55B, and 350.75S.
In fact, Perfecta EVO / Deluxe can be positioned as their new version.
The new Delonghi Perfecta EVO models for the first time use an improved drip tray with rubberized inserts inside the slots.
They eliminate chatter, preventing the cup offset from under the dispenser and scratching the surface. This can be useful for recipes with long coffee times, for example, a double espresso or using a small, narrow-necked cup.
Unfortunately, the developers have moved the key for activating the rinsing of the coffee circuit from the front panel to the menu. At Dinamica, this option is very convenient for heating up the coffee machine before the making coffee after a long break. In practice, these nuances exhaust the list of differences.
Perfecta EVO / Deluxe vs Dinamica
Functionally, the ESAM 420.40.B Perfecta EVO is an ECAM 350.55 Dinamica that does not have a Coffee Pot mode (3 – 6 lungo portions in a row, totaling up to 750 ml), but supports the Flat White recipe.
420.40 provides a quick start from the panel for the following drinks:
– espresso;
– coffee (lungo);
– cappuccino;
– latte macchiato.
Drink menu:
-ristretto;
-lungo;
-LONG;
-doppio+;
-Coffee Pot;
-latte;
-milk;
-water.
Of course, the model traditionally offers double recipes, including two espressos, two lungs, two ristrettos.
In general, ESAM 420.80.TB Perfecta EVO is analogous to Delonghi ECAM 350.75 Dinamica without Espresso Macchiato, but with the Coffee Pot recipe. Plus, it comes with a real coffee pot included. Both models use 6 shortcut keys on the panel, including:
– espresso;
– coffee (lungo);
– LONG;
– cappuccino;
– latte macchiato;
– milk.
Drink menu contains:
– ristretto;
– lungo;
– doppio+;
– Coffee Pot;
– latte;
– flat white;
– cappuccino+ (the strongest double espresso or a cappuccino based on Doppio+);
– water.
Unlike 370.95 Dinamica, 460.80.MB Perfecta Deluxe does not have a double-walled milk jug and a Bluetooth module. Accordingly, it does not support smartphone control. But this coffee machine comes with a coffee pot included and has a metal finish on the body that dramatically improves its design.
Both models have an identical set of recipes, including the Coffee Pot recipe at Dinamica 370.95. As known, this model was the first to receive a new mode two years ago. Their color screens support 3 custom profiles.
Conclusions
Confirming its leadership claims, DeLonghi continues to actively expand its model range. Last year, the company introduced a new Primadonna Soul series with an innovative Bean Adapt technology. The developers have equipped these models with double-walled thermal milk container, Coffee Pot thermal mug, and Mug To Go and Over Ice programs.
In addition, DeLonghi has expanded the popular Perfecta line by developing an extended version of the super popular DeLonghi Dinamica series. In fact, Perfecta returns to the list of current DeLonghi series, which today includes Primadonna, Dinamica, Magnifica, Autentica, etc.
Technically, the updated Perfecta series (Delonghi ESAM 420.40 / 420.80 Perfecta EVO and ESAM 460.80 Perfecta Deluxe) is a larger analogue of the Dinamica series with a new "Coffee Pot" recipe. The optimal choice depends on the price and demand for this recipe, but all ESAM Perfecta loses insignificantly in terms of size and noise level.
This video demonstrates unboxing, setting up and making the espresso with new Perfecta Deluxe ESAM 460.80.