The popularity of coffee and coffee drinks has remained enormous for over 300 years. Of course, huge demand splendidly stimulates companies. As a result, today the market offers a huge number of different devices for their preparation, including single-serve espresso makers, traditional automatic espresso machines, etc.
In addition, fierce competition forces companies to constantly improve their models, actively using innovative technologies. Traditionally, the automatic Delonghi espresso machines are considered some of the best in this class, and its popular Dinamica series once again confirms the brand's high reputation.
DeLonghi Dinamica Automatic Coffee & Espresso Machine
As known, from the fall of 2016 Dinamica series replaces previous models in the segment of automatic espresso DeLonghi coffee machines. In 2018, this series already included the ECAM 350.15B, 350.35W, 350.55B, and 350.75S flagship. B, W, and S letters at the end correspond to Black, White, and Silver color.

Respectively, the cheapest ECAM 350.15B with unregulated Steam Wand (Panarello) and character screen replaced ECAM 23.210.
ECAM 350.35W uses a Steam Wand (Panarello) with mechanical regulator in the form of a ring to heat milk without whipping. It replaced ECAM 23.420.
But the ECAM 350.55B has a LatteCrema jug as an automatic milk frother and replaces the ECAM 23.460.
In addition to the LatteCrema jug, the flagship ECAM 350.75S, supports 12 recipes, has one-touch direct buttons for preparing drinks, and conditionally replaces ECAM 25.462.
Cappuccino+, Espresso Macchiato, LONG Americano and Hot Milk are prepared via the Drink Menu with a few taps.
Subsequently, the ECAM 350.20W/B at a price of up to $ 900, and the ECAM 350.20SB at a price of up to $ 1,000 expanded this series. In fact, premium frother and Stainless Steel are the only differences between the models.
Probably, today Dinamica ECAM350.25SB is the most popular in America.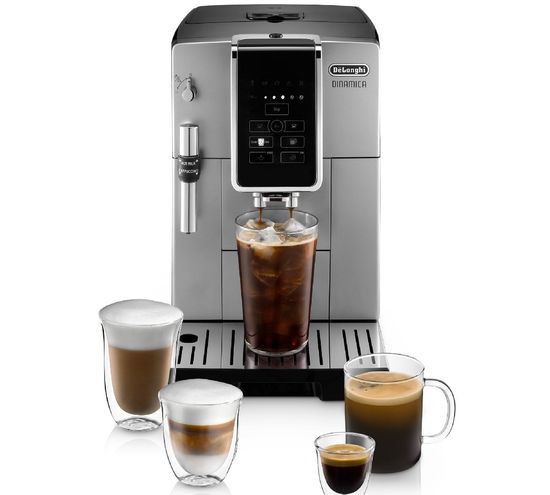 Basically, most innovations relate to improved control with more flexible custom settings and memorizing recipes, including a separate My Menu profile for all drinks. In addition, Dinamica has a special program for LONG Americano. Moreover, innovative TrueBrew Over Ice technology provides the preparation of Iced Coffee.
Main differences between the ECAM 350.xx Dinamica series vs ECAM 23 / 25.xxx series
This list includes:
– touch control instead of mechanical buttons and rotary switches. The screen has become a little bigger and more informative.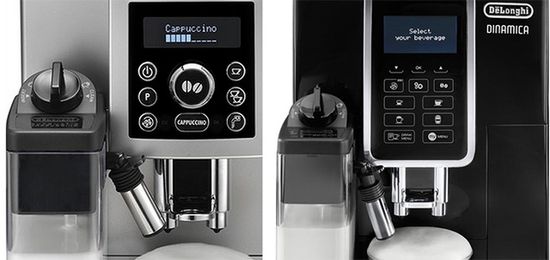 – a special program for LONG Americano. The coffee machine reduces the pressure in the brewing chamber by intermittent activation of the pump, reducing the rate of passage of hot water through the pressed coffee. In fact, this algorithm mimics the coffee brewing in drip models with filtration;
– previous models provided programming for only one volume of black coffee and had 4 predefined volumes. New models support volume programming separately for each drink, the preparation of which is activated from the control panel. For example, the volume for black coffee varies from 20 ml (ristretto) to 250 ml (LONG);
– additionally, Dinamica remembers one of the five pre-programmed coffee strength individually for each drink. Previous models retain only one coffee strength setting for all drinks;
– moreover, Dinamica series has excellent sound insulation, the effectiveness of which corresponds to devices with a metal case.
What has not changed:
– steel conical millstone coffee grinder with 13 degrees of grinding;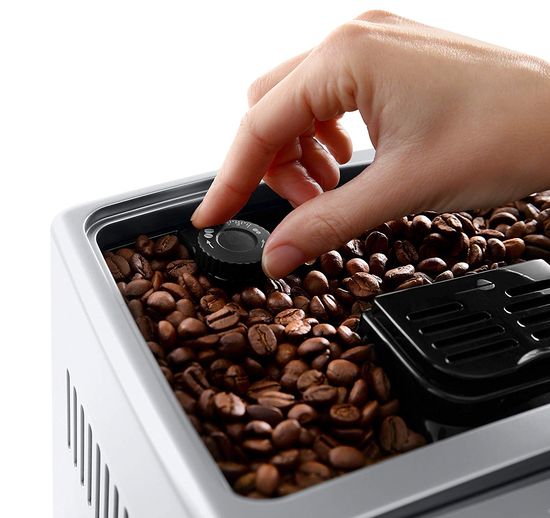 – compact CRF brewing unit with pre-wetting and easy removal for washing under running water;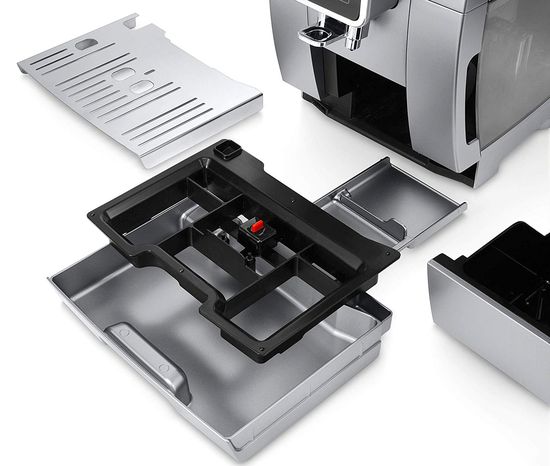 – pump with outlet pressure 15 bar;
– flowing thermal block with a power of 1450 W;
– 1.8 liter water tank;
– container for coffee waste for 14 servings;
– LatteCrema jug or manual Steam Wand (Panarello).
Conclusion
Today, these coffee machines successfully compete in the segment of budget automatic espresso machines with such models as Jura D6, KRUPS EA89 Evidence Plus, etc.
Overall, the Dinamica series offers an advanced customization level, the new LONG Americano mode, and the new TrueBrew Over Ice feature for iced coffee recipe. Given the decline in prices for coffee machines of this series, consumers can only welcome such a company policy.
Moreover, in the summer of 2019, the company introduced the new DeLonghi Maestosa series, including the EPAM 960.75. GLM flagship.
In April 2020, the company introduced Delonghi ESAM 420.40 / 420.80 Perfecta EVO and ESAM 460.80 Perfecta Deluxe, which can be positioned as a new version of the Delonghi Dinamica series.
This video demonstrates the cleaning DeLonghi Dinamica ECAM 350.
P.S.
As known, a few years ago the company expanded the super popular Dinamica series with the premium DeLonghi Dinamica Plus (ECAM370.95.T). Today it costs $ 1,500 and is the most expensive in the series. However, its specs and functionality is fully consistent with this price segment. This model belongs to the so-called a fully automatic 'bean-to-cup' coffee machines and makes drinks in barista-style by 'one touch button' or with the help of app. It's ideal for those who like to experiment, but some users may perceive the settings as too complicated.
Pros
– can work with ground coffee;
– high customization level;
– auto milk frothing;
– an intuitive interface with a convenient app.
Cons
– big size;
– relatively expensive;
– settings require experimentation.
Like other modern premium coffee machines, the model uses a 3.5-inch color touch display, has an integrated bean grinder (beans container – 11.5oz/ 300g capacity), and supports auto cleaning. Importantly and conveniently, Dinamica Plus can use ground coffee.
Settings list:
– amount of coffee;
– amount and milk froth level;
– aroma and temperature;
– grind level.
Of course, ECAM370.95.T offers almost all popular drinks, including cappuccino, latte, espresso, flat white, etc. Despite the price, the Dinamica Plus is one of the most popular models in the series today.