This review is updated regularly with new models
Last updated: 04 October, 2019
Introduction
The popularity of coffee and coffee drinks has remained enormous for over 300 years. Of course, this factor has become an excellent incentive for inventors and entrepreneurs. As a result, today the market offers a huge number of different devices for their preparation, including single-serve espresso makers, traditional automatic espresso machines, etc.
Of course, fierce competition forces companies to constantly improve their models, actively using innovative technologies. As known, the extraction depth depends on the dynamics of the hot water passage through the coffee powder. Accordingly, optimal brewing requires high pressure and its precise adjustment. Of course, companies pay more attention to these aspects. But besides them, companies continue to expand their capabilities due to the customization level, the range of available recipes, etc. As a result, the popularity of traditional automatic espresso machines remains at the same high level. Despite the higher price, they continue to compete successfully with simpler and cheaper single-serve espresso makers due to the excellent quality of coffee drinks and great functionality.
This review offers some of the latest automatic espresso machines from segment leaders, including:
– DeLonghi Dinamica automatic espresso machines;
– KRUPS EA89 Evidence Plus.
DeLonghi Dinamica Automatic Coffee & Espresso Machine
As known, from the fall of 2016 Dinamica series replaces previous models in the segment of automatic espresso DeLonghi coffee machines. In 2018, this series already included the ECAM 350.15, 350.35, 350.55, and 350.75 flagship.

The cheapest ECAM 350.15B with unregulated Steam Wand (Panarello) replaced ECAM 23.210.
Steam Wand (Panarello) of ECAM 350.35W has a mechanical regulator in the form of a ring to heat milk without whipping. This model replaced ECAM 23.420.
The ECAM 350.55B uses a LatteCrema jug instead of Steam Wand and replaces the ECAM 23.460.
The flagship ECAM 350.75S with LatteCrema jug, supports 12 recipes, and has one-touch direct buttons for preparing drinks. It conditionally replaces ECAM 25.462.
Drink Menu provides Cappuccino+, Espresso Macchiato, LONG Americano and Hot Milk preparation with a few taps.
Subsequently, the ECAM 350.20W/B at a price of up to $ 900, and the ECAM 350.20SB at a price of up to $ 1,000 expanded this series. But they differ only in premium frother and stainless steel.
Today Dinamica ECAM350.25SB is one of the most popular in America.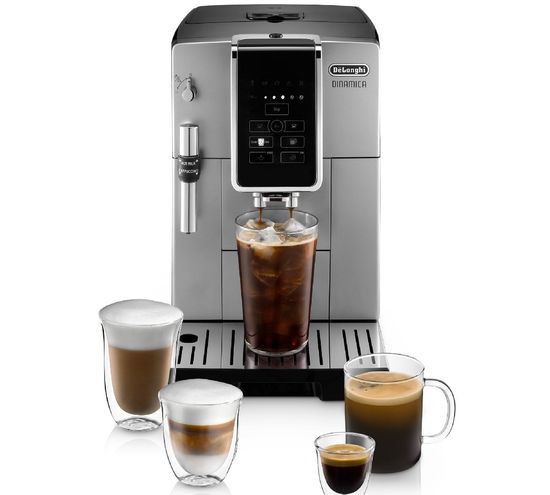 Basically, most innovations of Dinamica relate to improved control due to more flexible custom settings and memorizing recipes, including a separate My Menu profile for all drinks. In addition, Dinamica has a special program for LONG Americano. Moreover, innovative TrueBrew Over Ice technology provides the preparation of Iced Coffee.
ECAM 350.xx Dinamica series vs ECAM 23 / 25.xxx series
The list of differences includes:
– touch control instead of mechanical buttons and rotary switches;
– a little bigger and more informative display.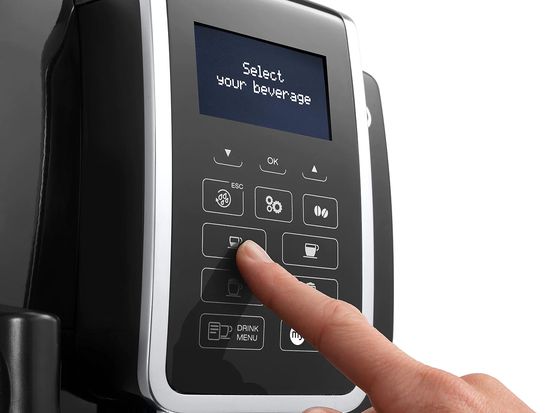 – new LONG Americano mode. The coffee machine uses pulse mode of pump operation, reducing the rate of passage of hot water through the pressed coffee and increasing the brewing time. In fact, this algorithm mimics the coffee brewing in drip models with filtration;
– previous models provided programming for only one volume of black coffee and had 4 predefined volumes. But Dinamica support volume programming separately for each drink, the preparation of which is activated from the control panel. For example, the volume for black coffee varies from 20 ml (ristretto) to 250 ml (LONG);
– Dinamica remembers one of the five pre-programmed coffee strength for each drink. Previous models retain only one setting for all drinks;
– Dinamica models have excellent sound insulation, the effectiveness of which corresponds to devices with a metal case.
What has not changed:
– steel conical millstone coffee grinder with 13 degrees of grinding;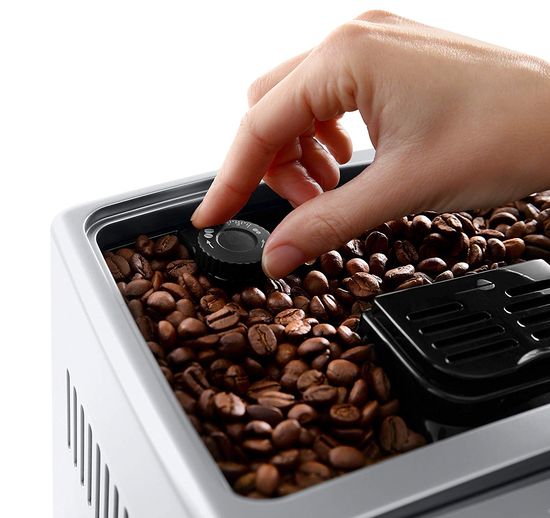 – compact CRF brewing unit with pre-wetting and easy removal for washing under running water;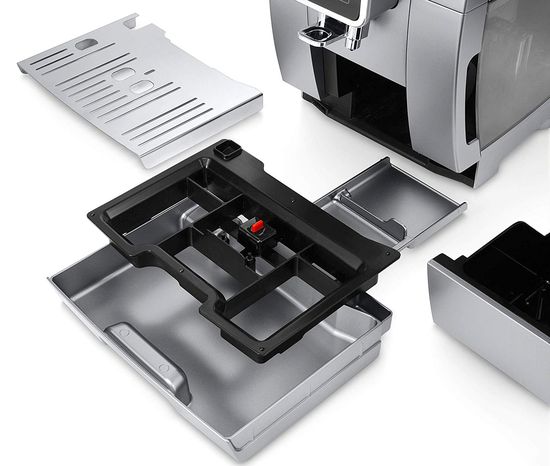 – pump with pressure 15 bar;
– 1450W flowing thermal block;
– 1.8 liter water tank;
– container for coffee waste for 14 servings;
– LatteCrema jug or manual Steam Wand (Panarello).
Overall, the Dinamica series offers an advanced customization level, the new LONG Americano mode, and the new TrueBrew Over Ice feature for iced coffee recipe. Given the prices for models of this series, consumers can only welcome such a company policy.
Jura D6 Automatic Espresso Machine
This company introduced the new automatic espresso machine called Jura D6 (or D60 or D600). In fact, it replaced the discontinued Jura C60, being today the most budgetary Jura model. Jura D6 has an identical case with C60 and equipment Jura E6.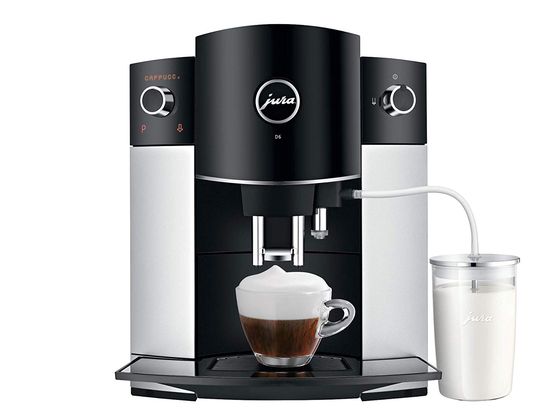 As a result, design and specs E6, D6 and C60 are very similar.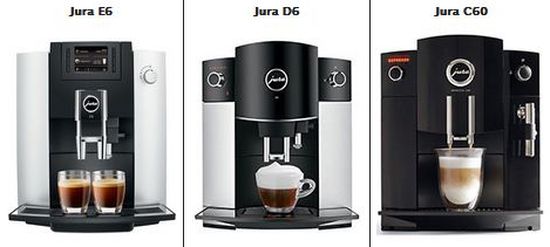 Main differences:
– C60 uses grains or ground coffee, D6 and E6 – only grains;
– coffee beans container in E6 holds 280 grams, D6 and C60 – only 200 grams;
– E6 supports 8 coffee strength settings, D6 and C60 – only 4;
– E6 has a 2.8" color display, D6 and C60 – monochrome;
– D6 and E6 use Pulse Extraction Process or P.E.P. technology and Wireless Ready, C60 – no.
Wireless Ready with optional JURA Smart Connect Bluetooth Adapter provides the launch via Bluetooth.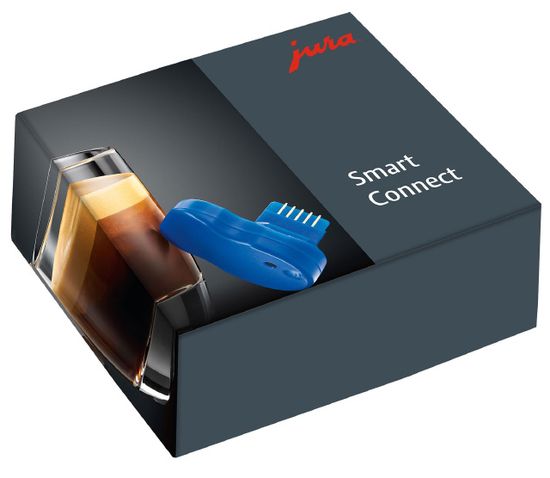 Main specs
Main components and technologies:
– non-removable brewing unit with a capacity of up to 16 grams of coffee with pre-wetting function;
– steel coffee grinder with 12 grinding degrees, including the intermediate settings;
– Invensys pump with pressure of 15 bars;
– P.E.P. (Pulse Extraction Process) Technology – Pulse Mode pump operation after pre-wetting to slow down the brewing process and increase extraction.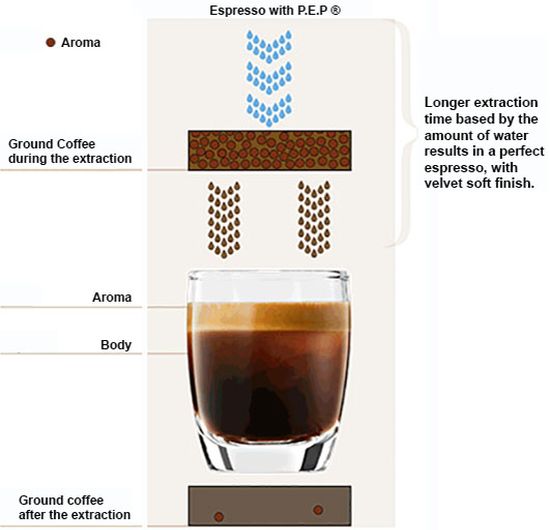 As known, Delonghi uses Doppio+ mode for this purpose;
– 1450W flowing thermal block provides very fast heating. For example, the model prepares the first portion 32 seconds after being turned on;
– the model also has a 1.9 liter water tank, a 200 gram bean hopper, 16-cup coffee grounds waste bin, and dispenser for two cups of black coffee.
The main programs:
– espresso: from 15 to 80 ml with P.E.P;
– coffee: from 25 to 240 ml;
– cappuccino: milk foam – from 3 to 60 seconds, the maximum amount of milk is about 550 ml, coffee – from 25 to 240 ml;
– milk: from 3 to 60 seconds;
– hot water: up to 450 ml.
Key Features
Jura D6 uses a semi-automatic milk frother with manual on / off control using the handle on the front panel. It works great, providing a finely divided, dense foam of optimal consistency. Self-cleaning mode is activated only 10 minutes after the steam valve is shut off. Unfortunately, the self-cleaning algorithm has several cons:
– changing the start delay is quite complicated;
– significant water consumption;
– lack of a bipper after 10 minutes;
– device flushes only the milk frother module without a tube;
– manual flushing does not cancel the flushing request (LED flashing).
Like other Jura models after 2016, Jura D6 uses the Claris Smart filter with the intelligent water system (IWS).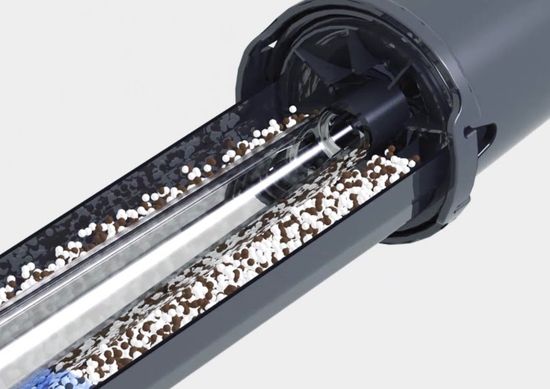 As known, it controls the filter replacement time depending on the installed water hardness. Refusal to use it, for example, when using an external filter, requires pressing the left Rotary Switch after the inscription "insert filter" appears.
Pros:
– capacity up to 16 grams provides the maximum strength of espresso;
– according to statistics, the maximum reliability of the brand;
– quick cooking due to the powerful thermal block;
– instant switching between modes;
– excellent quality milk foam.
Today, the D6, C60 and E6 cost about $ 920, $ 975, and $ 1,1050, respectively. Given this factor, today D6 is the best choice among budget Jura models.
KRUPS EA89 Evidence Plus Automatic Espresso Machine
As known, Evidence platform was first introduced at the end of 2017. Its design is very similar to the previous Espresseria.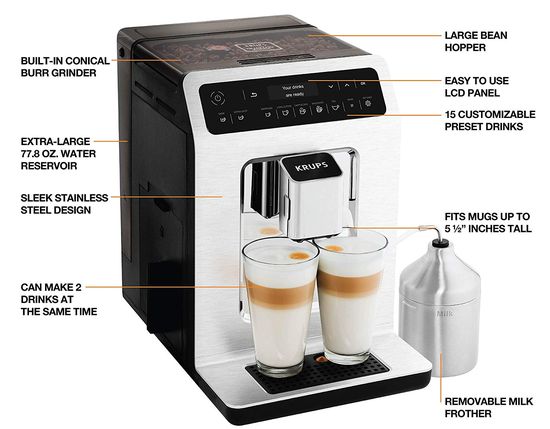 Main specs:
– non-removable built-in brewing unit with a capacity of up to 9 grams of coffee with a hydraulic piston;
– ULKA/CEME pump with pressure of 15 bars;
– flowing thermal block with a capacity of 1450 W;
– steel coffee grinder with only 3 grinding degrees;
– the model also has a 2.3 liter water tank, a 260 gram bean hopper, and 10-cup coffee grounds waste bin.
in addition, the company replaced the cappuccino jug on the milk frother with a tube. Of course, the tube has easier care, pours milk strictly in the center, and does not require dispenser adjustment. By the way, Saeco also refused the cappuccino jug in its new Xelsis.
This year, the company introduced Krups Evidence Plus, which is slightly different from the previous Krups Evidence.
Its touch control panel now displays color pictograms of drinks instead of black and white. In addition, the Latte direct launch key («more») has taken the place of the settings button.

In fact, new recipes have become a main improvement of Evidence Plus. This list incledes:
– Latte – espresso about 40-50 ml + 160-180 ml of frothed milk;
– Flat White – double ristretto of 20-30 ml + 130-150 ml of frothed milk;
– Espresso macchiato – espresso 40-50 ml + 30-50 ml frothed milk.
In fact, their activation requires only a single click from the control panel. What is important, the device pours coffee first into the cup, then milk. Previous models used the reverse sequence, which of course was wrong.
Conclusion
1.As usual, in 2019, the segment leaders provide a wide selection of new models.
KRUPS EA89 Evidence Plus at a price of about $ 800 is the most budget. Only 3 degrees of grinding coffee and a capacity of up to 9 grams of non-removable built-in brewing unit are fully consistent with this price.
DeLonghi Dinamica ECAM350.25SB and Jura D6 cost about $ 900. Each of them has its own bonuses.or example, DeLonghi Dinamica offers new LONG Americano mode, TrueBrew Over Ice feature for iced coffee recipe, and excellent sound insulation. But superreliable Jura D6 with powerful thermal block makes very fast excellent milk foam and wonderful strong espresso due to the capacious brewing unit up to 16 grams.
2.In general, today the market offers a huge range of models. Of course, it pleases consumers, but sometimes complicates the choice of the optimal coffee maker. The various TOPs substantially simplify this task. But TOPs from experts are often different from Best Sellers, because they mainly analyze specs and innovations. Unfortunately, new technologies do not always compensate for a rather high price. As a result, successful budget models without frills often become Best Sellers due to the excellent price / quality ratio, despite rather modest specs.
But, of course, the choice of the optimal automatic espresso machines depends on personal preferences and budget.
We sincerely wish you the Right Solution!
This video demonstrates how to make the perfect cappuccino with the new DeLonghi Dinamica ECAM.
P.S.
Fierce competition is a great incentive for industry leaders to periodically expand their model lines. Of course, coffee machines are no exception, and these companies are following this trend.
1. DeLonghi has expanded the Dinamica premium range with the Dinamica Plus (ECAM370.95.T), which costs $ 1,500 today.
In addition, the company introduced new PrimaDonna Soul model with innovative Bean Adapt technology.
Today DeLonghi PrimaDonna Soul (ECAM 610.74.MB) costs about $ 2,150.
New technology automatically adapts the setting for grinding, dose and temperature depending on the coffee grade and its roast degree. Bean Adapt may not be very useful for experienced coffee lovers, but it will help beginners master the art of making it. This feature allows the user to create up to 6 grain profiles through the Delonghi Coffee Link app. The coffee machine then uses the optimized settings.
2. In addition to the previous E8 and E6 series, Jura has introduced new Jura E8 EB and Jura E6 EB versions with two additional programs and innovative Aroma Pro grinder. The Jura E8 EB costs around $ 2,200. The price of the E6 EB model ranges in Europe to € 1,000.
In addition, the company has expanded its lineup with the premium Jura Z10. On the company's website, its price reaches $ 4,000, but, for example, in the UK it's available for about £ 2,000 ($ 2,670). Milk and milk foam temperature setting, 3D brewing technology and Product Recognizing Grinder make it one of the most innovative modern coffee machines.
3. The list of current and most popular KRUPS models includes:
– Barista EA901050 – $ 2,500;
– Two-In-One EA880851 – $ 1,300;
– Quattro force EA89 – $ 1,000.