For over 300 years, the immense popularity of coffee and coffee drinks is an excellent incentive for inventors and entrepreneurs. As a result, today the market offers a huge number of coffee machines of various types, the price and functionality of which varies over a wide range.
A few decades ago, the sharp increase in the popularity of coffee milk drinks has stimulated rapid improvement of automatic espresso machines. Of course, the improvement of components and brewing technology, including pre-wetting, P.E.P., and other similar innovations have become one of the main directions. In addition, the active use of digital technology has radically expanded the custom settings of modern espresso machines. Delonghi ECAM 650, Saeco Xelsis, Melitta Caffeo Barista, Siemens EQ9, or Jura Z6 Impressa illustrates this trend perfectly.
In addition, many companies continued to improve the capsule espresso machines, which provides very quick and easy preparation of popular coffee drinks. As a result, today the market offers a huge assortment of capsule single-serve espresso makers.
As known, Eric Favre received the patent for the invention of capsule coffee machine in 1978. But the widespread use of this method of packaging and brewing coffee began only in the late 80s. But in the early years it had problems. Firstly, coffee capsules were quite expensive and in a small assortment. Secondly, the quality of coffee was inferior to the traditional method. As a result, many coffee aficionados even today prefer traditional brewing, arguing their choice with its best taste and aroma.
But over several decades, companies have radically changed the situation, significantly reducing the price of capsules, expanding their range and quality of the finished drinks.
Of course, Nestle is a leader in this segment.
Nespresso Machines
As known, Nestle Nespresso S.A. (Nespresso trademark) is one of the independent divisions of the Nestle Group, based in Lausanne, Switzerland.
In the second half of the 80s, the company introduced its first Nespresso models. In 2006, Nestle expanded its capsule coffee machine range with Dolce Gusto. Today, Dolce Gusto leads the capsule market in Europe.
Of course, the company could not ignore the huge North American market, where the American company Keurig Dr Pepper, located on the east coast in Burlington, Massachusetts, has dominated since 1990. For example, today its sales volume has already exceeded 3,000,000. In addition, this company patented a K-cup system with a large tab of coarse ground coffee, the amount of which varies from 12 to 16 grams.
As known, american coffee culture has a peculiarity. Usually, Europeans drink coffee often, but in very small doses. Accordingly, European coffee makers cook well saturated coffee with a volume of 30-60 ml in 20-30 seconds. In this case, 5 – 5.5 g of coffee in the standard Nespresso capsule corresponds well to this volume. But Americans usually prefer to drink coffee in large portions in the range of 200-300 ml. The preparation of such a portion with a standard European coffee machine takes several minutes, and its consistency is too liquid and unsaturated.
As a result, already in 2014, the European company offered the Nespresso VertuoLine series for large-volume capsules.
Some features
A preliminary simplified classification will help eliminate possible confusion in terms. First of all, Nespresso in the model name means that the coffee machine can use Nespresso capsules. As known, Nestle cooperates with DeLonghi and Krups, which produce Nespresso models. In addition, the famous KitchenAid, Breville, etc also offer coffee makers using Nespresso capsules.
But of course, besides Nestle, today many companies, including Delica (Cremesso capsules), Kraft Foods (Jacobs capsules for Bosch Tassimo), Lavazza, etc offer coffee capsules. Some of them even offer their own models. In particular, this year Lavazza introduced the Blue Classy Mini coffee maker.
But of course, Nestle Nespresso S.A. continues to confidently lead in this segment.
Pros
– Nespresso brand image;
– smart-design, functionality and a wide range of coffee machines.
Cons
– only 5.5 grams of coffee. For comparison, Lavazza contains 8.5 g. Of course, such a small amount negatively affects the saturation, texture and strength of the coffee when preparing a portion of 50 ml or more;
– the coffee machine is well adapted for "short black", but ineffective for "long black".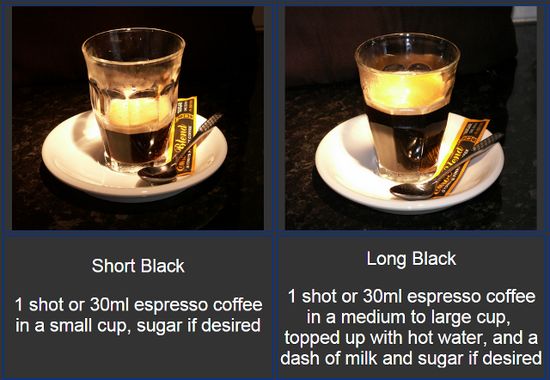 In principle, "short black" corresponds to the classic espresso. For example, Australian barista do not even separate them. But during the preparation of "long black", the device passes water under pressure through ground coffee for a very long time. As a result, it provides a much more intense extraction of caffeine, destroying the delicate aroma of the drink. On the other hand, some perceive this aspect as a plus, preferring to increase the coffee strength by suppressing its aroma;
– high price of capsules. In comparison, 8.5-gram Lavazza capsules cost about half as much compared to 5.5-gram Nespresso capsules.
Nespresso Machines
As known, Nestle cooperates with DeLonghi and Krups, which produce Nespresso models. Other brands, for example, Breville or Nespresso itself, also make capsule coffee makers that are compatible with the Nespresso standard. Today these models are divided into several series, including Lattissima, Pixie, Maestria, Inissia, CitiZ, U.
The cheapest compact DeLonghi Inissia is available in 10 colors!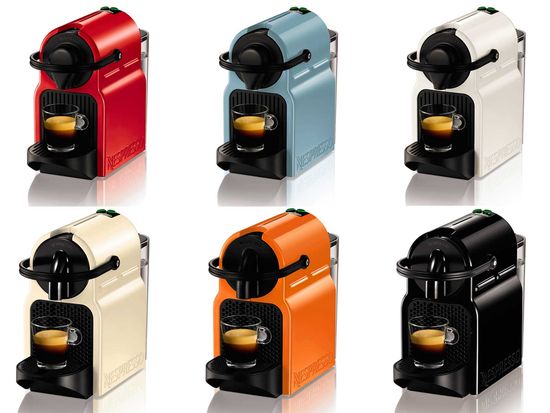 It heats the water in only 25 seconds, has a container for 11 used capsules, 19 Bar high pressure pump, removable 24 ounce water tank, and auto power off after 9 minutes of inactivity. In addition, the model provides a choice of volume for espresso – 40 ml, and for Lungo – 110 ml.
For reference, today the Breville Nespresso Inissia coffee maker is a bestseller and costs only $ 120-130.
The compact U series from DeLonghi or from Krups is slightly more expensive. It includes models C and D, which differ only in the shape of the dosing head on the front panel.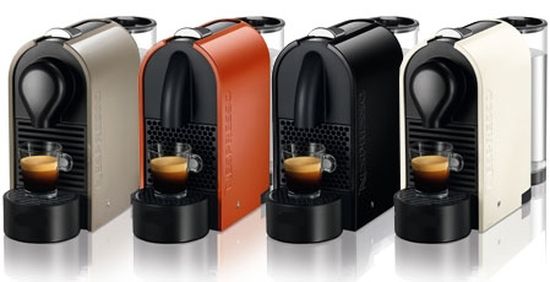 It uses a swiveling water tank and an adjustable stand for a cocktail glass. The container for used capsules holds up to 13 pieces. The coffee machine has an anti-drip system, provides an alarm for water lack and filling the compartment for used capsules, auto-shutdown and selection of the cup volume for ristretto, espresso and lungo.
U series includes the more expensive UMilk model with Aeroccino milk frother, which creates a perfectly thick milk froth.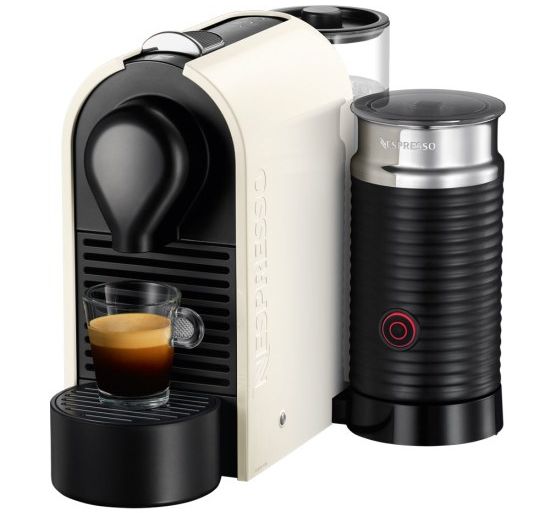 The super-compact Pixie controls the water level in the tank. Otherwise functional coincides with CitiZ. Pixie Clips series additionally uses interchangeable side panels in different colors.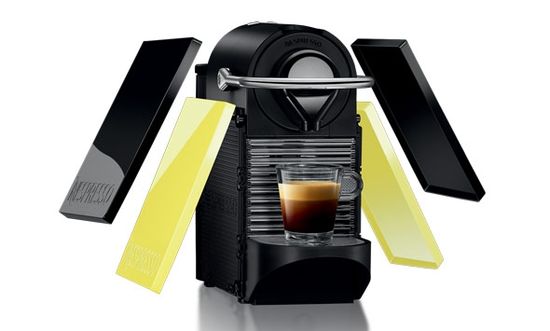 CitiZ, Maestria, and Lattissima
Budget CitiZ model has a strict design, a container for 10 used capsules, provides a choice of volume, height adjustment of the pallet for the cup, and auto power off. As you might guess, the CitiZ & Milk model has a milk frother and an expanded stand for a milk jug.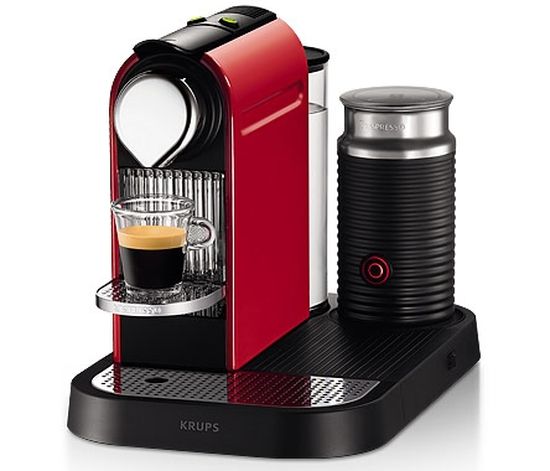 In addition, many TOP lists include the models in this series.
Maestria differs unusual design in aluminum housing and improved steam system. A separate steam nozzle prepares milk froth for cappuccino. Each program contains 5 different settings. The model also offers 5 volume settings, generates a notification about the need for descaling, has a folding stand for cups, a container for 14 used capsules, and a large 1.4 liter water tank. Additionally, Gran Maestria model has milk frother.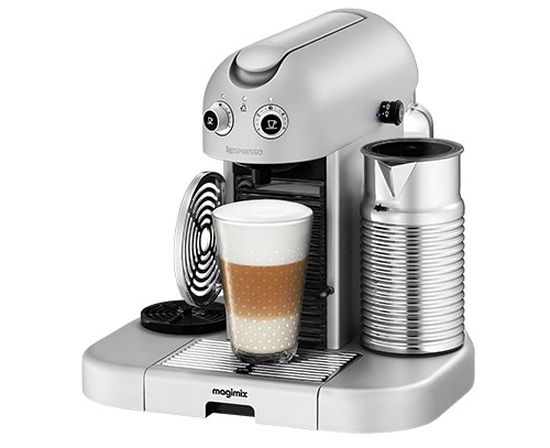 DeLonghi Lattissima series of the Nespresso capsule coffee machines belongs to the TOP level. It uses the built-in milk frother, has a low noise level, a container for 11 used capsules, and supports maximum functionality, including automatic cleaning, water llevel control, auto power off, stand height adjustment, volume selection (espresso, lungo, cappuccino, latte macchiato). In addition, the series offers several colors.
The series includes the base DeLonghi Lattissima Plus, DeLonghi Lattissima Touch with touch controls, and DeLonghi Lattissima Pro in an aluminum case with zinc parts, touch controls and display.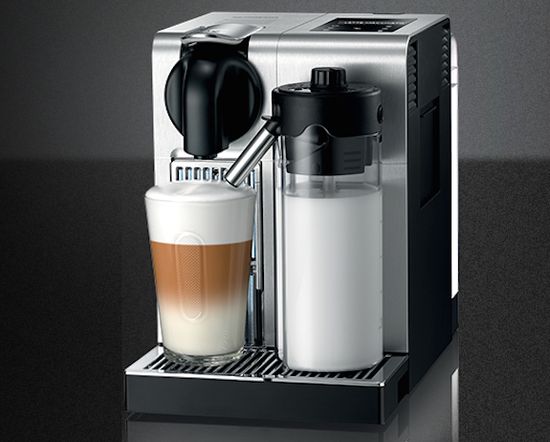 This series uses six preset coffee programs. In addition, it remembers the selected amount of water, milk and coffee, providing programming of the recipe. Moreover, the coffee machine pours hot water or milk. Additionally, Lattissima Pro uses container highlight with used capsules, creating an impressive futuristic effect in the dark.
Conclusion
1. The pricing policy of companies in this segment is similar to the printers selling strategy at the end of the last century. As many remember, some companies supplied their models for free to customers, ensuring their profit by selling fairly expensive ink in the future. Given the high cost of coffee capsules, this factor becomes determining when choosing the optimal model. Today, companies offer various flexible solutions, including bonus coffee capsules upon purchase, etc.
2. In recent years, competition has been growing between capsular Nespresso models and traditional automatic espresso machines. Of course, the price still divides them into different segments. For example, the top-end DeLonghi Nespresso Lattissima Pro costs about $ 300 vs $ 770 of the DeLonghi ESAM3300. However, the differences between their functionality and drink quality are rapidly decreasing. Therefore, today many are already thinking about choosing between them. Of course, the modern automatic espresso machine provides a huge range of drinks and their high quality. Moreover, the cost of one such serving is significantly lower compared to a coffee capsule. But this choice is accompanied by significant one-time costs, and the need for regular maintenance. Significantly cheaper Nespresso model provides quick and easy preparation of a sufficiently high-quality drink. But it requires regular expenses for the purchase of quite expensive coffee capsules.
But, of course, the optimal choice depends on personal preferences and budget. We sincerely wish you the Right Solution!
This video demonstrates making a coffee drink with the Lattissima Pro machine.