A few decades ago, the sharp increase in the popularity of coffee drinks stimulated the development of automatic espresso machines. Mostly, companies focused on improving components and coffee brewing technology, including pre-wetting, P.E.P. and other innovations. In addition, engineers actively used digital technology to expand smart options, radically expanding the user settings. Delonghi ECAM 650, Saeco Xelsis, Melitta Caffeo Barista, Siemens EQ9, or Jura Z6 Impressa illustrates this trend perfectly.
As a result, the coffee maker has turned into a sophisticated highly efficient device capable of automatically preparing a huge range of various coffee drinks with high quality.

Unfortunately, their price also corresponds to a high level. In particular, the cost of even budget models varies from $ 700 to $ 1,000.
But the market is famous for its diversity. Along with the development of automatic espresso machines, some companies have focused on the development of capsule technology. Of course, many people rightly associate coffee capsules with Nestle.
As known, Nestle Nespresso S.A. (Nespresso trademark) is one of the independent divisions of the Nestle Group, based in Lausanne, Switzerland.
The company introduced its first Nespresso models in the second half of the 80s. Then, in 2006, Nestle expanded its range with Dolce Gusto, which today leads the capsule market in Europe.
Today Nespresso in the model name means that the coffee machine can use Nespresso capsules. As known, Nestle cooperates with DeLonghi and Krups, which produce Nespresso models. In addition, the famous KitchenAid, Breville, etc also offer coffee makers using Nespresso capsules. As a result, today the market offers a huge assortment of capsular coffee makers, among which Nespresso models dominate.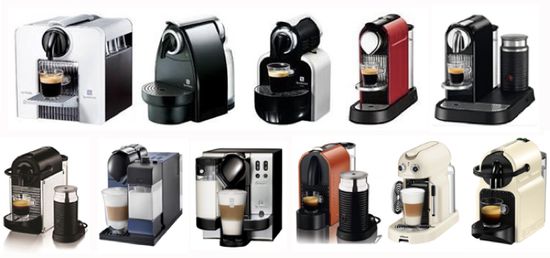 But of course, besides Nestle, many other companies, including Delica (Cremesso capsules), Kraft Foods (Jacobs capsules for Bosch Tassimo), Lavazza, etc aslso offer coffee capsules. Some of them even offer their own models. In particular, this year Lavazza introduced the Blue Classy Mini coffee maker.
But today the Nestle Nespresso S.A. continues to confidently lead in this segment. However, competition between them is increasing. Of course, Nespresso brand image, smart-design, functionality and a wide range of coffee machines are a serious argument in their favor. But it also has some significant drawbacks. For example, only 5.5 gram capsules significantly limit the drink volume. A portion of 100 grams or more turns out too liquid and unsaturated. For comparison, Lavazza capsule contains 8.5 g and costs about half as much.
Automatic Espresso Machine vs Nespresso coffee maker
In recent years, competition has been growing between capsular Nespresso models and traditional automatic espresso machines. A few years ago, a comparison of their functionality and the drinks quality was absurd. But the situation is changing rapidly due to the reduction of differences between their capabilities. As a result, comparison of price / quality ratios is increasingly becoming relevant.
Usually, even the simplest modern coffee machine provides 3-5 or more coffee strength settings, from 3 to 10 degrees of grinding, etc, providing ample opportunities for experimentation. Additionally, the cost of one such serving is significantly lower compared to a coffee capsule. Until recently, Nespresso models did not even try to compete in this aspect. But in recent years, companies have radically expanded their range, and significantly reduced the price, offering capsules of various coffee strength, the ratio of coffee varieties, decaffeinated capsules, with milk and coffee drinks, etc. As a result, this difference has substantially decreased.
The espresso quality depends on proper storage (oxidation reduces aroma) and pressure during coffee brewing. But almost all modern models provide the required 15 bar for efficient extraction. More expensive Nespresso models provide pre-wetting.
Modern coffee machines usually use automatic self-cleaning and decalcification programs, and easily removable coffee brewing units. But additionally they require periodic cleaning with special cleanser. Many Nespresso models use the special cleaning capsules.
This review offers some of the most popular models, including:
– DeLonghi Nespresso Lattissima Pro (up to $ 300);
– Breville Nespresso Creatista Plus (up to $ 350);
– Jura D6 Automatic Espresso Machine (up to $ 900).
DeLonghi Nespresso Lattissima Pro
As known, Nestle cooperates with DeLonghi and Krups, which produce Nespresso models. Of course, many other companies also make capsule models that are compatible with the Nespresso standard. Today they are divided into several series, including Lattissima, Pixie, Maestria, Inissia, CitiZ, U.
DeLonghi Lattissima series of the Nespresso capsule coffee machines belongs to the TOP level. It uses the built-in milk frother, has a low noise level, a container for 11 used capsules, and supports maximum functionality, including automatic cleaning, water llevel control, auto power off, stand height adjustment, volume selection (espresso, lungo, cappuccino, latte macchiato). In addition, the series offers several colors.
The series includes the base DeLonghi Lattissima Plus, DeLonghi Lattissima Touch with touch controls, and DeLonghi Lattissima Pro in an aluminum case with zinc parts, touch controls and display.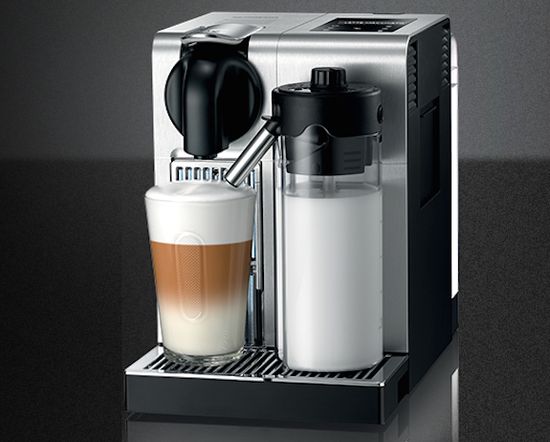 It provides 19 bar, uses six preset coffee programs, and remembers the selected amount of water, milk and coffee, providing programming of the custom recipe. In addition, intuitive digital touchscreen makes cappuccino, latte macchiato, espresso, Lungo, warm milk froth, or hot water with one touch.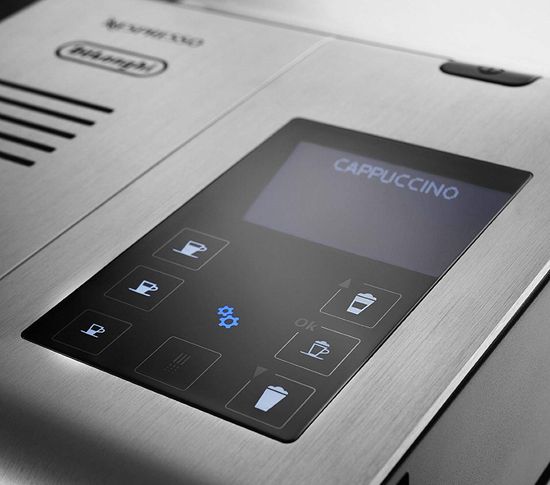 Breville Nespresso Creatista Plus
According to many experts, today Breville Nespresso Creatista Plus is one of the most successful single-shot pod-based coffee espresso machines. The company first introduced it in 2017. Today model costs about $ 350. Creatista Plus has compact stylish design, and makes very delicious espresso.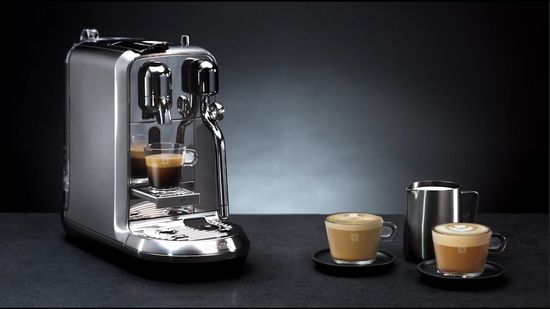 Simple and convenient intuitive interface with TFT LCD display practically does not require reading the manual.
High pressure pump on 19 bars provides required pressure for highly effective extracting the flavor and aromas. For comparison, the pressure of many models in this class does not exceed 15 bar.
The fast heat-up system reaches the optimal temperature in just 10 sec. Additionally, this model provides several brewing options, including espresso and lungo (which means "large" in Italian) for espresso, and flat white, cappuccino, or latte for coffee drinks.
In addition, the device heats the milk to a predetermined temperature (55-76°C / 133-169°F) for each cup. Moreover, the workflow of Creatista Plus is practically no different from a regular espresso maker due to start the milk separately, which is familiar and convenient for many. Breville automatic steam pipe works very reliably, uninterruptedly preparing a light brown foamy crema for coffee drinks with constant consistency.
The steam pump self-cleans after every coffee brewing cycle, automatically draining leftovers. In addition, the model has a very capacious water tank at 60 ounces. Given that one espresso contains about 1.6 ounces, this model rarely requires the addition of water.
Pros
– 19 bars;
– 8 beverage selections with adjustable settings (coffee volume, milk temperature and milk texture);
– auto frothing;
– self-cleaning the steam pump;
– 4 texture levels;
– different milk temperature settings;
– fast heat up in 10 sec.
As known, D6 replaced the discontinued C60, being today the most budgetary Jura model. It has an identical case with C60, but equipment of E6.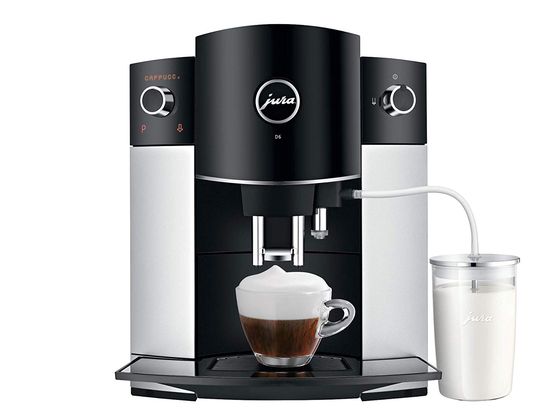 But in general, design and specs E6, D6 and C60 are very similar.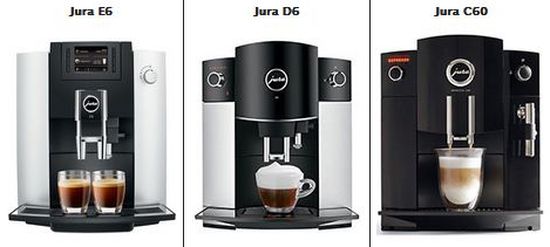 Main differences:
– C60 uses grains or ground coffee, D6 and E6 – only grains;
– E6 coffee beans container holds 280 grams, D6 and C60 – only 200 grams;
– E6 supports 8 coffee strength settings, D6 and C60 – only 4;
– D6 and C60 use monochrome display, E6 has a 2.8″ color display;
– D6 and E6 use Pulse Extraction Process or P.E.P. technology and Wireless Ready, C60 – no.
As known, Wireless Ready with optional JURA Smart Connect Bluetooth Adapter provides the launch via Bluetooth.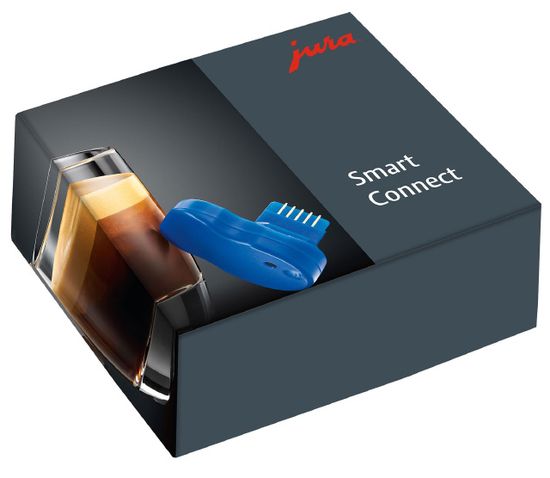 But it's not very popular among consumers.
Main specs
Main components and technologies:
– non-removable brewing unit with a capacity of up to 16 grams of coffee with pre-wetting function;
– 12 grinding degrees of steel coffee grinder;
– 15 bars of Invensys pump;
– P.E.P. (Pulse Extraction Process) technology.
It uses pulsed pump operation after pre-wetting, slowing down the coffee brewing process to increase extraction.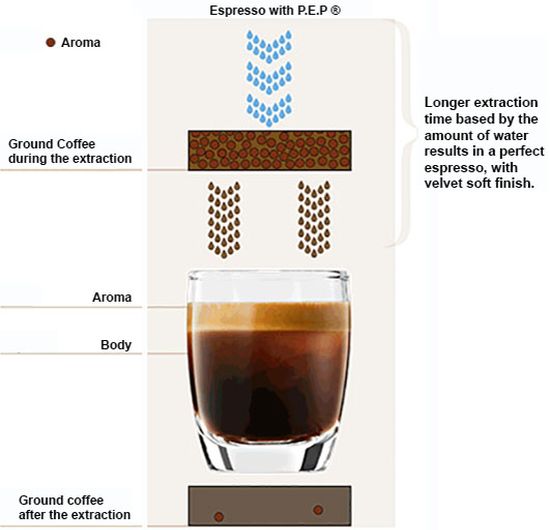 As known, Delonghi uses similar Doppio+ mode for this purpose;
– 1450 W flow-through fuser makes the first drink in just 32 seconds after switching on;
– the model also has a 1.9 liter water tank, a 200 gram bean hopper, 16-cup coffee grounds waste bin, and dispenser for two cups of black coffee.
Key Features
The main programs:
– espresso: from 15 to 80 ml with P.E.P;
– coffee: from 25 to 240 ml;
– cappuccino: milk foam – from 3 to 60 seconds, the maximum amount of milk is about 550 ml, coffee – from 25 to 240 ml;
– milk: from 3 to 60 seconds;
– hot water: up to 450 ml.
Of course, semi-automatic milk frother with manual on / off control works great, providing a finely divided, dense foam of optimal consistency. But self-cleaning mode starts working only 10 minutes after the steam valve is shut off. Unfortunately, it has several cons:
– changing the start delay is quite complicated;
– significant water consumption;
– lack of a bipper after 10 minutes;
– device flushes only the milk frother module without a tube;
– manual flushing does not cancel the flushing request (LED flashing).
D6 uses the Jura's Claris Smart filter with the intelligent water system (IWS).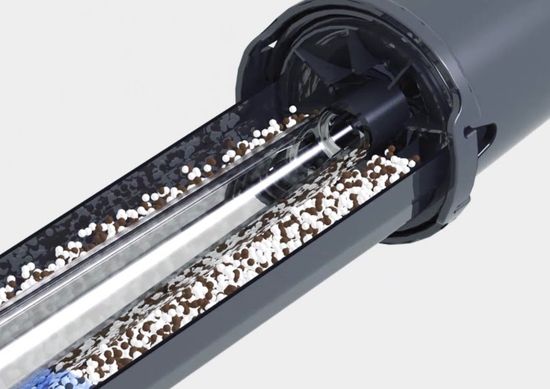 As known, it controls the filter replacement time depending on the installed water hardness. Refusal to use it, for example, when using an external filter, requires pressing the left Rotary Switch after the inscription "insert filter" appears.
Pros:
– capacity up to 16 grams provides the maximum strength of espresso;
– according to statistics, the Jura coffee machines are the most reliable;
– powerful thermal block;
– instant switching between modes;
– excellent quality milk foam.
Today, the D6, C60 and E6 cost about $ 920, $ 975, and $ 1,050, respectively. Given this factor, today D6 is the cheapest among Jura models.
Conclusion
1. Probably, today an automatic espresso coffee machine can be positioned as a good investment, which ensures the preparation of a wide range of popular high-quality coffee drinks with minimal ongoing costs. In addition, models from well-known brands are very reliable. According to many experts, Jura models are leading in this aspect.
2. But the modern capsule coffee maker is about 3 times cheaper, provides easy and quick preparation of a wide range of high-quality drinks, but requires constant costs for the purchase of capsules.
3. Already today, the market offers an elegant solution to the problem of choosing between them. For example, Miele offers a line of built-in coffee machine with Nespresso system, which combine all pros, but cost up to $ 2,000.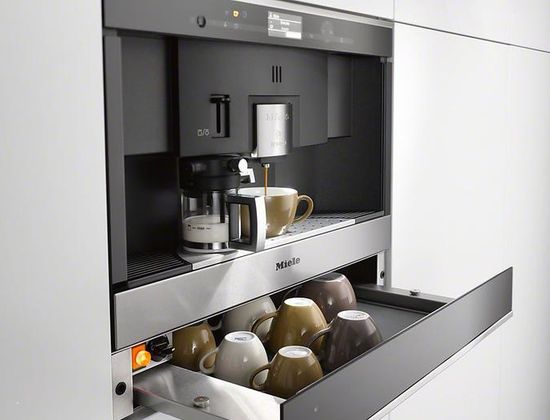 But, of course, the optimal choice depends on personal preferences and budget. We sincerely wish you the Right Solution!
This video demonstrates operation of Miele coffee machine with Nespresso system.