Famous Jura brand is a cult for many fans of coffee. The Swiss Elektroapparate AG has been developing, manufacturing and selling premium home appliances since 1931. In the early 90s of the last century, the company concentrated its efforts on premium coffee machines. As a result, the company has been one of its leaders for over 30 years.
Of course, innovative technologies are a prerequisite for successful competition and the company pays great attention to them. For example, starting with Jura Z6 Impressa, all models use Pulse Extraction Process (P.E.P.) brewing technology, filling sequence algorithm (sequence of milk and coffee supply in a cup), etc. Jura ENA 8 first got the innovative I.P.B.A.S. (Intelligent Pre Brew Aroma System) and improved VC brewing unit.
Like all industry leaders, the company uses assortment expansion as one of its main competition tools. Today the Jura coffee machines range is divided into full-size D, E, S, J and Z series and compact A and ENA series, which the company develops evenly. For example, from 2016 to 2018, Jura introduced the popular fullsized Jura Impressa E8 and S8 and latest compact ENA 8.
But their classification has an important nuance. Unlike most other manufacturers, Jura prefers systematic updating of models under the same name. For example, the 2020 Jura E8 differs significantly from the 2019 Jura E8. Therefore, the company indicates the generation / series abbreviation for each model. In particular, the 2020 models contain an EB index in the name.
Jura Impressa E6 vs E8 vs S8
Over the past few years, the company has introduced the new Jura Impressa E8 and S8 espresso makers, and stylish compact Jura ENA 8 Sunset Red.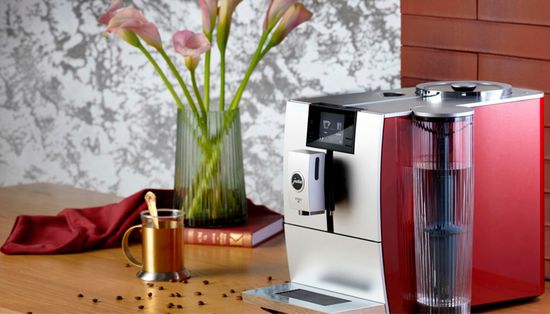 As known, the E8 replaced the E6 in 2016.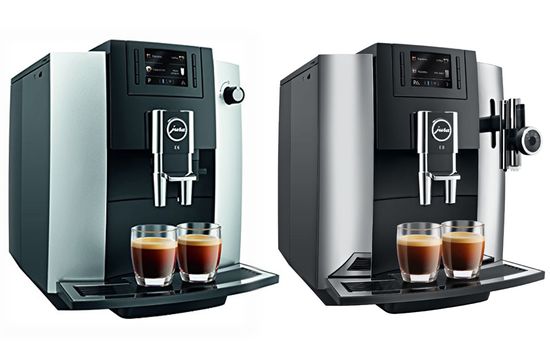 List of major improvements:
– ground coffee;
– more pre-installed and custom recipes;
– maximum cup height of 5.9 inches (15 cm) vs 4.3 inches (11 cm) in E6;
– quick launch of Flat White mode;
– illumination of cups and filling sensor of the drops tray.
In 2018, the company introduced the S8, which could be positioned as an improved version of the E8.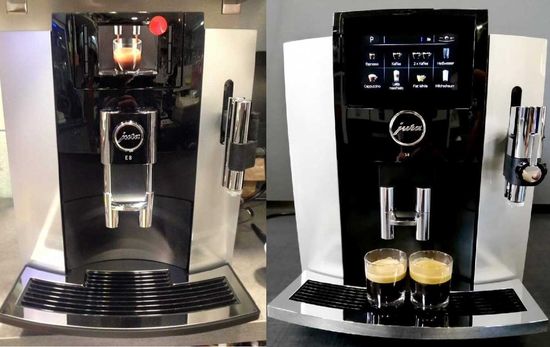 The list of improvements includes:
– large 4.3" color touch screen;
– latte and espresso macchiato additional recipes;
– additional hot water supply for green tea;
– 10 vs 8 coffee strength settings;
– 3 vs 2 cooking temperature settings;
– maximum cup height increased to 4.65 inches for coffee and 6.3 inches for milk drinks and hot water (by 7 mm);
– the included Bluetooth Smart Connect adapter provides control by Android and iOS smartpfones with Jura Coffee App.
For several years now, the E8 has been the most popular Jura coffee machine due to its best price / quality ratio. Therefore, the concentration of the company's efforts on its improvement is logical. In 2020, the developers introduced the updated E8 EB, which today is the latest generation of the E8 model.
E8 EB design
Model names differ for markets. For example, in Switzerland, the company uses the names Jura E8 SB 15356 Piano Black, Jura E8 SB 15366 Dark Inox, Jura E8 SB 15354 Piano White and Jura E8 SB 15365 Chrom. In addition, for example in the UK and Australia, the company uses the INTA prefix. In continental Europe, EB is most commonly used by sellers.
The 2020 JURA E8 range includes five coffee machines in different colors:
– Jura E8 EB 15355 Piano Black ~ $ 1,035 (€ 870);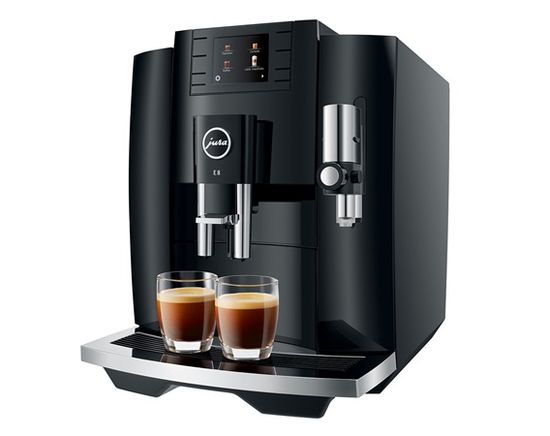 – 15364 Dark Inox – (non-metal) ~ $ 1,430 (€ 1,200);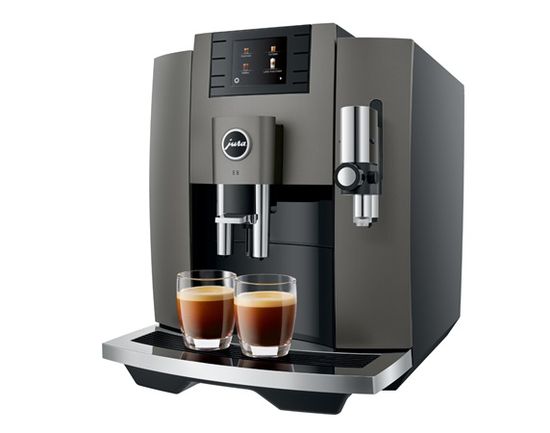 – 15363 Chrome – (metal) ~ $ 1,290 (€ 1,085);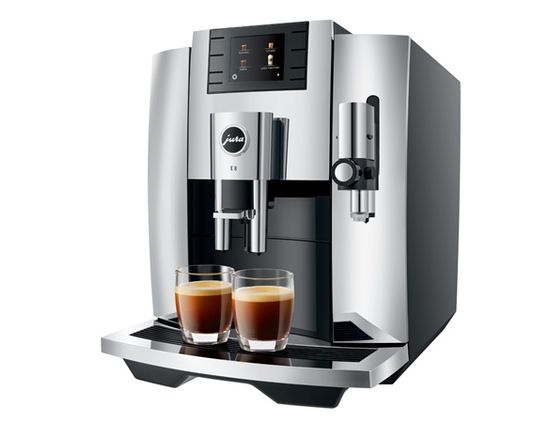 – 15353 Piano White ~ $ 1,250 (€ 1,050);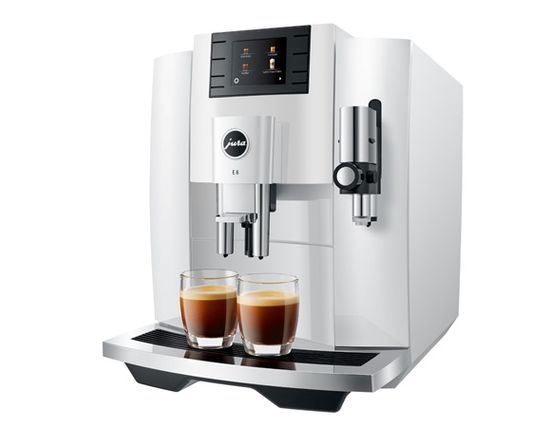 – 15336 Moonlight Silver ~ $ 1,150 (€ 970);
Of course, the price of a model depends on the company's strategy, but their too wide range (~ 40%) with identical specs is not entirely clear.
The flat horizontal petal buttons on the sides of the 2.8-inch color screen and a separate hot water dispenser between the central coffee dispensers are the main design features of the updated series.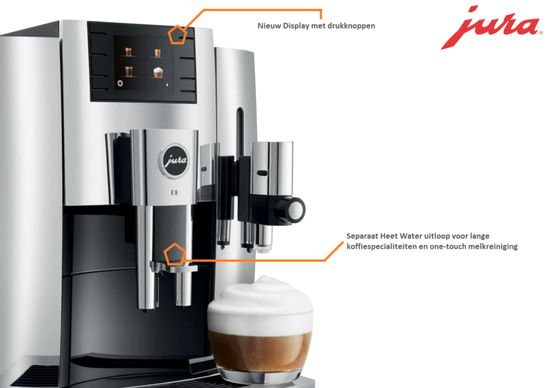 Jura E8 EB platform
Today Jura E8 EB can be positioned as the most affordable coffee machine that can make classic Americano (espresso + hot water).
This aspect requires clarification. Classic Americano is a drink based on a single / double espresso or double ristretto, diluted with hot water to a volume of 150 ml and above. Other coffee may taste similar, but strictly speaking they are not Americano. For example, this name is incorrect in relation to any coffee, brewed by filtering.
The brewing with the help of a large water volume through coffee tablet in an espresso machine is also not consistent with this recipe. It may be called lungo, cream cafe, long black, but not Americano. For example, DeLonghi invented LONG recipe with almost the same flavor, but in fact it's an imitation of the classic Americano. Jura E8 EB meets this challenge successfully.
The platform has received two enhancements, including a new Aroma Pro grinder and a separate hot water dispenser.
New six-level grinder uses steel conical burrs with a more aggressive lamella inclination, which, according to the developers, reduces noise and speeds up grinding.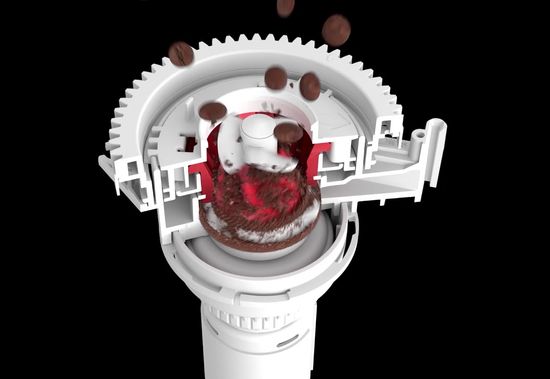 Additional hot water dispenser provides two essential pros:
– complete absence of milk residues when adding water;
– auto programs of classic Americano (espresso + hot water). Previously, only the flagship Z and GIGA series supported this option. What's more, 2020 Jura E8 EB supports two recipes including Barista Coffee and Lungo Barista for different proportions of coffee and water.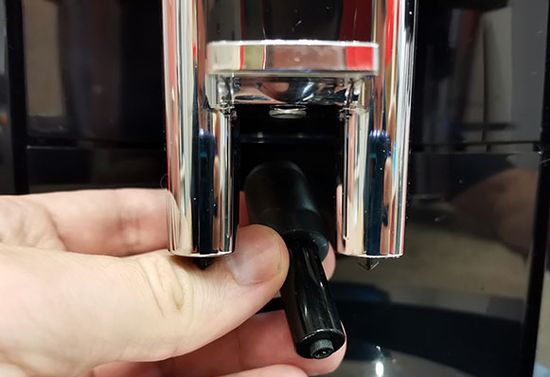 Extra Shot, milk frother and settings
For lovers of milk-coffee beverages with a bright coffee component, the model offers Extra Shot (milk drinks based on two full espressos).
This is first Jura model with this feature. But it requires the activation of the Extra Shot modifier via submenu before making coffee. Then, the device divides the process into two steps, preparing the coffee on the basis of a double espresso.
Flat White's original recipe uses a similar technology. The machine dispenses one espresso of half the volume programmed for Flat White, then another of the same espresso, and finally adds milk froth.
Traditionally for Jura, the coffee machine prepares airy, feather-light milk foam with an ideal consistency. Unlike Philips / DeLonghi models, its height is not adjustable, but the milk foam is very homogeneous, moist and finely dispersed.
Cappuccino maker is fully automatic and does not require movement of the cup. When choosing a milk-coffee recipe, it pours black coffee through an additional dispenser, which is combined with the cappuccino maker and is visible only from the side.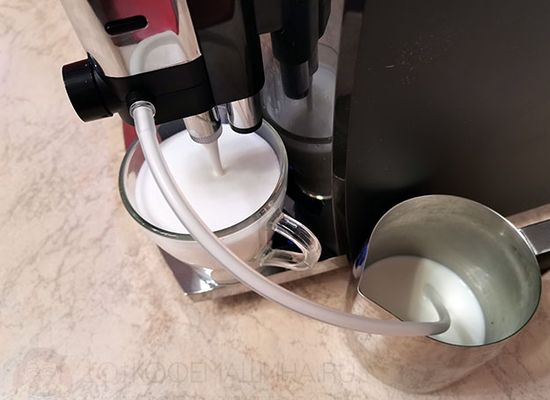 To direct coffee to different dispensers, the developers use an additional rotary solenoid valver from the Swiss Saia Burgess, which, unfortunately, is not cheap.
E8 EB provides more intuitive settings. Instead of a general menu, the developers have placed recipe settings for each button. In fact, the screen only displays 2 or 4 selected drinks. The settings pages scrolled using the lower right key.
Similar to the DeLonghi, the model uses a Smart mode. This function organizes the order of recipes depending on the frequency of their start, moving your favorite drinks to the top of the list. But unlike Delonghi, Jura offers its shutdown and manual placement of icons.
Functionality
In addition to Extra Shot and double servings, Jura E8 EB supports 12 recipes.
– espresso. This mode uses P.E.P. (Pulse Extraction Process) for increased extraction – 45 ml preset, 15-80 ml settings;
– coffee (lungo). This mode works without P.E.P. – 100 ml, 25-240 ml;
– barista coffee (Americano small, without P.E.P.) – 60 ml espresso + 40 ml hot water (100 ml total), settings – coffee 25-240 ml, water 0-240 ml;
– lungo barista (Americano large) – coffee 120 ml + 100 ml of water, settings – coffee 25-240 ml, water 0-240 ml;
– doppio (double espresso) – two consecutive espressos, settings are similar to espresso;
– cappuccino (milk foam, then coffee). Preset – 12 seconds milk foam supply (1 sec ~ 8-10 ml milk), then 60 ml coffee without P.E.P. Settings – milk foam up to 45 sec (~ up to 400 ml), coffee 25 – 240 ml;
– latte macchiato (analogue of cappuccino with a pause between milk foam and coffee supply). Preset – 20 seconds milk froth, pause 30 seconds, 45 ml coffee without P.E.P. Settings – milk foam up to 45 seconds (~ 400 ml), pause 0 – 60 seconds, coffee 25 – 240 ml;
– flat white (classic cappuccino, coffee without P.E.P., then milk foam). Preset – coffee 60 ml, then 12 seconds of milk foam supply (~ 100 ml). Settings – coffee 25-240 ml, foam 1- 45 sec;
– macchiato (low milk froth and espresso with P.E.P.) – froth 3 seconds, then 25 ml espresso. Settings – milk foam 1- 45 sec, espresso 15-80 ml.
– cortado (espresso with P.E.P. and little milk froth) – 25 ml of espresso + 3 sec of milk froth supply. Settings – espresso 15-80 ml, milk foam 1-45 sec. In fact, this is a classic cappuccino recipe based on a richer espresso with P.E.P .;
– milk foam – 22 sec, 1- 45 sec;
– hot water – 220 ml, 25-300 ml.
Cappuccino, Latte Macchiato and Flat White modes can use Extra Shot.
Pros & Cons
Pros
– additional hot water dispenser;
– improved coffee grinder;
– a more convenient menu;
– Extra Shot mode;
– classic Americano;
– 10 vs 8 coffee strength settings;
– brewing unit capacity is 5 – 16 grams;
– 3 vs 2 temperature settings;
– improved design of the drip tray;
– a special plastic tub with two compartments and a separate hot water dispenser greatly simplify the complete cleaning of the cappuccino maker together with the hose.
Cons
– the corrugated surface of the water tank impairs the visual control of the water level.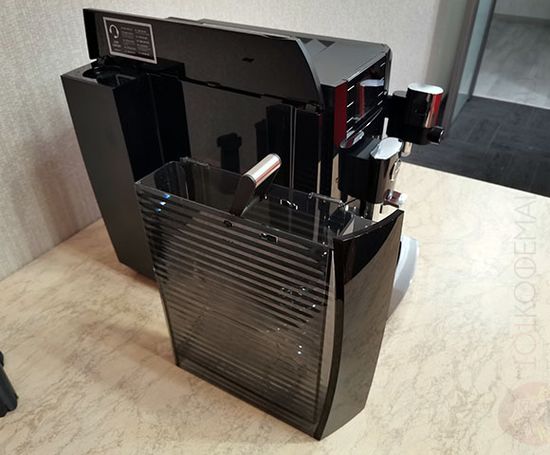 – statistics on the number of drinks are only available using the optional Jura Smart Connect via the app;
– controls without backlight and symbols degrade usability;
– milk tube without fixing significantly impairs the overall aesthetics;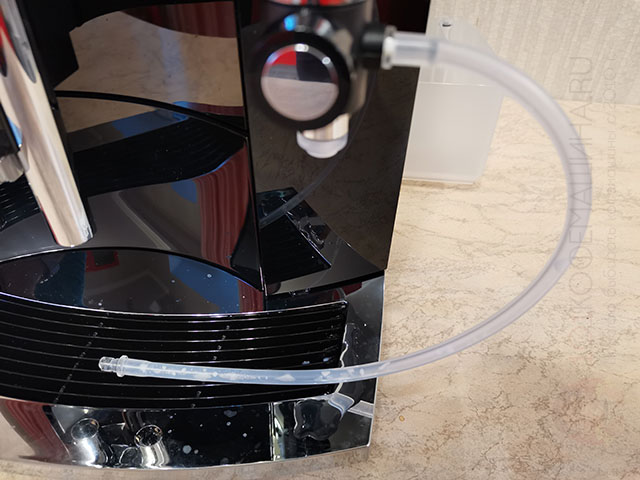 – quick auto rinsing of the milk circuit 15 minutes after finishing work only cleans the cappuccinatore module without hose rinsing. Therefore, the user must periodically remove / install the hose by hand to rinse it under running water. Some experienced users solve this problem differently. They substitute a cup of clean water and turn on the frothed milk for a few seconds;
– the absence of a sensor for opening the ground coffee mine requires you to first select the "ground coffee" mode;
– the redesigned cover limits the distance between the back of the coffee machine and the wall to min 1 inch (3 cm).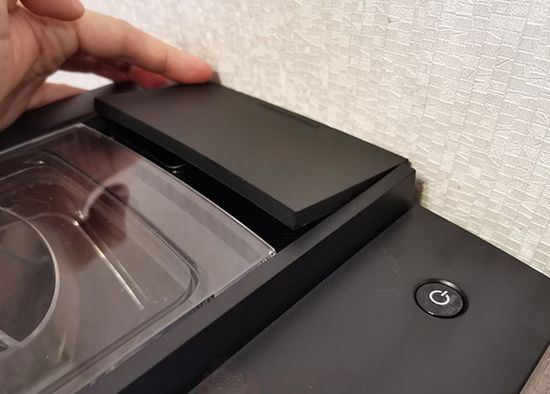 But this requirement is also necessary for optimal ventilation;
– the company has reduced the maximum volume of milk from 1 liter to 400 ml;
– no milk foam height adjustment.
Conclusions
Over the past few years, Jura has significantly expanded its the lineup, including the stylish and compact Jura ENA 8 with innovative I.P.B.A.S. (Intelligent Pre Brew Aroma System) and improved VC brewing unit, and super popular Jura Impressa E8 and S8.
Jura E8 EB became the next generation of the legendary E8. An additional hot water dispenser, an improved grinder, a more convenient menu, Extra Shot mode and new recipes have significantly expanded its functionality.
The model is also ideal for lovers of milk-coffee drinks, ensuring the correct sequence of ingredients supply in line with the recipe.
Of course, the optional Smart Connect adapter, lack of milk foam height adjustment and automatic milk hose rinsing, controls without backlighting, milk tube without fixing can be positioned as cons. But they are insignificant for the mid-budget segment.
Overall, the Jura E8 EB has excellent prospects for successfully replacing the previous super popular Jura E8. But in terms of value for money, it's identical to the Jura E6 EB, which can be positioned as cheaper version with a lower automation level.
The video presents the newest Jura E8 EB 3rd generation coffee machine.
P.S.
This year, the company has traditionally expanded the line up of its models, presenting the super innovative flagship Jura Z10 with milk and milk foam temperature setting, with 3D brewing technology for cold brew drinks, with product recognizing grinder (PRG), etc.
As a rule, coffee machines prepare cold drinks by cooling coffee to the required temperature. Accordingly, this mode lasts a few hours. New technology makes ice-free 240 ml Cold Brew coffee in minutes. In this mode, the 15 bar Sysko pump pumps cold water directly into the brewing unit without using a thermoblock.
Unique 3D brewing technology is positioned by the developer as 'eighth generation'. She uses a lower piston with volumetric surface and a new system for injecting water into a coffee tablet. This nifty engineering solution increased the contact area between the water and the coffee pill. In fact, the water and coffee contact in 3D space instead of one plane, increasing the extraction efficiency. Under high pressure, the '3D' water shower almost instantly permeates the entire coffee tablet volume. As a result, the extraction is carried out even with cold water.
This mode is available from the program or through the upper special menu for espresso, coffee and all milk drinks.
It can be activated with ithe 'snowflake' shortcut in the top special menu, but this is not optimal. In this case, the algorithm uses setting for last cycle, but the classic Cold Brew requires the coarsest grind. It can be installed in the expert mode.
This cofee is very rich and radically different from coffee after cooling. Probably, not all coffee lovers will appreciate the very specific taste of cold espresso, but its popularity is steadily growing.