The competition between TVs and projectors as the main Home Theater component has been going on for over a decade. With innovative technologies, TVs manufacturers are constantly increasing their diagonal, resolution and picture quality. At CES 2021, industry leaders have shown tremendous progress by introducing Samsung Neo QLED, LG QNED and TCL OD-Zero technologies. In fact, a new segment of super innovative LCD TVs with Quantum Dot display technology and with Mini LED backlight was born this year.
At the same time, tough competition significantly limits their prices. For example, the huge 75-inch Vizio LCD (V755-G4) on the company's website worth only $ 850 last year. Unfortunately, this trend does not apply to Micro LED TVs with perfect picture quality, which screen size is not limited due to the modular design. For example, the price of latest 109-inch Samsung Micro LED TV reaches $ 156,000.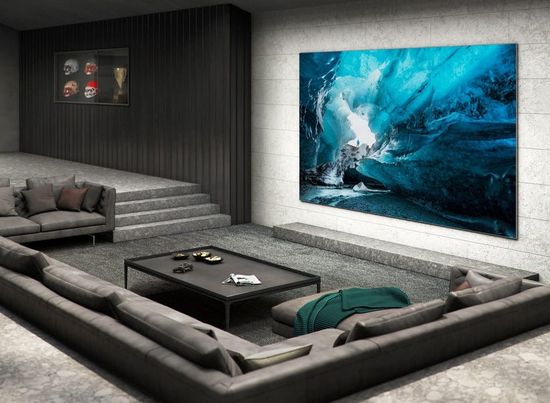 Projectors
Traditionally, the huge screen size has been the main advantage of projectors. But this aspect has nuances. Image quality is directly related to resolution, contrast, color gamut and color saturation, which in turn depend on screen size. Even mini LED models easily provide high quality projection with a screen diagonal of up to 50 inches. But maintaining it while size increasing requires a significant increase in the projector brightness.
Lamp projectors are cheap and bright, but require cooling. Therefore, they have large dimensions to dissipate heat and powerful fan with high noise levels. Powerful laser models are compact and don't have these problems, but they are expensive.
LED models are very popular for the sub- $ 1,000 solid-state projector market due to its low cost, enormous lamp life and compact size. But their brightness rarely reaches 1,000 Lm.
In recent years, industry leaders have been actively filling this niche. For example, Optoma introduced $ 1,099 ZH403 and $ 1,199 HZ39HDR Home Theater projectors with 4,000 Ansi Lm brightness. The compact Epson EpiqVision Mini EF12 Smart Streaming Laser Projector (V11HA14020) with a 1080p native resolution, 1,000 CLO brightness (1,000 Lm White brightness & 1,000 Lm Color brightness) and a price tag of $ 1,000 was added to this list last fall.
Its design is similar to a cube.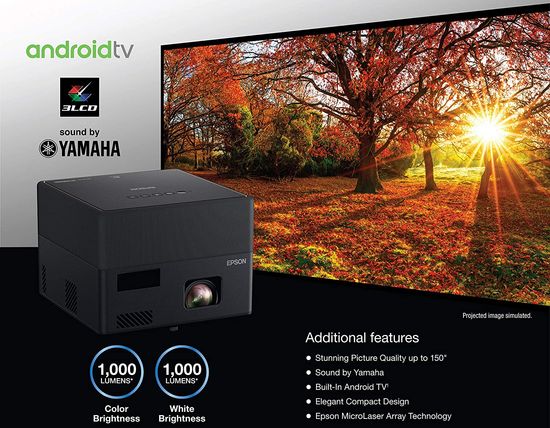 At 5.1 x 7 x 7 inches (13 cm x 18 cm x 18 cm), the model weighs only 4.7 lbs (2.1 kg) and can be positioned as portable.
Epson EpiqVision Mini EF12 Smart Streaming Laser Projector
EF12 key features:
– picture size up to 150″;
– built-in speakers are tuned with Yamaha's AudioEngine DSP technology;
– built-In Android TV;
– Epson MicroLaser Array Technology;
– HDR10/ HLG;
-Short-Throw;
-Geometric Correction;
-Auto Focus;
-Streaming Apps;
-Google Assistant.
The company released this model in November 2020. With a price of only $ 999 MSRP (Manufacturer's Suggested Retail Price), EF12 supports seamless access to popular streaming services including Hulu, HBO, and YouTube right out of the box. Moreover, this 3LCD model with Full HD (1920 x 1080) resolution provides 1,000 Lm brightness and picture size up to 150″, has sound by Yamaha and built-In Android TV, supports Epson MicroLaser Array Technology and HDR10 / HLG standards.
In addition, Epson measures the brightness of its models in CLO (Color Light Output), which differs significantly from ANSI lumens methodology.
As known, 3LCD technology was developed by Epson. It eliminates the loss of brightness in the image forming process through a combination of red, green and blue colors. As a result, white brightness and color brightness are always the same in three-chip 3LCD projectors. DLP technology uses only one color at a time, losing the brightness of the other two. As a result, the real projection brightness of 3LCD and DLP models differs significantly.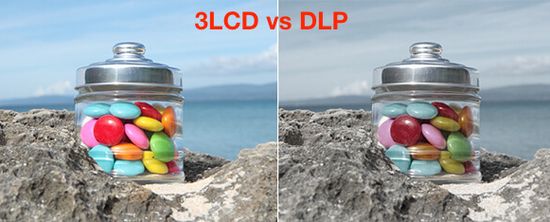 Therefore, 1,000 CLO of EpiqVision EF12 is significantly brighter than the traditional 1,000 Ansi Lm.
The projector features the innovative MicroLaser Array technology, which was first introduced in the Epson EF-100 at CES 2020. This multi-array laser diode technology increases the brightness level while significantly enhancing the black density.
Main specs
Throw Ratio of 1,00: 1 allows the projector to shape an image size diagonal of 30 "- 150″ with throw distance of 2.5 ft – 12.5 ft (0.7 – 3.8 meters). But for recommended 41-75 nits image brightness in rooms with low ambient light, the projector provides an image size diagonal 108 – 145″ at a throw distance of 2.4 – 3.2 meters. Throw Distance 7′-3" (2.2 m) provides 100 -inch projection.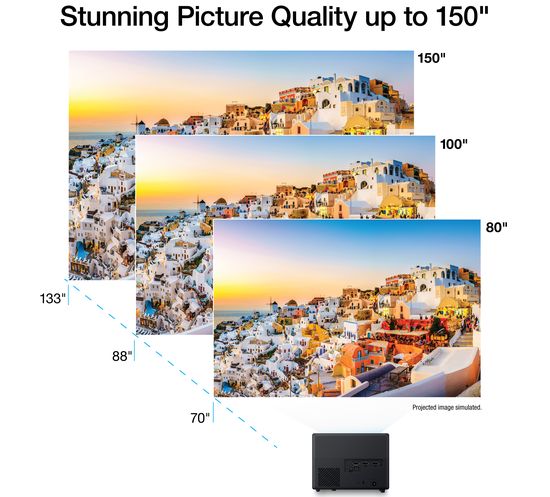 In addition, the model provides a dynamic contrast of 200,000: 1, uses auto focus, 10-bit color processing, digital keystone horizontal & vertical, and two 5.0 Watts internal speakers. The life time of its laser phosphor reaches 20,000 hours, and the audible noise does not exceed 27 dB / 22 dB (Eco). Unfortunately, the model does not have Lens Shift, and its min Input Lag reaches 120 ms, which, of course, is a lot for games. But this problem is traditional for Android TV OS.
EF12 offers traditional Dynamic, Vivid, Bright Cinema, Cinema, and Natural color modes with 1,010, 650, 590, 594 and 590 Ansi Lm brightness, respectively. Moreover, it's practically the same for SDR and HDR modes. Unfortunately bright modes have a traditional blueish-green tint. Of course, natural mode provides the most accurate color rendering.
Grayscale in Natural color mode at 6700K have an average DeltaE of 4.5, and the color points measurement showed a DeltaE of 2, which is excellent for this price segment.
Raising the slider in the Screen Adaptive Gamma setting lowers gamma, increasing light in dark image areas.
For connections model has HDMI (x2, one with ARC), USB for storage, 3.5mm audio out, and Mini USB (for service).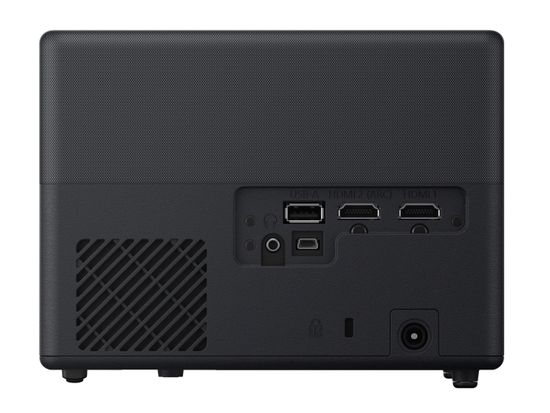 Conclusion
Pros
– excellent ratio of light output, price and size;
– great color accuracy in Natural color mode;
– built-in speakers are tuned with Yamaha's AudioEngine DSP (Digital signal processing) technology;
– Android TV interface;
– Auto Focus;
-Streaming Apps;
-Google Assistant.
Cons
– mediocre contrast due to high black level;
– no gain in quality in HDR mode.
New Epson EpiqVision Mini EF12 Smart Streaming Laser projector fits harmoniously between mini LED models with low brightness and expensive laser projectors with high brightness. The first list includes TopVision projectors, popular Artlii-Mini and QKK models, and AuKing and Jinhoo projectors, and, of course, Vivimage C480, Vankyo Leisure 3, AZEUS RD-822 and Apeman LC550 of 2019 at prices ranging from 100 to several hundred dollars. Premium projector prices start at $ 2,000 and up.
Epson EpiqVision Mini EF12 with a 1080p native resolution, 1,000 CLO brightness (1,000 Lm White brightness & 1,000 Lm Color brightness), picture size up to 150″ and with dynamic contrast of 200,000: 1 can be positioned as a budget Home Theater Streaming projector that may well replace TV. Moreover, it's very convenient as an outdoor movie projector due to its light weight and compact design. Probably, today the Epson EF12 is one of the most successful models under $ 1,000.
But of course it doesn't compete with the brightest EH LS500 4K UST at $ 4,000 or with EH LS300 UST at $ 2,000 from the same series.
This video offers 4 easy steps of Epson EpiqVision Mini EF-12 Laser projector setup.
P.S.
This fall, Hisense has formally announced availability of the newest L9G Laser TV with innovative TriChroma Laser technology that delivers an unprecedented 107% coverage of the BT.2020 color space.