Of course, the problems of the global economy significantly affect the structure of demand in the consumer electronics segment. As a consequence, many companies have been focusing their efforts in the budget and mid-budget segments. As a result, the market already offers budget projectors up to $ 150, brightness and other specs of which are quite consistent with budget Home Theaters. Smartphone makers are also not lagging behind. Prices for Google Pixel 4a (2020, $ 350) and Xiaomi Redmi Note 8 Pro (2019, $ 225) has become a pleasant sensation for many consumers.
TVs 2020
The development in the TVs segment is also in line with this trend. For example, at CES 2020, TCL announced low-cost QLED 4K C715 and C815, which are already available in Europe and India today. In addition to premium 8K AI models, LG has unveiled an unprecedented range of relatively inexpensive 4K OLED series. Moreover, the company first unveiled the 49-inch NanoCell 4K 49NANO85UNA, priced at $ 600, which corresponds to the middle price segment.
But of course, this experiment is risky enough. Industry leaders justifiably prefer to implement innovative technologies including 8K resolution, FALD (full-array local dimming), OLED / QLED / NanoCell technologies, etc in premium models from 55 inches and up. Otherwise, the visualization of the difference in image quality will be minimal and will hardly compensate for the price difference. Even an eagle's eyesight is unlikely to be sufficient to distinguish Full HD from 4K, or contrast with / without FALD, or color accuracy and color gamut in QLED / LED TVs on the 43-inch model.
Therefore, companies continue to actively develop the premium segment with new technologies. For example, at CES 2020, virtually all of the leaders showcased super innovative 8K TVs with a full suite of innovations, including Samsung Q950TS, LG Signature OLED 8K ZX, TCL QLED 8K X915, and SONY 8K LCD Z8H. Unfortunately, they are not available for most consumers due to the high price tag. 75-inch 4K TVs are more real in terms of buying a big TV.
Resolution and contrast
The picture quality of a modern TV mainly depends on resolution, contrast, color gamut and color accuracy.
Resolution characterizes the number of dots used to create an image. For example, 4K corresponds to the use of 3840 pixels horizontally and 2160 pixels vertically. In turn, each pixel uses the red, green, and blue subpixels to form a color. Of course, a high-quality image on a large screen requires more pixels. Therefore, all modern 75-inch models provide at least 4K (3840 x 2160) resolution.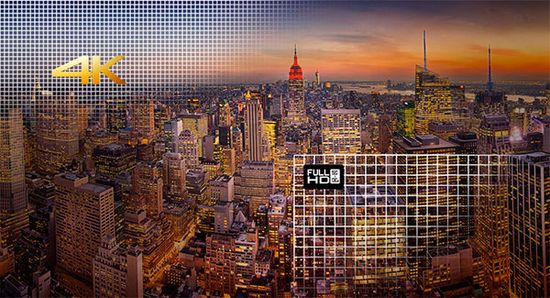 But many small screen TVs deliver high quality at lower resolutions. For example, Full HD (1920 x 1080) is sufficient for a 42-inch TV. According to many experts, the visualization of resolution difference starts to show up from 55″ panels and up.
Contrast is the ratio of the maximum brightness of white to absolute black and depends on panel brightness and minimum black level. LCD panels with LED backlight provide high brightness. Unfortunately, they cannot generate deep blacks due to partial passage of light from the LEDs onto the screen. This factor reduces their image contrast.
As known, OLED (organic light emitting diode) technology uses the diode's own radiation and provides "infinite" contrast due to the lack of LED backlight. Simply put, the absence of a signal on the corresponding diode gives absolutely black color. But their brightness is much lower.
Considering these factors, the UHD Alliance standard requires for HDR format the brightness in the range of 0.0005 to 540 nits for OLED TVs, and 0.05 to 1100 nits for LCD LED models. But in any case, HDR support in specs automatically means a sufficiently high contrast ratio.
Colors
Color gamut or color depth depends on the number of bits used to form colors.
10-bit color space can form 1,07 billion colors. In comparison, 8-bit encoding provides only 16.7 million colors.
All modern TVs use HDR (High Dynamic Range) technology, which displays darker gradations for dark details and lighter gradations for light details, providing:
– increase in the number of color gradations (color depth);
– increase in the number of shades (color space);
– increase the image brightness.
HDR is the next generation of Wide Color Gamut (WCG) technology. In fact, specifying HDR 10, 10+, Dolby Vision, or HLG format support in the spec means using 10-bit or higher encoding. Of course, all 75-inch TVs support at least one of these standards.
Color accuracy depends on the used technologies. For example, companies are using FALD (full-array local dimming) technology in the premium LED TVs. TCL is one of the leaders in this area. This company has already implemented Contrast Control Zones in TCL 6-Series Roku TV, mini-LED backlight в TCL 8-Series Roku TV, and announced Vidrian "Glass on LED" technology at CES 2020. Samsung progress in hybrid QD-OLED, QD-MicroLED and QDEL technologies can also provide a huge leap in color accuracy.
Thus, virtually all modern 75-inch HDR TVs provide 4K resolution, upscaling, high dynamic contrast, 10-bit encoding, etc. Of course, the price affects quality, but the visualization of differences is also highly dependent on the content. Strictly speaking, a person with even very keen eyesight is unlikely to perceive the difference when watching TV series or news on a 75″ LED TV for $ 1,000 or on an OLED model for $ 3,000. But, of course, it will appear for HDR content, sports or in games.
Vizio 75″ 4K HDR Smart TVs
All models have a viewable angle of 178° / 178°, use VIZIO SmartCast 3.0 with Chromecast built-in, support UHD Upscale, Apple Airplay 2 (stream from Apple devices), voice control, and internet services Netflix, Hulu, iTunes.
VIZIO V-Series Class 75″ (V755-G4) – $ 1,000 ($ 850 – on the company's website).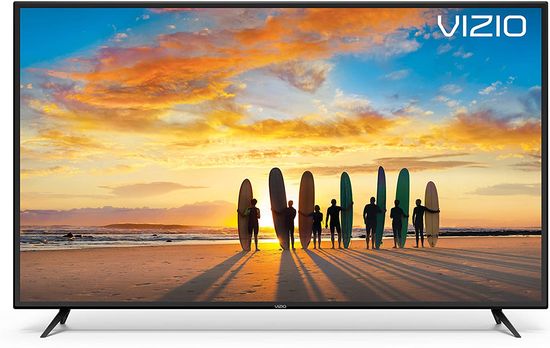 This LED model has a dynamic contrast ratio of 200,000: 1, peak brightness UltraBrite 400 (240 nits), uses Full Array LED, supports Dolby Vision HDR, effective refresh rate 120Hz. It's the cheapest 75-inch 4K HDR Smart TV to date.
VIZIO P-Series Quantum 75″ (P759-G1) – $ 2,400 ($1,650 – on the company's website).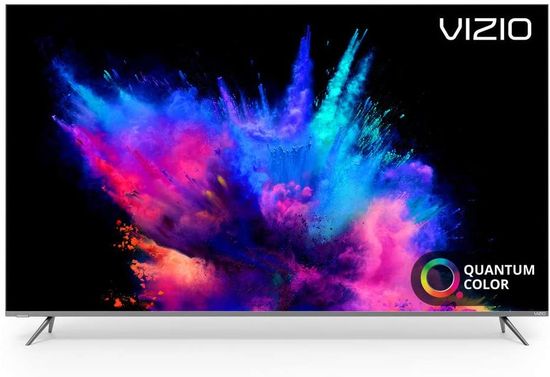 This LED model with Quantum Dot technology has a dynamic contrast ratio of 50M:1, peak brightness UltraBrite 1200 (400 nits), uses Full Array LED with 240 local dimming zones, Quantum Color Spectrum (140% more color), supports Dolby Vision, HDR 10+, HDR10, HLG formats, effective refresh rate 240Hz. The model uses Cinemawide Black Bar Detection (identifies video formats in ultra-wide 21: 9 ratio, and darken the top and bottom black bars to achieve lower levels of black), Clear Action 960 (motion smoothing), and Active Pixel Tuning (brightness control).
VIZIO P-Series Quantum X 75″ (PX75-G1) – $ 2,180 ($1,600 – on the company's website).
This LED model with Quantum Dot technology has a dynamic contrast ratio of 50M: 1, peak brightness UltraBright 2700 (600 nits), uses Full Array LED with 480 local dimming zones, Quantum Color Spectrum (180% more color), supports Dolby Vision, HDR 10+, HDR10, HLG formats, effective refresh rate 240Hz, Cinemawide Black Bar Detection, Clear Action 960, Active Pixel Tuning.
Starting in 2019, VIZIO P-Series Quantum X is included in many top lists of the best models.
Conclusion
Probably, Vizio is one of the few American companies that today successfully competes with Chinese and South Korean manufacturers in the budget segment of large TVs. Of course, the list of excellent 75-inch 4K HDR TVs can be expanded with LG OLED C9 PUA (2019, $ 4,500) and LG OLED77CX PUA (2020, $ 4,000), Samsung QLED Q90 Series (2019, $ 5,190), Q80 Series (2019, $ 3,000) and Q60T Series (2020, $ 1,600), Sony X950G (2019, $ 2,700) and X800H (2020, $ 1,400), TCL 8 series (2019, $1,800) and TCL 815 (2020, $3,000), etc.
But, the Vizio V-Series Class 75″(V755-G4) under $ 1,000 confidently outperforms all competitors. Of course, its brightness, contrast, color accuracy, etc are inferior to competitors. But the difference in picture quality will only be perceived when watching high-quality HDR content, sports and gaming. A person with normal vision is unlikely to feel it on a huge screen from a distance of several meters when watching ordinary daily programs. Thus, the excellent value for money gives the Vizio V755-G4 a great prospect to be one of this year's bestsellers.
The price and quality of the 75-inch P-Series Quantum and P-Series Quantum X are quite comparable to the competition. These models may be of interest primarily to fans of the Vizio brand.
This video provides an overview of the VIZIO V-Series 4K HDR Smart TVs.
P.S.
This year, the company also did not waste time, introducing a large number of new models, including OLED TVs.
As known, this company often uses an aggressive pricing strategy, offering models with fairly high specs at an affordable price. New Vizio OLED H1 is no exception. Today its 65-inch version costs only $ 1,500. For comparison, the prices of 65-inch models from its closest competitors, including LG OLED C1 and Sony A80J OLED reach $ 1,800 and $ 2,200, respectively. Of course, their specs and functionality are higher. For example, comparison of peak brightness in 10% window for HDR mode demonstrates (Vizio / LG / Sony):
– 650 nits (Vivid mode after calibration) / 900 nits / 730 nits.
But H1 became the first Vizio's OLED series, and LG and Sony are the established authorities in this segment. Considering this factor, the Vizio's result is impressive. It's the cheapest OLED TV on the market today.
In addition, the company has significantly expanded almost all Vizio LCD series, including the premium P-Series Quantum & Quantum X (unprecedented 3,000 nits brightness and Local Dimming with 792 zones for 85-inch Quantum X), mid-budget Vizio M and compact Vizio D series.