In recent years, the leaders of consumer electronics are increasingly paying attention to the budget and mid-budget segments. Budget projectors up to $ 150, brightness and other specs of which are quite consistent with budget Home Theaters, great Google Pixel 4a with a price of $ 350 and the Xiaomi Redmi Note 8 Pro for $ 225 smartphones, etc well illustrate this trend.
The TVs segment is no exception. For example, at CES 2020, TCL announced relatively low-cost QLED 4K C715 and C815, which are already available in Europe and India today. LG also unveiled an unprecedented range of relatively inexpensive 4K OLED series. Of course, OLED 4K HDR TVs can hardly be positioned as budget TVs. But this year the company is offering a great 55-inch 4K OLED CX PUA for only $ 1,700, which was unthinkable a few years ago. But the huge 75-inch VIZIO V-Series Class (V755-G4), which is offered on the company's website today for just $ 850, has become a major sensation in the budget segment of 2020. In all fairness, its picture quality is marginally inferior to the competition, but the sub $ 1,000 price tag for a huge 4K HDR Smart TV is unprecedented.
Of course, Samsung did not stand aside, also expanding its budget segment with the Q60T QLED series, which replaced last year's Q60R QLED. The new series includes 7 models with a diagonal of 43″ to 85″. The model design corresponds to the minimalist style.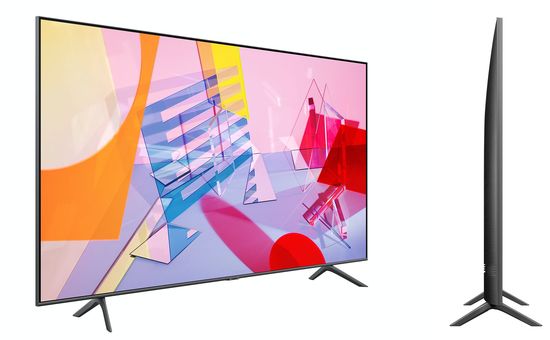 Image quality
The Q60T uses a 10bit VA-panel (8bit + FRC) with traditionally good contrast ratio and black uniformity, which is important when viewing in a dark environment. The native contrast is 7,000: 1, and the peak brightness reaches 470 nits after calibration. In HDR mode for "Movie HDR" it practically does not change (473 nits). Unfortunately, the VA panel provides a traditionally small viewing angle, and the native refresh rate is only 60 Hz. Samsung Q60T runs Tizen 5.5.
For the first time, the company is using new Dual LED technology instead of traditional local dimming. This technology automatically adjusts the backlight based on the content.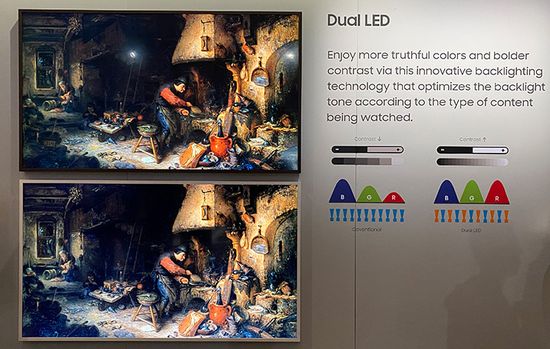 For backlig, it uses two types of LEDs with differ color temperature. This solution should increase realism by expanding the backlight spectrum.
In fact, pixels on a TV screen are analogous to light filters and only pass one wavelength, which corresponds to red, blue or green. This is due to the material for their manufacture, which has a certain bandwidth of the luminous flux.
As known, blue is considered cold. Consequently, decreasing it shifts the color towards a warmer yellow. Thus, changing the LEDs of backlight only affects the brightness of the blue pixels, altering the overall perception of the color gamut. In principle, the traditional Movie, Game and Dynamic modes also use color temperature control. But in theory, the simultaneous use of two types of LEDs will provide real-time adjustment.
Perhaps in the future, the development of this technology will become an alternative to the Local Dimming technology, which today solves the same problem. At least, advertising photo looks convincing.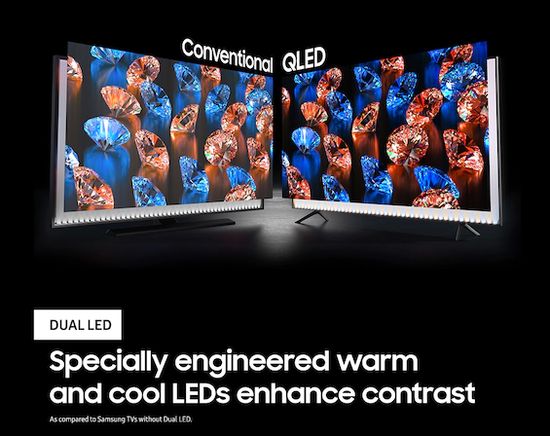 Key features
The Q60T provides excellent contrast for LED model with edge-lit and no local dimming. In addition, the TV shows excellent peak brightness for SDR format.
Unfortunately, in some scenes it's insufficient due to the non-switchable dimming function. The HDR peak brightness is quite high.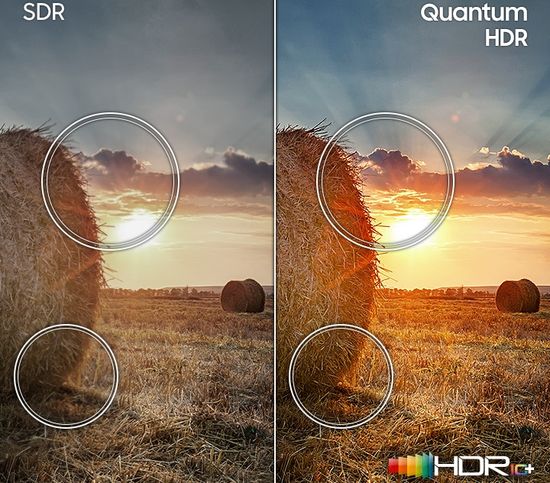 In addition, the Q60T provides high gray uniformity and excellent black uniformity. Traditionally, for Quantum Dot technology, the series has a wide color gamut, providing DCI-P3 xy coverage of 85.68% (good value:> 90%, noticeable difference: 5%).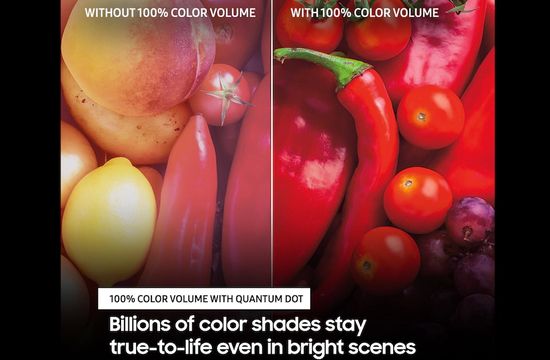 The pixel response time in the Q60T series is only 18ms. However, TV sometimes reproduces dynamic scenes with a blur effect.
As known, Samsung has several effective motion smoothing technologies, for example, "LED Clear Motion" with black frame insertion. Unfortunately, the Q60T only offers motion interpolation for up to 30 fps.
The Q60T uses PWM (Pulse-width modulation) to adjust the backlight, which operates at a high frequency. But it's almost invisible.
In Game Mode, the Q60T provides excellent picture quality, especially when using Game Motion Plus. This mode interpolates low frame rates in games to achieve smoother motion. However, the interpolation process only works up to 60 Hz.
Game content input automatically activates game mode with minimal input lag. The minimum / maximum input lag ranges from 9.8ms to 75.8ms.
The series supports the popular Ambient Mode to display your favorite photos, pictures or weather information.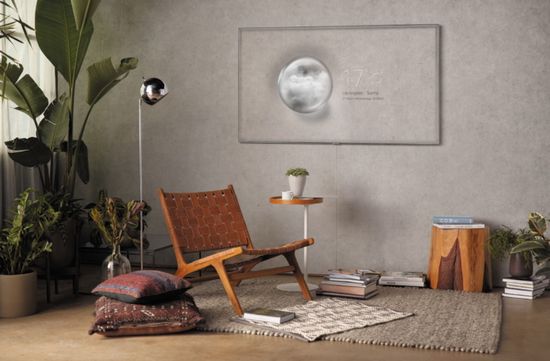 In addition, Multi View option splits TV screen in two for content and for mirroring mobile screen.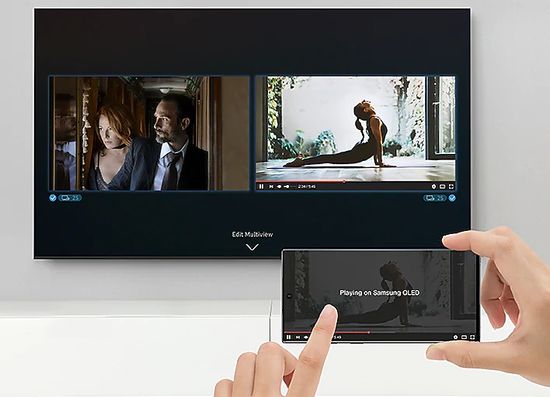 In many cases, this mode is very convenient.
Moreover, TVs support Multiple Voice Assistants (Bixby, Alexa build-in, Google Assistant) and control with SmartThings.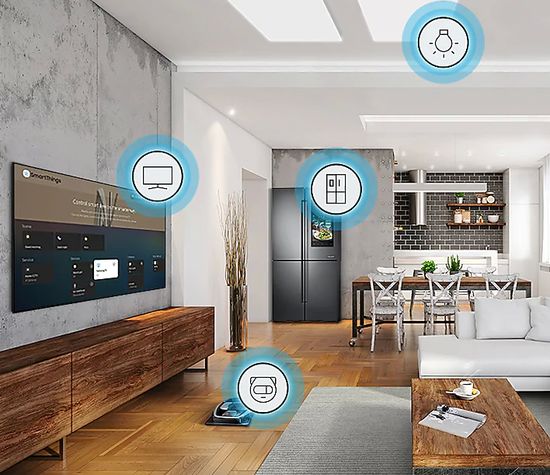 Conclusion
Pros
– low price;
– new Dual LED technology;
– HDR10, HDR10+ and HLG support;
– Game Motion Plus;
– wide color gamut;
– excellent contrast ratio (native contrast 7,000: 1);
– outstanding black uniformity;
– low input lag;
– Multi View, Ambient Mode, Multiple Voice Assistants and SmartThings.
Cons
– poor viewing angles;
– native 60 Hz refresh rate;
– non-switchable dimming function;
– no local dimming;
– no VRR.
Of course, the price is the main advantage of this series. Indeed, the $ 1,500 for a 75-inch Samsung QLED can impress even an unflappable consumer. But models with big screen may not be very convenient in a large room due to its low viewing angles. However, this will not be a problem for a small family. Excellent contrast and wide color gamut ensure high quality of the HDR content playback. It's also great for gaming, despite the lack of VRR (variable refresh rate) technology support.
Overall, these TVs will be a great choice for daily huge screen viewing, especially for fans of this brand. The traditionally great post-sale service is an added bonus. In any case, the attention of industry leaders to large models of the budget segment significantly expands our choice.
This video offers an overview of the 55-inch Samsung Q60T Series QLED (QN55Q60T) cost only $ 700.