To the delight of consumers, fierce competition has provoked a new trend in the consumer electronics market. In the past few years, many experts pay attention to a sharp improvement specifications in the budget segment.
Introduction
Conventionally, the invasion of TCL TVs into the American market can be considered the beginning of this process. Probably many people remember the TVs of the 3rd, 4th and 5th series from this Chinese giant. These TVs had an unprecedentedly low price of a few hundred dollars with a fairly high image quality. As a result, many models have become leaders on bestseller lists. Then, TCL 6-Series Roku TV with Quantum Dot display, Roku browser and a patented technology called Contrast Control Zones became the sensation of 2018.
In 2019, the company ranked second behind Samsung in sales of LED LCD TVs. At CES 2020, the company unveiled excellent C715 and C815 TVs.
This year, another Chinese giant Xiaomi unveiled a sensational Xiaomi Redmi Note 8 Pro smartphone with vety good specs for the price of an inexpensive budget model ($ 200-250 depending on storage).
In fact, the 8-core 12nm MediaTek Helio G90T with LiquidCool technology, 6.53-inch IPS LCD display, and 64MP sensor qualifies it as a mid-range gaming camera phone. Similar examples can be found among other devices.
Several years ago, some experts classified such an aggressive pricing strategy as traditional dumping. But the more cautious experts saw a new trend, and they were probably right. In recent years, many companies have succeeded in drastically reducing the manufacturing cost of components. For example, today it ranges from $ 10 and up for FullHD phone screens. As a result, companies were able to dramatically improve specifications in the budget segment. As a consequence, the segment of consumer electronics started to fill with mid-specs devices at a budget price.
Budget projectors
Of course, high-tech projectors are no exception. A few years ago, many consumers were skeptical of projectors with a brightness of 1,000 ANSI lm and above, a contrast of 1: 1,000 and above, a resolution of 720p, good connectivity and smart functions, a projection image size of 100″ and above for only about $ 100. It seemed that these proposals were contrary to common sense. But they fit well into the new trend of dramatically improving specs in the budget segment. Quite a few consumers have taken the risk and benefitted. As a result, Vankyo Leisure 3 with brightness of about 2,000 ANSI lm, 1920 x 1080 resolution, 2,000: 1 native contrast, projection between 32 and 176 inches at a distance of 4.9-16 ft, and costing about $ 100, tops the bestseller list for over three years.
Moreover, a huge number of positive reviews confirmed its high quality and reliability.
But other companies did not stand aside and today the market offers Apeman LC550, Vivimage C480, etc with similar specs and a price of about $ 100.
Budget vs mid projectors
Of course, this trend puts manufacturers of traditional mid and premium models in a quandary. A few years ago, the price difference roughly matched the specs advantage. Today the price difference persists, but the specs gap is diminishing rapidly.
For example, this year LG introduced a beautiful ultra-portable CineBeam PH30N LED projector priced at $ 400.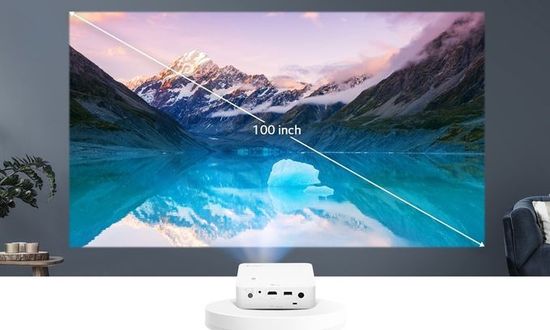 At only 1.50″ x 5.10″ x 5.10″ and 1.1 lbs in size and weight, the model provides 250 ANSI Lm brightness, HD resolution, 100,000: 1 dynamic contrast, Miracast support, and has an internal rechargeable battery and excellent service support from LG. According to many experts, it is quite competitive even in comparison with the super popular AAXA P7. But a close comparison of its specs and price, for example, with Vankyo Leisure 3, makes you think hard.
Therefore, a review of budget projectors with sharply improved specs can be helpful when choosing a model.
Today the market offers a huge number of models with prices ranging from $ 100 to $ 150, but most of the top lists include the Vivimage C480 ($ 100), Vankyo Leisure 3 ($ 120), AZEUS RD-822 ($ 140), and Apeman LC550 ($ 150). All models use LEDs as light sources, which have very great life time. As known, LED life in modern projectors often exceeds 40,000 Hrs. Therefore, these models will become hopelessly outdated without the need to replace LEDs.
In addition, they all use LCD display technology, which has successfully competed with DLP technology for many years. As a result, the models have similar specs due to the use of the same light sources and display technology.
Vivimage C480 LED mini projector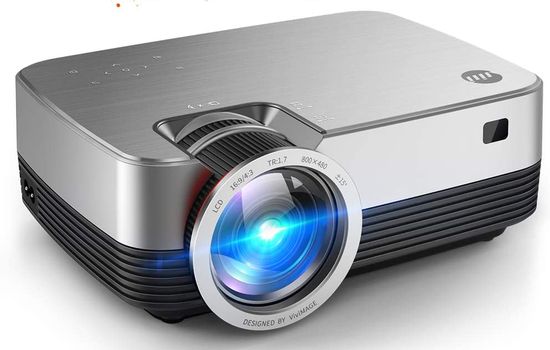 Today Vivimage C480 is one of the most popular. This model can receive content at 1080p, but it only plays back at native 800 x 480p resolution. An excellent set of connections including TV Stick, PS4, HDMI, VGA, TF, AV and USB significantly expands the content available.
The optics provide a screen size from 14″ to 170″ with the projection distance between 18ft to 3, 8ft.
Model provides 3800 Lux illumination of the screen, 2,000: 1 contrast and ± 15 ° keystone adjust. Some companies indicate the illumination of the screen in Lux instead of the more traditional projector brightness in ANSI lm. Maybe this is logical, because perceived illumination is more important to the consumer. Simplified, 1 ANSI lm provides 1 Lux on a 1m² screen. Accordingly, 1 ANSI lm = 1 Lux for 57 inches diagonal, and 3.2 Lux for 100 inches diagonal.
One-touch zoom feature adjusts the image size. Even most mid-projectors don't have this option.
Overall, excellent price, maximum 170″ screen size, 40,000 Hrs LED lamp life, low-noise fan, wide connectivity and one-touch zooming make this model very competitive. Unfortunately, the native resolution of 800 x 480p corresponds only to the budget level.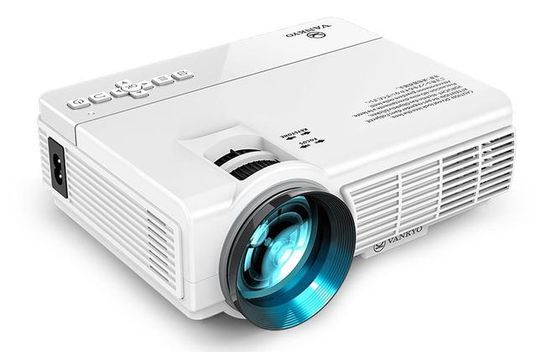 The company first introduced Vankyo Leisure 3 in December 2017. Of course, the unprecedentedly low price of around $ 100 and good specs piqued consumer interest in this model. In just a few years, a huge number of rave reviews have confirmed the high quality and reliability of the projector. As a result, Leisure 3 tops the bestseller list for several years now, and the number of positive reviews has exceeded 18,000. In 2019 in the Leisure 3 was improved by MStar Advanced Color Engine-6.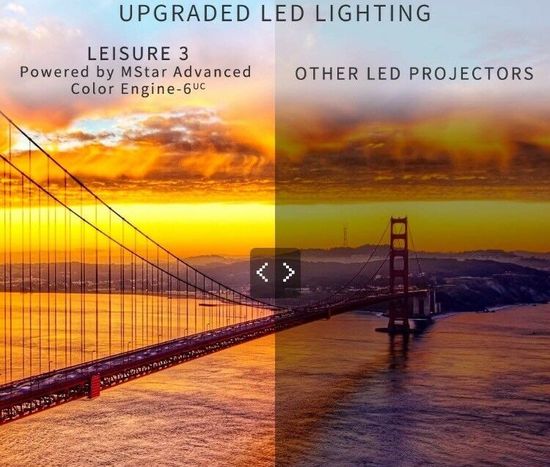 According to the company, this technology increases the projector brightness by approximately 60%.
The projector provides an illumination of 3,600 lux, has a contrast ratio of 2,000:1 and native WVGA (800 x 480) resolution, but supports Full HD content with up to 1920 x 1080 resolution. According to numerous reviews, the quality of its display corresponds to a fairly high level.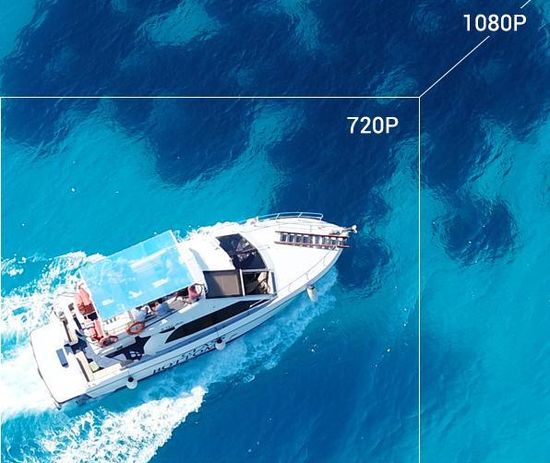 In addition, the model provides ± 15 ° keystone correction.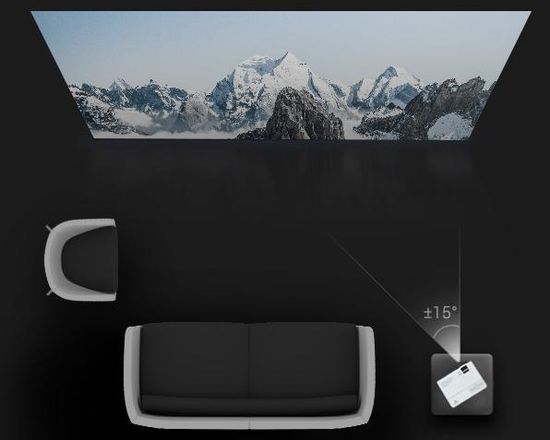 Optics of Vankyo Leisure 3 provides a screen size from 32" to 170" with the projection distance between 4.9ft to 16.4ft.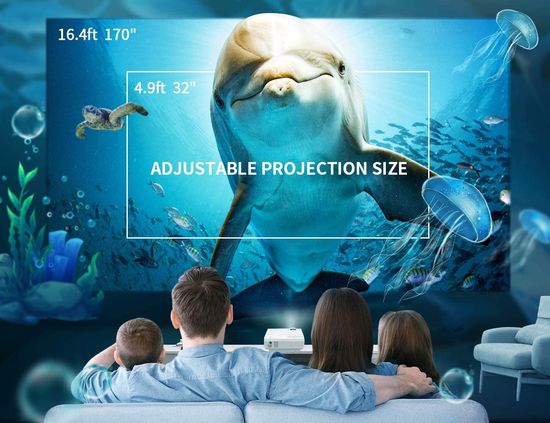 Moreover, Leisure 3 uses an enhanced cooling system with heat dispersion, and a noise suppression technology.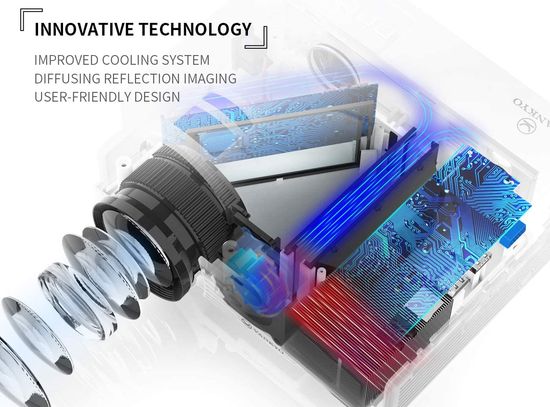 Optional adapters "Lightning to HDMI" for iPhone or "Micro USB / Type C to HDMI" for Android provide smartphone connection without app.
Of course, the huge amount of rave reviews is its main advantage. But, in fairness, the quality of its image depends significantly on the ambient lighting. The projector provides good contrast with rich colors on a large screen only in completely dimmed room. On the other hand, this is true for all budget models of this review.
AZEUS RD-822 and Apeman LC550
Specs of this projector significantly outperform the competition. RD-822 support Full HD content (1920 x 1080p) at native 1280 x 720p resolution, has 3,000: 1 contrast ratio, and delivers up to 5,000 lm brightness.
Moreover, the model projects an image from 40″ to 200″.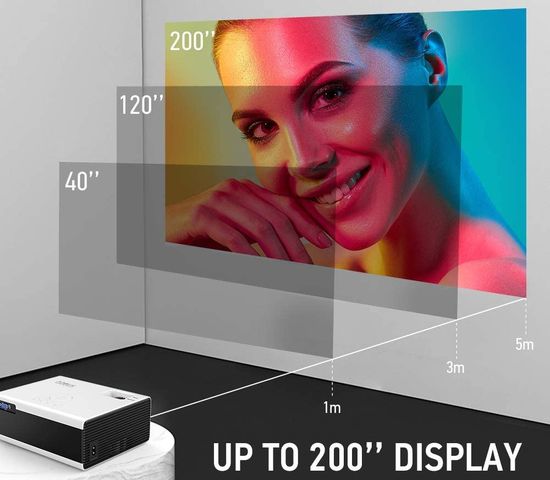 Of course, such specs at a budget price provoke skepticism. But almost 1,500 positive reviews confirm them indirectly.
Manually ± 15° keystone correction and focus provide quick and easy adjustments.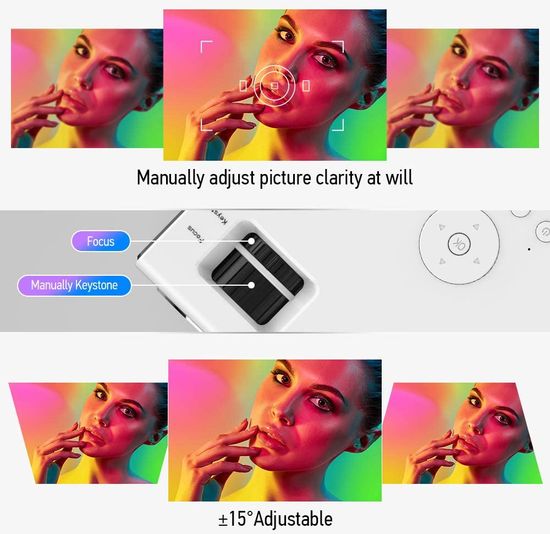 Built-in powerful 5W speaker and lower noise due to dual-fan design clearly exceed the budget level.
Phone connection requires optional adapters "Lightning to HDMI" for iPhone or "Micro USB / Type C to HDMI" for Android.
Apeman projectors have long earned an excellent reputation in the budget segment. Today, LC550 is one of the most popular Apeman models.
Like the AZEUS RD-822, the Apeman LC550 has excellent specs including 3,000: 1 contrast ratio, 4,500 lm brightness, and Full HD content (1920 x 1080p) support at native 1280 x 720p resolution.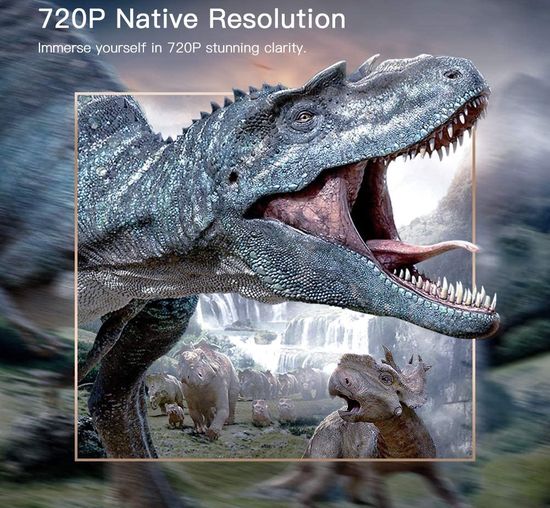 The projector generates an image with a diagonal from 30″ to 200″.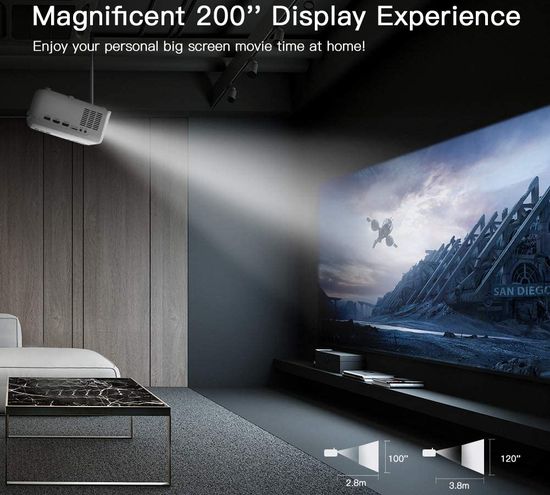 Dual fans, ± 15 ° keystone correction, 50,000 Hrs LED lamp life are additional pros of the model.
Android smartphone connection requires Screen Mirroring / Screen Casting function in phone and optional Miracast / Dongle. "Apple Lightning to HDMI" adapter provides connection to iPhone.
Good specs, affordable price, wide functionality and, most importantly, an excellent brand reputation allow the Apeman LC550 to successfully compete with the super popular Vankyo Leisure 3.
Conclusion
Each of the models has pros:
– Vivimage C480 is cheaper than competitors and has one-touch zooming;
– Vankyo Leisure 3 has an excellent reputation with over 18,000 positive reviews;
– AZEUS RD-822 has higher specs (720p native resolution and 3,000: 1 contrast ratio) and built-in powerful 5W speaker;
– in addition to high specs, the Apeman LC550 has an excellent brand reputation.
Thus, the choice of the optimal budget projector is not obvious and depends on the consumer preferences. But they all create problems for mid-projectors manufacturers who are forced to reduce the price or significantly improve the specs, justifying the difference in price.
The video offers an overview of the AZEUS RD 822 projector.