Throughout the history, bread has always been one of the main dishes of most national cuisines. At the beginning and middle of the last century, it was mainly baked in bakeries. Rapid development in the small kitchen appliances segment has filled the market with electric ovens, refrigerators, coffee machines, microwaves, etc. They quickly became mandatory attributes in most kitchens. Of course, bread makers have taken their rightful place among them. From that moment on, people again got the opportunity to easily and quickly bake aromatic homemade bread on their own. These devices have drastically simplified the rather complex baking process, providing excellent results with minimal effort, even for novice cooking.
Paradoxically, some consider its excellent taste as the main drawback. Indeed, this problem arises for many owners of a bread machine, especially at first. They are forced to show a strong will, refusing an extra piece of flavored, soft and warm bread with a thin layer of delicate butter or jam. Maybe for this reason companies prefer to produce models up to a 2 lb loaf. On the other hand, the bread maker is ideal for healthy lifestyle fans, allowing them to bake gluten-free bread, for example.
As usual, the companies responded adequately to the high demand by filling the market with a huge number of different models. Modern bread machines provide baking of confectionery, bread in the form of a brick, baguette, round loaf, making jam, etc.
Basic specs
Of course, a wide range is very convenient, but sometimes it complicates the model choice. The list of the main criteria simplifies this task.
1. Power.
It depends on the model capacity and affects the cooking time. Usually, the power of modern bread machines varies from 500 to 700 watts.
2. Maximum loaf weight.
Basically, the companies offer household models with baking programs of 1, 1,5 and 2 lb (500, 700 and 1000 grams).
3. Number of programs.
According to surveys, most people usually use up to 10 of the most popular programs, but today companies offer models with support for up to 25 programs. In addition, many bread machines support custom programming.
4. Additional functions.
This list includes an auto dispenser for adding ingredients, including nuts, raisins, etc, dual baking pan for simultaneous cooking in two sections, delayed start, keep warm, etc.
5. The coating quality.
The coating has a direct effect on the service life. Ceramic spraying is considered the most reliable today.
6. Additional attachments.
For example, a set of blades for kneading dough of various consistencies or additional baking tins significantly expand expand the bread machine functionality.
7. Design.
The large viewing window is very convenient for visual control during the cooking process.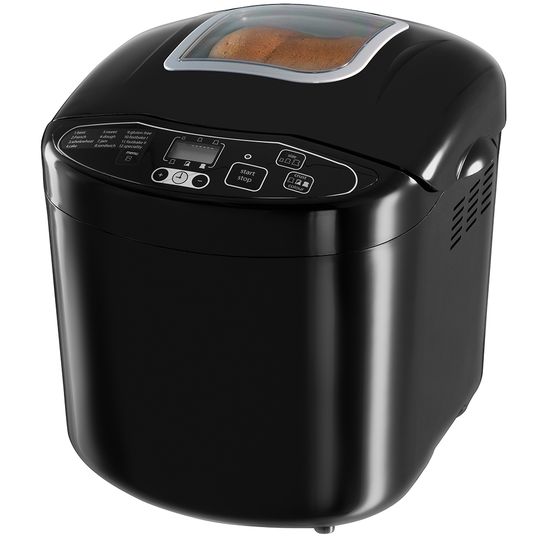 Budget models specs
As known, any process is subject to objective laws. The development of the household appliances is no exception. For example, the rapid development of electronics allows companies to frequently create new generations of products based on higher performance chipsets, faster and more capacious memory, better displays, and so on. As a result, phones, TVs, projectors, etc are hopelessly obsolete in just a few years.
But many are already accustomed to the constant expansion of the functionality of modern devices. Realizing in advance the prospect of their rapid obsolescence, these consumers create a demand for short-lived budget models with acceptable specs. Perhaps this decision is a reasonable compromise when the planned replacement of the model with a newer one in a few years.
Of course, entrepreneurs did not ignore this trend. As a result, the budget segment shows the highest growth. Moreover, the improvement and cheapening the electronic components allows companies to significantly improve the specs while maintaining the budget prices. Home Theater projectors with brightness from 1000 ANSI lm and screen size from 100 inches costing only $ 100-150, gaming camera phone Xiaomi Redmi Note 8 Pro at $ 200, etc illustrates this trend perfectly.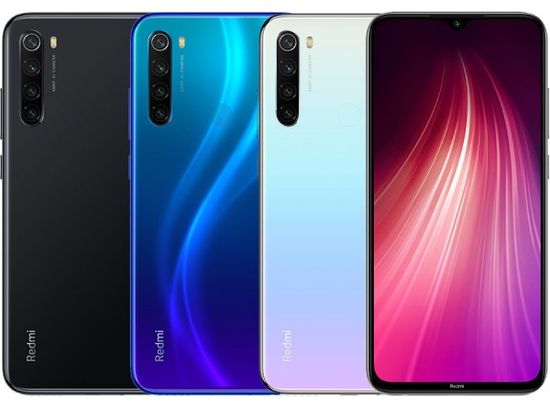 Several years ago, many experts attributed this phenomenon to dumping or low quality. But the wide coverage disproves the first hypothesis, and the huge number of positive reviews contradict the second version. Apparently, the sharp rise in specs in the budget consumer electronics segment has become a fait accompli. In this case, manufacturers of mid-level models will have to cut prices or increase the specs of their products to justify the price difference.
Bread machines
Generation change period of refrigerators, ovens, washing machines is much longer. Of course, their functionality also depends on the CPU, displays and algorithms. But the specs of modern electronics will exceed these requirements for a long time. Therefore, unlike the high-tech digital electronics, successful models of meat grinders, microwave ovens, mixers, etc have been competing in the market for much longer. For example, Philips Viva Collection HD9046 bread machine has been successfully sold for 7 years, and many experts continue to add this model to the TOP lists.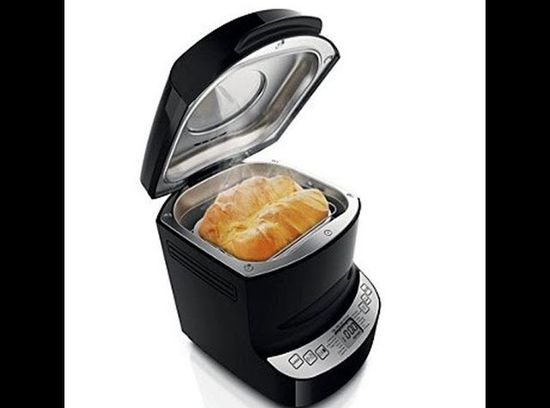 This reliable and simple model costs around $ 130 (€ 112) and does not require cooking skills. Today the market offers a lot of similar inexpensive models from well-known brands. Of course, they also offer new models. But in the budget segment, this process is much more intense.
Young American MOOSOO company, Kent, WA, specializes in household appliances in the budget segment. Today, its product line includes inexpensive cordless and robot vacuums, and small kitchen appliances, including air fryer ovens, electric gooseneck kettles, pressure cookers, and bread machines. This spring, the company introduced two new bread machines.
MOOSOO 25-in-1 (MB30) and MOOSOO 18-in-1 (MB40)
Both models provide 600W of power, have dishwasher-safe non-stick ceramic pan, 15-hour delay timer, 1-hour automatic keep warm, 15-minute power interruption recovery, settings for 3 loaf sizes (1 / 1.5 / 2 lb) and 3 crust colors (light / medium / dark), and power off memory function.
The design of the models is almost identical.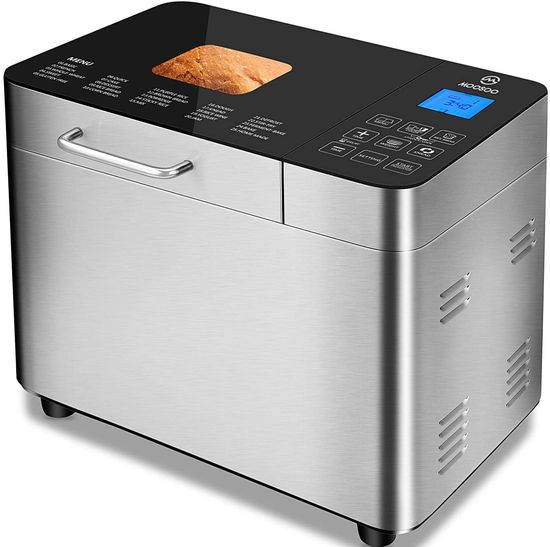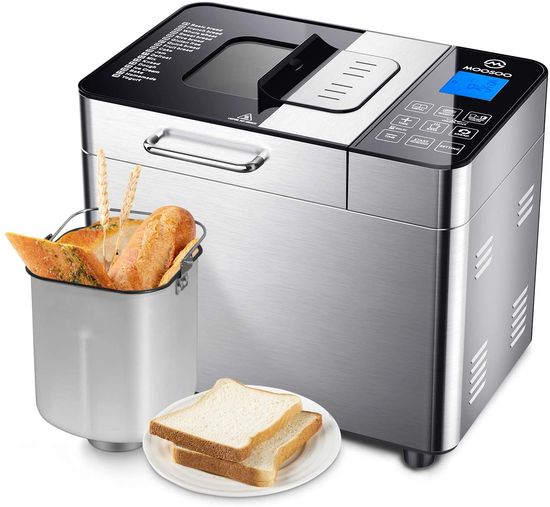 Their prices are $ 147.99 and $ 167.99, respectively.
The 10-minutes Power Off Memory Function improves usability by eliminating the need to reset between cycles.
Probably, 4-layer ceramic non-stick coating is used for the first time in budget models.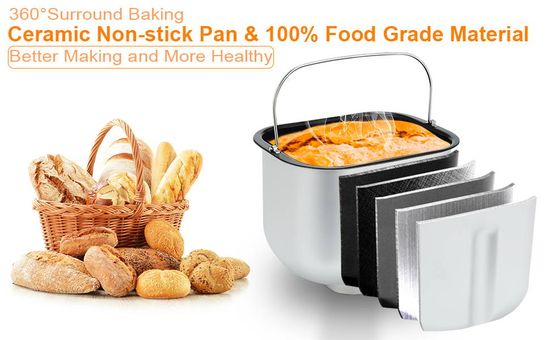 Setting range also significantly exceeds the budget level.
Cooking with them does not require cooking skills. The user sequentially performs:
adding ingredients → cycle selection → start button.
Operation steps of bread machine include:
material ready→ stir→ raw dough→ferment→dispense nut/fruit→bake→ bread completed.
The first three actions are quite accessible even for a teenager.
The $ 20 price difference is due to the following differences:
– MB40 has 25 automatic programs vs 18 in MB30. However, even 18 programs are redundant for most consumers. Most budget models support up to 10 programs.
– The MB40 has an Automatic Fruit Dispenser which is very handy for making ice cream.
– MOOSOO 18-in-1 (MB40) supports ICE CREAM function. This program is also very simple and does not require cooking skills.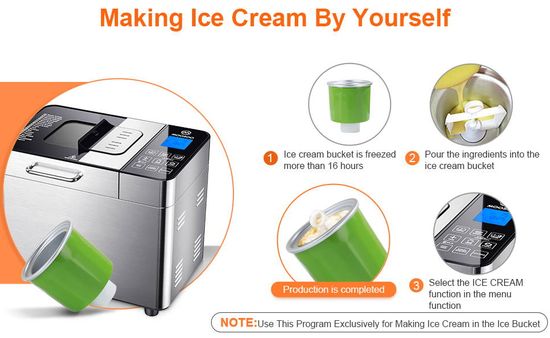 Unfortunately it requires a separate purchase of the an ice cream bucket.
Probably $ 20 is a small difference for a hybrid bread machine + ice cream maker vs bread machine, especially for fans of this delicious dessert. With this option, the model provides the preparation of almost the entire confectionery range.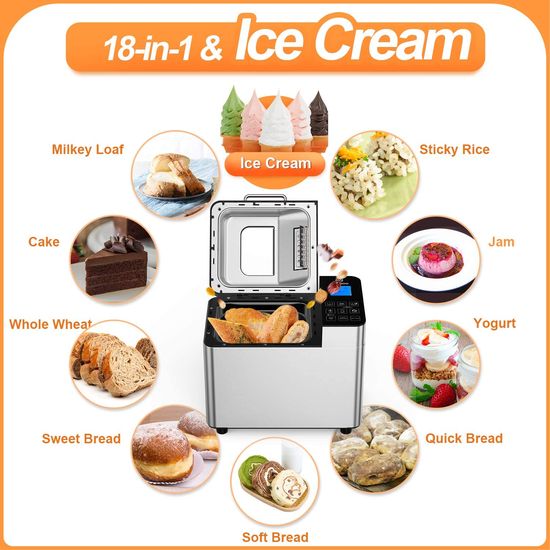 Conclusion
The MOOSOO MB30 and MB40 are in line with the general trend of sharply improving specs while maintaining budget prices. Today, a hypothetical consumer, savoring a tender warm bun or ice cream on the couch, can enjoy colorful 150-inch HD underwater views with a Apeman LC550 or Vankyo Leisure 3 Home Theater projector, (up to $ 150) by controlling them using a Xiaomi Redmi Note 8 Pro gaming camera phone ($ 200-240). At the same time, the total cost of all these pleasures will not exceed $ 500. Of course, most consumers are enthusiastic about the new trend.
This video demonstrates how to make bread ice cream with only 3 ingredients.
P.S.
Typically, the range of kitchen home appliances, the range of bread makers quickly updated with new models, and breadmakers are no exception. But despite the wide selection, the most successful models are present in most of the top-lists. Currently they include:
– Zojirushi Home Bakery Virtuoso Plus breadmaker;
– Hamilton Beach Bread maker machine.
As known, Zojirushi Corporation was founded in 1918. Today it's a Japanese multinational manufacturer and marketer of consumer electronics, including bread machines, electric kettles, hot water dispensers, etc.
Zojirushi Home Bakery Virtuoso Plus model (stainless steel, black, 2 lb loaf) first appeared on the market in 2018 and now costs just under $ 300.
Key features:
– heaters on the bottom and lid provide even baking and browning;
– double kneading blades with nonstick coated;
– large viewing window & LCD display;
– 13-hour delay timer;
– crust control (light, medium or dark).
Hamilton Beach Brands Holding Company was founded in April 1910. Today it's an American designer, marketer and distributor of home appliances, including blenders, mixers, toasters, slow cookers, etc. Hamilton products are very popular in United States, Canada and Mexico.
Digital programmable Hamilton Beach costs only $ 90. At the same time, the model provides:
– 2 lb capacity;
– 12 programmable settings;
– Gluten Free mode;
– dishwasher safe pan;
– 3 crust settings;
– 2 loaf sizes (1.5 or 2.0 lb);
– delay start feature;
– large digital display;
– automatically keeps bread warm for 1 hour after cooking.
Of course, the list of great modern models is much wider, but the price-quality ratio of these breadmakers is one of the best.