Today, mini breadmakers are very popular. Of course, the models of one of the leaders of this segment are also present on the market.
The list of main technical values contains:
– number of pre-set programs;
– number of browning levels;
– delay timer;
– dispenser for adding ingredients;
– allowable size and weight of the finished bread.
Philips HD9015 Bread Maker
This automatic model provides kneading and baking a loaf of bread in two sizes. Their weight is 1.7 or 2.2 lb.
The model is equipped with 12 preset programs for kneading, cooking bread and jam. Philips HD9015 also has programs for fast and ultra-fast cooking. The last program shortens the cooking time to one hour.
The temperature control system provides three browning levels.
The maximum delayed start time is 13 hours. The noise level does not exceed 65 dB. Detachable design of the lid is very convenient for easy cleaning.
Baking bread with additional ingredients is carried out with the help of Add indicator. The end of each mixing step is accompanied by beep for the timely addition of the next ingredient. Of course, this mode significantly expands the creative possibilities and is the advantage of this model.
Pros:
– wide range of automatic cooking programs;
– compactness;
– function of cooking bread with additional ingredients;
– successful proportions of finished bread;
– easy cleaning and care.
Cons:
– mixing quality is not always ideal;
– high cooking time due to relatively low power 550W (3 to 4 hours);
– not very good instruction;
– low quality of wholemeal loaves.
Philips HD9046/90
This model belongs to the popular Viva Collection. Its body is made of glossy black plastic that gives the breadmaker a very stylish look.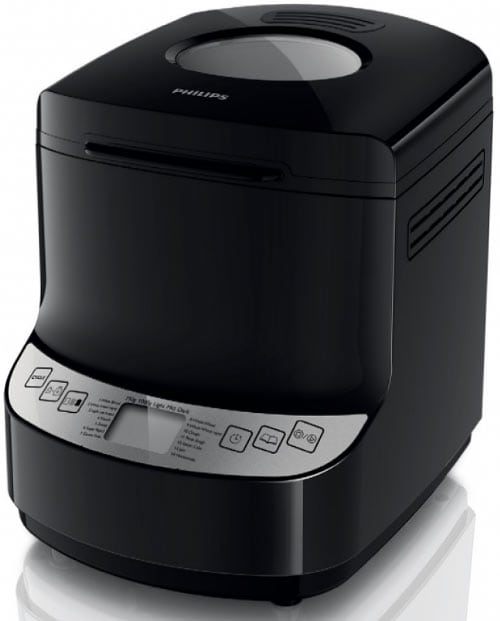 Unfortunately, a surface retains fingerprints too well and requires constant care. But, of course, the stylish design of this model will decorate the interior of any kitchen.
Philips HD9046 / 90 has an extended set of functions that provides it a stable popularity among consumers.
This model is very good for cooking yogurt and bread without yeast.
It's equipped with electronic control and a monochrome display with illuminated symbols. The control interface is very simple and convenient.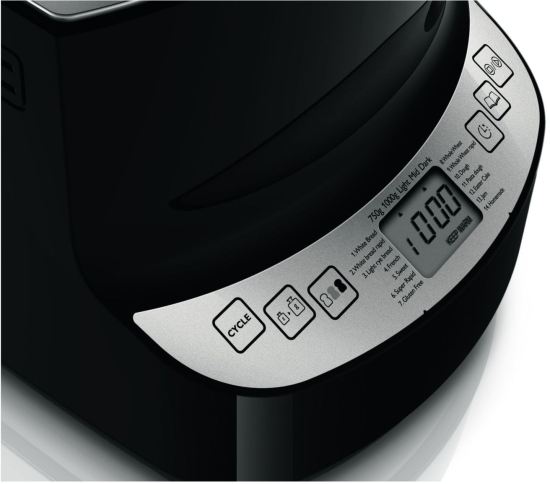 The noise level is only 55 dB.
The bread maker has a power of 700W and fourteen automatic cooking programs. This list contains programs for cooking various types of bread, kneading dough without baking and preparing yogurt. The duration of this mode reaches eight hours. Kit includes a plastic bowl with a lid for yogurt. User mode provides a selection of the baking duration.
The program of baking without kneading the dough, unfortunately, is absent. The device bakes loaves with a weight of 1.7 or 2.2 lb.
Pros:
– 14 automatic programs, including yogurt mode;
– high power 700W;
– stylish design;
– compactness;
– convenient design of the form;
– large screen size;
– user-friendly interface;
– additional plastic bowl for yogurt;
– low noise level.
Cons:
– need for regular cleaning the glossy casing;
– lack of automatic dispenser;
– no baking program without pre-kneading.
This video demonstrates the cooking process of the oatmeal cereal bread using the Philips breadmaker.