This company was founded at the beginning of the last century in Fort Wayne, Indiana, and was called the Guardian Frigerator. The self-contained refrigerator, invented by Nathaniel B. Wales and Alfred Mellowes in 1916, became the company's first product. Today Nathaniel B. Wales is known as a talented inventor in the field of improving refrigerators, washers, vacuums and other household appliances. Moreover, in collaboration with his son, B. Wales invented the proximity detonator, which was used in bombs during World War II.
Two years later, a founder of General Motors William C. Durant shrewdly assessed the excellent prospects and invested in the young company. Due to the huge popularity of these devices, many Americans called any refrigerator Frigidaire, a regardless of brand. At the beginning of the last century, a similar situation emerged in Europe with the Hoover brand. The complete dominance of the Hoover subsidiary in England has made it synonymous with a vacuum in the region.
General Motors owned the company for 60 years. In 1979, it sold Frigidaire to the White Sewing Machine Company, which in turn sold it to the famous Swedish company AB Electrolux in 1986. Today Frigidaire is its US subsidiary.
The company develops, manufactures and sells a wide range of various household appliances. But dishwashers are one of its main areas. High reliability and usability, excellent reputation and good value for money have provide to Frigidaire dishwashers the place in the bestseller lists for many years.
Frigidaire dishwashers lineup
As one of the segment leaders, Frigidaire annually expands its product line in all price segments. Today it includes several series.
Frigidaire Value line (Basic) – up to $ 500
Key features:
– plastic polymer tub, self-cleaning filter, stay-put door, some separate spray levels and some cycle options, OrbitClean wash system (rotating spray arm increases for up to four times more wash coverage) with EvenDry (hot air circulation with fan), noice approx 60 dB;
– no sensors of automatically adjust the wash duration and intensity depending on soil levels.
Frigidaire Gallery – from $ 500 to $ 1,000
Key features:
– stainless steel finish, plastic polymer tub, a removable self-cleaning stainless steel filter, OrbitClean wash system, SaharaDry fan-assisted drying system, DishSense sensor technology (adjusts cycle time), 8 cycles and 4 options (wash pressure, wash temp, dry and delay start), adjustable upper rack, and fold down tines, 30-minute quick clean cycle, fully-integrated controls on door top, noice up to 50 dB.
More expensive models of this series have a stainless steel tub, an additional third rack for utensils and flatware, EvenDry (SaharaDry upgraded), LED floor beam indicator, NSF-certified sanitize rinse, and automatic cycle adjustment (improved DishSense sensor technology senses dirty dishes).
Frigidaire Professional – from $ 1,000 and up
Noise reduction up to 47 dB and a unique PrecisionPro Wash Zones feature for cleaning oddly shaped items, including water bottles, large glassware, vases, etc are their main advantage compared to expensive models of Frigidaire Gallery series.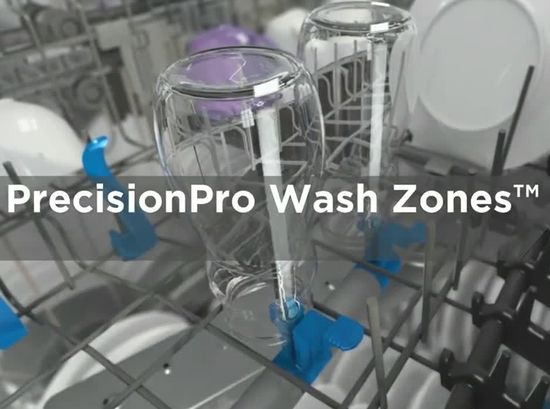 Frigidaire FDSH4501AS
This year the company introduced the Frigidaire FDSH4501AS 24".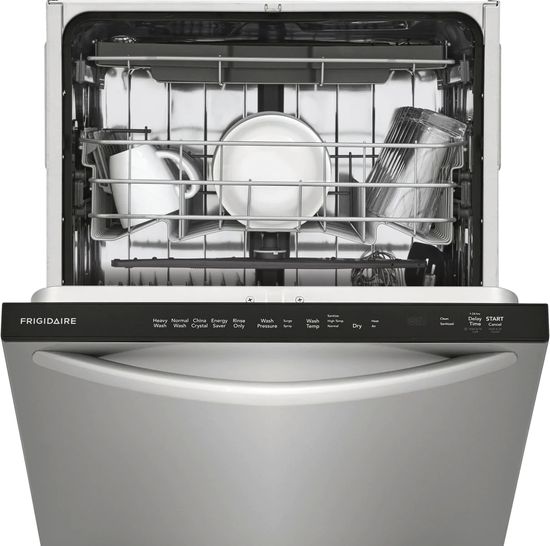 Today the MSRP (manufacturer suggested retail price) for this model is $ 949.00, but it's actually available in online stores for about $ 550.00.
Of course, the model is equipped with all modern technologies. The innovative BladeSpray Arm rotates in two directions, ensuring the most even distribution of water throughout the entire interior volume.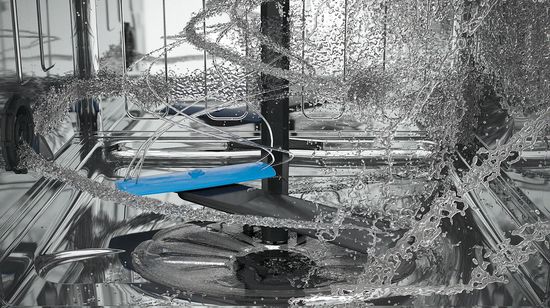 Requiring virtually no additional free space, Third Level Rack is very handy for flatware washing.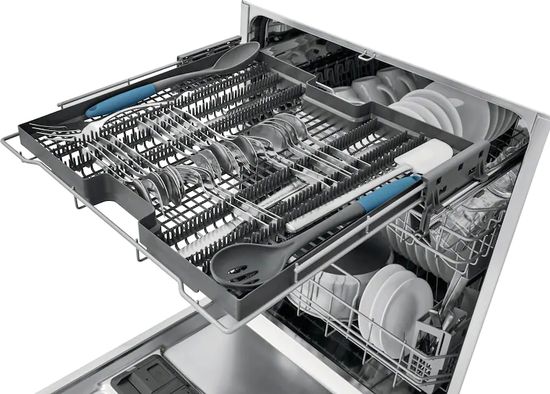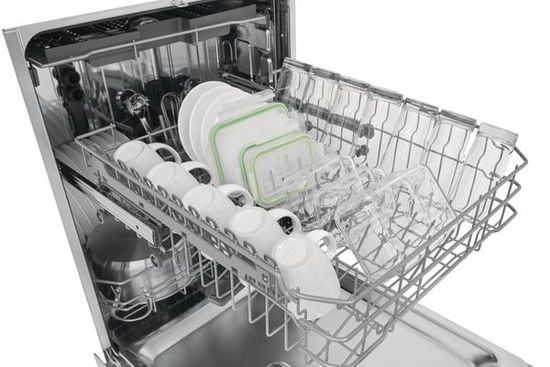 The EvenDry system dries the washed dishes quickly and very effectively using a stream of hot air.
Sanitize option testing in accordance with NSF (National Sanitation Foundation) standards has demonstrated removal of 99.9% common household bacteria.
Quick and easy height adjustment of the upper level rack frees up space for placing dishes on the bottom shelf, allowing you to place even large crockery. Operation noise of 49 dB does not even interfere with watching TV in the kitchen.
In addition, its interior, self-cleaning filter and food disposer are made of stainless steel, the model has Tall-Tub design, holds 14 standard place settings, uses dual OrbitClean system and Smart Soil Sensor, and supports 5 wash levels.
Today, the model already has a huge number of rave reviews, which mainly relate to the high cleaning quality, design, usability and quiet operation. The list of less positive reviews is very short and includes:
– deep plates don't always fit next to each other on the bottom row;
– plastic shelves visually seem not strong enough;
– the shorter utensils can get wedged in the side openings of the silverware tray;
– even "Heat" option does not provide a complete drying of dishes.
Conclusion
In general, the new model has confirmed the company's high reputation. Excellent quality, wide functionality, a full set of innovative technologies and a good price of about $ 550 allow FDSH4501AS to claim a place among the bestsellers of this year.
This video demonstrates the work of the dishwasher's dual OrbitClean spray arms.
Like other industry leaders, Frigidaire expands its range every year. This year was no exception, and the company unveiled the new Frigidaire Gallery 24" built-In dishwasher (FGIP2479SF) for just over $ 1,000. However, some sellers now offer this model for a little over $ 800.
This model uses all the company's innovative technologies, including the OrbitClean Wash System (reduction of water consumption by 15%) and EvenDry for drying dishes.
The list of additional options also corresponds to the premium tier.
SpaceWise Adjustable Rack and Store-More removable third racks radically simplify loading of dishes, depending on their number and size.
DishSense technology automatically adjusts the cycle time based on the required clean level.
Smudge-Proof Stainless Steel does not retain fingerprints and cleans easily.
An efficient noise insulation system reduces the noise level by up to 49dBA.
LEDs of Floor Beam Indicators light up the floor with a blue light while washing dishes and change backlit to green light at the end of the cycle.