Many people remember the rapid innovation leap of TCL in TV segment. In 2018, the company developed TCL 6-Series Roku TV with proprietary Contrast Control Zones technology, in 2019 it presented TCL 8-Series Roku TV with mini-LED Quantum Contrast backlight technology, and at CES 2020 already announced the next-generationа Vidrian "Glass on LED" technology. Moreover, the company has underpinned its innovative success by presenting great QLED 4K C715 and C815. Finally, in the spring TCL announced three new series, including C8 Zhizhen QLED, P9 Hollywood Theater and V8 full scene AI. Of course, this pace is impressive, demonstrating the company's tremendous innovative potential.
Now a similar situation can be repeated in the smartphone segment. Last year, TCL surprised many experts by announcing a new Trifold smartphone concept that is next generation compared to the Samsung Galaxy Z Flip and Huawei Mate X.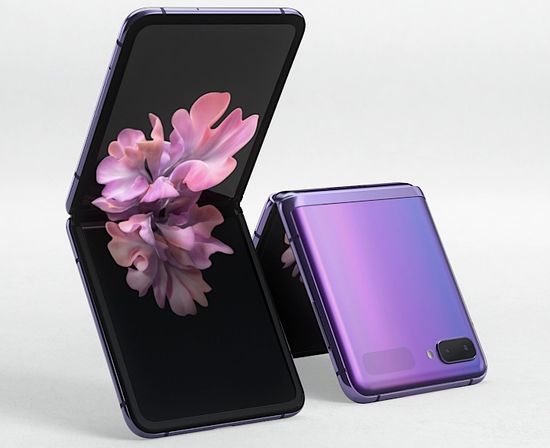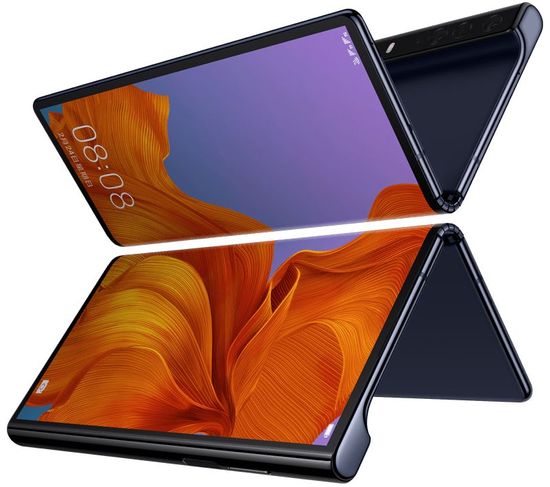 As known, TCL produced mobile devices under the brands Alcatel, BlackBerry and Palm in past years. But in recent years, it has increasingly used its own brand. For example, this year the company expanded its 10 premium lineup with highly competitive TCL 10 Plus and TCL 10 SE.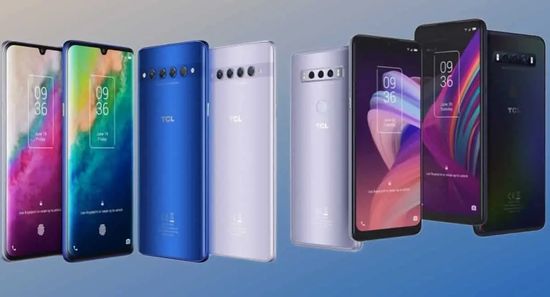 Objectively, TCL has all the prerequisites for success in this segment. For example, company designs and manufactures front camera hole IPS screens, and flexible, flat and curved AMOLED displays. In addition, it developed NXTVISION visual technology, which improved colors in 6 axes, clarity 2D edge, and provided auto-adjusting contrast depending on ambient lighting.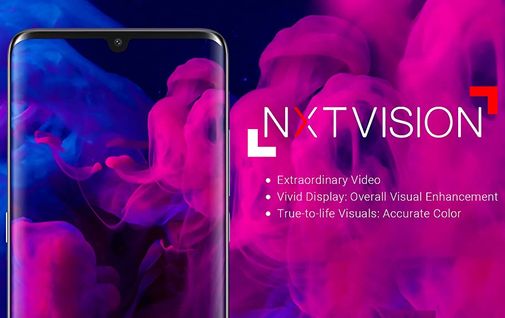 This technology helped TCL smartphones obtain Netflix certification for HDR10 video streaming.
This year, the company unveiled a working prototype of the tri-fold foldable phone and mock-up of model with rollable display, complemented by the compelling video.
Smartphone evolution
For decades, high-tech smartphones show rapid improvement in almost all directions. Of course, companies continue to improve vacuum cleaners, refrigerators, washing machines, air conditioners, coffee machines, etc. But innovative breakthroughs in these segments are rare due to the relative simplicity of these devices.
In turn, development of digital technologies is complex and expensive, but huge consumer demand compensates for this aspect. Decrease in prices for IPS matrices, the production costs of which today starts at $ 10 for FullHD screens, Supper AMOLED displays, high-performance Qualcomm Snapdragon, Kirin, Apple Bionic, MediaTek, and Exynos chipsets with 8-core CPUs and liquid cooling, superfast eUFS 3.1 memory, cameras with 64MP and even 108MP sensors convincingly illustrate this trend.
As a result, an ordinary phone has been transformed into a high-tech ultra-portable multifunctional media center. Today they conditionally divided into subgroups, including, for example, gaming models, camera phones, smartphones with built-in projector, etc.
Moreover, fierce competition has ensured affordable prices. For example, the latest Xiaomi Redmi Note 8 Pro with excellent specs costs only $ 200 – $240, depending on internal storage. Wherein, the model uses the powerful MediaTek Helio G90T with LiquidCool technology and a 64MP camera. In fact, it could qualify as the first budget gaming camera phone.
But, of course, the screen is one of the main objects of improvement. For example, many companies are actively experimenting with "bangs" on the screen. "Shark fin" with camera lens is also an elegant solution.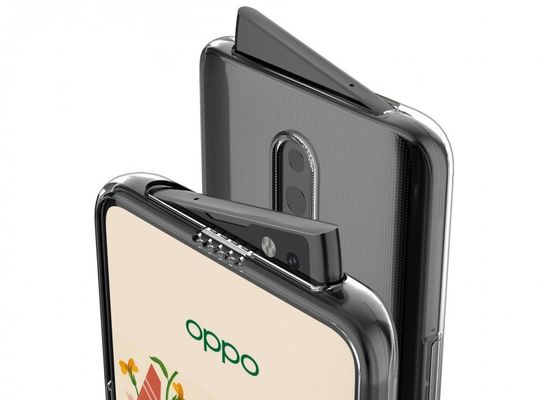 But of course, the folding screens in the Samsung Galaxy Z Flip and Huawei Mate X have garnered the most attention from consumers and experts, offering a radical solution to the problem of increase in screen area.
TCL tri-fold phone-tablet hybrid
Last year, unexpectedly for many, TCL strongly and powerfully rushed into this race, announcing the revolutionary Tri-fold hybrid. Unveiled this year, a working Tri-fold prototype and a rollable display phone mock-up confirmed their intentions.
Tri-fold foldable concept implements a phone-tablet hybrid that folds in the letter Z shape.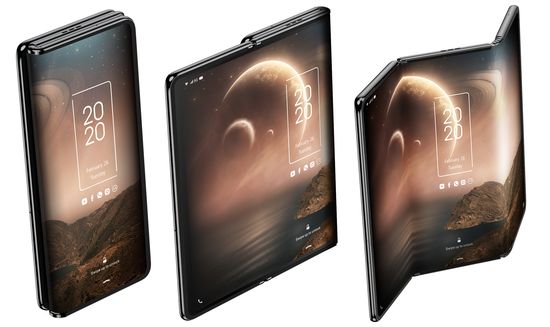 In particular, the first fold bends inwards by analogy with the Galaxy Fold, the second part curves outward, as in the Huawei Mate X. This design transforms a 6.55-inch phone into a 10-inch tablet with the cover display resolution of 3K (3072 x 1620) at a 20.8: 9 aspect ratio. Flexible AMOLED displays for the model were developed by TCL-CSOT, which is an internal division of the company.
Of course, this design has great creative potential. For example, the semi-automatic "dual screen" mode is ideal for reading a two-page e-book. In this case, the "third" switched off screen can be used as a stand for a book.
The prototype uses the patented Dragon Hinge and Butterfly Hinge. Specifically, Dragon Hinge operates in single fold mode. The addition of Butterfly Hinge provides two completely flush folds.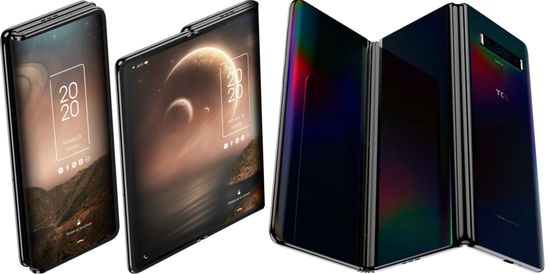 In fact, the company offers three custom scenarios, including a traditional smartphone, a small tablet, and a full-size tablet PC with a 10-inch display and 3K (3040 x 1440) resolution.
At first glance, this solution is very elegant. Unfortunately, it has several significant problems. For example, the device is very thin when fully unfolded. But in the folded position, its thickness is tripled due to three displays. In addition, three batteries add significantly to its weight. And of course, the large display and frequent movements significantly increase the demands on the strength and reliability of the hinges.
Rollable concept
This concept is based on a hidden screen that slides out using an rollable display mechanism, expanding the 6.75″ screen to a 7.8″ tablet at just 9mm thick.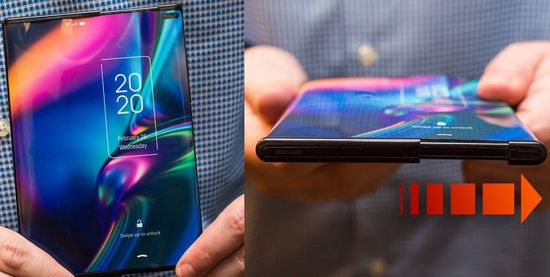 The company demonstrated this concept in the form of the rollable, sliding mock-up with a paper screen. But with the help of Tik Tok, TCL showed a video with a real motorized model from a laboratory in Japan. Working prototype on the video can use a swipe gesture to control a second screen. Its flexible display curves around the side of the device, and half of the screen is hidden inside the case.
According to TCL, the rollable display mechanism works without the formation of folds between screens, which is one of the most common complaints from users of foldable devices.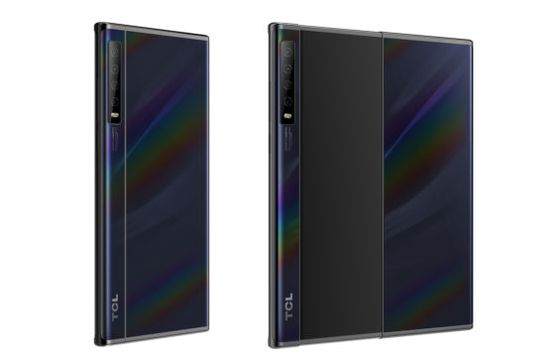 In theory, the user interface will automatically adapt to the screen size.
Of course, this idea seems simpler more reliable, because it excludes breakable hinges and creased displays. Most of us use a similar mechanism every day in a range hood, oven or dishwasher, which also use sliding guides. Probably this idea has excellent prospects. For example, its further development will allow developers to expand the screen left-right or up-down to the required size.
But its implementation requires the solution of several complex technical problems. First, the miniature precision mechanism requires a dramatic increase in the protection level against dust and moisture. Second, the company must provide enough rigidity for a large flexible display.
Power supply
Unfortunately, the trend towards larger screen sizes is limited by the power consumption factor. Today, even 4500 mAh batteries provide only 5-10 hours of battery life in power-intensive modes, including games, HDR shooting or watching videos, especially at high brightness. Given the limited resource in the number of charging cycles (reduction in capacity by 20% after 500 cycles) and the non-removable design of batteries in modern models, this factor becomes a serious problem.
The capacity of modern batteries is unlikely to provide an acceptable battery life when watching videos, even on a 10-inch screen. For example, the 10-inch Apple iPad with Longest Battery Life only provides up to 10 hours of watching video at average brightness and resolution.
Moreover, most users are already accustomed to using fast charging. Unfortunately, this technology uses an increased charging current of up to 3 amps or more. In turn, its increasing is accompanied by battery heating. But its heating up to 32 degrees and above accelerates degradation. Thus, high power consumption increases the number of required recharge cycles, and fast charging increases battery degradation.
Maybe the developers will implement in the coming years one of the promising ideas for a radical solution to the power supply of pocket smart devices. For example, in 2015, an American company announced PoWiFi (Power Over Wi-Fi) technology based on converting radio frequency energy into DC energy. Unfortunately, today it remains only a sensational idea without real implementation. In addition, limiting recharge cycles due to battery degradation remains an unresolved issue.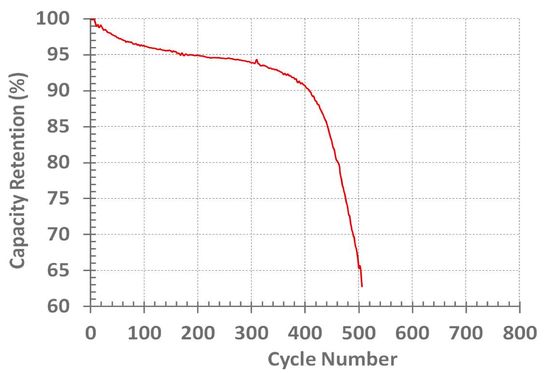 Considering these factors, power supply remains one of the main constraints on further increase in screen area.
Soft
Finally, today there is no corresponding software concept. The presented sample provides only switching between phone and tablet. For example, similar to the Samsung Galaxy Z Flip, the software provaides adaptations to different angles and shapes. But the real model will require apps with easily switch between the three different display sizes. Today, Android is negative attitude to this idea. Of course, Google is trying to adapt Android for such devices, but it will take time.
In addition, the company will have to solve the problem of durability and price. In particular, the addition of a second hinge doubles the number of points for potential failure, and the Galaxy Fold and Huawei Mate X with a simpler design today cost more than $ 2,000.
Conclusion
Today the market offers the first generation of foldable phones, including Samsung Galaxy Z Flip and Huawei Mate X. Probably, the assessment of their marketing success is premature. Models cost from $ 2,000 or more, and information on their reliability is not yet available. But TCL management was not embarrassed by the competition with eminent rivals and company proposed the two concepts of next generation.
Of course, companies are unlikely to present real tri-fold foldable models or rollable display phones anytime soon. Moreover, the skepticism of many experts about their prospects is quite justified. Today, the list of their problems includes factors of price, reliability, soft, power supply, etc. On the other hand, in 1885, in Mannheim, many were ironic about the prospects of Karl Benz's first Benz Patent-Motorwagen. But the brave experimenters were right and today cars romp around the world.
Maybe not all ideas of Chinese developers will be implemented in real devices. But, of course, they are necessary for the further evolution of pocket smart devices.
This video demonstrates the first tri-fold phone.