Of course, the chipset is one of the main components of a modern smartphone, affecting its performance. Therefore, many choose a smartphone taking into account the capabilities of chipset. Accordingly, all smartphone manufacturers pay great attention to this aspect.
As known, System-on-a-Chip (SoC) is an integrated circuit that integrates all components of electronic system. Typically, a SoC contains one or more DSP (Digital Signal Processing) cores. But almost all modern smartphones use multiprocessor systems (MPSoC). In addition, a modern SoC often includes a GPU, memory controller, GSM, 3G and 4G LTE modules, fragments of GPS, USB, NFC, Bluetooth, and cameras.
The list of leaders in SoC-platforms segment includes the American Qualcomm Snapdragon (Qualcomm Inc), Nvidia Tegra (NVIDIA Corporation), TI OMAP (Texas Instruments), Chinese MediaTek (MediaTek Inc). In addition, some large companies are developing their own chipsets.
For example, this list includes ST-Ericsson NovaThor (Sony), Samsung Exynos (Samsung), Apple Ax (iPhone, Apple Inc), Kirin (Huawei Honor, HiSilicon Technologies Co., Ltd).
As known, in 1991, Huawei formed the HiSilicon Technologies division. In 2004, it became an independent company and began to create its own RISC processor based on a license from the British ARM. Today, HiSilicon Technologies Co Ltd is developing high-performance mobile processors, successfully competing even with Qualcomm Snapdragon. The list of their latest chipsets of 2018 and 2019 includes the Kirin 970, 980, 990, 990 5G and Kirin 810.
HiSilicon Kirin 970
In Berlin at IFA 2017, Huawei introduced the flagship single-crystal HiSilicon Kirin 970 chipset.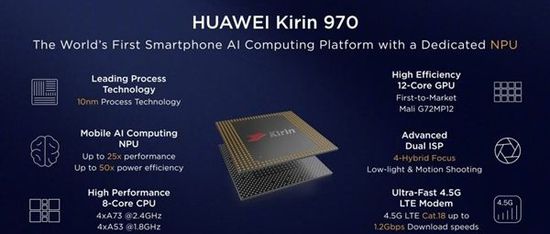 According to the company, Kirin 970 is the first Neural Processing Unit (NPU) or AI accelerator. As known, NPUs use the cluster asynchronous architecture developed at Cornell University. Unlike traditional computing architectures, this highly specialized logic is designed to create different types of artificial neural networks. Usually, each core contains a task scheduler, its own memory such as SRAM and a router for communication with other kernels. One chip can contain several thousand cores.
The manufacture of a single-chip Kirin 970 system uses 10nm technology with the placement of 5.5 billion transistors in an area of about a square centimeter. The configuration of this SoC includes four ARM Cortex-A73 cores (2.4 GHz) and four ARM Cortex-A53 cores (1.8 GHz), combined according to the standard big.LITTLE scheme. Additionally, the Kirin 970 for the first time contains the 12-core Mali G72MP12 GPU (ARM GPU).
Moreover, the built-in LTE Advanced Pro (4.5G) modem supports up to 1.2 Gb/s, and a dual DSP provides motion capture, face detection, four-level hybrid autofocus and improved shooting of moving objects even in low light.
Additionally, Kirin 970 supports LPPDR 4X RAM (1883 MHz) and UFS 2.1, a 4K video codec, HDR10, a separate Security Engine with TEE and inSE support, an i7 sensor, and HiFi sound.
HiSilicon Kirin 980
A year later, at IFA 2018, Huawei introduced the new flagship Kirin 980.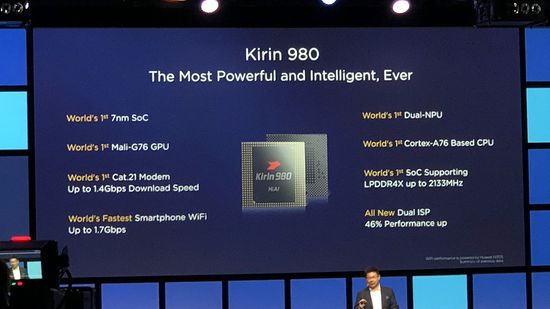 Kirin 980 became the first Huawei 7nm chipset. As known, it directly affects the energy consumption and, accordingly, the heating the processor during operation.
SoC Kirin 980 has 6.9 billion transistors, which is 1.6 times more compared to Kirin 970. Its eight cores are divided into three clusters, including two Cortex-A76 with a frequency of 2.6 GHz, two Cortex-A76 with a frequency of 1.92 GHz and four Cortex-A55 with a frequency of 1.8 GHz. In addition, it uses the integrated GPU Mali-G76 MP10.
According to the company, the performance increase of Kirin 980 vs 970 for the CPU reaches 58-75%, GPU – 46% with an increase in energy efficiency by 178%.
In addition, the company doubled the number of NPU units to accelerate AI apps. In fact, the neuromorphic Huawei processor has become dual-core, capable of recognizing up to 4,500 images per minute. Additionally, the Kirin 980 uses the fourth generation ISP (image signal processor).
The new SoC debuted in the flagship Mate 20 и Mate 20 Pro smartphones of 2018.
Kirin 810
In 2019, the company continued to improve its chipsets, introducing Kirin 810, 990 and 990 5G.
In summer, the company introduced the new 7nm 8-core Kirin 810 with two ARM Cortex-A76 clocked up to 2.27 GHz and six ARM Cortex-A55 clocked up to 1.88 GHz.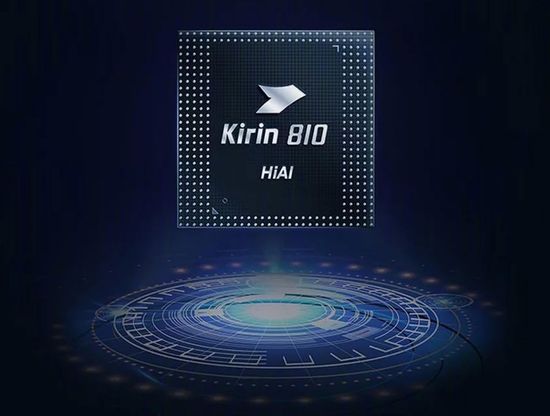 It also has an ARM Mali-G52 MP6 GPU and an AI task processing unit based on the new Huawei DaVinci architecture, which reduces energy consumption.
Key Features:
– 7nm technology;
– the high quality of the built-in modems provides a very stable connection;
– the improved Mali-G52 MP6 GPU significantly improves gaming performance, outperforming even the Adreno 618 (Qualcomm Snapdragon) in the GFXBench test;
– the neural processor module on the Huawei DaVinci architecture in combination with the Huawei HiAi 2.0 platform surpasses even the Snapdragon 855 and Kirin 980 in the performance test for AI tasks.
Kirin 990 and Kirin 990 5G
At IFA 2019, the company introduced the new flagship Kirin 990 and Kirin 990 5G.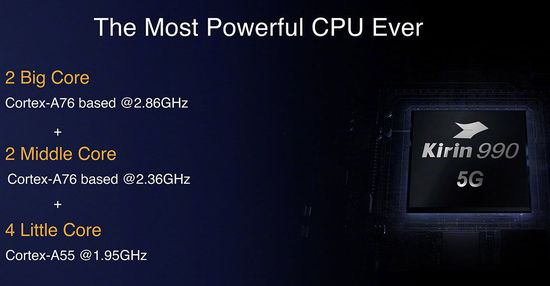 This new 7nm SoC for the first time includes a 5G modem with support for NSA and SA networks. In addition, engineers were able to place 10.3 billion transistors on it due to the use of innovative EUV lithography, which forms the elements of electronic microcircuits smaller than 45 nm. Additionally, the new chipset contains a neuromorphic coprocessor with Da Vinchi architecture and a 16-core graphics core.
Advanced adaptive receiver can work on any 5G NR (New Radio) networks, including Non-Standalone (NSA) and Standalone (SA). Today, companies are building 5G mainly to improve mobile broadband (eMBB) by increasing the speed of data transmission in the network. Today, it uses the 4G LTE infrastructure, operating in the millimeter range. Such networks are called non-autonomous. But this is only the first stage of 5G implementation. The next stage involves the creation of a new infrastructure with its own network core, which will additionally use low and medium frequencies. Of course, this will increase the coverage of 5G networks and the stability of high-speed data transmission. Such 5G networks will be called Standalone. Thus, Huawei phones already Standalone support.
Additionally, Kirin 990 supports the use of two SIM cards (2G + 3G + 4G + 5G or 2G + 3G + 4G).
Kirin 990 5G uses 2 + 2 + 4 configuration with two Cortex-A76 (2.86 GHz), two Cortex-A76 (2.36 GHz) and four Cortex A-55 (1.95 GHz).
Kirin 990 is manufactured without the use of EUV lithography. It does not have a 5G modem, operates at lower frequencies, and its neuromorphic processor uses only one high-performance core.
Conclusion
Today we can note the rapid improvement of HiSilicon Kirin chipsets. In just 3 years, the company introduced 5 new chipsets, each of which justifiably claims the highest level. As a result, today HiSilicon Kirin successfully competes even with Qualcomm Snapdragon. For example, Kirin 990 5G shows the same performance as Qualcomm Snapdragon 855, but has fewer memory channels, which affects the speed of data exchange, does not have NX-bit (No-eXecute) and does not use HMP (heterogeneous multiprocessor). But the price / quality ratio compensates for these differences.
Of course, Kirin chipsets to a large extent ensure the success of Huawei and Honor smartphones, complementing its new Harmony OS and excellent cameras manufactured in collaboration with the famous German Leica Camera AG.
In addition, Harris Interactive conducted a study of the reliability of smartphones by analyzing 130,050 cases of after-sales appeals from customers of a large European Darty retail network. According to its results, Huawei and Apple have the lowest percentage of failures and breakdowns. Thus, Huawei, Honor and iPhone smartphones today can be considered the most reliable.
Of course, all these factors retain excellent prospects for the smartphones of the Chinese giant.
This video offers Speed, Gaming & Screen Test comparison of Huawei Mate 30 with Kirin 990 5G vs iPhone 11 with A13 Bionic.