The rapid expansion of the phone functionality and the improvement of components have radically increased its energy consumption. For example, Samsung's 2010 flagship, the Galaxy S GT-I9000, used an ARM Cortex A8 up to 1 GHz, a 4-inch AMOLED display with 480 x 800 resolution, and a 5-megapixel camera. Of course, the comparison of the Cortex A8 with the latest Exynos 990, Kirin 990 5G, or Qualcomm Snapdragon 855 plus processors can only cause nostalgia and a smile.
Bright large screens with 500 ppi or more, multi-module cameras with 16MP sensors and above, complex but effective digital image processing, liquid cooling of processors, etc are also radically different from prototypes.
As a consequence, the phone quickly transformed into a pocket PC with excellent media capabilities. Unfortunately, all these great features are accompanied by intense energy consumption.
More recently, a phone with a 2000 mAh battery worked without problems for several days and quickly recharged using a 5-watt charging device. A modern phone with a 4000 mAh battery is unlikely to work even a day when using energy-intensive modes, including shooting, watching a video or game. In addition, recharging its capacious battery will last several hours using traditional 5W charging.
Introduction
Faced with this problem, companies began to actively solve it. Predictably, in recent years they have been increasing the battery capacity and shortening their recharge time. For example, the Blackview P10000 Pro uses a battery with an unprecedented capacity of 11,000 mAh.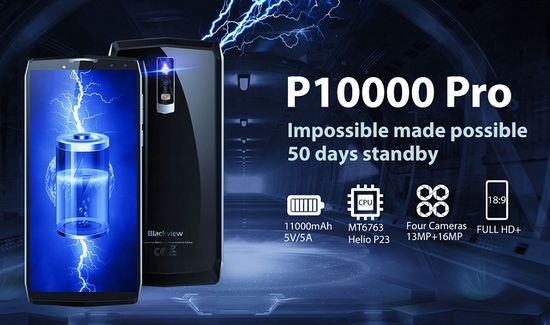 Fast Charging is also rapidly improving due to the increasing power while reducing the risk of battery overheating. As a result, the duration of battery charging, even with a capacity of about 5000 mAh, reduced to an hour.
But companies are also looking for an alternative. For example, over the past few years, companies have developed and improved wireless charging technology with minimal risk of battery overheating. Moreover, manufacturers have expanded its capabilities by developing reverse wireless charging.
But in addition to improving traditional technologies, companies are also actively looking for fundamentally new solutions. WiFi battery charging is a great illustration of this process.
Reverse wireless charging
As known, reverse wireless technology provides charging of any gadgets with Qi support using a smartphone, using it as a Power Bank with a small capacity.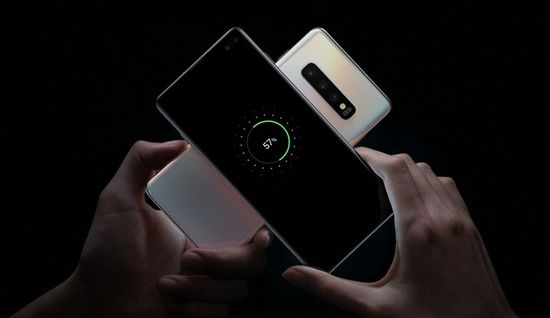 Today, only the flagships of Huawei, Samsung Galaxy, Asus, Apple and Xiaomi support this innovative technology. But only Vivo implemented this feature in its budget smartphones.
In the fall of 2018, Huawei introduced the Mate 20 Pro, which became the first smartphone with reverse charging.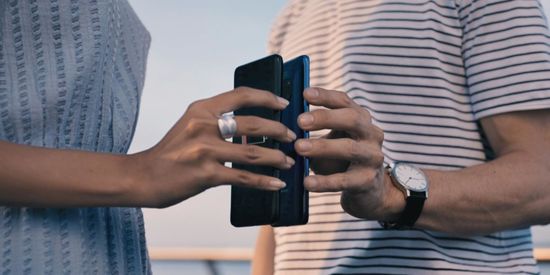 Software activation of reverse charging is usually found in the battery settings section. Additionally, companies provide step-by-step instructions for this feature. For example, Huawei offers a manual on company website.
Samsung uses the marketing name Wireless PowerShare for this feature. Typically, models use a small area in the center to transmit energy. Unfortunately, even a slight displacement blocks charging or dramatically reduces its efficiency.
Some key features
This technology has several features, including:
– Wireless PowerShare requires at least 30% charge level of the transmitting smartphone to prevent critical discharge of its battery. This limit for Huawei reaches 20%;
– Samsung does not recommend using smartphones in a case;
– charging starts automatically after option activating and gadgets touch;
– the lack of contact between the gadgets automatically stops charging;
– in the absence of a suitable device, the smartphone automatically blocks the function after 30 seconds;
– during charging, there should not be any foreign objects between the gadgets, especially metal ones.
Unfortunately, reverse charging is very slow due to low power. In addition, its power and efficiency varies significantly. For example, Samsung Galaxy provides 4.5W vs 2.5W for Huawei.
But Huawei shows higher efficiency. For example, in one of the tests, the Galaxy S10+ was able to charge another smartphone by 12%, but its battery was drained by 20%. Huawei Mate 20 Pro charged the same smartphone only by 6%, but was discharged by only 8%. In another similar test, these models charged Pixel 3 for 30 minutes. S10+ charged the smartphone by 13%, having lost 18% of its battery charge. Mate 20 Pro was able to provide only 7%, but the discharge of its battery did not exceed 11%.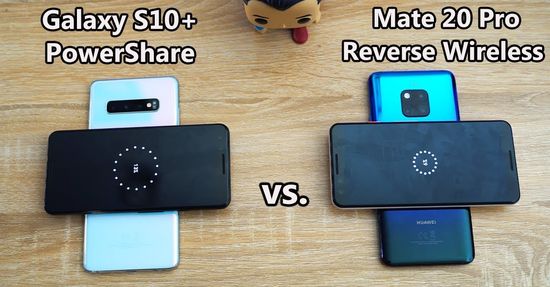 Some experts criticize this technology for its low speed and energy loss. Of course, it will not replace regular charging because of these cons. But companies are positioning the function as emergency for critical situations. Of course, this option will be very useful and convenient in so many non-standard situations.
PoWiFi (Power over Wi-Fi) technology
This technology converts the signals from wireless routers into direct current.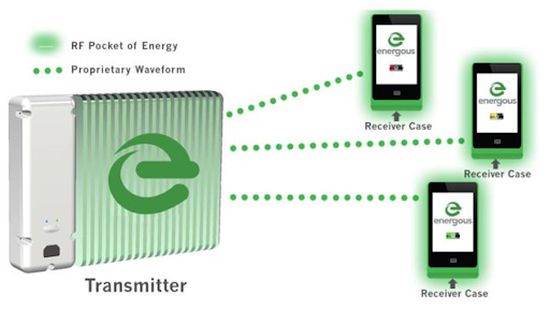 Today, this technology has the best prospects for wireless power transmission.
Once, scientists at the University of Washington accidentally discovered the emission of energy by Wi-Fi antennas in passive mode. This event gave impetus to research in this direction, which ended with the creation of PoWiFi (Power over Wi-Fi) technology.
Already in 2015, scientists were able to demonstrate remote wireless control of a surveillance camera using Wi-Fi. In another case, the researchers were able to charge the Jawbone Up 24 fitness tracker using PoWiFi in 2.5 hours.
Of course, today many companies are trying to develop PoWiFi technology into a commercial product.
But Energous moved further than others. As known, Energous is one of the leaders in wireless power transmission. At the CES 2019 (Consumer Electronics Show) Energous introduced several gadgets with support for Wi-Fi charging, including a Dlight hearing aid and smart Vuzix Blade glasses. In addition, the vendor presented prototypes of headphones and smart watch with a flexible antenna, which can be recharged at a distance of up to one meter.
WattUp technology works as follows. The WattUp Power Router directs energy over the radio frequency channel to electronic devices with WattUp receivers. This energy is converted to voltage and provides charging of mobile devices. In fact, the technology works like a Wi-Fi network and can charge multiple devices at the same time. Moreover, the universal WattUp receiver is compatible with batteries from different manufacturers.
In addition, Energous has already introduced WattUp Far Field Transmitter Technology. This design enables maximum coverage and allows meshed-network coverage where multiple transmitters are linked together to cover larger spaces.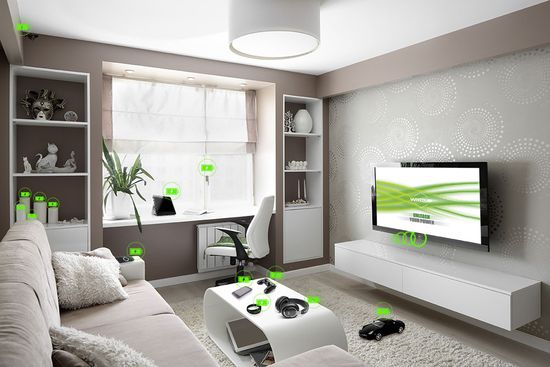 WattUp 2.0
In the spring of 2019, Energous announced the joint development of WattUp 2.0 with the Chinese VIVO, which will be able to provide wireless charging the phone battery from an adapter with a power of up to 20 W at a distance of up to 4.5 meters. Thus, VIVO claims to be the first phone with support for this technology.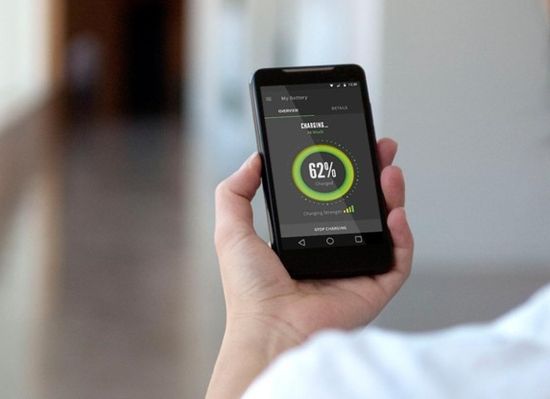 As known, Apple is also interested in this technology. A few years ago, the company even developed and patented Wireless Charging and Communications Systems With Dual-Frequency Patch Antennas.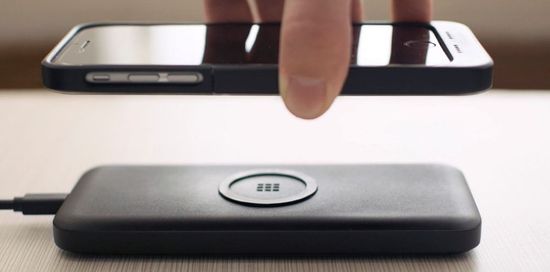 According to Apple's patent, the system includes an access point (wireless router) and several special modules at a distance of several meters.
The maximum possible range is not specified. Probably, it corresponds to the range of the wireless network.
In fact, sensors receive radio waves and convert their energy into direct current energy. Wireless charging can work with 2.4 GHz and 5 GHz frequencies of conventional Wi-Fi.
Conclusion
1.Companies are actively improving modern battery charging technologies, expanding their functionality. Maybe reverse wireless charging is not very efficient and slow, but it can help out in difficult situations.
2.PoWiFi (Power over Wi-Fi) technology can be another jerk in solving the problem of power supply for mobile devices. Maybe future smartphones will be able to work without a battery at all, receiving power only via Wi-Fi? Probably all consumers enthusiastically perceive such a proposal.
This video shows the activation and operation of Samsung's reverse charging.