Of course, usability is one of the main criteria for choosing any modern device. In turn, the usability of any compact mobile device, including a smartphone, a robot vacuum cleaner, a pico projector, etc directly depends on battery life. As known, this characteristic directly depends on the battery capacity and its quality. At the same time, any battery requires recharging, the convenience of which substantially depends on its duration. As a result, almost all phone manufacturers pay great attention to this aspect, constantly developing and improving charging technologies.
The solution to this problem contains several aspects. As known, in the past few years, almost all companies produce smartphones with a non-removable battery. Of course, this design has many pros, but its replacement is quite expensive.
This problem is less acute in the segment of budget and mid-budget models due to the relatively short term of their operation. Most often, owners change these models to newer phones in a few years. During this period, the battery specs worsen, but reducing its capacity to 70-80% does not become critical. Of course, expensive models costing about $ 1,000 change much less frequently.
Introduction
Usually, the slow charging of a modern 4,500 mAh battery lasts several hours. But the large screen and many modern functions often discharge it during the day. As a result, recharging the battery becomes troublesome enough for the user. Of course, night slow charging is very convenient. But it negatively affects battery longevity. In this case, 100% battery charge remains until mornings, accelerating its degradation. From this point of view, a charge of 40-80% is optimal for the battery.
In addition, battery longevity directly depends on the number of cycles, which usually does not exceed 500 full cycles with a decrease in battery capacity by 20%.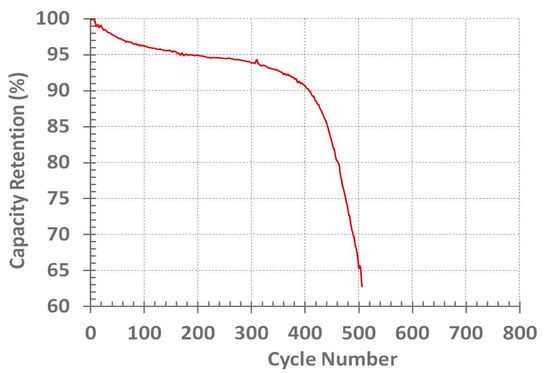 In turn, the number of required cycles depends on the battery discharge time, which is determined by the battery capacity and usage mode.
To solve these problems, companies have developed fast charging technologies. Unfortunately, fast charging uses increased voltage and current to increase power. For example, a classic charger typically uses a voltage of 5 V and a current of 2 to 2.5 A. For fast charging, these values can reach 20V and 5A, respectively. In turn, an increase in power increases the battery temperature, accelerating its degradation.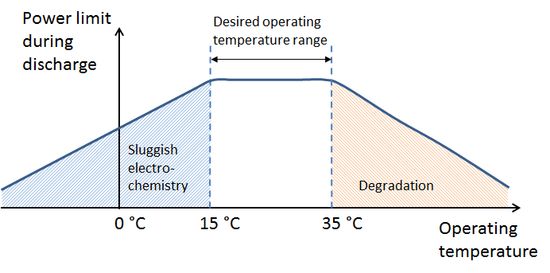 Therefore, companies are forced to choose a compromise between charging speed and temperature. Today, the main direction of improving technology is concentrated in this direction.
Main technologies
Today, the market offers about a dozen different fast-charging technologies. Therefore, the charger must support appropriate smartphone fast charging technology and data exchange protocol. But in any case, almost all chargers support the basic slow mode with a voltage of 5 V and a current of 2-3 A.
Of course, a variety of technologies contributes to healthy competition, but complicates the choice of consumers. Moreover, the use of a non-original cable can be dangerous for a smartphone due to insufficient limitation of the maximum current.
Today Qualcomm, MediaTek, Samsung, Oppo, Huawei, Meizu, Lenovo (Motorola) and some other companies use their own fast charging technologies.
In fact, all technologies use the same method, reducing charging time by increasing power, increasing current and voltage for this purpose. But companies solve this problem in different ways, finding a compromise between a marketing reduction in charge time and reasonable sufficiency in terms of battery overheating. Mostly, engineers optimize the charging algorithm, minimizing the risk of overheating.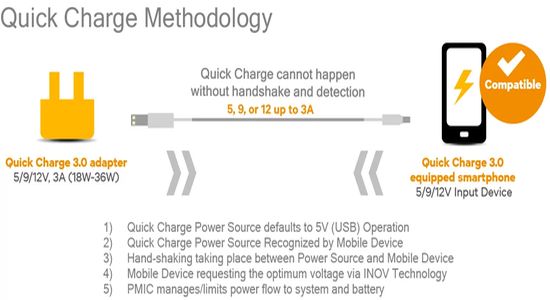 In addition, some companies find original solutions. For example, OPPO VOOC Flash Charging uses an eight-pin battery, separately charging each cell with a current of 4.5 A at a voltage of 5 V. Pump Express works similar to Quick Charge, but with MTK processors, and Huawei's Super Charge with additional cooling provides high-foot speed charging without overheating the battery.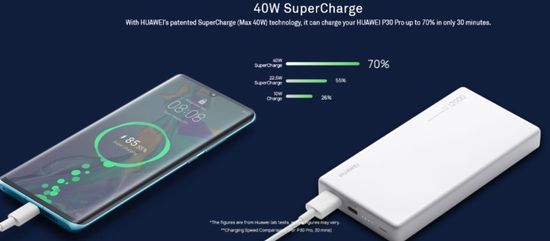 Qualcomm Quick Charge technology has pioneered in fast charging. Its first version was introduced back in 2013. In fact, the company improves this technology for 7 years.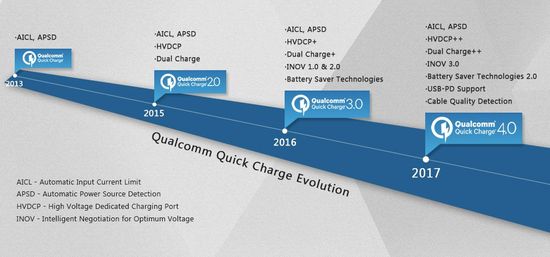 A Quick Charge-enabled smartphone continuously sends battery status information to the charger. Using it, the power supply optimizes power output by changing voltage and current.
Qualcomm calls this technology INOV (Intelligent Negotiation for Optimum Voltage). Unfortunately, Quick Charge does not work with all Snapdragon processors.
Today, the last Quick Charge 4+ version supports Snapdragon 660, 670, 710 and 845 chipsets, providing power up to 18 W. For comparison, the power of Huawei SuperCharge reaches 40 W, and Oppo Super VOOC technology provides up to 50 W.
At Qualcomm 4G / 5G Summit in Hong Kong, the company announced a Quick Charge 5.0 version with a twofold reduction in charging duration.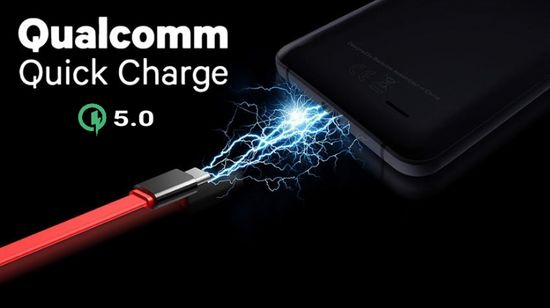 In particular, the transmitted power over a wired connection will reach 32 W, and up to 15 W via a wireless charger. In the first case, Quick Charge 5.0 will use Triple Charge technology, dividing the input current into three different streams. Many experts expected her debut in the flagship Snapdragon 855 platform, but it uses Quick Charge 4+.
Pros
– the company has been improving the technology for 7 years, presenting 6 of its versions;
– backward compatibility with earlier versions of Quick Charge;
– built-in protection against overheating and shorting the electrodes.
MediaTek Pump Express
This technology charges the battery without a built-in controller. In this case, the power supply controls the temperature and operation mode.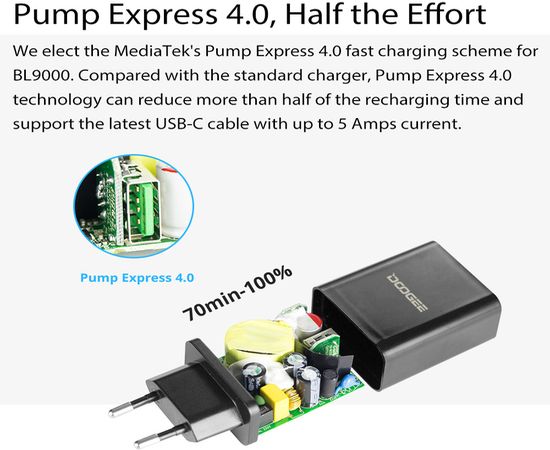 According to the company, MediaTek Pump Express 4.0 reduces the charging time of a smartphone's battery by 50% or more compared to a standard USB charger. At the same time, Pump Express only supports charging via a USB Type-C port with a current of up to 5 A. In addition, not all MediaTek chipsets support Pump Express. Unfortunately, the company does not publish a complete list of compatible chips. Therefore, for each model, the user is forced to clarify compatibility information with Pump Express.
Pump Express 4.0 is compatible with the international USB PD 3.0 standard programmable power supply. Accordingly, all standard chargers with support for fast charging are suitable for smartphones with support for Pump Express 4.0.
Samsung Adaptive Fast Charging
The company developed this technology for the Samsung Galaxy Series. Unlike its competitors, it's fully compatible with all Samsung Exynos processors.
Adaptive Fast Charging uses 9V / 2A providing power up to 18 W.
The technology provides an average charging speed, but operates at a minimum temperature. As known, this factor directly affects the battery degradation.
Huawei SuperCharge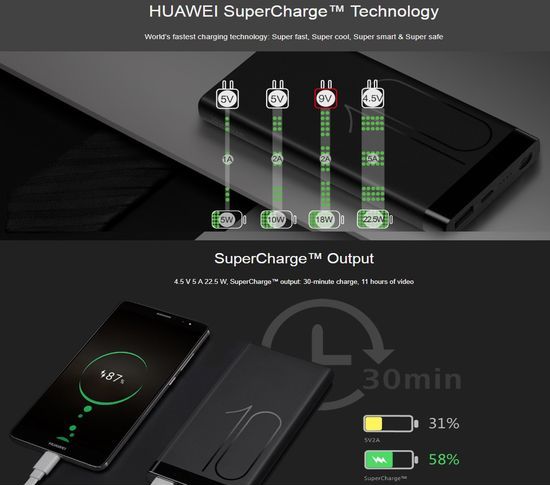 Huawei shows impressive innovative activity in this direction. SuperCharge technology provides a relatively low charging speed, but it is compatible with USB-PD and has a high level of security. The Huawei Smart Charge protocol automatically selects the charging type supported by the charger. In addition, it analyzes battery capacity and cable bandwidth, and corrects the voltage to suit them. Additionally, SuperCharge uses special components, including an 8-layer thermal insulation. It lower the temperature by about 5 degrees compared to competitors, reducing battery degradation when using fast charging.
Mate 9, Huawei P10 and later flagships use this technology. The built- in microchip in the charger automatically adjusts the voltage and current depending on the state and temperature of the smartphone's battery. SuperCharge compatible chargers work in 5V / 2A, 4.5V / 5A, and 5V / 4.5A modes.
According to the XDA Developers website, the technology provides a Mate 9 charge of up to 90% in one hour. Today, Huawei offers three versions, including FCP, SCP 22.5W and SCP 40 W.
Meizu Super mCharge and Oppo Super VOOC
Meizu Super mCharge
At MWC 2017, Meizu announced for the first time its own Super mCharge technology. According to the company, the technology charges a 3000 mAh battery up to 60% in 10 minutes, up to 100% in 20 minutes. The charger provides a voltage of 11 V at a current of 5 A, or a power of 55 watts.
According to the company, the technology practically does not accelerate battery degradation, providing 800 charging cycles with a loss of capacity of up to 20%. In addition, the battery temperature does not exceed 39°C during charging.
Oppo Super VOOC
Super VOOC is not fundamentally different from the previous VOOC generation, which the company calls Dash Charge.
As known, Oppo R17 Pro 3400 mAh battery consists of two series-connected cells with a capacity of 1700 mAh. The charger controls the charging process, providing 10V / 5A. Accordingly, the charging power of each cell reaches 25 W. As a result, Super VOOC charges the smartphone in just 35 minutes.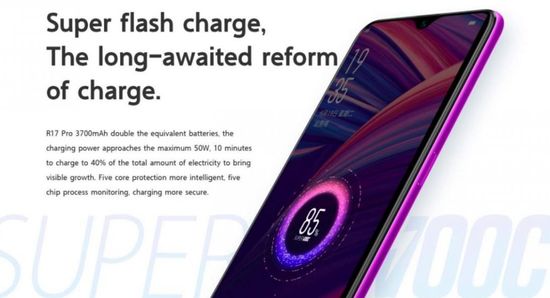 USB Power Delivery (USB-PD)
As known, USB Power Delivery is a modification of the USB standard in terms of transmitted energy. A large number of different fast charging technologies positively affects competition, but is not very convenient for consumers. At best, the use of third-party accessories reduces the effectiveness of the technology. But in some cases, this can damage the smartphone due to overheating of its motherboard.
For several years now, Google has been trying to introduce a single standard for fast charging via USB Type-C port for all Android devices. Of course, this will greatly simplify the use of fast charging technology, allowing the user to safely use any PD-enabled charger.
The company has already made significant progress in this area. For example, Qualcomm and MediaTek announced the compliance of their Quick Charge 4/4+ and Pump Express 4.0 of USB – PD.
Conclusion
Despite the risk of accelerated battery degradation due to high temperature, fast charging technologies have no alternative. The increasing processor power and the expansion of the phone functionality will continue to be accompanied by an increase in energy consumption. As a result, companies will continue to increase battery capacity, increasing their price. Accordingly, the dilemma between usability with fast powerful charging and a decrease in battery longevity due to heating will only increase, until the appearance of fundamentally new technologies.
But today, a new trend has emerged in this segment. Instead of an emergency increase in power and a reduction in charging time, many companies are increasingly choosing a reasonable compromise, limiting power and lowering the temperature to reduce battery degradation. But, of course, the user must adequately understand the initial purpose of this function. It is convenient and useful if you need to quickly recharge the phone, for example, before work. But, of course, in a normal situation, regular 5V / 1A slow charging is preferable in terms of battery degradation.
On the other hand, companies are actively looking for ways to solve this problem. For example, Huawei uses an 8-layer thermal insulation in SuperCharge. In addition, some gaming smartphones already use a liquid cooling system. The form factor of Wireless Charging chargers allows developers to use a traditional cooler to cool the battery during charging. As usual, the most effective solution will win.
This video shows the VIVO Super FlashCharge 120W Fastest Charge Smartphone.