Of course, the OS is one of the main components of any smart device, providing its functionality and correct operation in various modes. Therefore, many choose a smartphone taking into account the capabilities of its OS. Accordingly, all smartphone manufacturers pay great attention to this aspect.
More recently, companies mainly used Android, Apple iOS, Windows Phone, Symbian, etc. But after the discontinuation of support for Windows Phone and Symbian, their list was reduced to Android and iOS. The share of other operating systems, including Bada, Palm OS, Open WebOS, Maemo, etc is too insignificant. At the same time, Android is clearly ahead of its main competitor due to the huge number of various smart devices running under this OS. Moreover, in 2019, Google introduced the new Android 10.
EMUI (Emotion UI)
Usually, Google develops a new version, downloads its source code for free, and releases an update for its Pixel smartphones. After that, each manufacturer can take a new free Android version from Google and use it on their smartphone, including after editing.
In practice, all major manufacturers are developing their own interface for Android, including UX (LG), One UI (Samsung), MIUI (Xiaomi), etc. Huawei was no exception and developed EMUI (Emotion UI) based on Android. In fairness, many users prefer to get rid of it by installing a "clean" Android from Google.
Since 2012, Huawei regularly offers new EMUI versions. 2019 was no exception. At IFA 2019, the company introduced EMUI 10 for Android 10.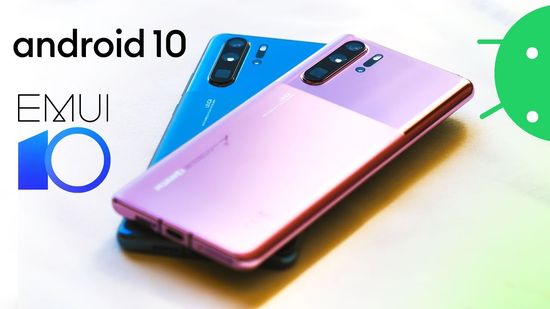 Today it's already available for most Huawei models, including the flagship P20, Pro, P30 Pro, Mate 20 Pro, etc.
This version uses a magazine style with large headlines, an enlarged font, a clear grid layout of icons, etc.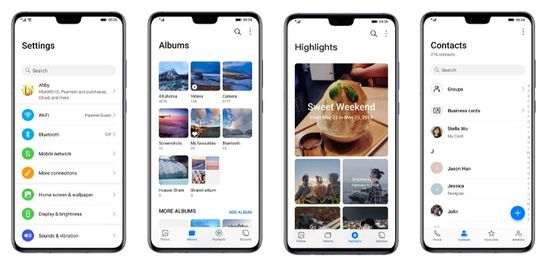 In addition, the design uses the "Morandi color palette" (Giorgio Morandi – Italian painter) in pastel colors, instead of the traditional blue, white and black colors.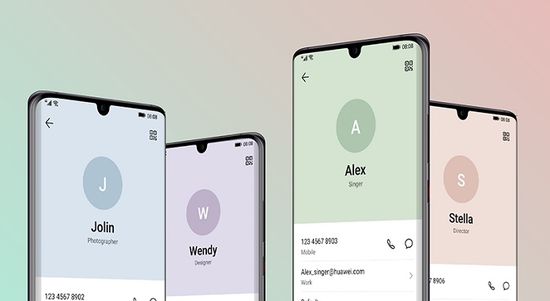 Additionally, EMUI 10 supports third-party icon rendering using the adaptive Huawei mask, providing a consistent display style.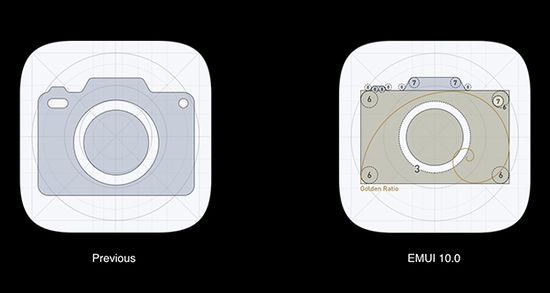 The new desktop in EMUI 10 uses an increased scale with a grid of 4 x 6 icons. In general, EMUI 10 proportionally optimizes all aspects of the interface, including displaying notifications, settings menu, dark theme, animation, camera interface, etc.
HarmonyOS (Oak OS or HongMeng OS in China)
As known, the company began developing the HarmonyOS in 2017. Initially, version 1.0 was focused on IoT (Internet of Things). Today the company promises to introduce the v2.0 microkernel (μ-kernel) in 2020. Then, in 2021, Huawei plans to introduce a third version with enhanced device support.
HarmonyOS v1.0 uses the Linux kernel in conjunction with its own μ-kernel. But in the future, perhaps starting with v2.0, the company is considering leaving only its own μ-kernel.
Of course, US government sanctions against Huawei substantially adjusted the plans of the Chinese giant. The threat of restricting access to Android services provoked the company to accelerate the development of its own OS. As a result, at the Developers Conference 2019, Huawei introduced its own new HarmonyOS for smart devices, including smartphones.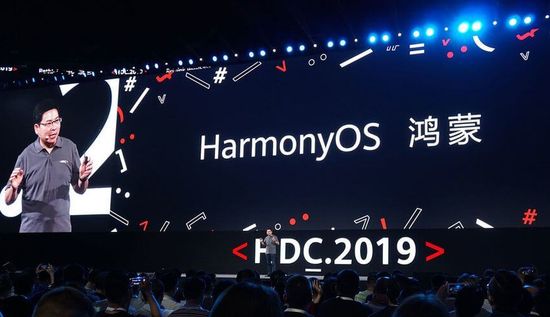 Of course, HarmonyOS is fully compatible with the Android apps that Huawei has been developing since 2012. However, Huawei has repeatedly denied rumors about the rejection of the super-popular Android. Apparently, the company uses HarmonyOS as insurance in case of conflict escalation. Nevertheless, smartphones with this OS have already been introduced.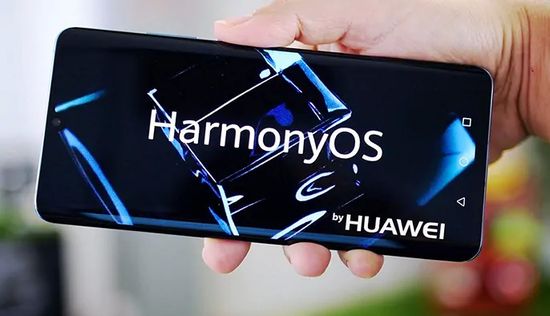 Under certain circumstances, Android and iOS may soon face a very serious competitor. In December, the company introduced the first Honor Vision TVs running Harmony OS in China.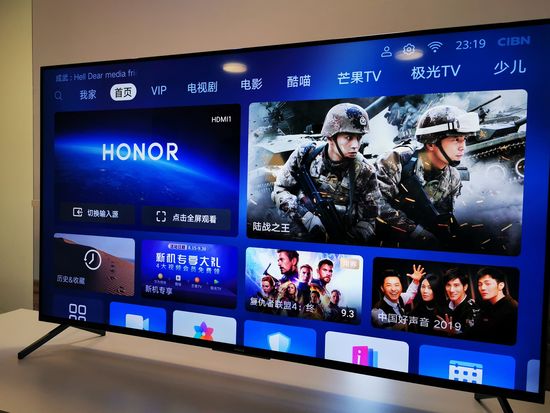 General information
HarmonyOS uses TTE (Trusted Execution Environment) with the protected CPU data. As known, TTE guarantees the protection of code and data, ensuring absolute confidentiality.
In fact, the OS is a microkernel with a large number of modules for each device type, taking into account their application scenarios. This solution significantly increases the OS efficiency, increasing the speed of information processing by about 30%. Of course, the company guarantees the correct operation of all apps, regardless of the device type.
Additionally, open source allows programmers to use any programming language, ensuring its compatibility with any OS.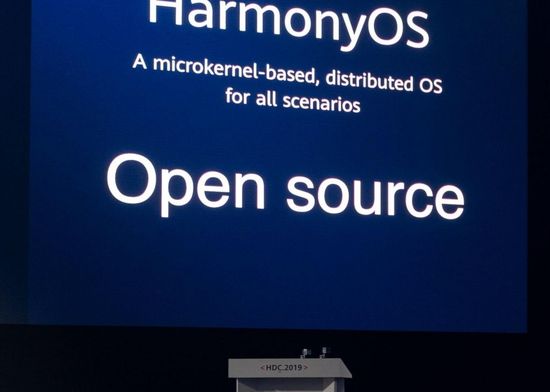 Differences from EMUI include a new boot animation, advanced customization, screen settings using widgets, lock screen settings, etc.
Huawei used the Mate 30 for internal OS testing. Thus, the Huawei Mate 30 could be the first series based on the Harmony OS.
In addition to smartphones, Huawei plans to use Harmony in TVs, PCs, laptops, smart watches and bracelets. In fact, the company plans to create a smart series similar to LG's TwinQ.
Of course, its primary implementation will take place in the Chinese market. But management also noted the company's ability to adapt all its products to HarmonyOS if necessary in just two days.
Key Features
– free distribution;
– great compatibility.
Unlike Android, Huawei Harmony OS uses a microkernel similar to Google Fuchsia OS. This guarantees its versatility, ensuring compatibility with any device type;
– instant installation on all Huawei devices.
Unfortunately, Harmony does not support Android apps by default and require the use of, for example, Huawei's ARK compiler;
– at the first stage, Huawei plans Harmony OS only for devices in the Chinese market;
– open source opens up good prospects for cooperation in the development of a new OS with OPPO, Vivo and Xiaomi;
– own app store (Huawei AppGallery instead of Google Play and Huawei Mobile Services instead of Google Play Services);
– higher performance.
Unlike Linux cores with a relatively large amount of code, microkernels have a smaller amount of common code and provide faster communication between system components;
– privacy protection with TTE;
– no root access.
As known, Root access is authorization to execute any command and access any resource on a device. Of course, this solution has pros and cons. Experience using this option for Android has demonstrated:
PROS
– allows the superuser to delete any pre-installed apps, change screensavers, limit Internet traffic, delete ads in apps, etc;
– control of energy consumption. For example, some programs adjust the speed of CPU cores, slowing them down to reduce energy consumption without sacrificing performance;
– the ability to overclock with the appropriate utilities. Of course, CPU must support the ability to work at higher frequencies.
Cons
– problems with a guarantee;
– blocks the automatic updates due to custom recovery;
– lack of licensed content, support for payment systems and banking apps;
– significantly reduces protection against viruses;
– rewriting internal memory, changing partitions, etc increase the risk of its failure.
Conclusion
According to the company, their system is faster than Android and iOS by about 60%, but this difference seems very high.
Of course, today any predictions about the prospects of the new OS seem premature. Probably, Harmony OS has good prospects to become a new OS in the segment of smart devices, complementing Android and iOS. In this case, it will be able to take the place of Windows Phone and Symbian in the future. But the debugging process of the new universal ambitious OS is unlikely to be fast because of the task complexity. Unfortunately, the aggravation of trade confrontation can radically accelerate this process to the detriment of its quality. But consumers are unlikely to benefit from the emergence of a new OS with a traditionally large number of problems in the first stage. On the contrary, such a scenario can cause great damage to the reputation of this promising operating system.
The video offers an overview of Huawei HarmonyOS.