Functionality has long been a prerequisite for the successful competition of any modern consumer electronics. Therefore, companies are constantly expanding it with smart options and innovative technologies. Gaming smartphones and camera phones perfectly exemplify this trend.
Rapid advancement of laser LEDs opened up new possibilities for projector developers who began to actively use them as light sources. Miniature size, long life (20,000-30,000 hours vs 6,000 for traditional lamps), and low heat generation allowed engineers to develop mini projectors. The latter factor has become especially important, allowing companies to abandon powerful fans for cooling traditional UHP (Ultra High Efficiency) mercury lamps. As a result, the modern market offers a huge number of different mini-, pico- and pocket ultra-portable projectors. Of course, phone developers have not missed new opportunities by developing phones with a built-in projector. In particular, at CES 2009 Samsung introduced the first smartphone W7900 with a projector. Subsequently, the company developed Galaxy Beam 1 (15 ANSI lumens at 640 x 360) in 2012 and Beam 2 (20 ANSI lumens at 800 x 480) in 2014. Over the next few years, Sony offered the Sony MP-CL1, CL1A and MP-CD1 with this option.
Unfortunately, low image quality due to low brightness has become a decisive factor in limiting their popularity.
MEMS
But the development of microelectromechanical systems (MEMS) technology has given a powerful impetus to this direction. As known, this laser scanning technology was developed by the American company MicroVision for projection and 3D sensing. It uses MEMS scanning mirrors, red, green, blue and infrared lasers, optics and electronics to project or capture images.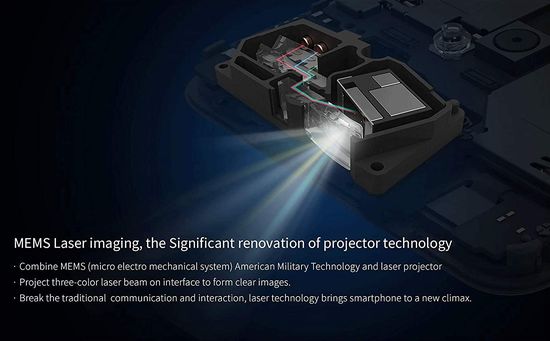 As a result, already in 2018, several companies presented smartphones of a new generation with a MEMS-based projector, including Blackview Max 1 and Voga-V2. Blackview Max 1 became one of the sensations at CES 2018.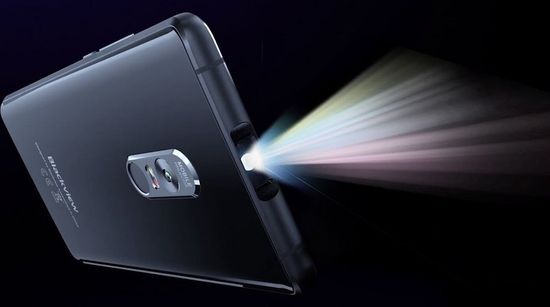 But Voga also did not go unnoticed.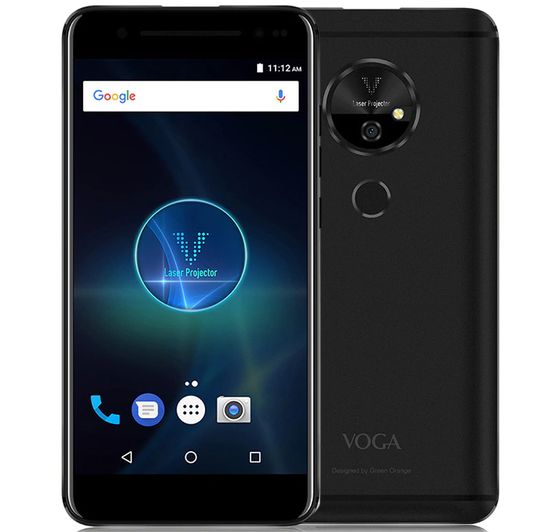 This brand is the international version from the Shanghai Ragentek Group, which is known for budget smartphones under the Qingcheng (Green Orange) brand for the Chinese market.
Moviphone was introduced by Wireless Mobi Solution (WMS) company from San Diego. Unfortunately, in recent years, matching models to brands has become radically difficult due to high commercial dynamics. But considering the design, specs and announcement dates, Moviphone and Qantum V are actually clones of the second generation Voga V.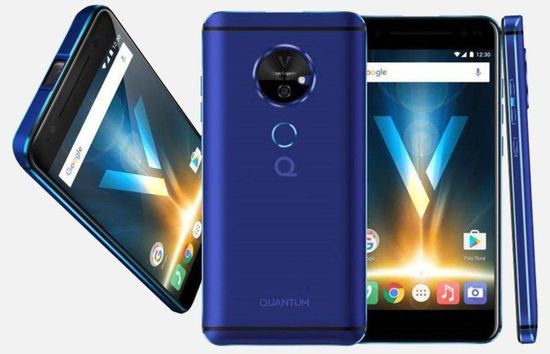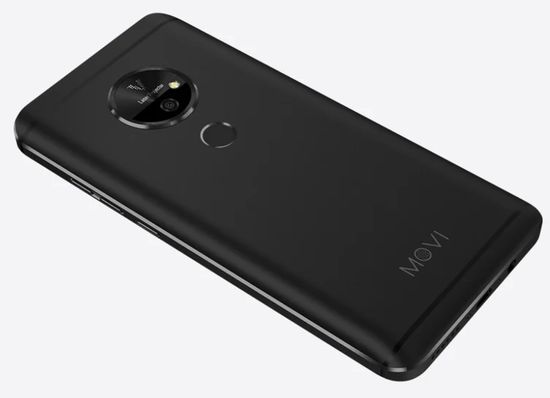 But in some countries these models are known as Allview X4 Soul Vision, Movi, Neffos, etc.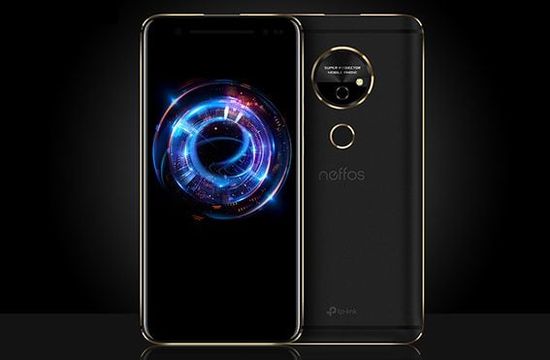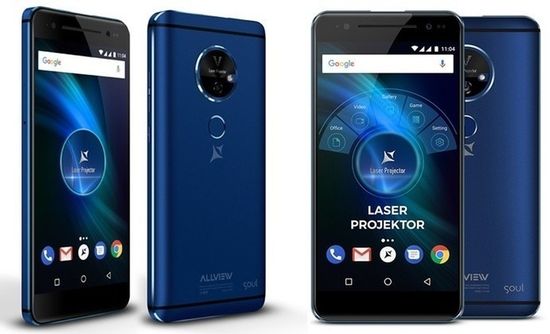 Therefore, despite the wide range of names, the number of real models is very limited. But they all cost about $ 600. In fact, the list of the most popular models includes the Voga V line and Blackview Max 1. Accordingly, their comparison is most relevant. At the same time, some sellers offer Voga V versions with 3GB/32GB of RAM/storage for about $ 400.
Laser projector phone vs projector + phone
Of course, many experts predicted the rapid and successful development of this direction. Unfortunately, unlike camera phones and gaming smartphones, this process has practically stopped. In 2020, the range of laser projector phones on offer has remained largely unchanged. They probably can't compete successfully with the sheer number of great modern mini projectors and smartphones. Indeed, comparison of specs and price of combo models radically loses compared to buying separate devices. For example, the price of Blackview Max 1 with medium specs ranges from $ 500-650. At the same time, the specs of Xiaomi Redmi Note 8 Pro smartphone with price $ 200-250 and ultra-portable LG PH30N CineBeam LED projector with price $ 400 correspond to a much higher level. However, many users prefer the portable 2-in-1 combo solution despite the price / performance loss.
Projectors all models provide 720p (1280 x 720) HD image at brightness of 50 ANSI Lm with projection size up to 100 inches. Blackview and Voga provide projection sizes up to 70 inches at a distance of about two meters. But high image quality is only possible in a darkened room with low ambient light.
Screen Blackview Max 1 vs Voga
Blackview Max 1 uses 6.01-inch FHD+(2160 x 1080) AMOLED Screen Oncell display, 402ppi, Corning Gorilla Glass 3. Voga has 5.5-inch FHD (1920 x 1080) IPS 2.5D display, 401ppi.
Experts are still discussing pros and cons AMOLED vs LCD displays.
AMOLED (Active Matrix Organic Light Emitting Diode) technology uses organic light-emitting diodes and an active matrix of thin-film transistors. The amperage adjusts the image brightness, and the red, green and blue LEDs form the required hues.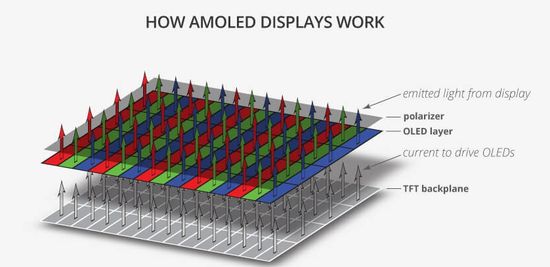 Pros:
– instant pixel response provide high frame rate;
– very low power consumption when displaying dark gradations;
– small thickness due to the lack of a backlight scattering layer;
– infinite contrast and black depth due to the lack of backlight.
Cons:
– color distortion due to the continuous glow of blue subpixels. PWM (pulse-width modulation) eliminates this problem, but causes screen flickering, which can tire the eyes;
– pixel burnout due to memory effect.
As known, IPS (In-Plane Switching) technology is an improved generation of LCD displays. In particular, it improves color quality and increases viewing angles. The IPS matrix forms an image using polarized light and a color filter.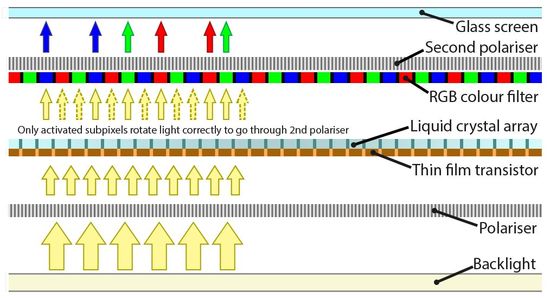 Pros:
– very low price. Manufacturing cost a FullHD screen for a smartphone starts at $ 10;
– high color accuracy;
– power consumption does not depend on the displayed content, because the backlight LEDs are the main consumer;
– high durability.
Cons:
– low contrast;
– slow response speed.
2.5D technology improves the ergonomics and aesthetics with rounded edges.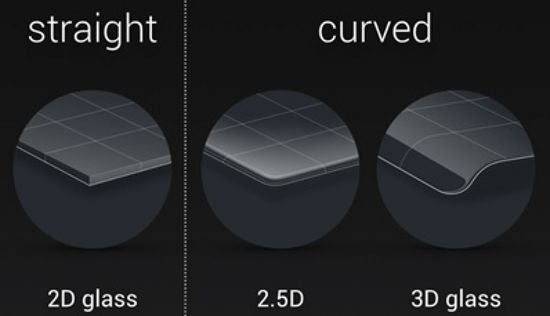 In addition, the IPS screen uses three whole subpixels per pixel, which increases the sharpness and clarity of the image. As known, AMOLED screens often use one sub-pixel for several pixels to save space.
Processor and camera
Blackview MAX 1 has Mediatek Helio P23 64bit Octa-Core SoC, 6GB of RAM and 64GB of internal storage. Integrated upgraded GPU Mali-G71 MP2 supports 700MHz. As known, Mediatek Helio P23 MT6763T (16 nm FinFET + process) was introduced in 2017. It provides up to 2.5GHz and uses two Cortex-A53 clusters, including a high-performance 4 x 2.3GHz and an energy-efficient 4 x 1.65GHz.
Voga comes with MediaTek MT6750V 32bit Octa-Core SoC, 4GB of RAM and 64GB/128GB storage. GPU Mali-T860 MP2 provides up to 520MHz. This SoC 28 nm was introduced in 2016. The MT6750V provides up to 1.5GHz uses 4 x 1,5GHz Cortex-A53 and an energy-efficient 4 x 1GHz Cortex-A53 cores.
Of course, the Blackview equipment benefits significantly. Its performance is sufficient for all modes and for most mid-range games. Voga is only comfortable for very simple games.
MAX 1 has a Sony 16.0MP rear camera and Samsung 16.0MP +0.3MP dual front cameras. Vogo comes with 13.0MP or 16MP rear camera and 8MP front camera.
Other benefits of Max 1
– Colour Dual LED flash uses LEDs with different color temperatures, improving color balance;
– built-in HDR (High Dynamic Range). In this mode, the camera takes three frames with different exposures.

– manual adjustment of ISO level and white balance, and burst mode. Manual white balance is convenient for creating artistic effects and preventing the color flares;
– panoramic shooting, which combines several photos of different parts of the landscape into a single frame.
– dual front camera and flash provide high quality selfies even in low light.
Of course, the MAX 1 cameras and their functionality are vastly superior to Vogo.
Conclusion
The Max 1 has a radio and 2 microphones vs Headphone jacks in Vogo. Blackview Max 1 runs Android 8.1 Oreo vs Android 7.0 Nougat in Vogo. The 4680mAh battery in Max 1 provides 33h vs 22h of 4000mAh battery in the Vogo. Max 1 bitrate reaches 300MBits / s vs 150MBits / s in Vogo. The rest of the specs are practically the same.
Thus, specs Max 1 is significantly superior to the opponent. Taking into account the same price, today its purchase is more profitable. Unfortunately, due to quarantine or other reasons, Blackview Max 1 is not available in most online stores in America and Europe. But for example in India and Pakistan, it is available. Voga-V2 (Moviphone, Qantum V, Allview X4 Soul Vision, Movi, Neffos) are more available. Of course, their specs are significantly inferior to the Max 1. But the difference is significantly reduced without taking into account the game mode and shooting. With discounts and promotions, Voga and its clones can be a great solution for fans of big screen viewing with a 2-in-1 smartphone.
Unfortunately, these models are practically unavailable today. But in 2021 Samsung and HMD Global Company announced the 3rd generation of pojector smartphones, including Samsung Galaxy Beam 3 (2021) and Nokia Projector Phone 5G.
This video offers an overview of the best Laser Projector Phones on the market in 2020.
P.S.
Despite the immense popularity of projector phones, their prospects seemed very dim in the first half of 2021. Indeed, this year the companies have not presented new combi smartphones with this function. Probably, the decreased activity of companies was due to competition from a smartphone + pocket projector. In fact, a projector even with very modest specs increases the smartphone price by about $ 300-400. At the same time, the market offers a huge number of excellent pocket models with fairly high specs for about the same price. As a result, many consumers have opted for higher quality in exchange for the compactness of a two-in-one combi. As a consequence, the rather modest consumer demand did not arouse the enthusiasm of many companies, and for almost a year the direction practically did not develop.
But the fears were in vain. Industry leaders have decided not to abandon a promising direction by announcing two models in the second half of the year, including Samsung Galaxy Beam 3 (2021) and Nokia Projector Phone 5G.
Samsung promises 7- inches Super AMOLED display, 7000mAh battery, Qualcomm Snapdragon 890+ chipset and Android v11 (R) OS. The brightness of its HD laser projector will reach 3,000 ANSI Lm, which is unprecedentedly high for built-in projectors. In principle, it's enough for comfortable viewing on a large screen, even without thorough dimming. The announced price is $ 1,700 or £ 1,300.
Projector phone 5G under brand of industry patriarch is significantly cheaper. The announced price of the new Nokia varies in the range of $ 490 – 610 or € 430 – 530.
For this price, HMD Global Company offers 6.9 – inches 4K super AMOLED display, 6600 / 6900mAh non-removable battery, octa-core Snapdragon 888 5G or 898 5G chipset, Nokia Stylus and OS Android 12. At 1920 x 1080p resolution, its built-in laser projector provides 120-inch projection size and 3,000 Lumen brightness. At these specs and prices, its prospects are great.
The companies promise to introduce new models in the spring of 2022.