The rapid development of semiconductors in recent decades has allowed engineers to use them as light sources for projectors. In particular, companies began to actively develop models with LEDs and laser LEDs as a light source. In turn, a sharp decrease in heat dissipation significantly expanded the capabilities of engineers in terms of reducing the projector dimensions. LED projectors do not require a powerful fan and large internal volume for heat dissipation. As known, in October 2006, an Israeli Explay company publicly demonstrated the first Explay Nano Projector.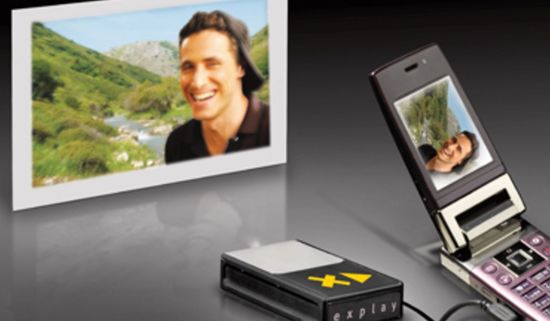 Of course, the leaders in the segment of household video equipment could not stay away. As a result, the market began to be actively filled with offers of miniature projectors. The many well-known companies, including Miroir USA, LLC, Optoma, AAXA Technologies Inc., etc expanded the range of their traditional lamp projectors. But besides them, many new companies, including Rif6, LLC, Anker, Apeman International Co, etc also started developing pico projectors. In addition, the modern market offers smartphones with projector functions.
Of course, Sony was no exception. As a result, today the Sony pico-projectors lineup includes the Sony MP-CL1 (2015), MP-CL1A (2016) and MP-CD1 (2018), which for 2 years has consistently been included in the torus of the most popular pico models.
Sony MP-CL1 (2015)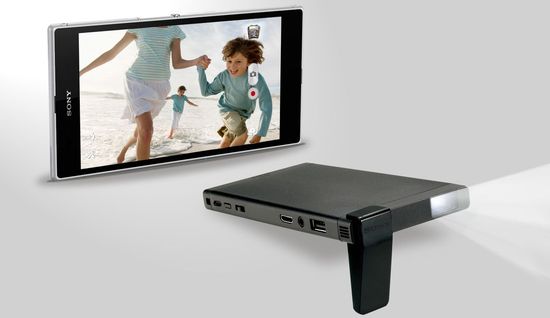 Of course, this model is not suitable for home theater because of too modest specs, including resolution, color rendition, black depth, Lumen Output, etc. However, it was well suited for streaming content, for example, onto the ceiling in hotel room. In addition, it provided about 2 hours of playback without recharging.
Initially, Sony positioned the MP-CL1 as a companion gadget for PS consoles for mobile gamers. But the development of wireless communications technologies has substantially expanded these plans. For example, the smartphone has provided access to streaming video.
MP-CL1 key features
– support Miracast and MHL (HDMI);
– laser engine provides a virtual resolution of 1920×720;
– built in alignment tool provides manual color balancing.
PROS
– relatively high resolution compared to competitors;
– ultra thin;
– good color settings "out of the box";
– controls for fine tuning the contrast, hue and saturation;
– HDMI for MHL and Miracast;
– high battery life;
– usability, including the Jog lever;
– small speaker and audio out for headphones;
– focusing is not necessary due to the use of the laser light engine.
CONS
– relatively low brightness (measured Lumen Output varies between 33 and 34 lm);
– no remote control;
– model does not save multiple settings;
– no full featured media player;
– the average level of color rendering;
– the projector does not support smoothing functions in highly dynamic scenes (CFI, etc);
– no SD card slot;
– no 3D;
– poor sound quality;
– no screw thread for tripod.
MP-CL1A (2016)
A year later, the company offered the improved Sony MP-CL1A pico-projector in gray and gold.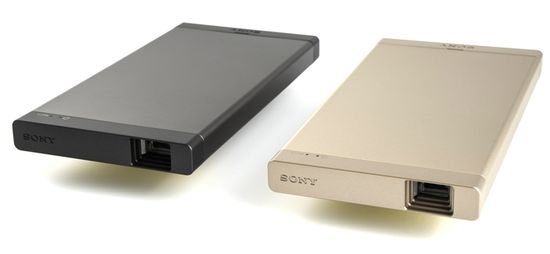 Unfortunately, its Lumen Output has not changed and is only 32 lm.
This model uses Sony's proprietary Laser Beam Scanning (LBS) technology.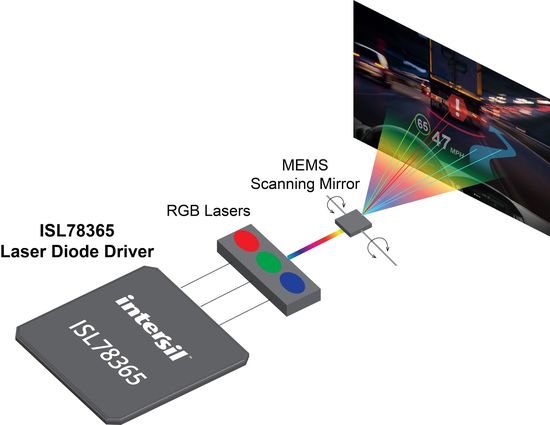 As known, LBS technology is a display and imaging methodology using a MEMS mirror, lasers and electronics and doesn't require manual focusing.
In addition, the MP-CL1A supports MHL (mobile high-definition link) to support smartphone and tablet connectivity.
Compact Short Throw MP-CL1A supports HD-resolution (1920 x 720), provides 80,000: 1 contrast ratio and fairly accurate saturated color reproduction of content with an aspect ratio of 16: 9.
The screen size ranges from a 40 inch (101.6 cm) image, up to a 120 inch (304.8 cm) at a 12 ft foot throw distance.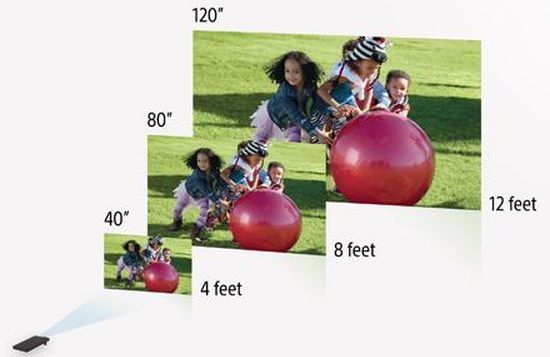 In addition, optical technology provides a major reduction in laser speckle noise.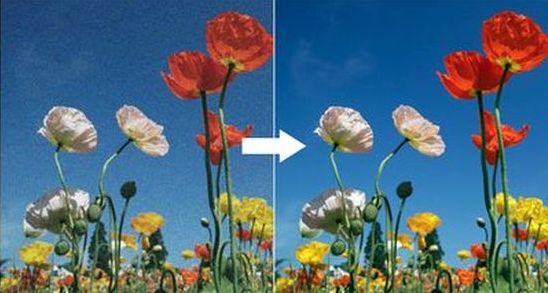 Moreover, distortion correction effectively compensates for distortion even when projecting from an angle.

Additionally, the MP-CL1A has a USB cable and a built-in 3400 mAh battery.
Pros & Cons
PROS
– compact and very thin (210 g, 150 x 76.2 x 12.7 mm);
– great throw ratio for pico-models;
– keystone correction;
– vivid, saturated colors with HD resolution support (1920 x 720 pixels) at 16: 9 aspect ratio;
– screen size up to 120 inches at a distance of 12 ft (3.66 m);
– high contrast – 80,000: 1;
– laser brightness at low power;
– auto-focusing projection using Sony LBS laser technology;
– connect via Wi-Fi (for smartphone or tablet) or HDMI / MHL (for smartphone, tablet, laptop and gaming devices);
– bluetooth connection for wireless speakers or headphones;
– built-in lithium-ion battery with a capacity of 3400 mAh (up to two hours);
– gold or gray colors.
CONS
– the model costs more than $ 500;
– relatively low brightness (32 ANSI lm);
– unfortunately, it's not available on Amazon.
Sony MP-CD1 WVGA Pico projector
In April 2018, the company introduced its next MP-CD1 pico projector.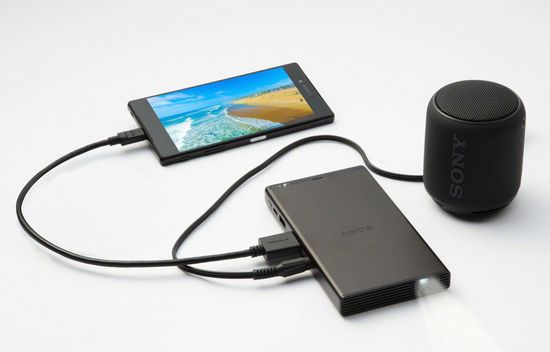 MP-CD1 uses Texas Instruments' Intellibright DLP projection technology. It's slightly heavier (9.9 oz or 280 g) and larger (3.2 x 0.6 x 5.9 inches or 83 × 16 × 150 mm) compared to the CL1A. But the main differences include an increase in brightness from 32 to 105 ANSI lm and a decrease in resolution from 1920 x 720 to 854 × 480. In addition, its cost has decreased by more than $ 100 ($ 250 – 300).
Of course, many experts are ambiguous about such changes. On the other hand, the incorporation of DLP technology brings Sony pico projectors into line with many others in this market segment. Perhaps, this reason has influenced the decision of the company's management. A new 5,000-mAh battery provides two and more hours of viewing.
But Bluetooth connection, auto keystone correction and the maximum image size of 120 in (304 cm) at a distance of just 11.3 ft (3.4 m) (Throw Ratio 1.30:1) did not change.
Today, many experts include the MP-CD1 in the top 2019 best pico projectors. The video demonstrates the capabilities of this model.