As known, projectors traditionally use lamps. But the rapid improvement of semiconductors has opened the possibility of using them as a light source. As a result, in 2003, Israeli Explay company announced the development of the first LED projector. Already in October 2006, the company introduced Explay Nano Projector.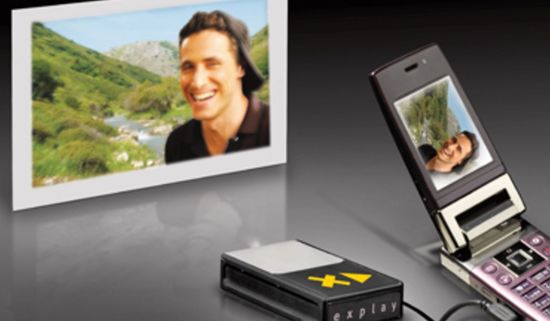 Today, companies use traditional lamps or semiconductor (LEDs or laser LEDs) light sources in modern projectors. These models are called LED projectors.
Their minimal heating during operation allowed engineers to drastically reduce the size and weight of the projectors due to the lack of the need for heat dissipation.
Accordingly, LED models are small in size and weight, and do not use powerful fans. For comparison, the size and weight of the popular RIF6 Cube do not exceed 2 x 2 x 1.9 in (5.1 x 5.1 x 4.8 cm) and 0.30 lbs (136 g), respectively. In addition, the huge service life (up to 30,000 hours vs 6,000 hours for lamps) became their added advantage.
Of course, the consumer market was enthusiastic about the novelty. As a result, many well-known companies, including Sony, Miroir USA, LLC, Optoma, AAXA Technologies Inc., etc expanded the range of their traditional lamp projectors. But besides them, many new companies appeared in this promising segment. Companies such as Rif6, LLC, Anker, Apeman International Co, etc are among them. Such projectors are today known as Pico or Porket models. In addition, the modern market offers smartphones with projector functions.
Apeman projectors
As known, Apeman has been developing products in the video & imaging segment for over 10 years. Today Apeman offers mini projectors, action cam, dash cam, trail cam, IP cam, etc. Apeman's list of most popular portable DLP projectors includes M4, M6 и M7. In addition, the company offers LC350 and LC550 LCD projectors with a brightness of 3,500 lm and 4,000 lm. But their dimensions and weight (7.7 x 6.5 x 2.3 / 8.6 x 6.6 x 3.3 in и 2.16 / 2.65 lbs) do not correspond to the classification of pico-models.
Apeman M4 projector
This pocket DLP projector for first appeared on Amazon on January, 2017. It has 1080p HDMI input, built-in rechargeable battery stereo speakers and 360° tripod.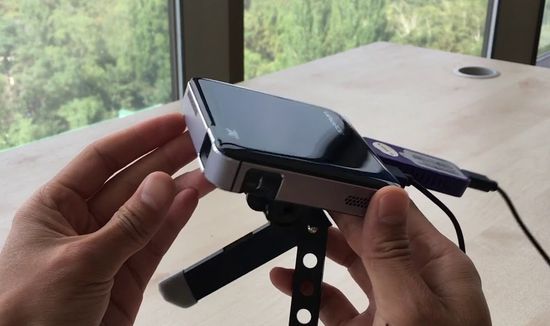 Unfortunately, the company does not indicate the exact brightness. Spec contains a range of Lumen Output from 50 to 100 ANSI lm. Additionally, Apeman clarifies that DLP's advanced display technology provides 70% brighter and 50% sharper image compared to LCD.
According to the company, the model provides a fairly high quality image on a 30-100″ screen diagonally at a distance of 1 to 4 m. Of course, at brightness up to 100 ANSI lm this size raises reasonable doubts even for rooms with very low ambient light.
As known, brightness directly affects the color saturation, which in turn depends on the screen size. Therefore, a large image with a relatively low fury will be too dim. For comparison, the Miroir Micro Pocket MP30 with a brightness of 200 ANSI lm provides a sufficiently high quality for only 50" diagonal screen. Of course, the special screen with high Screen Gain at very low ambient light allows you to increase its size without compromising quality. However, 100″ screen diagonally for brightness even of 100 ANSI lm seems like a slightly exaggerated value.
The projector provides 854 x 480 native resolution (WVGA) with 1000: 1 contrast ratio (full on / off). But according to the company, the model also supports full HD 1080p (1920 x 1080).
In addition, Apeman indicates Lens lifetime up to 45,000 hours or 40 years at 3 hours per day!
The dimensions and weight (3.86 x 3.86 x 0.85 inches and 0.44 lbs) are fully consistent with the pico classification. Today projector costs $ 200.
Apeman M6 projector
The company introduced this model in the spring of 2018.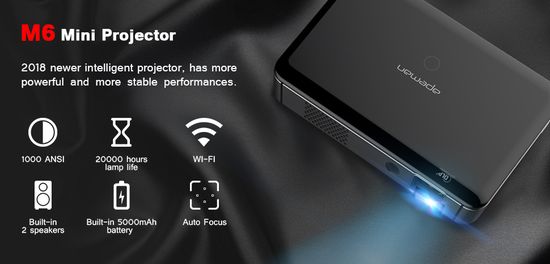 Of course, this projector belongs to a higher class compared to other Apeman pico projectors.
This portable Android 4.4 DLP HD model provides brightness of 1000 Lumens at 1280 x 720 (720p) resolution (max support 1920 x 1080) with 1,000:1 contrast ratio (full on / off). Traditionally, expansion to 1080p (Full HD) uses upscaling. Of course, picture quality will degrade as its size increases.
In addition, it providws providws auto & manual focus and Keystone Correction ± 45°. Moreover, the projector has built-in dual stereo speakers, Li-battery 5,000 mAh, HDMI/ USB/Type-C inputs, and suppotts WIFI and Bluetooth V4.0 Wireless Technology. Model provides 40 – 300" diagonal screen at Projection Size от 1.0 до 7.5m.
The dimensions and weight (6 x 3.7 x 1.1 inches and 1.14 lbs) slightly exceed the values of M4, but are fully consistent with the mini classification.
Unfortunately, 1GB of RAM and internal storage 5GB is not enough for apps or store media on the projector itself. Therefore, the M6 is better for streaming content from a connected device. In addition, a 64-bit quad-core processor requires a lot of time for downloading apps even in the case of a good connection.
However, today many experts include the Apeman M6 in the list of the best pico projectors. Unfortunately, its price reaches $ 600. But M6 is available to buy from Amazon in the UK where it costs £ 369.99 (less than $ 450).
Apeman M7 projector
In the fall of 2018, the company introduced а multifunctional mini portable DLP M7 projector. The design of this larger model (4.0 x 3.9 x 3.9 inches and 1.19 lbs) differs from previous projectors.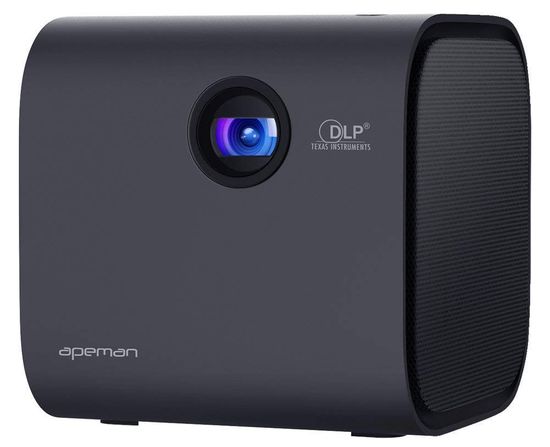 It provides brightness of 4000 Lumens at 854 x 480 (WVGA) native resolution (support 1080p) with 1,000:1 contrast ratio (full on / off). According to the company, the Throw Ratio of 1.2:1 (D:W) provides 30-100" diagonal screen at Projection Size от 0.8 до 2.6m.
In addition, the projector has a built-in double 3 Watt loudspeaker with built-in V4.2 bluetooth version and can be used as an excellent Bluetooth Stereo Speaker separately.
The model costs only $ 220. The list of its pros includes a high Lumen Output, low price, great sound, and Lens Life of 30000 hours. Relatively low resolution, increased size and weight, lack of auto focus and Keystone Correction are among its disadvantages.
This video offers the Apeman M4 Mini Projector review.