Of course, media projectors are one of the fastest growing segments of consumer electronics. Innovative technologies have provided a radical increase in their image quality, which today successfully competes with the image quality of TVs in the middle price segment. For example, in 2019, companies already offer 4K models with HDR support and costs up to $ 2,000. A couple of years ago, many users positioned the projector as an addition to the home theater. But today, many consumers prefer a projector instead of a TV. Of course, this aspect largely depends on individual preferences, but this trend is gaining popularity.
As known, projectors have traditionally used high-power lamps as a light source. But the improvement of LEDs (including laser LEDs) has greatly expanded the capabilities of engineers. Today semiconductor light sources successfully compete with traditional lamps. Of course, the list of their main advantages includes a huge service life (20,000-30,000 hours versus 5,000-6,000 hours for most lamps) and an almost complete absence of heating. Accordingly, the latter factor removes the requirements for efficient cooling. Therefore, LED models do not require a powerful fan and a large internal volume for heat dissipation. As a result, engineers were given the opportunity to develop compact and even super compact models.
Of course, consumers enthusiastically responded to this offer. As a result, in the last 10 years the segment of pico projectors has been developing rapidly. In addition, the modern market offers smartphones with projector functions. As a consequence, today many companies, including Sony, Miroir USA, LLC, AAXA Technologies Inc., Rif6, LLC, Anker, Apeman International Co, etc offer pico models. Of course, Optoma was no exception, actively involved in this process.
Optoma portable projectors
Today the company offers a wide line of portable projectors, including the popular ML series. It contains the Optoma ML550, ML750e, ML750, as well as short-focus ML750ST and ML1050ST+. All these models have almost identical design except for the lens.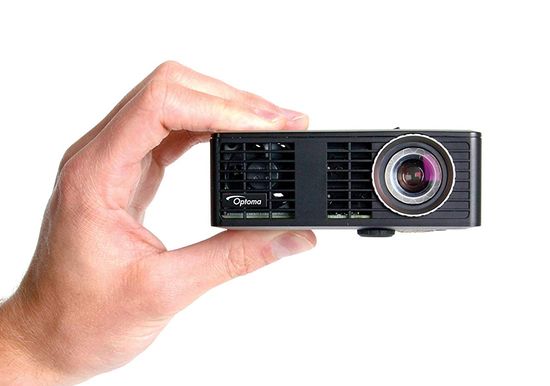 As known, all modern Short Throw projectors use a lens or mirror lens technology. Optoma uses a large lens with a wide lens. Of course, it looks a little disproportionate in the compact models. On the other hand, this design feature gives the models some extraordinary.
750ST and 1050ST projection lenses provide a throw ratio of 0.8: 1 (D: W). As known, this value directly affects the dependence of the projection diagonal on the distance between the projector and the screen. For example, Ultra Short Throw LG PF1000UW with throw ratio 0.31: 1 (D: W) provides 100 "@ 15 inch. Accordingly, the user can install the projector almost close to the screen, which simplifies the task of placing it.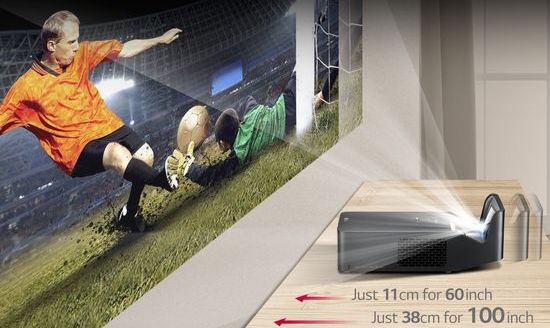 In addition, the Optoma line of portable projectors today includes the PK301, IntelliGO-S1, LV130 and LH150. All these projectors use LED as a light source and 1 cm DLP (1).
Optoma pico projectors of 2013-2015
Optoma PK301 Pico Pocket projector became the company's first compact projector.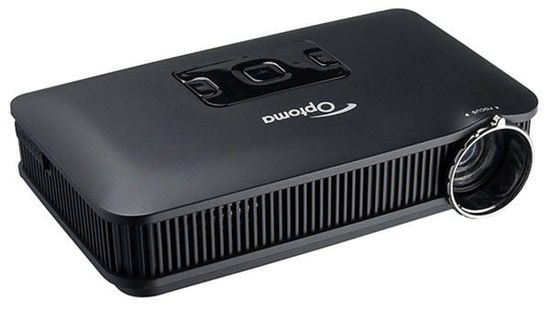 At 0.5 lb weight and a price $ 399 , the model provided 854 x 480 resolution, brightness of 50 ANSI lm and contrast of 2,000:1 (full on/off). In addition, Throw Ratio of 1.65:1 (D:W) provided a 72″ diagonal image at a distance of about 9.5 ft for a 16: 9 aspect ratio with effective focus adjustment. Battery capacity provided from 45 to 90 minutes of operation. Of course, for that time these were excellent specs for a compact model. As a result, it very successfully competed in the market from March 2010 to May 2013.
Already in the summer of this year, the company introduced the ML550, and in December – the ML750e and ML750. They had an identical design and very similar specs.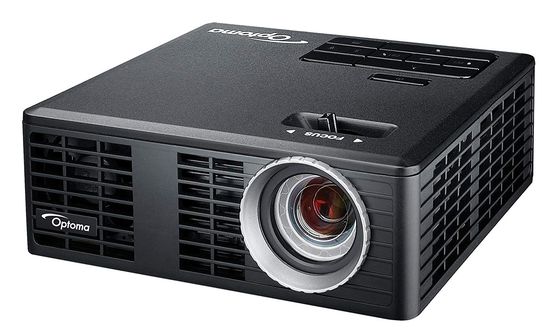 As the name implies, the ML550 provides 500 ANSI lm, while the Lumen Output of ML750e and ML750 reaches 700 ANSI lm. All models support 1280 x 800 resolution, Native Aspect Ratio 16:10 (WXGA), have Throw Ratio of 1.50: 1 (D: W), use manual lens focus, provide Vertical Digital Keystone and Digital Zoom. In addition, all projectors have 1.0 W mono speakers. Their audible noise during operation reaches 30.0 dB. Unfortunately, these models do not have optional lenses and do not provide Lens Shift.
In fact, apart from brightness, contrast is their only difference. The contrast of ML750e reaches 15,000: 1 (full on / off) as opposed to 10,000: 1 (full on / off) in the ML550 and ML750. However, already in the winter of 2016, the ML750e was discontinued.
Optoma pico projectors 2016
In January 2016, the company introduced the ML750ST, which is still rightfully considered one of the best portable models on the market.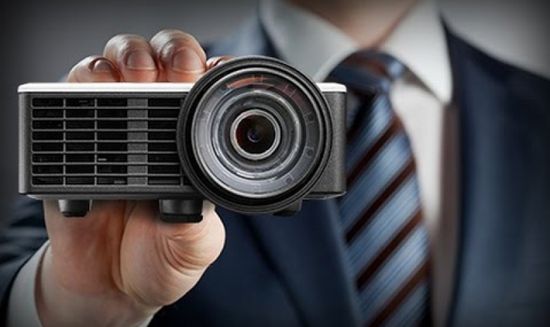 Of course, Throw Ratio of 0.80: 1 vs 1.50: 1 (D: W) in previous models was his main improvement. In fact, this model was the first portable Short Throw projector from Optoma. In addition, engineers increased the contrast to 20,000: 1 (full on / off), reduced audible noise to 22.0 dB and set the 1.5 W mono speaker. Additionally, the company reduced the input lag of the model to an unprecedented 16ms (minimum), in fact, creating a gamer model. As a result, despite the rather high price above $ 500, the model has been on the top list for several years.
Optoma pico projectors 2017
Of course, the company did not stop there. In the summer of 2017, Optoma introduced the IntelliGO-S1 projector.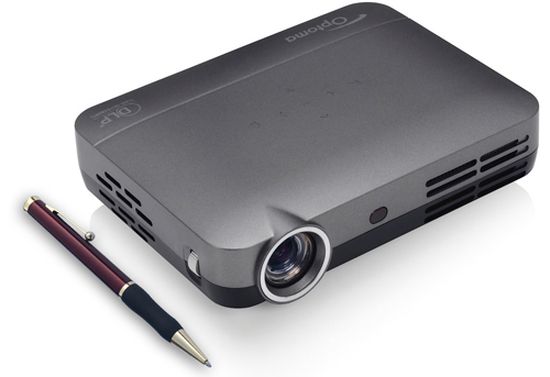 Ultra-compact projector has built-in Android 4.4 OS with Aptoide Open Source App store. Moreover, 8 GB of memory easily provide downloads of Amazon, HULU, HBO GO, Pandora, Spotify, Netflix and many others apps. In addition, the model has a great set of connections, including USB 2.0, HDMI with MHL, USB 3.0, Ethernet, an A / V port, Micro SD, and audio output.

The remaining specs also correspond to the high level. The model provides brightness of 500 ANSI lm and 15,000: 1 contrast ratio, supports 1280 x 800 native resolution and has 2 W speaker. Throw Ratio of 1.21:1 (D:W) provides 100″ image screen from a distance of 10 ft. The remaining specs are virtually unchanged compared to the ML series.
Of course, the Lumen Output of 500 requires dimming for a 120-inch projection, but this is normal for a portable model.
In addition, a projector costs less than $ 300. All these factors ensured this model a place in the top lists of many experts.
Optoma LV130 pico projector
In September 2018, Optoma presented three new products at once, including the LV130, LH150 and ML1050ST+.
The price of the budget LV130 does not exceed $ 250.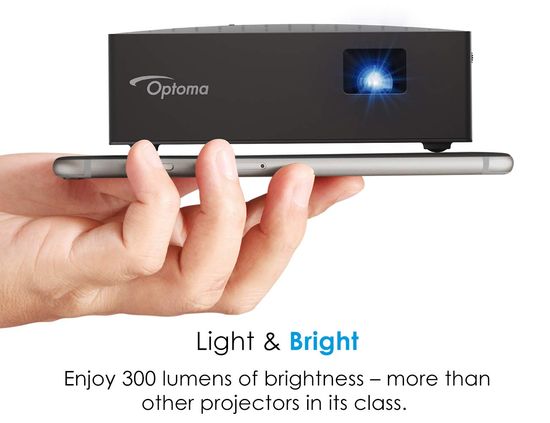 This projector provides contrast of 100,000: 1 (full on / off), which is 5 times higher than previous models. In addition, the service life of the RGB LED light source reaches 30,000 hours in eco mode.
Model has Throw Ratio of 1.10: 1 (D: W) and projects up to an 80″ image size. Its 6,700 mAH battery provides 4.5 hours viewing time.
But compared to previous models, the LV130 provides brightness of only 300 ANSI lm and 854 x 480 resolution. Unfortunately, the prector does not support Digital Zoom.
Optoma LH150 pico projector
Optoma LH150 projector belongs to a higher class and, accordingly, the price segment.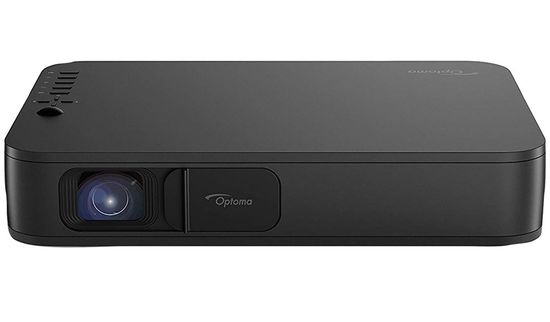 Its price reaches $ 800. Of course, its specs are significantly superior to previous models. This Full HD projector provides brightness up to 1,300 ANSI Lm, supports 1920 x 1080 resolution (1080p) and has a contrast of 160,000: 1 (full on / off).
In addition, the service life of the LED light source reaches 30,000 hours in normal mode. Moreover, the model uses a digital zoom as well as a horizontal & vertical digital keystone. Throw Ratio of 1.20:1 (D:W) provides a diagonal of the image up to 150″, but the manufacturer recommends 100″ for the highest image quality.
12,000 mAH battery provides 2.5 hours of viewing. In addition, 4.0 W × 2 speakers provide enough power even for outdoor movies. Optional WUSB adapter provides wireless presentations and images with HDCast Pro. Moreover, USB display screen mirroring supports iOS and Android devices.
Of course, such great functionality for a class of portable projectors is quite consistent with a fairly high price. In fact, this is one of the few portable models that today provides full HD image quality.
Optoma ML1050ST+ pico projector
Optoma ML1050ST+ was the next step in the development of the Short Throw projectors of ML series.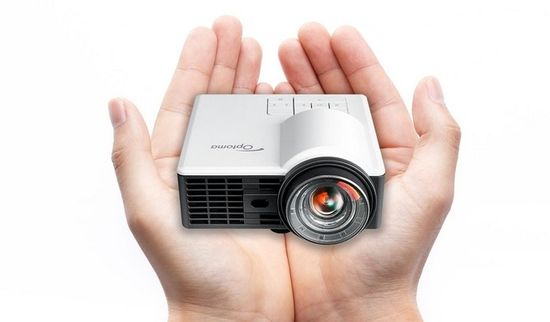 It's slightly more expensive compared to the ML750ST ($ 650 vs $ 550), which is mainly due to the increase in brightness, which reaches 1,000 ANSI lm vs 700 ANSI lm in the ML750ST. In addition, the service life of the LED light source reaches 30,000 hours in eco mode. Moreover, the novelty has auto-focus lens vs manual in 750ST. Additionally, this projector uses the GO PC-FREE media player.
Contrast ratio (20,000: 1), 1.5 W mono speaker, Throw Ratio (0.80: 1), WXGA resolution (1280 x 800) did not change.
Unfortunately, audible noise increased to 28.0 dB vs 22.0 dB.
Conclusion
Thus, Optoma today offers a wide range of portable projectors, which covers almost all price segments. Their price ranges from $ 250 to $ 800, brightness – from 300 to 1,300 ANSI lm, contrast – from 10,000: 1 to 160,000: 1 (full on / off), resolution – from (854 x 480) to Full HD (1920 x 1080). Of course, such a variety greatly simplifies the choice of the optimal model.
This video demonstrates the capabilities of the Optoma ML1050ST+ pico projector.